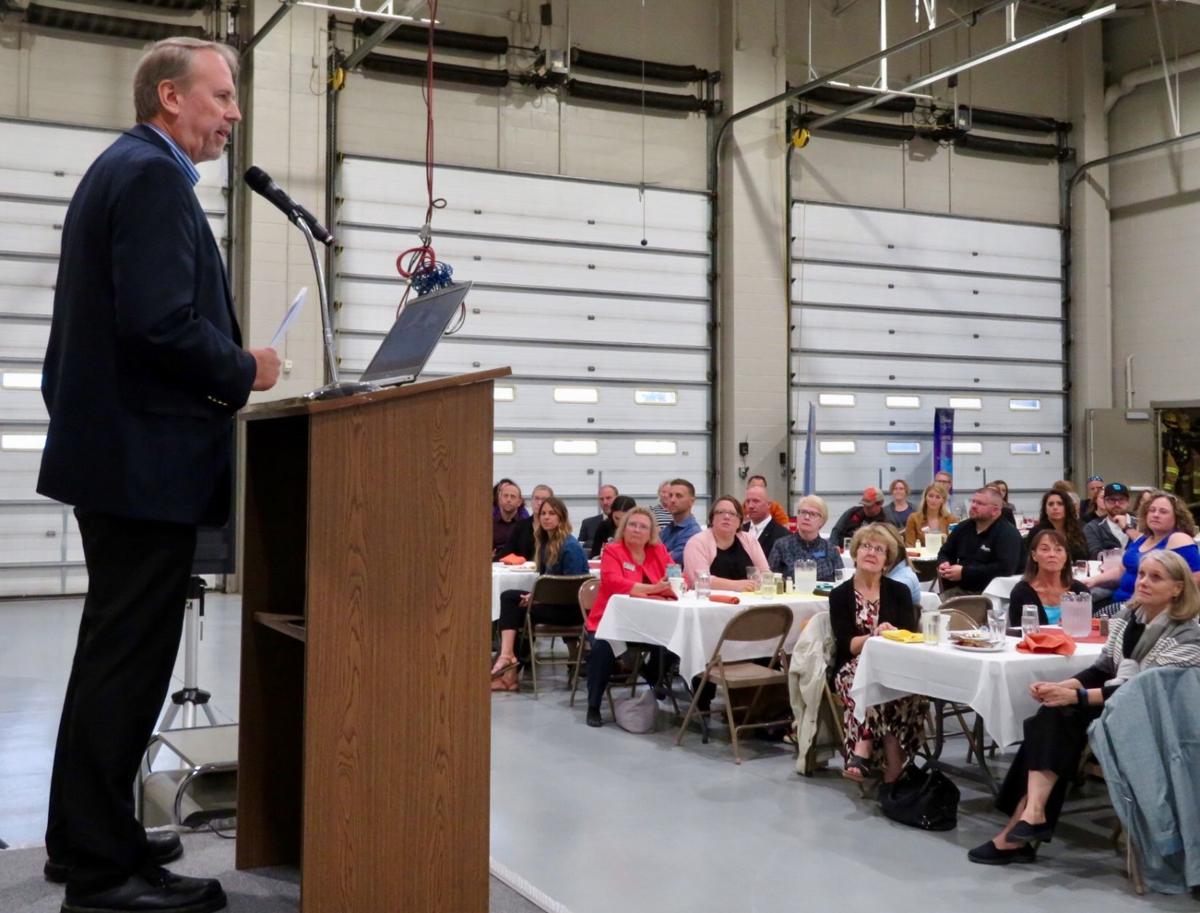 Where in the world can you fly from Billings?
Airlines serving our city provide one-stop connections daily to 207 U.S. cities and 32 foreign destinations.
Travelers can get where they want to go from Billings, but let's face it: We prefer nonstop flights.
Among the top final destinations of Billings air travelers, the most popular destinations without nonstop, daily, year-round service are Phoenix, Houston and the San Francisco Bay area. Those are flights the airport and city leaders hope to woo.
For a city of 110,000, Billings has remarkably good nonstop connections, but we can and must expand air travel choices. With the airport starting a major three-year renovation project before September ends, this community is poised to grow its air service with careful planning in marketing and community partnerships.
Nearly 100 Billings Chamber of Commerce members and other community leaders gathered Tuesday morning at the Billings airport's operations center to learn about the major terminal renovation scheduled to start in two weeks.
The $55 million airport renovation will expand the number of gates, revamp the security area for greater efficiency and passenger convenience, airport director Kevin Ploehn said. It will make elevators easy to find and provide attractive new space for restaurants outside and inside security.
Local taxpayers don't fund the city-owned airport. All operations and capital expenditures — including the $55 million remodel — must be covered with federal grants and revenues earned by the airport for rentals, parking and other services.
The remodel has been planned to showcase the vast, open sky and landscape that rolls north from the airport. The renovated terminal will have lots of windows. A skylight will be installed over the new security area. The terminal will feature a great room with lots of open space, a bar, plenty plug ins for traveler's electronic devices and a welcoming floor-to-ceiling fireplace. Wall murals will depict the sights, events and history of the Billings region.
This is a good time for airports to grow services because U.S. airlines are profitable and growing, Trina Froehlilch, of Mead & Hunt air service consulting, told the morning crowd. Billings is already served by three of the nation's largest airlines: American, Delta and United.
The airport is aiming to add more nonstop destinations and more seats, which means getting those airlines to add flights or fly larger aircraft into Billings or courting an air carrier not yet here. Southwest is the Billings dream, but Froehlich pointed out that the airline uses a system of large planes flying between large airports, and Billings doesn't fit that model, neither does any other Montana airport.
The day after the Billings airport meeting, city officials and tourism promoters were scheduled to meet with most of the airlines that fly into Billings, along with three that don't — Southwest, JetBlue and Sun Country. The annual Montana airport meeting was held in a Big Sky resort, a location that emphasizes the Billings challenge: Airlines don't consider Billings a vacation destination.
Our city is a solid business traveler market and the biggest hub for air freight in the state. Yet breaking into the leisure travel market is the biggest growth opportunity. Billings is definitely a great starting point for a Yellowstone National Park vacation via the Beartooth Highway or Chief Joseph Scenic Byway. The east entrance through Cody, Wyo., and north entrance at Gardiner are easily accessed from Billings.
Froehlich expects that future nonstop flight additions will require revenue guarantees in the amount of $500,000 to $1 million. 
American Airlines nonstop service to Dallas-Fort Worth started in June 2017 after local businesses stepped up to provide a revenue guarantee that, combined with a federal Small Community Air Service Development Program grant provided the incentive for American to enter the Billings market.
The most recent round of grant winners offered local contributions ranging from 20% to 30%, Froehlich said. That means Billings would have to come up with as much as $300,000 in private funding to draw down the federal grant. Airport funds cannot be used for revenue guarantees.
Operations will be challenging during construction, but Ploehn said the airport will make room for new flights even during the renovation.
The facility remodel and the marketing plan must be complementary. The goal should be making Billings a place air travelers want to visit — to stay, to start or complete their vacations. It's time to boost the image of Montana's Trailhead.
Catch the latest in Opinion
Get opinion pieces, letters and editorials sent directly to your inbox weekly!