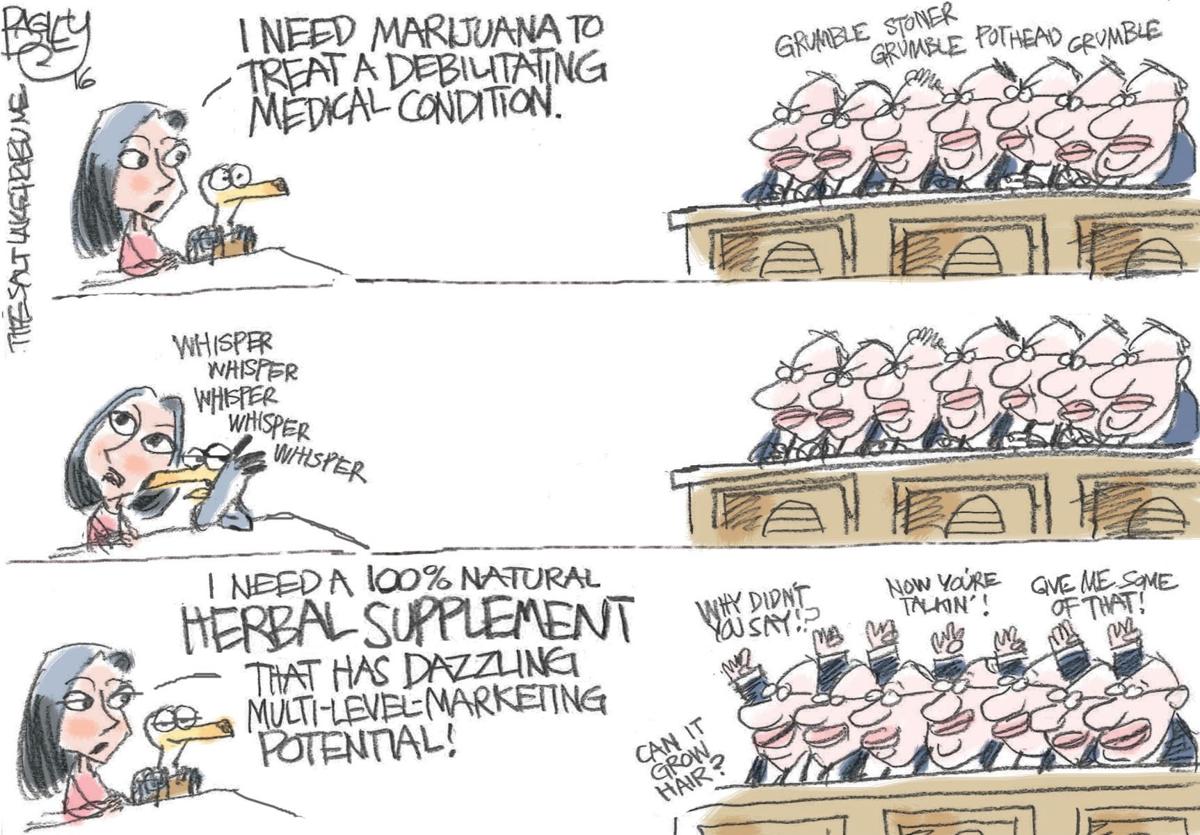 Here's an idea: Let's make life harder for cancer patients.
Sure does, but that's exactly what the Billings City Council did while most of its residents were sleeping last week. 
In a meeting that lasted long into the morning hours, the city council used its zoning powers to effectively make it impossible for any medical marijuana store to open in the city limits.
Remember that by law, these dispensaries cannot sell to a patient without a medical doctor's prescription. Remember that Montana voters supported the use of medical marijuana so much so that they've taken on the Legislature twice to make sure stores stay open for patients in need. There will be as much danger for drugs falling into the wrong hands as there is anytime you walk into your neighborhood drugstore to have a prescription filled.
Many have rallied around the medical marijuana issue, including some doctors, who recognize the benefits for patients with cancer, glaucoma, chronic pain, multiple sclerosis, and brain injuries. Because of that, Montanans have said that their fellow residents should be allowed to access marijuana for medical reasons. The most recent legislation also put stronger rules in place for marijuana dispensaries as a means of safeguarding the community.
Yet, last Monday evening ...er, Tuesday morning... the Council decided 7-4 that it just couldn't let these medical marijuana businesses operate inside city limits because... because... because...
Well, the only reason that was given was because marijuana is still considered an illegal drug by the federal government. But, we'd point out that opiates, including morphine and oxycontin, are also illegal drugs — when not prescribed by a doctor. And yet, when was the last time Billings said no to a Walgreens, CVS or any other pharmacy?
Medical marijuana dispensaries would join a small list of other banned businesses from city limits. The only two other things we can think of which are outlawed are toxic waste dumps and porn stores.
The Billings City Council actions seems to disregard the will of Montana voters who clearly want marijuana to be available to those who need it for medical purposes. In this case, the council cannot even claim it is siding with the wishes of its residents.
The council's decision seems to cast all the medical marijuana dispensaries in an equally unfavorable light. Though they are selling a product with medical benefit only to prescription holders, putting them outside the city limits — effectively banishing them — makes them appear as if they're engaged in some type of lawless, nefarious behavior. In fact, they're simply providing relief to many individuals who could not otherwise be helped with more traditional medicine.
Billings Mayor Tom Hanel got it wrong when he said, "What this has to do with is zoning and language regarding dispensaries. There are people that need medical marijuana desperately, and I respect that."
Hanel wants residents to believe that this was something much more technical, as if the debate was not about marijuana. But that's lying by half-truth. The conversation centered on zoning because that was a convenient way to work around a harder conversation about the stigma of marijuana. He and the other councilmembers knew by working on zoning, it would effectively push dispensaries outside the limits. It was convenient to blame zoning and language, but the council did not have to act.
If, as Hanel said, he knows that some people "need medical marijuana desperately," why would he make their already painful lives harder? Why would anyone do that? No one wants to make it harder for someone with multiple sclerosis or glaucoma.
Instead, Hanel and the other six (Dick Clark, Al Swanson, Chris Friedel, Rich McFadden, Larry Brewster and Mike Yakawich) just made those who need marijuana desperately (Hanel's word) a little more desperate.
Laws already protect drugs of any kinds getting into the wrong hands, so all the city council seems to have done is make it a little harder on those already suffering.
So go ahead, City Council, pick on those who aren't even healthy enough for the fight. Meanwhile, it's time for those healthy enough to stand up to tell the council to reverse its course, and set up places where a dispensary can operate within the city. The issue comes back to the council on Monday night for a second reading. 
Councilmembers, it's time to reconsider those zoning and, as Hanel said, language. A good way to start with the language is to begin by saying sorry to those whose only crime would be suffering from conditions most of us are lucky to not have.