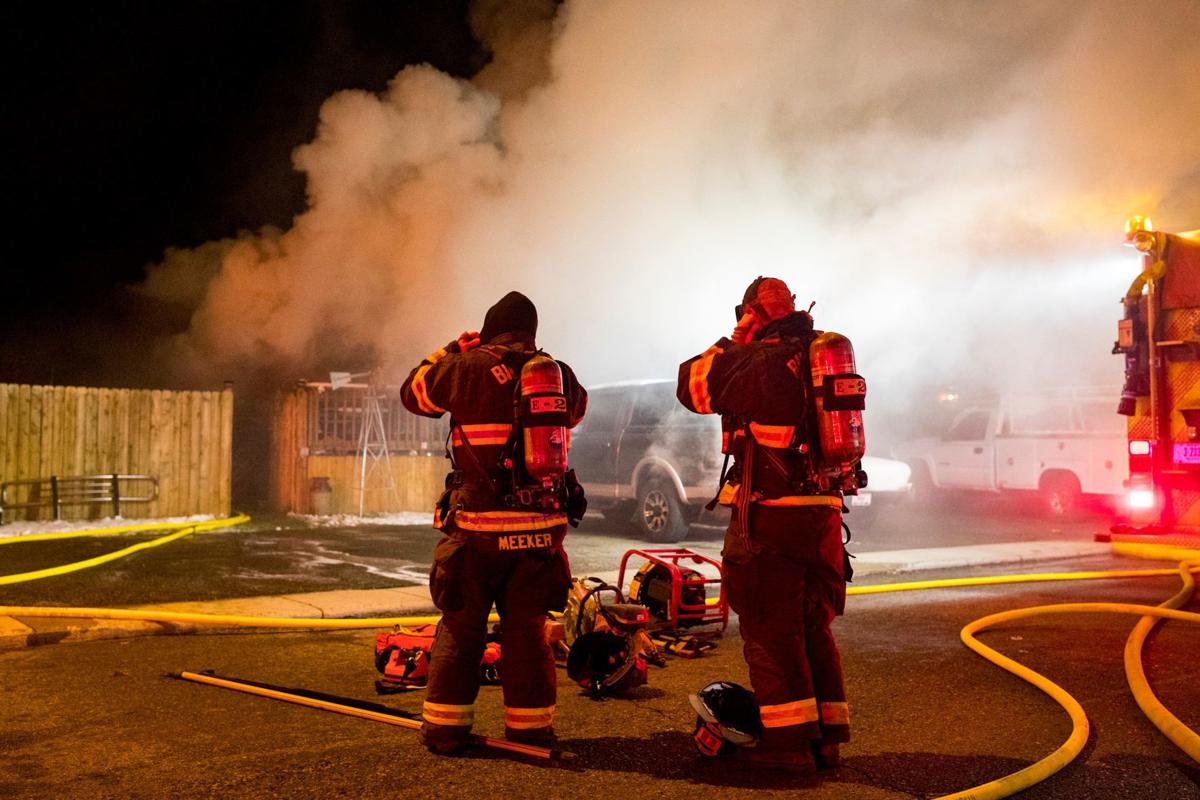 Separated from the rest of the city by Rimrocks, Billings Heights has the most to gain — or lose — as the Billings City Council struggles to decide how to fund public safety services.
With 31,000 residents, the Heights by itself would be Montana's sixth largest population city. As Billings' northeast neighborhood, it arguably has the lowest level of city fire and emergency medical service based on population and response times. Helena has two fire stations for a fire service population of 31,000. Butte has two stations for a population of 33,900. Bozeman has three stations for a population of 45,000. Billings Heights has just one fire station for a population of 31,000.
When emergency calls, such as house fires, require more than one fire crew, the service disparity in the Heights is even more glaring. The city's other six fire stations are so far from the Heights that they cannot respond fast enough to meet national first alarm standards.
Fire Chief Bill Rash recently explained to a group of citizens why building and staffing a second fire station in the Heights is the top priority for the Billings Fire Department.
National average response time for first engine is 4 minutes on 90% of calls; Billings average is 7 minutes, 28 seconds
National average response time for first alarm (4 engines, aerial truck and battalion chief) is 8 minutes, Billings averages is 14 minutes, 55 seconds on 90% of calls.
A large portion of the northeast Heights and Alkali Creek is outside the 4-minute travel time for the first engine. Virtually the entire Heights is beyond the 8-minute standard for the full alarm response to a house fire. That's because the Heights has just one station; all other stations are too far away to reach the Heights within 8 minutes on 90% of the calls.
Likewise, a large area of southwest Billings inside the city limits and outside in the Billings Urban Fire Service Area is beyond the 4 minute reach of the first engine.
The full first alarm response standard is met in the center of the city, roughly between Interstate 90 and the Rimrocks from MetraPark to 24th Street West and Rimrock Road.
Why is the "first alarm" response time important?
Consider the fire that destroyed a mobile home in the Cherry Creek subdivision of the Heights on the night of Oct. 26. The crew from Fire Station 6 on Wicks Lane arrived first and knocked down the blaze with water on their engine. But there was no water in two hydrants they tried. The next load of water arrive with engines from more distant parts of the city. (The hydrants, part of a private water system, were back in service days after that home fire.)
Rash said BFD is protecting an area of more than 91 square miles with a population of 124,000 (including 10,000 in the Billings Urban Fire Service Area) with 106 firefighters based in seven stations. The BFD has 0.86 firefighters per 1,000 population protected, compared with a regional average of 0.99 firefighters and a national average of 1.34 firefighters. By that measure, Billings is understaffed now.
More importantly, BFD calls for service increased 51 percent between 2012 and 2018. The biggest increase was in EMS calls, driven partly by population growth and partly by technology, such as the emergency call devices many older adults now wear. 
A consultant's study last year recommended adding two new fire stations, one on the far West End, one in the Heights and relocating three other fire stations. The BFD is recommending keeping existing stations where they are and building the two additional stations.
BFD estimates that each new station would cost $2 million, not including the price of land. Each would require a $1.3 million fire engine. One new command vehicle would be needed at a cost of about $60,000. The estimated total capital cost would be $5.36 million, plus land.
The BFD estimates it would need to add between 27 and 30 new firefighters to staff these stations around the clock, which would cost about $2.1 million a year.
City Council members spent hours Monday night discussing public safety needs and funding options. City Administrator Chris Kukulski proposed a timeline that could ask voters to pass judgment on a public safety levy in September 2020. The council members elected Tuesday will decide whether there will be a public vote on public safety next year and what any levy proposes. The new members and the carryovers must be ready to make crucial public safety decisions that have been postponed for years while city reserve funds dwindled and Billings' population grew.
Catch the latest in Opinion
Get opinion pieces, letters and editorials sent directly to your inbox weekly!