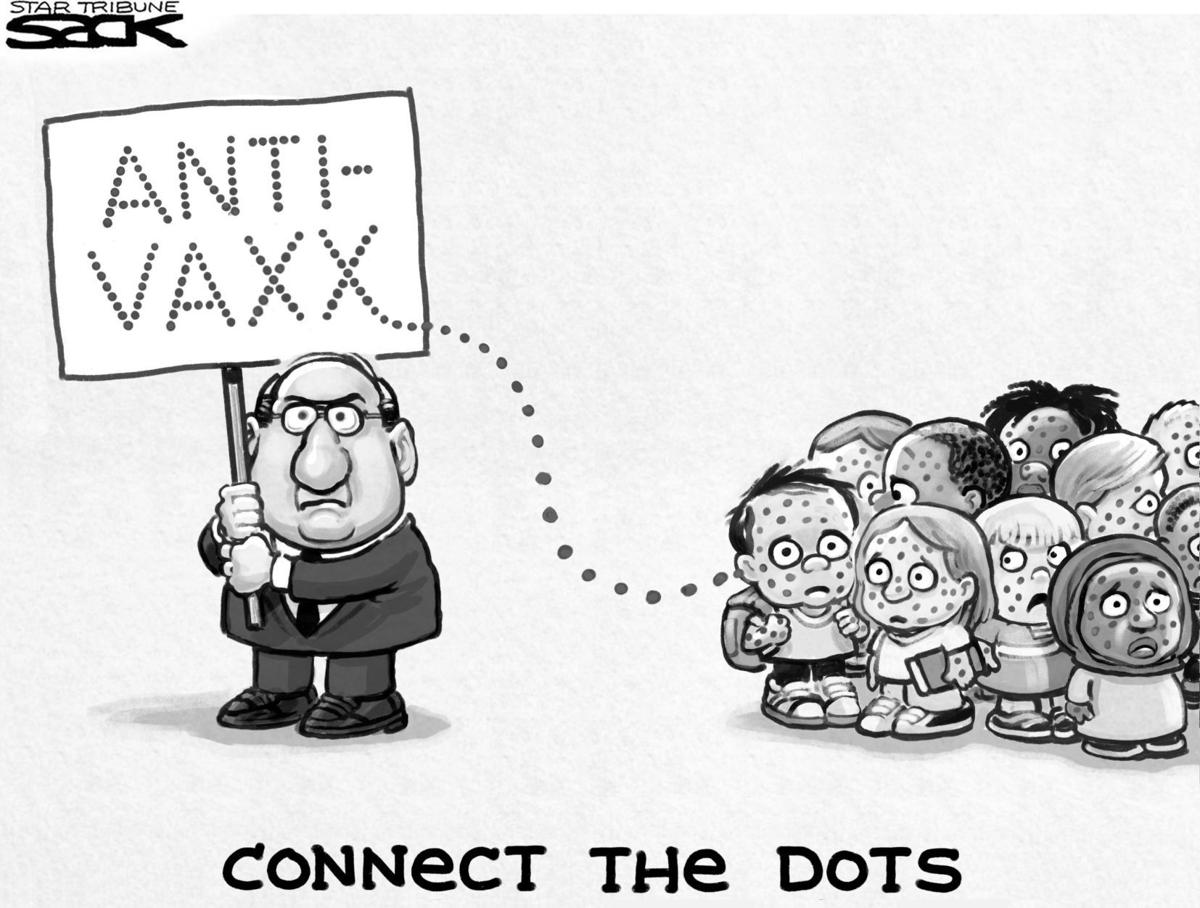 Most Americans over the age of 60 had measles as children because there was no vaccine to prevent it. The old days weren't good days:
Measles made children sick for weeks with fever, rash, runny nose and red eyes.
The disease is especially hard on kids under age 5.
About one in four Americans with measles wound up hospitalized.
One in 1,000 developed brain swelling with possible brain damage.
One every 1,000 U.S. cases resulted in death, even with hospital care.
Measles is terribly contagious. It can be transmitted through air by the cough or sneeze of an infected person and the virus may remain in a room for up to two hours after the sick person has left.
Medical scientists declared measles eliminated in the United States in 2000, yet there have been cases every year since then because the disease persists in much of the rest of the world. This year, a traveler brought measles home to Portland, Oregon, where an unusually large number of parents have chosen not to vaccinate their children. The resulting outbreak spread to a neighboring county in Washington state. Between Jan. 1 and Feb. 21, there had been 159 cases of measles reported in the United States, according to the U.S. Centers for Disease Control and Prevention.
Legislatures in Washington and several other states are considering action to tighten immunization laws and protect their citizens from preventable disease. But in Montana, the 2019 Legislature has considered half a dozen bills that would weaken vaccination requirements.
Fortunately, most of those anti-vaccine bills are now dead. However, dozens of Montana lawmakers supported these bad bills after hearing outrageously false and misleading claims from vaccine opponents.
Rep. Teresa Manzella, R-Hamilton, sponsored the two worst anti-science, anti-vaccine bills. One would have abolished requirements for children to be immunized before they are placed in daycare. The other would have axed the rule that licensed foster parents have to keep their own children's immunizations up to date.
"Childcare directors and owners are not going to want children in their programs who have not been vaccinated," said Rep. Kathy Kelker, D-Billings, a former Head Start director, during the Friday floor debate on the daycare bill, House Bill 575. "Child care directors want the safest possible situation for their children. They don't want liability for kids getting sick."
Kelker, Rep. Geraldine Custer, R-Forsyth, and Rep. Sharon Greef, R-Florence, spoke in support of immunizations, recalling their childhoods before vaccines were available — when parents feared polio and other diseases that now are rare in the United States because of vaccines.
While the House debated vaccine law Friday morning, the scientifically proven benefits of childhood immunization were discussed at the RiverStone Board of Health's monthly meeting in Billings.
"There's a lot of misinformation, a lot of emotion, a lot of beliefs that are simply not facts," said Michael Dennis, a retired professor of immunology, toxicology and microbiology, who serves on the Board of Health. "We have to consider the benefits vs. the risks of vaccines and the public health. Vaccines protect the individual and the public as well."
"The vaccines available for routine use have been rigorously tested and are continuously monitored," Dennis said. That monitoring includes required reporting of adverse events that may be related to vaccination. This monitoring data debunks the anti-vaccination myths, but scary vaccine stories get repeated by folks who don't know they are false.
If HB575 had become law, Montana would have been the only state in the Union that allowed unvaccinated children to be in licensed daycare when they had no medical reason to avoid the vaccine.
Thanks to the 68 Montana representatives who voted for protecting children's health in daycare and against HB575. Thanks to the 60 representatives who voted against HB574 and for keeping foster babies protected from preventable diseases.
Montana law doesn't force parents to vaccinate their children. However, if the children don't have a medical exemption, they could be excluded from school in the event of an outbreak of a disease they lack immunization against.
It's been 40 years since Yellowstone County reported a case of measles, but the disease is only a plane ride away. Bozeman reported several cases of mumps last month. That vaccine-preventable disease can cause permanent sterility in young men. Seems like that should be motivation to get immunized.
Parents deserve to have factual answers to questions about childhood vaccinations. Your child's pediatrician or family physician is the best source of medical advice for your child. There's also good information online at cdc.gov and the American Academy of Pediatrics website, aap.org.