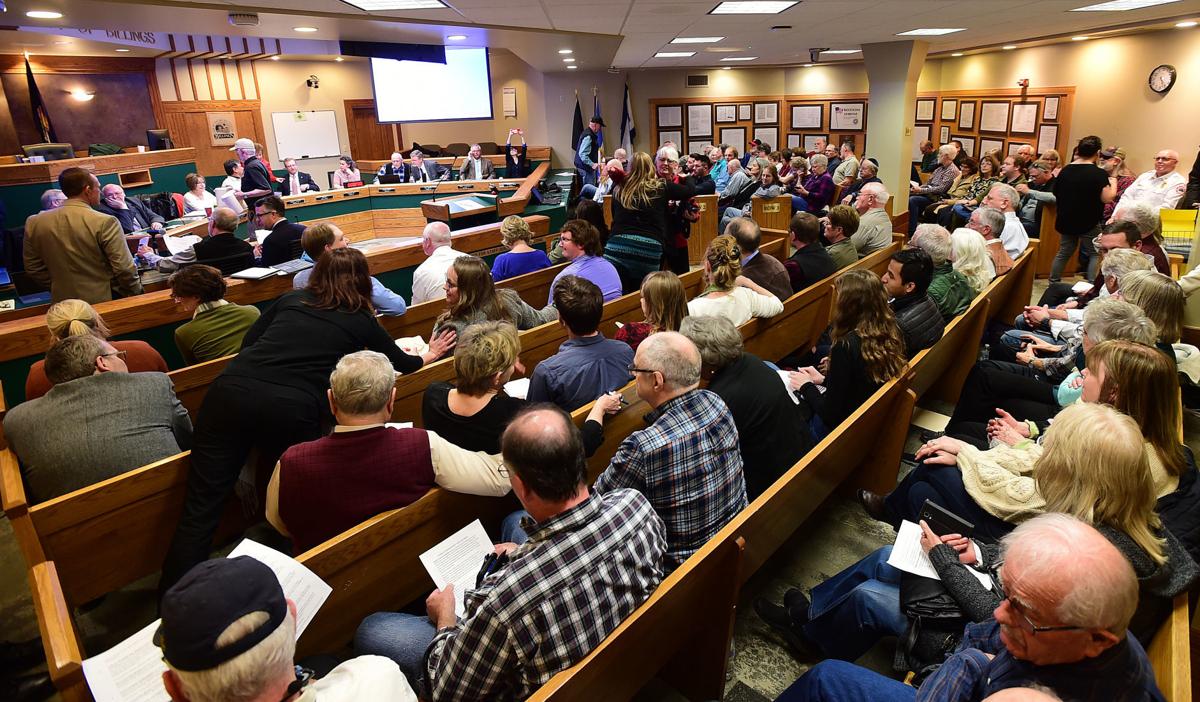 Let's keep in mind what the Billings City Council did on Monday night: It didn't just nix the non discrimination ordinance for the second time, becoming the only city to defeat the measure twice. It wasn't that Montana's largest city will not ensure equal protections for some of the most vulnerable.
The city council, through Mayor Bill Cole, Pam Purinton, Shaun Brown, Mike Boyett, Mike Yakawich, Roy Neese and Frank Ewalt, decided it won't even discuss the issue. It's not that they killed it again, it's that they're not even willing to listen.
That's the frightening part.
The members who voted against discussing the ordinance had their rationale, including fretting that the ordinance was unconstituional. Well, we've got news for the mayor, discrimination is also unconstitutional, not to mention an equal rights violation and, most importantly, morally wrong.
Christians who claimed during the meeting that this ordinance would discriminate against them clearly had not taken the time to read the well crafted language that would exempt churches and religious organizations as well as property owners who were renting rooms in their house.
Those folks are right in one case, though. Christians are being persecuted. LBGTQ folks who are Christians are being persecuted by those who would not afford them the same protection the majority of Billings residents enjoy. You see, this really has nothing to do with religion, and it doesn't mandate beliefs. This ordinance said simply that you cannot discriminate against someone for sexual orientation. 
We wish that more of the council and the residents would have considered that before any suit could have been brought in municipal court, the state's human rights bureau would have first investigated the claim and substantiated it, meaning that there would have hardly been a flurry of lawsuits. In fact, we worried previously that the bar was set so high as to be a deterrent to those who may not have the resources to report the discrimination.
Most importantly, the council's action on Monday sends a dangerous yet powerful message to the rest of the state and country: We continue to be a place that will not embrace change, is not serious about diversity in the workplace, and will not stand for equal protection of those who may be different from us. 
Billings appears to be moving backwards: Five years ago, when the last NDO measure came before the council, it narrowly missed adoption by a 6-5 vote. This time, the council wouldn't even consider it on a 7-4 vote. We are regressing.
The Billings Gazette, as an institution whose beginnings predate the city's own charter and Montana's statehood, will go on record saying that Billings is better than this, and the council does not represent the majority views of folks here in town. In fact, if the council really wanted to put this to the test, they would send it to the voters. 
We believe the council has failed us, and stopped short of protecting those who are particularly vulnerable to being harassed and discriminated against. 
And yet Billings continues to fret with jealousy every time places like Bozeman and Missoula land new business. We'd suggest that with an evolving digital world that means businesses have more options, owners and companies will continue to look for opportunities where they can attract a workforce to a welcoming, diverse community. Billings has sent just the opposite message yet its leaders continue to wonder: What's wrong? 
As the Chamber and the Big Sky Economic Development Agency have been keen on reminding Billings: It will need as many as 20,000 more new workers in the next couple of decades to replace retiring workers and new jobs. We simply cannot compete if we are known as a narrow-minded, regressive community.
This wasn't just a vote about values, it was also a vote about the future. Even if the council leadership, which is largely comprised of older white folks, wants to dismiss the millennials values or ideas, it will surely need the workforce to develop and grow our community. 
We appreciate the four members, Danny Choriki, Denise Joy, Kendra Shaw and Penny Ronning who stood for what is right. We appreciate the careful crafting of this now-failed ordinance. This draft looks markedly different than the 2015 ordinance because Ronning and others took time to listen to concerns and try to incorporate those into a law that fit Billings. Even when the religious considerations were addressed, opponents refused to recognize the changes and instead continued with the false narrative that Christians were somehow under attack. Instead, we see every evidence of growing and thriving Christians churches. What we don't see is a widening diversity of our workforce. 
If we're not careful, Billings, the NDO isn't going to stand for non-discrimination ordinance, it will stand for no damn opportunities.
Catch the latest in Opinion
Get opinion pieces, letters and editorials sent directly to your inbox weekly!