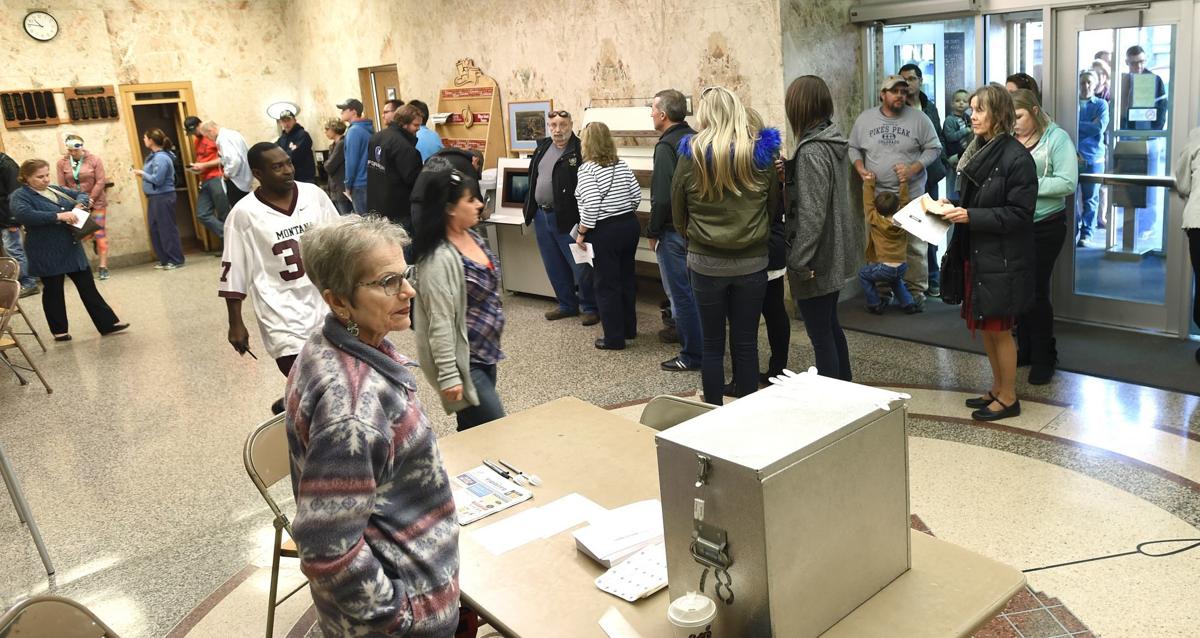 If you have ever turned in absentee ballots at your county election office, be aware that Legislative Referendum 129 would make your life more complicated.
Under present law, any registered Montana voter may request a ballot be mailed to them. The voted ballot must be returned to the election office by 8 p.m. on Election Day to be counted. But the voter has the right to decide when and how to return the ballot.
In Yellowstone County where 70,000 voters have already requested mail ballots for the Nov. 6 election and 100 percent of voters receive mail ballots for state and local elections, citizens have several convenient choices:
1. Mail your ballot to the elections office.
2. Bring your ballot into the elections office and drop it in the ballot box during regular business hours.
3. Drop your ballot at a secure after-hours box at the county courthouse.
4. Bring your voted ballot to your polling place on Election Day.
5. Have a relative, friend or other trusted individual mail or deliver your ballot to the elections office or deliver it to the polling place on Election Day.
LR-129 on the Nov. 6 ballot would create a new offense of "ballot collection" with a fine of $500 for each ballot collected from another person.
The referendum includes "exceptions" for caregivers, family members, household members and acquaintances. But it would require all those "exceptions" to register at the elections office and polling place when turning in a ballot — providing their name, address and phone number as well as the voter's name and address and their relationship to the voter.
LR-129 also stipulates that an individual is limited to turning in six ballots.
This mandate is at least unnecessary and inconvenient, and it is likely to keep some ballots from getting returned. Consider how LR-129 would affect:
A senior living community where the staff or a resident offered to turn in ballots for anyone who wanted to save a stamp? Couldn't turn in more than six.
Voters who have disabilities and cannot drive or otherwise get to the Post Office?
A student government organization trying to turn out the youth vote by offering to return students' ballots?
Voters who live many miles from their elections office whose neighbor offers to return ballots.
This extra red tape would be no small matter in Yellowstone County where thousands of ballots are returned to the elections office. Under LR-129, there would be a line snaking through the courthouse in the weeks before an election as people waited to register and present identification. The county would have the additional expenses of hiring staff to mind the registry — or would take staff away from core election duties at the busiest time of the year.
The after-hours drop box apparently would be illegal under LR-129 because the persons dropping off ballots couldn't register.
The rationale for this solution in search of a problem is the belief of some Republican lawmakers that absentee voting is bad for their party — even though they were elected by majorities of voters casting absentee ballots. In the weeks before the 2016 presidential there were reports in Missoula and Park counties of several voters concerned that people canvassing door-to-door had offered to turn in their voted ballots at the elections office. However, there was no case in which ballots failed to be turned in and counted.
Rather than raise county elections costs and make it harder for people to return absentee ballots, all political parties should be reminding voters to only give their ballots to someone they know and trust. Voters also should be reminded that they can check the My Voter Page at the sosmt.gov website to see that their ballot has been received by their county elections office.
In the 2017 regular legislative session, Rep. Jeff Essmann, R-Billings, introduced a bill similar to LR-129. It died in committee after a hearing where Essmann and a member of Secretary of State Corey Stapleton's staff were the only people in favor of it.
The 12 opponents testifying included the Montana Association of Clerks and Records, whose representative told the House committee that Essmann's bill was "trying to solve a problem that doesn't exist and in passing it, you will create new problems."
That applies to LR-129 as well. Vote against unnecessary government regulation and higher county election expenses. Vote no on LR-129.
Catch the latest in Opinion
Get opinion pieces, letters and editorials sent directly to your inbox weekly!