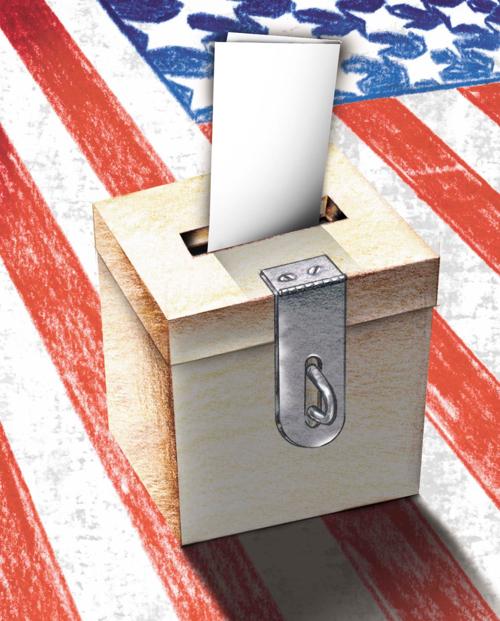 Four voters in Gallatin County put a Ballot Interference Prevention Act registry form in their ballot secrecy envelope — instead of actual May school ballots.
Gallatin County also hired a "box tender" to ask each person dropping off more than one ballot to fill out the state-required BIPA registration.
In Yellowstone County in May, an elections worker was assigned to the new job of staffing a BIPA registration table in the courthouse lobby on school election day. Next year, the county is expected to hire extra election workers to staff the BIPA table for two weeks before the Primary and General elections.
Missoula County elections workers staffing a drive-through ballot return service literally held up traffic for voters to fill out BIPA forms.
A first-grader in another county was required to fill out the BIPA form when the child returned his mother's school election ballot.
Retirement community staff who previously had collected residents' ballots and brought them to the elections office, wondered how to do that. Under BIPA, one staff member could bring in no more than six ballots and would have to fill out a form listing the name and address of each voter whose ballot he returned.
Older voters, especially were confused, several county clerks reported at their association convention in Billings last week.
You have free articles remaining.
BIPA requires each county elections office to forward the completed forms to the Commissioner of Political Practices Office in Helena. For Yellowstone County, that meant scanning thousands of forms weekly and electronically transmitting them to the COPP. 
Nine out of 10 BIPA forms received by the Montana Commissioner of Political Practices Office indicated that they were brought in by the voter's spouse, COPP Jeff Mangan told the clerks' convention. 
Clerks and election workers got an earful of complaints from school election voters who were delayed because they had to fill out a new form, because they had to stand in line to fill out a form and because they didn't see the point in any of that. The May 2019 school elections were the first held under BIPA.
Montanans who cast ballots in the 2018 General Election. It was a referendum placed on the ballot by a majority of Republicans in the 2017 Legislature.
Opponents of BIPA, including The Gazette editorial board, argued that the additional paperwork is unnecessary and raised  concerns about voter inconvenience and the extra costs that would be an unfunded mandate on counties. Yet the name "Ballot Interference Protection Act," evidently sounded like a good idea to a majority of voters.
BIPA never made sense and there is good reason to suspect that rather than "interference prevention," its legislative authors were aiming for voter suppression. It created obstacles for voters who choose to turn in mail ballots without using the U.S. Postal Service. Not everyone keeps postage stamps on hand and some folks prefer to have their ballots personally delivered to the ballot box at their elections office or polling place. Those choices are their right under Montana law.
The referendum law put an additional requirement on those voters that takes at least a little more of their time, but potentially a lot more time — if there is a crowd of voters waiting to fill out the form.
If the actual results of Ballot Interference Prevention Act aren't what you expected, tell your state legislators and legislative candidates. Legislators wrote the law; they can repeal it. The law also could be repealed through the initiative process that would require more than 24,000 registered voter signatures to get it back on the ballot. Remember: It only took 81 legislators (51 representatives and 30 senators) to put the referendum on the 2018 ballot.