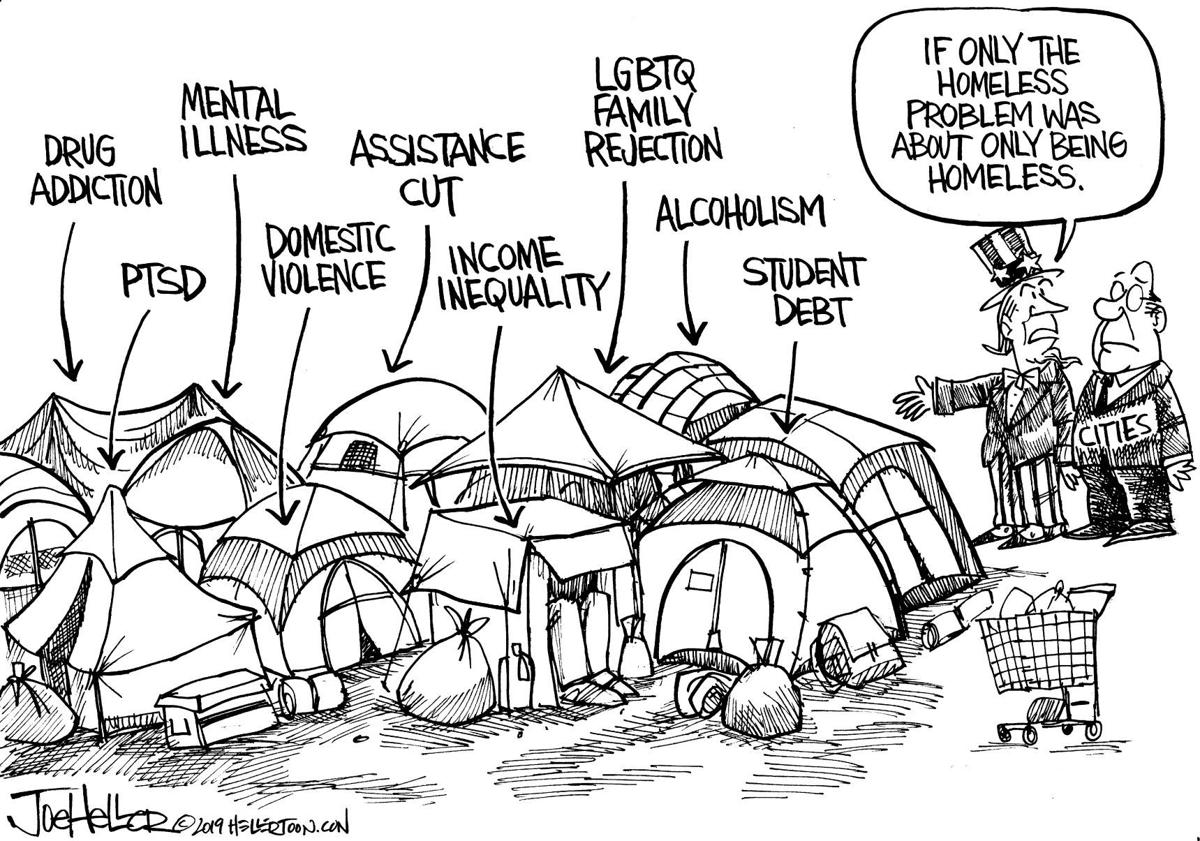 Homeless kids can be almost invisible. We don't usually see them loitering downtown or holding hand-lettered cardboard signs at busy intersections.
Children and teens without a home sometimes are living on the streets or in a vehicle. More often they are couch surfing, moving from one friend, acquaintance or stranger's house to another. Families without a home frequently double up with relatives or friends in arrangements that may be stressful and short lived.
Seen and unseen, homeless youth are here — in Billings and Yellowstone County — hundreds of them.
In the first full month of this school year, Billings Public Schools had already identified 117 homeless students in pre-K through grade 8 and 61 homeless high school students, according to Sue Runkle, district liaison for homeless students.
During last school year, school district staff identified 501 homeless students. Some were living on the street, in vehicles, in tents, motels, doubled up with another family or couch surfing. To be counted as homeless, students must lack a fixed, regular, adequate nighttime residence. "It's not just the title (predominantly low-income) schools. We have kids in every school. Anybody can be homeless," Runkle said.
Tumbleweed served 693 youth and young adults ages 10-24 last fiscal year, including 394 under age 18. All 693 were homeless or at risk of homelessness.
Most of the 394 under age 18 were served through the crisis intervention program that is a partnership with Billings Public Schools.
Youth of color (particularly Native Americans) and LGBTQ youth are over represented in Tumbleweed's caseload because young people in these groups are at greater risk of being homeless.
The Billings Continuum of Care Coalition (more than a dozen health care and human service agencies) has created a coordinated entry system for getting homeless clients into housing. The big problem is a lack of available housing. Erika Willis, Tumbleweed executive director, said the system must be enhanced to specifically address youth homelessness because they have different needs than adults.
Earlier this year, Tumbleweed started leasing apartments that it sublets to homeless youth. The young people also receive wraparound services (e.g. counseling, classes and household items) to help them maintain their apartment and eventually transition to renting their own apartment.
Family Promise of Yellowstone County provides shelter for homeless families with children — babies, teens and all ages in between. Recently, Family Promise had a waiting list of 50 families. The emergency shelter program works with a maximum of four families or 14 people at a time. More than two dozen local faith congregations take turns hosting the families overnight for a week at a time. The families use the downtown Family Promise day center daytime when they aren't at work or in school.
Families that graduate from the church shelter program may move into one of Family Promise's four transitional apartments where they may live for up to a year.
"It's extremely hard to find housing our families can afford," said Lisa Donnot, Family Promise executive director. The organization has a goal of tripling its transitional apartments to 12. "One hundred percent of the families we serve are below poverty income."
The Montana Continuum of Care Coalition recently was awarded a federal grant of $3.4 million to prevent and end homelessness among youth. That statewide coalition is in the process of planning how to use the money. Willis and Patti Webster, executive director of Billings Housing Authority, serve on the Montana Continuum of Care Coalition board.
That federal grant won't be enough to end youth homelessness in Montana. It's going to take many, many Montanans working together to address the causes of homelessness and to reach the young people whose future and lives are at risk.
Student Laps 4 Life
Jesse Dimich-Louvet, a Senior High senior, gave Billings a great example. This Platinum honors student organized a benefit for homeless students in Billings Public Schools, setting a goal of $10,000. Thanks to 450 people who collected donations and completed laps around Daylis Stadium on Sept. 21, Laps 4 Life raised an amazing $16,200. Fundraising volunteers included 250 athletes representing all three Billings public high schools, Dimich-Louvet told The Gazette.
"The whole process was worth it," he said, adding that he received support from coaches, principals and local businesses. Dimich-Louvet is graduating in May, but he has already lined up a successor to lead Laps 4 Life next year. The event proceeds will be disbursed through the Education Foundation for Billings Public Schools.
Kudos to Dimich-Louvet. Other community members can help reduce youth homelessness by supporting Tumbleweed and Family Promise today.
Contact Tumbleweed by phone at 406-259-2558, fax to 406-259-3681, online at tumbleweedprogram.org, or stop by the headquarters at 505 N. 24th St., Billings, MT 59101. The Tumbleweed 24-hour toll-free help line is 888-816-4702
Contact Family Promise of Yellowstone Valley at 406-294-7432, online at https://www.familypromiseyv.org/ or the day center at 10 S. 26th St., Billings, MT 59101.
Catch the latest in Opinion
Get opinion pieces, letters and editorials sent directly to your inbox weekly!