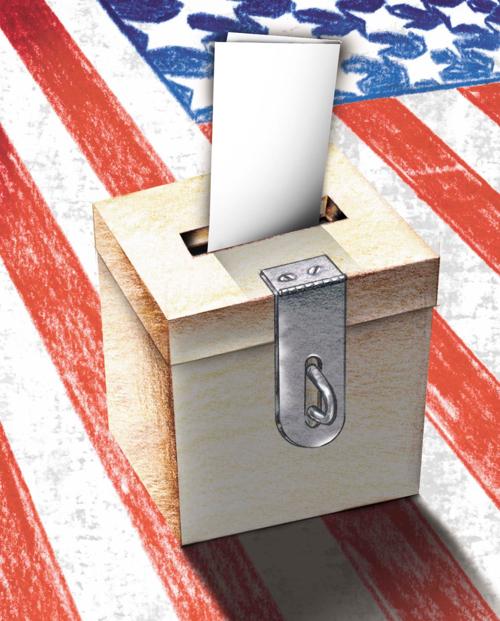 If you go to your county elections office to drop off someone else's school election ballot, be prepared for a longer stop.
A new state law, enacted by voters who approved a legislative referendum in November, requires everyone who personally turns in another person's ballot to fill out a form at the county elections office.
On Monday, the first day that voters were returning ballots mailed Friday, a steady trickle of voters walked through the door of the Yellowstone County Elections Office. Most had more than one ballot in hand. That's what elections administrator Bret Rutherford was watching for. He then would politely ask if the person was dropping off someone else's ballot. When the answer was yes, Rutherford would explain the law now requires that persons turning in another's ballot fill out a form with their name, address and phone number, and also write in the name and address of each person whose ballot they are delivering, along with checking a box to say what their relationship is to the voter. Then the person dropping off is to sign the form, swearing that the information is true.
If you are taking your ballot and your spouse's ballot to the elections office, before you drop them in the ballot box, state law requires that you fill out the form.
There is a message on the instruction sheet mailed out Friday with each of 80,000 Yellowstone County school election ballots that explains what the new law requires. There's a "stop" sign placed atop the ballot box in the elections office. But on Monday, most folks turning in ballots were unaware of the new requirement. They followed the law when informed, some complaining it was "silly", a couple saying it's a good idea.
The law probably will slow down ballot drop-offs further as Election Day gets close. Yellowstone County collected 97 forms Monday alone — a stack of papers the county is required to scan and transmit to the Commissioner of Political Practices in Helena. The COPP asked that forms be sent weekly, but Rutherford said that's not feasible in Yellowstone County because there will be too many. He plans to transmit forms daily.
Keeping an eye out for people with more than one ballot forced the elections staff to continually interrupt their other work, Rutherford said. Starting Tuesday, the three-person staff was scheduled to have additional hired help to handle the ballot drop-off registry and other election chores until after May 7.
Where did this inconvenient idea start? In the 2016 election, a few Montana voters reported that strangers had come to their door and offered to turn in their ballots for them. The obvious solution: Only give your ballot to someone you know and trust.
But instead, some Republican state lawmakers decided there ought to be a law. They passed a referendum bill, so Gov. Steve Bullock had no opportunity to veto it. Voters approved this additional bureaucracy on the Nov. 6 ballot.
Don't let this change discourage you from voting. Just be prepared to fill out a new form if you drop off ballots. Under the law, you can only turn in ballots for family, acquaintances, people you live with or take care of. An individual may turn in up to six ballots for other voters, but no more.
Know the new rules. Another option is to simply mail ballots — then skip the trip, the form and future lines at the elections office counter.