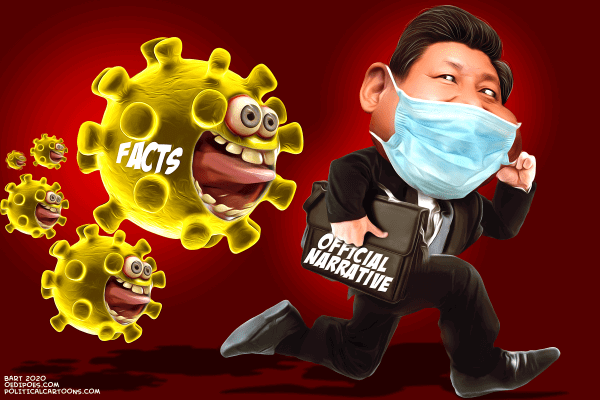 The risk of a person in Billings contracting the new Chinese coronavirus is extremely remote, but not impossible because communicable diseases can literally fly around the world on planes. That's why emergency preparedness professionals at RiverStone Health must always be ready to respond immediately to public health emergencies.
The government of China took dramatic action to restrict travel during that nation's biggest holiday and attempted to quarantine tens of millions of people in the city and province where the new virus was first identified. But China's authoritarian leadership was slow to respond in the first weeks of the epidemic and slower yet to publicize the risk to travelers. The Communist regime's attempts to suppress scientific facts allowed the new virus to spread in December and to become a global health threat in January. Although many people who contract this new respiratory illness have only mild symptoms and recover, the death rate appears to be higher than the death rate from influenza.
"It's a remote chance that someone in Billings would have it, but we're prepared to manage it," said Shawn Hinz, of RiverStone Health,  Yellowstone County's public health department. RiverStone has been preparing since mid-January in cooperation with local hospitals, the Montana Department of Public Health and Human Services and the federal Centers for Disease Control and Prevention.
"This looks very similar to other things we're looking at, like influenza and measles," said Jennifer Staton, who has been on RiverStone's emergency preparedness team for a dozen years. Influenza is the major communicable disease in Yellowstone County right now. Local hospitals can diagnose influenza on site. If a case of the new coronavirus was suspected, the sample would be sent to the DPHHS lab in Helena, which would forward it to the CDC lab.
RiverStone has sent health alerts to every health care provider in the county, telling them the signs and symptoms to look for that may indicate a person is ill with the Wuhan respiratory virus.
Hospitals in Wuhan put out pleas for the public to donate masks, gloves and other protective gear because they were running out of these infection prevention supplies. To prevent such shortages, the U.S. government has a strategic national stockpile of emergency medical supplies, including medicine, vaccines, protective gear and even hospital beds. The stockpile is stashed in 12 secret locations around the country.
If an emergency request is made, the supplies are supposed the be delivered within 12 hours, according to Greg Neil, of RiverStone, who has worked in emergency preparedness for 36 years. Yellowstone County already has a cache of personal protective equipment on hand, so wouldn't need to tap the national strategic stockpile for masks, gloves, gowns, booties or respirators, Neil said.
Emergency preparedness includes doing drills, table top exercises and mock disasters. These exercises are then analyzed to improve planning and correct any gaps in preparedness. For example, RiverStone had a community exercise in September that assessed how the county would respond to a measles outbreak. In October, there was a drill involving the hospitals and the emergency operations center. There are emergency preparedness plans to cover all manner of disasters, including an agreement with MetraPark to set up and emergency hospital there if additional hospital space was ever needed — if, say a tornado damaged our hospitals.
The communicable disease nurse and other RiverStone staff that track down and treat infectious diseases are funded through the county public health levy approved by voters. Federal funding covers emergency preparedness planning, communications and exercises. Because this federal funding is decreasing, RiverStone has to be very careful with training expenditures, Neil said.
Public information and excellent communication based on medical science facts are key to preventing infection and stopping this epidemic. Fortunately, in the United States public health experts are taking the lead. The Wuhan virus epidemic shows, once again, why government must not get in the way of protecting people's health.
For more information the new coronavirus, check the RiverStone Health website or cdc.gov.
Catch the latest in Opinion
Get opinion pieces, letters and editorials sent directly to your inbox weekly!