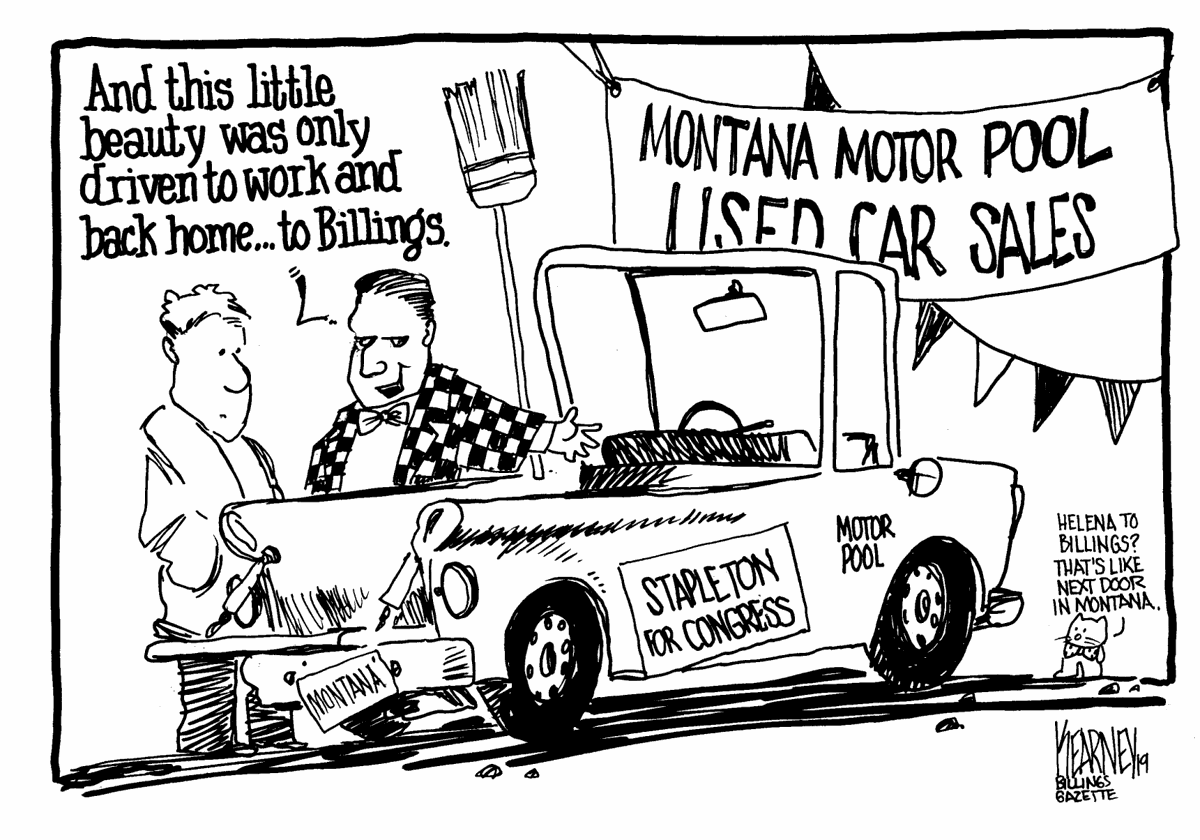 Secretary of State Corey Stapleton's misuse of a state-leased pickup truck was even more blatantly egregious than we knew last summer.
Thanks to an investigation by Associated Press reporter Amy Beth Hanson in Helena, Montana, newspaper readers now know that a legislative audit revealed only part of the public costs for thousands of miles of personal travel by the first-term secretary.
As reported in Sunday's Billings Gazette, Stapleton drove a 2015 GMC Sierra pickup truck leased by the state motor pool from Jan. 1, 2017 to March 1, 2019, at a cost to the state of $19,000, which includes fuel costs.
The state budget office was alerted to Stapleton's questionable vehicle use in October 2018 when he requested a new state-leased vehicle because of high mileage on the Sierra, which then was 100,000 miles. The budget office responded by emailing the secretary's office policies outlining appropriate use of state-leased vehicles and declined his replacement request – unless the vehicle was going to be used as law required. Stapleton didn't respond to the budget office and kept driving the Sierra till the beginning of March.
In June 2019, Lee Montana Newspapers reported a legislative audit found Stapleton violated state policy by driving the truck on trips where he transacted no official state business. The audit covered the period from Jan. 1, 2017 (the day he took office) to June 30, 2018. The audit found that the truck had been used to commute between Helena, where the secretary is required to have a residence, and Billings, where he has a home, on at least 69 days, accounting for about 27,000 miles that should not have been traveled at state expense. Stapleton's office declined to comment for that news report in June.
You have free articles remaining.
In March, after Stapleton was notified of the audit conclusion, he returned the truck to the motor pool. Since then, he has been requesting short-term state vehicle leases when specifically needed for state business travel — instead of keeping a state-funded vehicle for personal use seven days a week.
The legislative audit didn't examine the use of the GMC Sierra between July 1, 2018 and March 1, 2019, when Stapleton returned it after driving it 67,000 miles in 27 months. The Associated Press reporter requested public documents and researched the secretary's use of the truck during that nine-month period. Stapleton declined multiple requests to talk to the AP for Hanson's report. 
State policy required Stapleton to verify his mileage and leased vehicle use monthly and to attest that it was driven for official business.
This isn't a case of an occasional side trip to see the family or friends while on state business. The records indicated that most of the mileage accumulated on days when Stapleton reported no official business anywhere. In one two-day period, Stapleton put 1,000 miles on the truck with no explanation of his destination.
The legislative audit results were transmitted to the Montana Department of Justice, which asked the Helena Police Department to investigate. The Helena city attorney concluded that the one-year statute of limitations had already expired for any misdemeanor offense that might have occurred during the audit period that ended June 30, 2018.
The Helena police apparently weren't asked to investigate the truck misuse that continued through February of the this year. The one-year statute of limitations hasn't expired. The amount involved appears to potentially be a felony rather than a misdemeanor, which usually is a maximum of $1,500 in theft.
Stapleton should do the right thing and negotiate a full and fair reimbursement with the state motor pool. We call on the lawmakers in the Interim State Administration and Veterans Affairs Committee to hold him publicly accountable. We ask the SOS oversight committee to put the secretary's motor pool misuse on its Oct. 29 meeting agenda — and to insist that Stapleton himself appear to address his malfeasance rather than delegating his responsibility to a staff member.