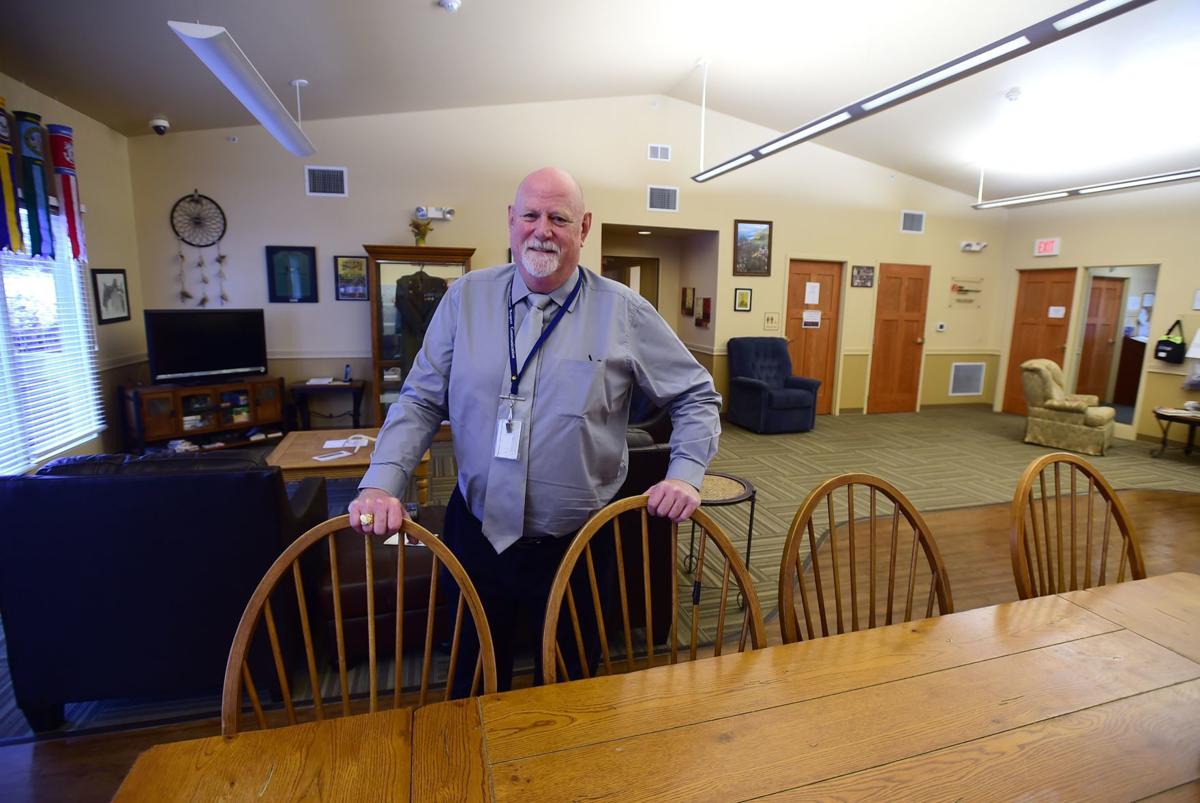 Independence Hall has sheltered more than 500 U.S. military veterans in the decade since it opened at 710 Lake Elmo Drive in Billings Heights. Veterans of wars from Korea and Vietnam to the Gulf, Afghanistan and Iraq have arrived homeless and moved out to permanent addresses.
Independence Hall is a large one-level house with maroon shutters and a native stone facade surrounded by a neat lawn and trimmed shrubs. Most of the thousands of motorists who pass by each day probably don't know that the 10-bedroom house helps veterans transition from homelessness to a healthier life.
A project of Volunteers of America Northern Rockies, Independence Hall can house up to 20 male veterans for up to two years. Most have stayed four to six months while receiving health care and other services through the U.S. Department of Veteran Affairs. Only one resident has stayed two years, according to Bill Holder, who has been the program director since the summer of 2010.
VOA Northern Rockies is the largest private provider of veterans services in Montana, according to David Shumway, spokesman for the organization based in Sheridan, Wyo. VOA Northern Rockies operates offices in seven Montana communities and provides outreach services to veterans in every county.
Primary funding for Independence Hall comes from the VA, which pays $47.37 per veteran per day. VOA aims to break even at that rate and usually does if the hall stays full or nearly so. Many local organizations refer veterans to Independence Hall, but all must be screened and referred by VA to verify their veteran status before admission.
Independence Hall provides sober, transitional housing. Residents prepare their own meals in the spacious kitchen; they are expected to get jobs and move toward independent living. The VA has a goal of successfully transitioning 70 percent of residents. Independence Hall generally meets that standard, Holder said.
Some veterans, especially younger men, don't want to follow house rules (no drinking, no drugs, keep a curfew, do chores) and decide not to stay. 
Independence Hall veterans may suffer from physical and mental problems, including addictions and post traumatic stress disorder. They arrive here "for every reason under the sun, from plain bad luck to self-imposed misery. Some prefer to stay homeless," Holder said.
The U.S. Department of Housing and Urban Development provides vouchers that subsidize rent for veterans who have been homeless. But finding a place to live is still difficult if the veteran has a felony criminal record. Many landlords won't rent to people on parole or probation or even to people who have been convicted of a felony years ago.
Independence Hall wasn't designed to accommodate female veterans, but women can be served through the VOA program of Support Services for Veteran Families. The Support Services for Veteran Families Office is at 219 N. 30th St. in downtown Billings, phone 406-294-5067.
Independence Hall recently added a full-time staff member whose job is helping male and female veterans avoid homelessness. Along with that housing retention coordinator and Holder, the Independence Hall staff includes two nighttime workers and one case manager.
"The community itself has been very supportive of this place," Holder said. "Community support around Christmastime is crazy -- the food, the gifts. Over time our reputation has grown. People don't want stuff in their own backyard, but we're looked at favorably."
Artwork hanging beside Independence Hall's front door depicts the U.S. flag, a globe and a solider's silhouette under the words: "We are all heroes." It's a reminder that resident veterans have served honorably and deserve the respect they will receive inside this big house on Lake Elmo Drive.
Catch the latest in Opinion
Get opinion pieces, letters and editorials sent directly to your inbox weekly!