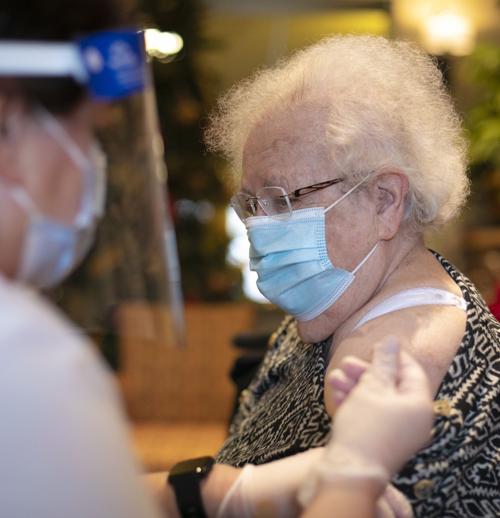 Seniors in care facilities and the heroes who take care of them: There is no one we'd rather see get the relatively small number of COVID-19 vaccinations currently available.
After the terrible ordeal both groups have been through over the last few months — state figures show that 98.6% of long-term-care facilities and 64.5% of assisted-living facilities have reported virus cases, and the death toll has been horrifying — it has been a wonderful thing to witness the first vaccinations in care facilities.
While disquieting accounts surfaced late last week about a lack of federally stockpiled doses, it does seem that vaccine production continues to increase, so it's reasonable to expect a steadily increasing supply and a scenario in which everyone in the state will have the opportunity to be vaccinated within several months' time.
Several months — not overnight.
As the Legislature busies itself with changing the way the state responds to the pandemic, legislators and the governor must remember that.
We do see the value in indemnifying businesses who take health precautions and follow protocols from legal liability, as a bill which advanced out of committee Friday would do. We also see value in the bill that would prevent penalizing police for not enforcing orders. These are both common-sense measures that will take complication and confusion out of the situation.
Neither of them are carte blanche for businesses or citizens to disregard health mandates, and they should not be interpreted as such.
In the meantime — hang on, Montana. Help is on the way. Stay masked up and careful.
The Billings Gazette Editorial Board consists of President and Publisher Dave Worstell, Regional Editor David McCumber and Chief Photographer Larry Mayer.