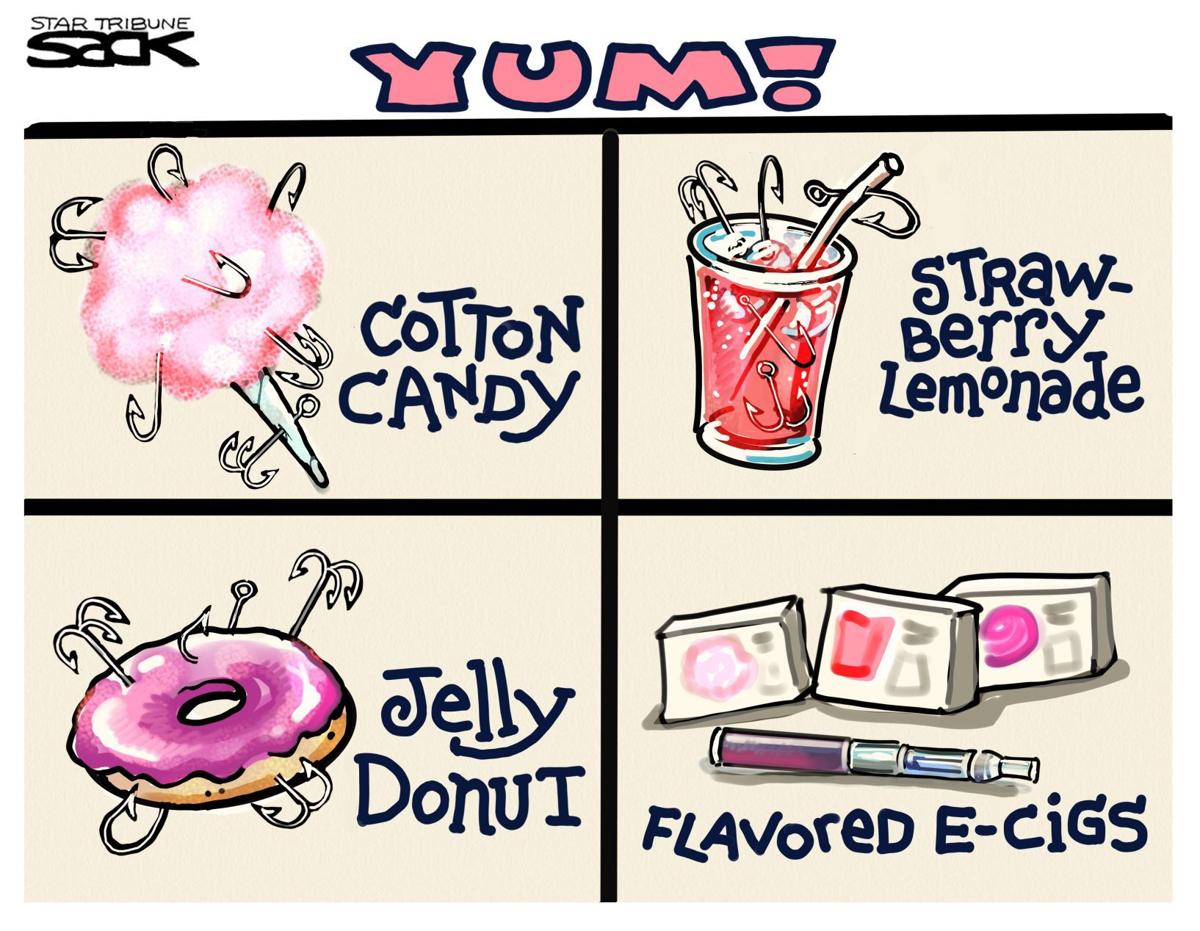 Are e-cigarettes safe? That's a question Dr. Tanya Jagodzinski hears frequently at the Children's Clinic in Billings. Her answer is "no." She doesn't recommend vaping for children or adults.
As e-cigarettes and other electronic nicotine delivery systems have become far more popular with teens than cigarettes, the biggest myth is that the electronic devices are safe, Jagodzinski said. "As pediatricians, we've been concerned about the nicotine effect on brain development, learning, memory and attention."
Kids as young as 10 have vaped in Billings, according to Dr. David Higgins, a pediatrician with Billings Clinic.
Publicity about the severe, sometimes fatal, lung illness linked to vaping has finally got people's attention for the warnings pediatricians have been sounding for years.
"Vaping is not a safer way to smoke. That's a perception that teens have," Higgins told The Gazette. Adolescent use has skyrocketed with kid flavors that taste great.
"I'm talking about this with my patients everyday," Higgins said.
Dr. Cathy White, a pediatrician in Butte who has practiced for 32 years, has "seen way more asthma" in recent years, a trend she attributes in part to vaping. Children as young a 7 have tried vaping, she said. She's heard of contests where youth attempt to vape an entire Juul pod in one sitting. A pod contains as much nicotine as a whole pack of cigarettes. Young patients have told her they walk into the school restroom and smell fruity and candy vaping flavors. "It smells so good," they say.
White worries about "third-hand smoke," the residue of toxic and carcinogenic vaping chemicals that remains on tables, chairs and other furnishings after someone vapes indoors. Even toddlers are exposed to third-hand vaping if their parents or older siblings vape.
White also sees teens who vape suffering from depression, one of the problems that research indicates vaping may cause.
Nicotine by itself is highly addictive. Recent research indicates that combining nicotine with sweet flavors may increase the likelihood that a user will continue to use. Pediatricians worry especially about the effect of nicotine on young people's brains which are not fully developed until around age 25.
White is president of the Montana Chapter of the American Academy of Pediatrics, which issued a statement last week applauding Gov. Steve Bullock's announcement of a 120-day public health emergency ban on sales of flavored vaping products in the state. Bullock said the ban, issued under authority of state law, would take effect on Oct. 22.
The pediatrician's group cited several disturbing reasons to discontinue sales of fruit and candy-flavored vaping products:
58% of Montana high school students report having vaped, according to a statewide survey earlier this year.
30% report regular use.
Harmful toxicants and carcinogens in vaping aerosols may affect people near the e-cigarette user in much the same way that secondhand smoke affects nonsmokers, according to research reviewed by the American Academy of Pediatrics.
Vaping products have hooked children and teens with flavors like cotton candy and gummy.
Last month the Trump administration proposed a nationwide ban on candy and fruit flavorings in vaping products, but there has been no announced timeline for actually doing that. The FDA has authority to regulate vaping products, but has not done so. A lawsuit by public health advocates resulted in a ruling that requires FDA action by next spring.
Bullock's ban calls attention to the urgency of preventing today's young people from risking their health on products that haven't been proven safe and may ultimately be as dangerous as cigarettes.
E-cigarette merchants say they are in business to provide adult smokers with an alternative to traditional cigarettes. They offer products to help smokers quit, they say. The ban on fruit and candy flavors won't interfere with that adult market niche.
However, we know that thousands of Montana teens (and millions of U.S. teens) and even children have been vaping with shocking frequency. If the kids stop using, there will a drop in sales — and a significant increase in young brain and lung health.
Catch the latest in Opinion
Get opinion pieces, letters and editorials sent directly to your inbox weekly!