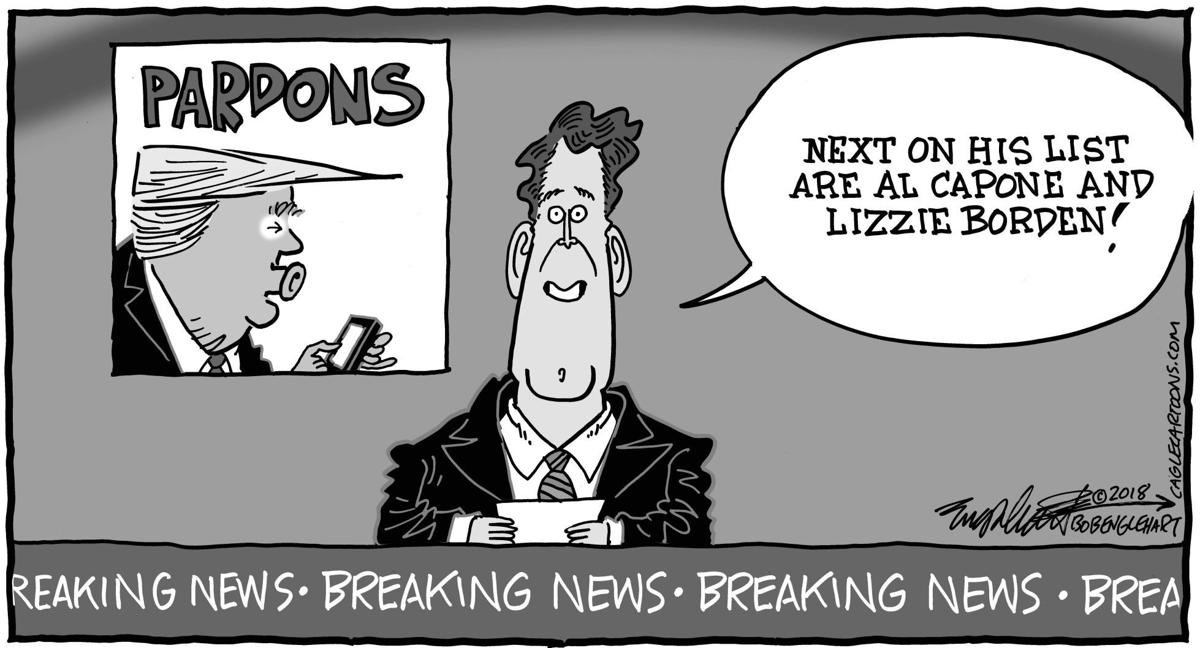 For the sake of conversation, let's say someone comes to your house and sets your land on fire intentionally.  
In addition to the fire department responding, you'd probably hope there's some kind of criminal charges.
Bizarre, crazy situation, right?
And yet for good measure, let's also assume that after the ordeal is over — and you get your home back — the people who did that to your property are let off without consequence.
That couldn't happen, right?
Well it already did. To you. And us. And all Americans.
Really, that's just a stripped-down version of what happened when Oregon ranchers Dwight Hammond and his son, Steven, were pardoned by President Donald Trump for committing arson on public lands — a crime in which both men were found guilty and punished.
The Hammonds' conviction gained them celebrity status as supporters saw this as a case of government overreach. They claim that a fire started on the Hammonds' own land accidentally crept onto public lands. Prosecutors alleged the Hammonds started the fire to cover up a poaching crime. In the end, the prosecutors and the justice system rendered a guilty verdict — and they were punished according to the law.
Instead of obeying the rule of law — something that Trump has talked about repeatedly — he thwarted it by pardoning those who had been rightfully convicted. 
No one questions Trump's power to pardon, but every pardon that's granted undercuts and undermines the rule of law. 
The Hammonds were convicted — and convicted rightfully in a court of law. Disagree or agree with the decision, that's the rule of law. That's the legal process and it must be respected, if, as the saying goes, we are a nation of laws. 
Undercutting that, especially in a place like the West, which has had so many public land stand-offs from the Sagebrush Rebellion to the Freemen, sends a dangerous message. It would seem to suggest that rebellions, even minor skirmishes set in somewhat unknown Oregon locations, against the federal government will be tolerated by (drum roll, please) the federal government itself. 
Montana has had plenty of experience with these kind of groups and they don't stand for the law, they stand for lawlessness. 
When Montana's lone Rep. Greg Gianforte commented on the case, he said he was grateful and that "This has to do with farmers and ranchers being treated fairly and respecting individual property rights."
That Gianforte expressed gratitude that two men convicted justly were released seems to be more akin to thumbing his nose to the law. The ranchers were treated fairly — by the system that was in the best position to do so, the courts.
And, the Hammonds were not convicted for what they did to their property — they were convicted because of what they did to public lands. 
It's probably not surprising that Gianforte took such a strong stance with property owners and seems to have a vendetta against public land managers. 
You may recall that Gianforte himself ran into a flap in Montana when he was accused of blocking public access to a river on his own property. 
In 2009, East Gallatin LLC, a Gianforte company, sued Montana Fish, Wildlife and Parks in May 2009 to remove an easement that provided public access along the East Gallatin River. The case was later settled when the State of Montana agreed to a better trail and fence upgrade to keep people off the Gianforte property.
If the Hammonds had trashed private property like public property, there would be no sympathy and no reason for a pardon. But Trump's pardon puts at least a second-class status on public land.
However, places like Montana thrive because there is public land to share and others come to enjoy it. We must demand that our politicians afford the same respect to public lands as they do to private parcels.