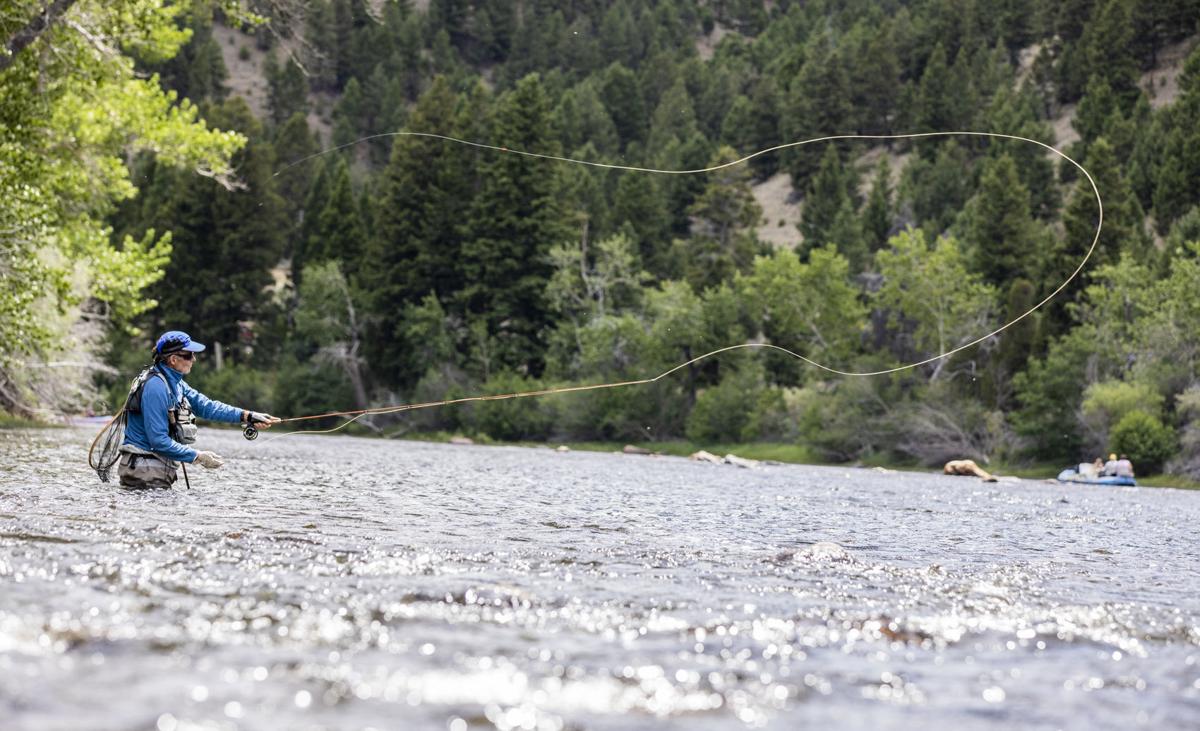 Craig Jones makes his living off the Big Hole River's trout.
Yet in the Big Hole's most popular section near Melrose, adult brown trout numbers dropped from 1,800 to 400 in the last six years, accompanied by poor recruitment — the survival rate of younger fish.
While Jones agrees with Montana Fish, Wildlife & Parks officials that anglers are not the principal driver of the regional decline, he said the proposed changes in fishing regulations can help the ailing brown trout population.
Jones has guided on the Big Hole River for two decades and owned Great Divide Outfitters for seven years. In his younger days he chased brown trout over their redds — spawning grounds — catching one big brown after another in the fall.
"I'd catch the same fish two or three times," he said. "Looking back, I wasn't being a good steward of my own river."
Jones said few anglers took advantage of fishing redds years ago. Though he has changed his ways, the secret is out now, and other anglers target spawning beds in October, he said.
"That's when they're particularly vulnerable," he said. "And they get pounded."
Angler pressure is up massively across southwest Montana rivers — almost 90,000 angler days were recorded on two popular sections of the Big Hole in 2019, tripling since 2001.
On Saturday, between selling flies and rods at his shop and addressing customer concerns over the startlingly low level of the river and poor state of the brown trout population, Jones pulled up Facebook images of brown trout fillets being bagged at a cutting table on the Big Hole this past Mother's Day.
"That shouldn't be OK if we're worried about brown trout," Jones said.
It's nothing personal, he said, but biologists have sounded the alarm on the species and moved to take action for a reason.
The comment period ends July 11.
The regulation changes being considered include:
• Adopt seasonal fishing closures to protect spawning brown trout on some or all sections of the Big Hole, Ruby, Boulder, Beaverhead, upper Yellowstone, Madison, Shields and upper Stillwater from Sept. 30 to the third Saturday in May.
• Catch-and-release fishing only for brown trout on some or all of the same rivers or sections of rivers and tributaries.
• Standing "hoot-owl" restrictions from July 1–Aug. 15 on some or all of the same rivers or sections of rivers and tributaries from 2 p.m. to midnight.
Weighing in
Jones is in full support of catch and release and a fall closure of spawning sections on the whole river.
However, he and some other anglers say closing the river in the spring would have a minimal effect on the population, because the water is high and cool at that time.
It would also hurt business, Jones said, since he and other outfitters rely on the springtime to get their season started, as do other Big Hole businesses.
"If you can't fish, then people aren't coming here. That is how people find out this place exists," he said.
The justification for a winter and spring closure is that the fish eggs lay vulnerable on the redds in those periods, and can be stepped on, said Eric Roberts, Fish Management Bureau chief for FWP.
Forrest Jay, the new president of the Butte-area George Grant Chapter of Trout Unlimited and a freelance guide who sometimes works for Jones, said his chapter feels the same way as Jones.
"There's not a lot of wading pressure in the spring," Jay said. "There's actually not a lot of pressure at all. Usually, it's mostly float pressure. So closing in spring would really cause a detrimental effect on sportsmen and outfitters, and users and supporters of the river. They haven't really made the case on why it really is truly necessary."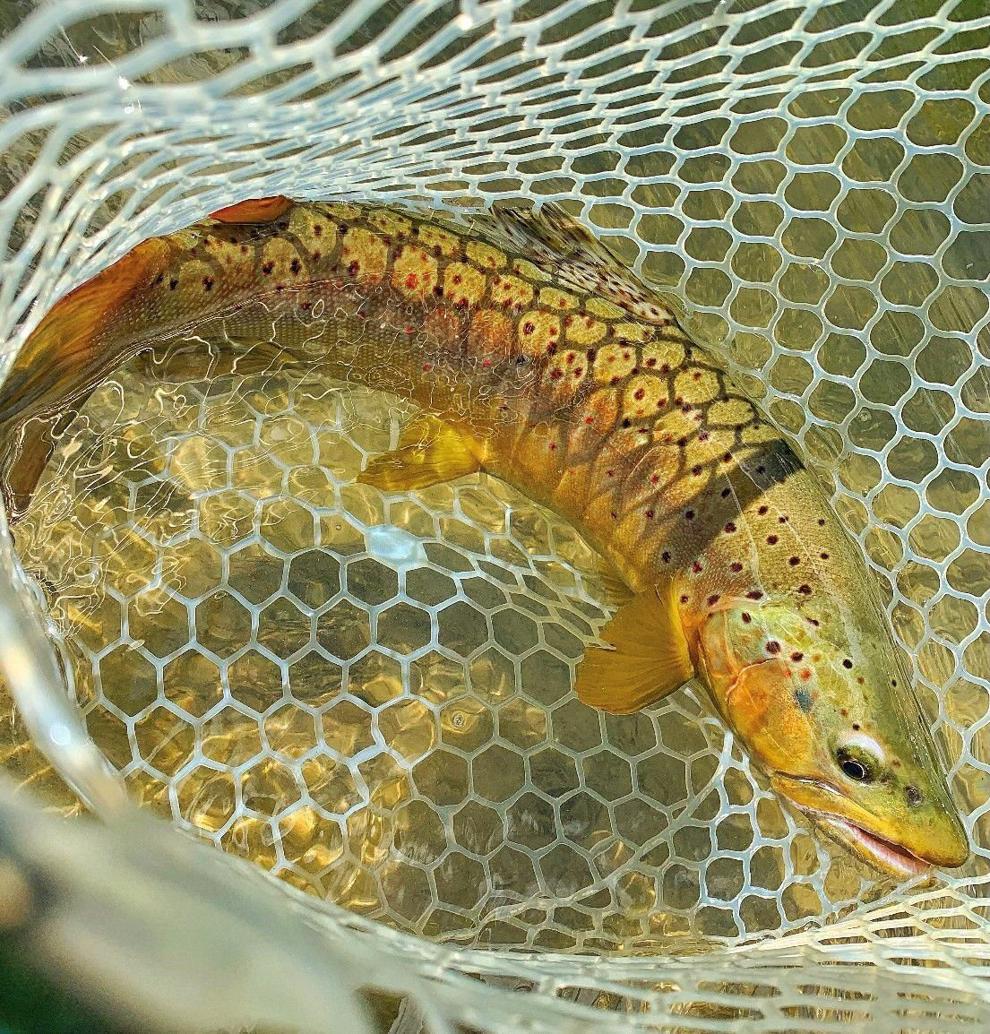 Other ideas
Speaking on behalf of his chapter, Jay recommended closing sections or even the full length of the Big Hole from Oct. 1 to Dec. 31.
Mike Bias, executive director of the Fishing Outfitters Association of Montana, said his organization also supports closures during the Oct. 1 to Dec. 31 time frame, but at this point only on specific spawning sections rather than whole rivers.
"Although browns do spawn throughout that system," he said of the Big Hole. "And they're primarily main stem spawners. But boy, that would have a big effect, not just on outfitters, but on anglers, because there are anglers that specifically target coming to Montana in the fall to fish."
Bias said the organization also supports catch and release and went a step further to recommend bait fishing be prohibited, and only single hooks be allowed on each fly or lure. This would prohibit treble, or triple hooks, which are commonly used on lures, and fly-fishing streamers containing multiple hooks.
His organization leaves what parts of rivers should be subject to these regulations up to FWP discretion, he said.
"Certainly we're not out to exclude any bait fisherman or the guys throwing Mepps spinners. But if you're going to manage for protection of brown trout, you'd have to determine what sections and then implement those regulations accordingly," he said.
Todd Holverson, a professional bass angler, has fished the Big Hole since the 1970s. He doesn't consider treble hooks more of a risk to trout.
"When those trout bite that thing, they don't suck it down like a bass does. Man, they're always hooked in the outside of the mouth or the lips. You never catch them down the throat," he said.
Nonetheless, he said he would support a single hook regulation if that's what experts decided was warranted.
Going another step further, Jay and Jones said barbless hooks should be included in the new regs if they're adopted.
Travis Horton, fisheries manager at FWP Region 3 in Bozeman, said science supports treble hooks having a higher impact on fish mortality, but not barbless hooks.
Jay and Jones counter that fewer hooked fish make it into the net using barbless hooks and that they are much easier to unhook if they do — both factors which relieve the stress on fish.
Roberts said FWP usually steers away from regulations that eliminate access to a certain type of fishing, and is more likely to consider specific stretches of water for gear-related restrictions and even then only in the face of strong evidence the gear causes a mortality risk.
"We don't want to stack the deck for one type of fishing over another — banning bait fishing so more people can float the river and do catch and release. We typically try not to do that," he said.
But many anglers are calling for exactly that now that brown trout are in crisis.
"If we're really worried about them, we've got to stop the bait fishing," Jones said.
Rainbows
Catch-and-release regulations — in whatever form they take — should also be applied to rainbow trout on the Big Hole, Jay said.
While not the focus of the regulation changes or facing as steep a decline as brown trout across southwest Montana, rainbow trout numbers are down in the Big Hole, as well. Rainbows in the river's Jerry Creek section numbered more than 2,000 adult fish per mile in the 1980s and from 2000 to 2008. They are now down to 600. In the Melrose section numbers are down from peaks of 500 to over 700 adult fish per mile in the early 2000s to around 300 fish per mile the last three years.
Catch and release is the only regulation change listed that Frank Stanchfield supports.
"It can't hurt," he said.
Stanchfield owns Troutfitters, which offers accommodations, guide service and a fly shop in the Big Hole Valley. He said additional regs would be premature, adding that browns hadn't made their way up to his section of the Big Hole above Wise River until 1968, and feels the populations will even out again over time.
"Mother Nature has a way of adjusting everything. Man thinks he can play God, but I haven't seen it work," he said.
He doesn't believe regulation changes will make a significant difference in the population, something FWP personnel have said is a distinct possibility.
Weighing in
Since the brown trout decline came to light, many in the public have been demanding fast action.
Much of the public comment so far adds detail — gear restrictions, for example — that go beyond the broad scope of what FWP laid out in its proposals. Roberts said all public comment will be taken into consideration. There will be a lot for FWP and the Fish and Wildlife Commission to hash through.
At the Butte meeting, Matt Jaeger, FWP fisheries biologist for the Beaverhead and Ruby rivers, said whatever regs are imposed should be set up in a way the biologists can learn from.
Bias said that was one of the most important takeaways from the meeting.
With record low flows underway in the region, Bias said it may be hard to gauge the success of the regulation changes.
"It might not be the best experimental conditions to see if hoot owl closures affect recruitment or seasonal closures affect recruitment, because overall it's a tough year," he said.
Nonetheless, Bias said regulation changes are needed now more than ever.