The Bighorn River's fishery seems to have reached a Dr. Seuss-like equilibrium – there are big fish, small fish, brown trout and rainbow trout.
"The fish are really healthy," said Shannon Blackburn, Montana Fish, Wildlife & Parks fisheries biologist based in Billings. "Big, fat and beautiful."
Since twice-a-year surveys began in 1992, the fishery has seen some big swings in population thanks to periods of drought and high water.
The upper river – between 3 Mile and Bighorn fishing access sites – saw total trout numbers of 2,585 fish per mile in 2021. The highest figure in that stretch was collected in 2012 when 7,900 fish were counted. The lowest number was in 2019 when 1,188 trout per mile were netted.
The fish are counted via electro-fishing. Boats fitted with generators and electric probes temporarily stun fish so they float to the surface, are netted, weighed and measured.
"The thing that's really promising is this year we have a good spread throughout," Blackburn said, with fish from 4 inches up to 23 inches or larger.
The breakdown between brown trout and rainbows is also pretty equal, 1,299 browns per mile compared to 1,303 rainbows.
"Typically we see fewer rainbows in the upper section," she said.
Lower water flows in 2020 and 2021 have helped the spring-spawning trout recover.
"Some of them look like an A-run steelhead they are so big," Blackburn said.
A-run steelhead are Snake River Basin sea-running trout that spend less time in the ocean. B-run steelhead typically spend two summers in the ocean and are therefore larger.
On the lower section of the river that FWP samples, which runs from Mallards Rest fishing access site four miles upstream, total trout numbers were 1,108 with 970 of those larger than 8 inches. Brown trout accounted for 483 fish and rainbows for 536. Because of mark and recapture techniques used, the individual species numbers don't always add up to the total.
"Rainbow trout numbers in the lower section have rebounded from historic lows in 2018," Blackburn said. "We saw a good range of size classes and sampled many small rainbow trout as well as large ones."
Bighorn Lake
FWP also keeps tab on the fishery in the northern end of Bighorn Lake, between Barry's Landing and Ok-A-Beh boat ramps. Gillnet sampling on the reservoir shows walleye numbers aren't high but there are some big fish gorging on emerald shiners, a baitfish.
In the fall netting at Barry's Landing, the average walleye was 18.2 inches compared to 19.8 inches at Ok-A-Beh. Nets are also catching some native sauger, which resemble walleye. While electro-fishing at night in the bays, the FWP crew is finding lots of smallmouth bass.
"We caught some of the biggest smallmouths I've ever seen," Blackburn said.
When she has returned on her own time to fish the reservoir, Blackburn said the bass bite has been "phenomenal," with the fish attacking everything from worms to spoons.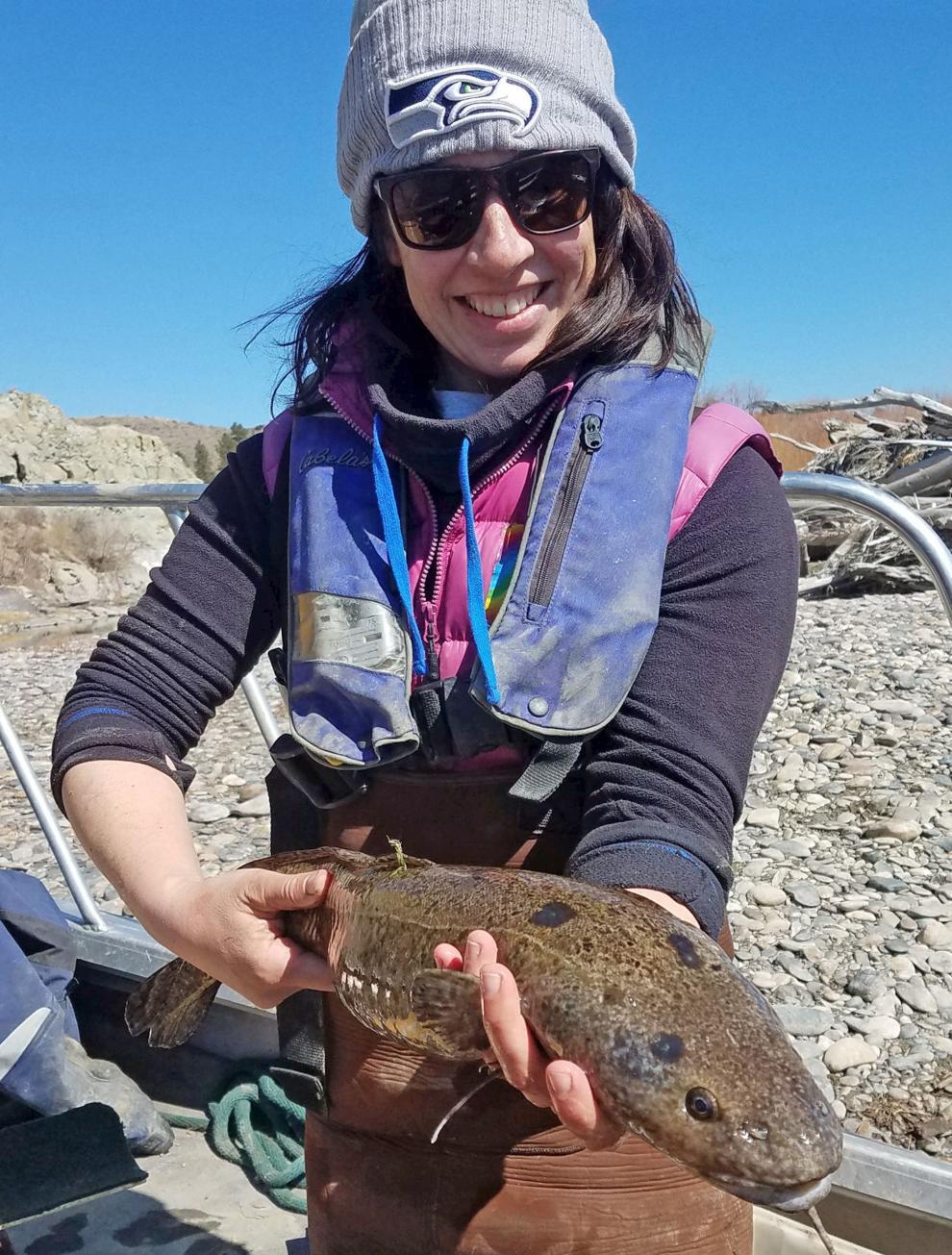 Burbot
After taking over as the Billings fisheries biologist two years ago, Blackburn also inherited continuing research on the Yellowstone River's burbot population. The freshwater ling were believed to be in decline due to low water, but FWP was lacking any survey numbers until sampling was initiated in 2010 following low water years. Even then, netting the fish proved to be tough, especially when trying to recapture tagged fish.
The nets are set in the spring, just after ice-out, when burbot are spawning.
"They seem like they are doing OK, and also we're getting better at sampling them," Blackburn said, because the crew is getting better at setting the hoop nets.
They also switched to nets with a finer weave, picking up burbot 15 inches and larger.
"We've seen a nice range of size classes during sampling the last couple years, which can be indicative of a healthy population," she said.
The crew captures bigger burbot downstream from Billings, but more of them upstream. The crews have also recorded a few large channel catfish downstream.