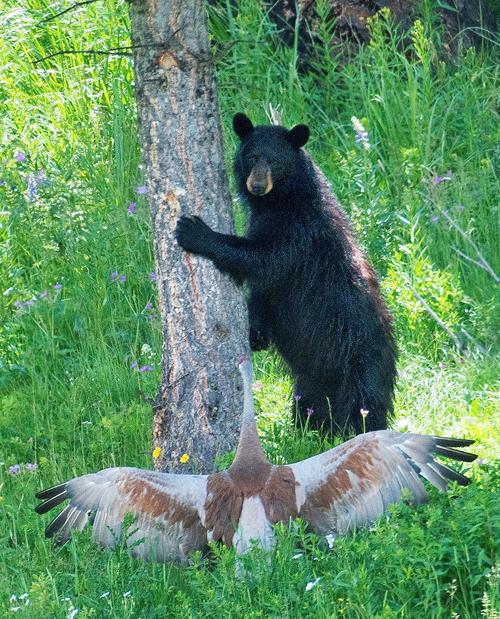 It was a wild and unusual confrontation that Judy Lehmberg and her husband Verne witnessed four years ago in Yellowstone National Park in May.
While capturing video footage of ruddy ducks at Floating Island Lake a young black bear unknowingly got too close to a sandhill crane's chicks.
"It was pretty neat to watch," she said.
The footage she shot of the crane and bear just came to wider public attention last week when CBS Sunday Morning aired the scenario. Lehmberg has been providing content for the show's nature segment for about three years.
Looking big
A retired Texas professor of biology, Lehmberg guessed the bear was a youngster who had just been kicked out by its mother because it seemed young and dumb. As it wandered near the lake the bear got too close to the chicks, sending the male crane into full attack mode.
Standing about 4 feet tall with a 6-foot wingspan, a 7- to 11-pound adult sandhill crane can appear much more fearsome and threatening than its real size might imply, even if it is one of the largest birds to live seasonally in Yellowstone. They punch above their weight, to use the boxing analogy. And like many birds, sandhills are very protective of their young.
"It's kind of an interesting displacement behavior," said Dan Case, a longtime Billings birder.
"I've seen geese chase off various predators over the years," including much larger coyotes, he said. "They're aggressive enough that they can turn the tables on predators sometimes."
Fooled
The sandhill crane proved so threatening that it drove the young black bear toward a pine tree, which it climbed partway up while looking at the crane with an almost quizzical expression, as if to say, "What did I do to make you so mad?"
To heighten its fearsome behavior, the male crane stood with its wings partly outstretched to appear larger.
"Obviously the bear wasn't under threat," Case said.
But this black bear chose not to risk fighting back, eventually running off with the crane on its tail. At one point the crane hopped atop a boulder, exaggerating its size even further.
Surrounded
Lehmberg could relate to the bear's confusion and fear. She was once walking across Swan Lake Flats in Yellowstone when she accidentally walked between two adult sandhill cranes.
"They kept circling me and yelling, and I was afraid to move," Lehmberg said. "You look at the bills on those things and they could do some damage. And they know where your eyes are."
She has also seen sandhill cranes fight each other. In another instance Lehmberg witnessed a grizzly bear amble past a sandhill crane on the west side of the park, but the two didn't interact.
"They kind of gave each other the eyeball," she said, but it was almost like the grizzly bear decided "I don't want to eat you today."
As Case noted, birds have a few different tactics to protect themselves and their young. One is camouflage, a reason that female birds are often less colorful than male birds, he said. Killdeer, he pointed out, will fake a broken wing and run to lure predators away from their nests as a form of distraction behavior. Birders will also often see smaller fowl attacking larger predators, like hawks and owls, sometimes when both birds are in flight, an aerial combat as amazing to watch as World War I biplanes swooping, climbing and diving.
Seeking shots
Getting such unusual photos and video has become a source of retirement income for the Lehmbergs, who camp out along the Yellowstone River outside Gardiner about six months of the year to be close enough to visit the park in search of wild scenarios.
"This is the hardest industry in the world I've had to break into," she said of video production.
Luckily, it's not her main source of income. Instead, money from videos helps supplement the couple's retirement income, allowing them to also visit other wild places like South Africa, where Lehmberg once taught biology in Johannesburg. But in the fall and spring, Yellowstone is one of her favorite places to visit.
"The bears are coming down now," she said.
Fall is when bears are on a feeding frenzy, packing on calories as quickly as possible so that their fat stores can carry them through the long winter months of hibernation.
The Lehmbergs avoid the busy summer months of June, July and August in Yellowstone, when the majority of the year's roughly 4 million visitors cram into the park.
"The tourists scare the heck out of me," she said.
Be the first to know
Get local news delivered to your inbox!