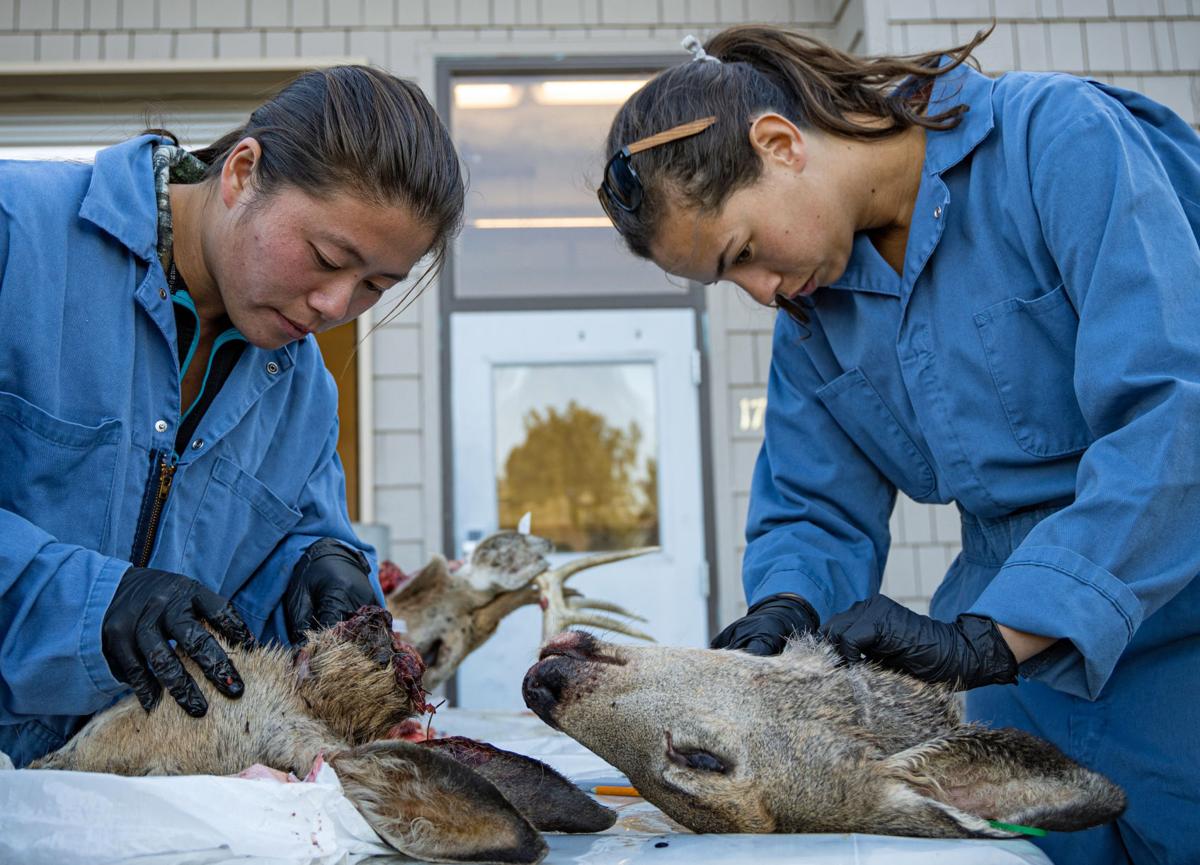 Citing an unusually high incidence of chronic wasting disease in southwest Montana, the Fish and Wildlife Commission approved extending the hunting season for whitetail deer in six hunting districts.
"This is largely in response to some extremely high CWD infections centered around (Hunting District) 322," Brian Wakeling, Game Management Bureau chief, told commissioners during a Thursday online meeting.
"Surveillance suggest CWD prevalence may be as high as 50% in a localized portion of Hunting District 322 where approximately 2,000 white-tailed deer are routinely counted at spring green-up," according to an FWP report to the commission submitted by Region 3 supervisor Dean Waltee.
This is despite hunters killing more than 4,200 deer annually from 2004-2019 in the Jefferson and Ruby river valleys.
With such a high rate of disease, the chances of CWD spreading to mule deer, elk and moose in the area is high.
Nick Gevock, conservation director for the Montana Wildlife Federation, called the high number of infections staggering, suggesting the disease has either been in the area for a long time or is spreading incredibly fast, or both. CWD was first detected in the Ruby Valley in 2019 but was not identified in HDs 320 and 326 until surveillance was conducted this season.
In HD 322, in the lower Ruby Valley near Sheridan, FWP collected about 335 samples from whitetail deer. Seventy-eight animals tested positive.
"These (infected) deer are contiguous with white-tailed deer and moose throughout the Ruby, Jefferson, Beaverhead, and Big Hole valleys," according to FWP's report. "They are seasonally connected to migratory populations of elk, moose and mule deer that occupy adjacent upland habitats."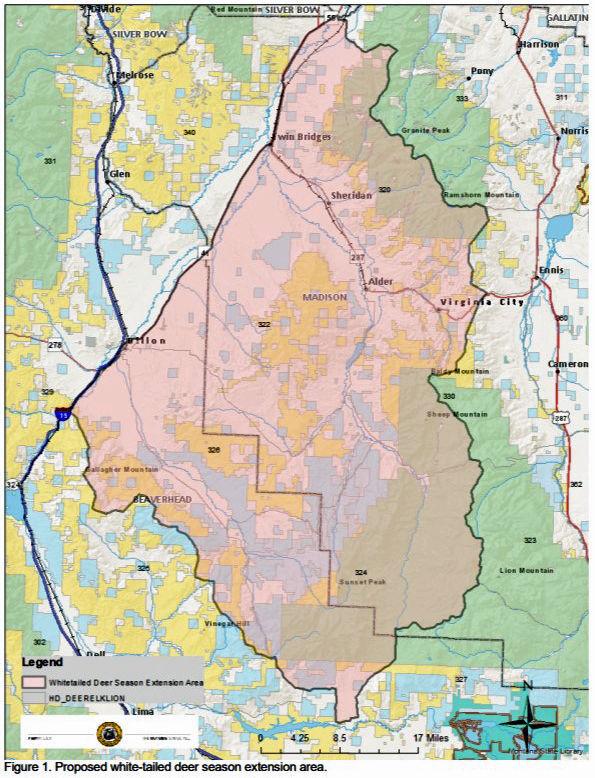 "The whole objective is to reduce density so that contamination is reduced," Wakeling added.
That's complicated somewhat by the fact that most of the land where the deer congregate is private. Hunters will therefore need to seek landowner permission.
FWP noted, "Two landowners (who) control most of the lower Ruby Valley, where CWD occurs at relatively high prevalence and white-tailed deer densities are the highest, are supportive of continued hunting."
The Department of Fish, Wildlife & Parks is not recommending the issuance of additional licenses, as it has done in some areas in the past to increase harvest, even though the primary goal is to reduce the deer population.
The hunting season will be extended through Feb. 15 in Hunting Districts: 320 (within the Jefferson River watershed but excluding the Madison River watershed), 322, 324, 325 (within the Blacktail Deer Creek watershed but excluding the Beaverhead River watershed south of Barretts), 326 and 330 (within the Ruby River watershed but excluding the Madison River watershed).
General deer licenses would remain valid for either-sex white-tailed deer, and the 003-00 and 399-00 B-licenses would be valid for whitetail does.
Increasing the killing of whitetails to try and save the population may seem ironic, commissioner Pat Byorth noted, but high wildlife densities help spread the disease.
It may take months for signs of chronic wasting disease to appear in animals, but the disease is always fatal. Although there is no documented evidence of humans contracting the disease from eating an infected animal, the Centers for Disease Control and Prevention recommends against the practice.
FWP is considering staffing CWD testing sites somewhere near Dillon and Butte, but the operations may be constricted by the cost of staffing and paying for tests. The commission encouraged Wakeling to see that FWP tests more animals.