Much like an invisible dog fence can keep canines corralled in the yard, a northern Montana cattle rancher is looking forward to experimenting with virtual fences.
"It's really expensive, super expensive," said Leo Barthelmess, a Malta-area rancher. "But somebody has to start it. And the more that are produced in the market, the cheaper it gets."
The U.S. Fish and Wildlife Service Partners for Fish and Wildlife program was recently awarded a $70,000 grant to help fund a demonstration project for the virtual fencing on Barthelmess' ranch.
"This is a demonstration to see what the issues are and if we could expand it," said Marisa Sather, a private lands biologist for the partners group.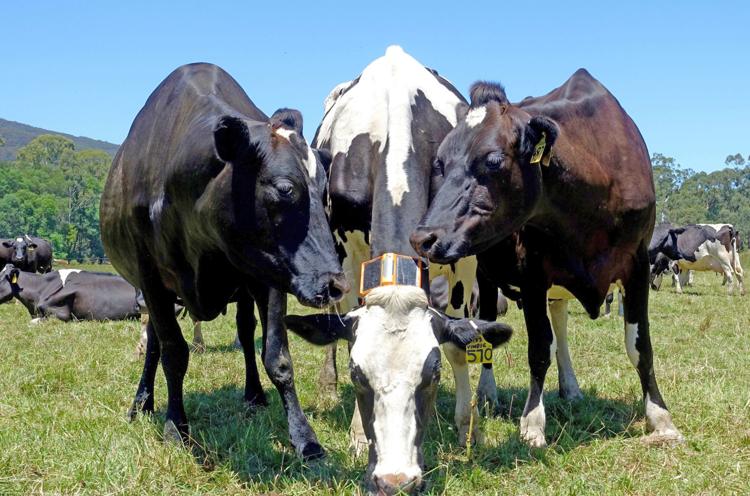 Virtual fence
Barthelmess and Sather have their eyes on an Australian-made virtual fence manufactured by Agersens and known as eShepherd.
In its most basic form, the Agersens technology works via a collar attached to a cow. The collar contains a GPS unit, an electrical shock component, a noisemaking device and a small solar panel to keep it all charged.
A landowner sets up a repeating tower near to where the cattle will graze. Using a smartphone or tablet, the landowner identifies a grazing area on a map. When the collared cow gets within a certain distance of the virtual fence, a noise is emitted from the collar. If the cow keeps walking toward the virtual fence, a mild shock is sent to the collar.
The idea is to train the cows to stay on the allotments and eventually respond only to the sound, not the shock.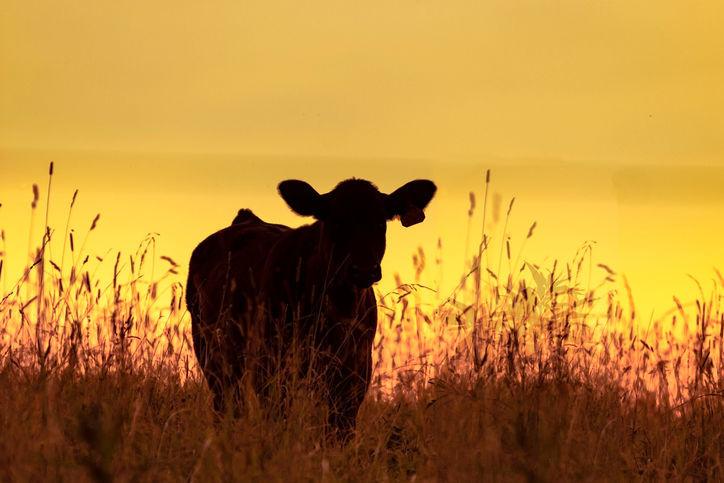 Once the cattle have grazed an area, the landowner can set up a new pasture and the collar's noisemaking device helps herd the animals to the new allotment. The new grazing areas can be set up and the cattle moved without the rancher even being in the field.
"eShepherd is set to revolutionize livestock management by unlocking value from the digital transformation of the American beef and dairy industries and will make farming more efficient, more manageable and less labor intensive," said Ian Reilly, CEO of Agersens, in an article published by Ohio State University.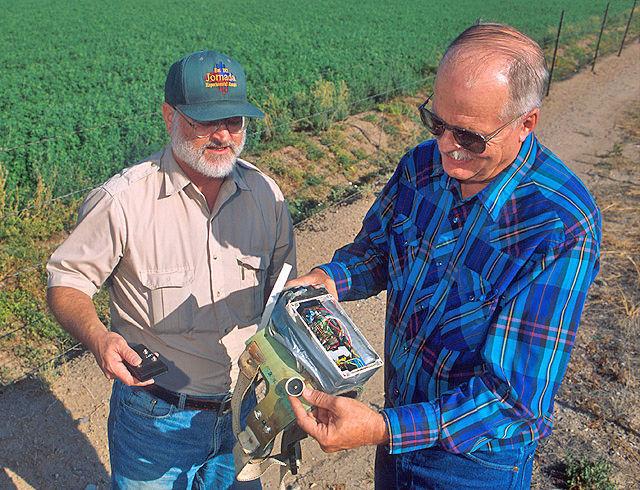 Payoffs
The beauty of such devices for landowners is that they can create small areas to graze intensively without the use of electric or barbed wire fencing. They can also prevent cattle from going into wet areas, streams or ponds.
For wildlife, there's a benefit of no fence to block their travels.
Barthelmess likes the idea that in addition to intensive grazing, the virtual fences can also ensure that, once grazed, an area receives rest. Cattle can also be rotated onto new pasture more frequently.
"You could move them multiple times a day if you wanted to," Sather said.
You have free articles remaining.
Keep reading for FREE!
Enjoy more articles by signing up or logging in. No credit card required.
The devices may also work in forest lands to engage cattle to graze grasses to create a fire buffer, while still keeping them away from streams, Barthelmess said.
Development
Such devices were first created 30 years ago, but the cost was too prohibitive to advance the science and the blueprints were shelved. Then about a decade ago Dean Anderson, an animal scientist with the U.S. Department of Agriculture, created a device that showed proof of concept on a New Mexico research station.
"Half of the cost of fencing is in the labor, which would go sky-high if you fence high mountain pastures," Anderson told AgResearch Magazine in 2000. "Virtual fences can go wherever the ecology dictates the cow needs to go. In the past, we've always placed fences based on accessibility — whether by vehicle, horse, donkey, or on foot. Human convenience has always won out, not any theory of range management. But that's not always best for the range or the cow."
Since then, Anderson has become a board member for Vence, an American-made virtual fence product.
More insight
One scientific study conducted in corrals using bales of hay as an attractant showed that the majority of the tested cattle could be persuaded by the collars to avoid the hay, but animals did vary in their response to the sounds and electric shocks.
The University of Idaho had signed a deal with Agersens to provide collars for testing, but they "just never seemed to be ready," said Melinda Ellison, an assistant professor of range livestock. The university is now talking to Vence.
"I have no hard feelings," she said. "I'm very hopeful. I think it will be a really cool technology."
Ohio State just signed a memorandum of understanding with Agersens to study the technology. In fact, John Foltz, chair of the Department of Animal Sciences at Ohio State, was the person responsible for the Univeristy of Idaho MOU when he worked there.
"The virtual fence is an exciting technology, which we hope to utilize in numerous research projects to understand its potential as a livestock management tool," Foltz said in the OSU article.
Vence sees the collars from a slightly different perspective, touting the importance of sustainable agriculture as the world's human population continues to grow and with it the demand for "animal protein. Animal protein accounts for 20 percent of the global diet, so the world needs a lot more livestock," Vence's website announced.
Hopeful
Barthelmess is hoping to have collars by September for 400 mother cows so he can start answering questions he has about the product.
"Some partners say we don't have to collar them all," he said. "Will they work in the winter? Will they work differently on younger versus older cattle? There are 100 questions we need to answer. We're hoping that it has a good outcome."
Barthelmess thinks the technology has the potential to work well on northern Montana's shortgrass prairie, which evolved with intensive grazing by herds of bison that were continually on the move.
As president of the Ranchers Stewardship Alliance, which was organized in 2003 by 30 families to "build partnerships with ranchers and environmentalists that continue the legacy of wise stewardship," Barthelmess sees virtual fences as another way to keep ranchers on the landscape while improving conditions for livestock and wildlife.
"We're hopeful that it has a good outcome," he said.