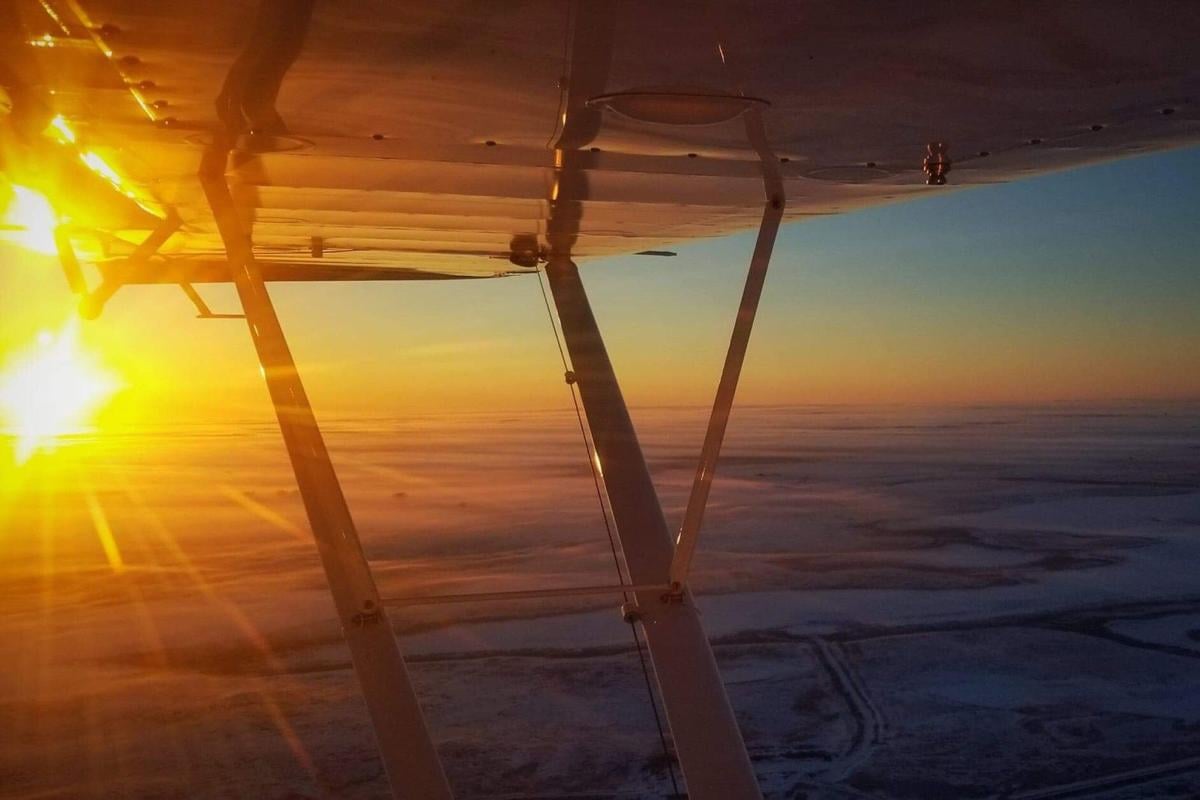 Mule deer populations are above average while whitetail numbers are mostly stable across Region 6 in northeastern Montana, according to Montana Fish, Wildlife & Parks biologists who have completed their 2019 winter and spring aerial surveys.
Mule deer
For mule deer, 11 trend areas in Region 6 are typically surveyed from the air each year. The winter post-season survey was completed in January, and the spring survey was conducted in April. While total deer counts tend to be variable, FWP Region 6 Outlook-area biologist Ryan Williamson said the 2019 surveys indicate mule deer continue to do quite well.
"Mule deer trends remain stable and well above average across most of the region," he said.
The 2019 post-hunting season surveys showed the region-wide mule deer density at 56 percent above average, but 4 percent below the 2018 survey. The 2019 spring surveys showed region-wide densities at 41 percent above average and a slight increase of 4 percent from last year's spring survey. While regional numbers indicate above average mule deer levels overall, mule deer from the 11 mule deer trend areas range from slightly below average to well above the average.
This same trend was seen in the fawn-to-adult ratios that are also estimated during the spring survey.
"Region wide, the fawn numbers remain near average. Fawn-to-adult ratio is an indicator of over-winter survival as well as new recruitment into the population," Williamson said.
The 2019 survey showed 51 fawns to 100 adults across the region, which is slightly below the average of 53 fawns to 100 adults. The eastern half of Region 6 saw higher fawn numbers, with 57 fawns to 100 adults. The western half of the region saw a decrease from 2018 to 44 fawns to 100 adults.
"Data collected during mule deer surveys are only one factor in deer management recommendations," Williamson explained. "The prior year's harvest, weather and habitat factors, as well as additional input gathered from landowners, hunters, the general public and other agencies are all considered by the Fish and Wildlife Commission for season and quota-setting decisions."
Winter mortality was variable across the region during the 2018-2019 winter, but based on observations and reports, was likely minimal .
"A small amount of winter mortality was observed throughout the region, with mostly fawns succumbing to the harsher late winter weather. Generally speaking, the mule deer appeared to have overwintered well."
For 2018, most Region 6 hunting districts will be managed under the liberal regulations for mule deer, which include either-sex for a general deer license (A tag), as well as additional B licenses.
"As normal, Hunting District 652 continues to be a limited either-sex permit district and will have a limited number of B-licenses available," Williamson said. "All hunting districts will have a varying number of mule deer B licenses available this year."
The drawing deadline to put in for mule deer B licenses was June 1, but there will likely be some surplus licenses available starting Aug. 12.
Whitetails
White-tailed deer populations continue to remain stable. Williamson said surveys have been completed in six areas across Region 6.
"Due to more uniform habitat, the whitetail surveys tend to look at deer density, as opposed to total numbers, for trends," he said.
The 2019 survey showed whitetail deer density at an average of 11.7 deer per square mile across the trend areas, which is approximately 10 percent above the long-term average of 10.7 deer per square mile, an increase of 22% from the 2018 surveys.
White-tailed deer densities remain near average in the eastern part of the region. The western trend areas along the Milk River are more variable, however, with overall densities 10% below average.
"When compared to average, densities improved further west along the Milk," Williamson said.
Current densities are significantly less than from a decade ago when whitetail numbers were as high as 40 to 50 deer per square mile in some areas.
"That level of deer density was unsustainable and was causing problems for landowners and also degrading habitat conditions prior to the EHD outbreaks that reduced the densities across Region 6," Williamson said.
Although no significant EHD outbreaks have been seen since 2014, areas with higher deer densities along the Missouri River have experienced small outbreaks of EHD in recent years.
With whitetail numbers increasing across Region 6, and in accordance with Fish and Wildlife Commission rule setting, a single-region antlerless whitetail B license will again be available for over the counter purchase starting Aug. 12. This license will be limited to one per hunter. Additionally, a region-wide limited quota whitetail B license was available through the drawing, and any surplus will be available starting Aug. 12.
CWD
A new challenge of managing deer populations is the confirmed occurrence of chronic wasting disease that was first detected in 2018 in Region 6 along the Hi-Line. CWD is a progressive, fatal disease affecting the nervous system of mule deer, white-tailed deer, elk, and moose. It is part of a group of diseases called Transmissible Spongiform Encephalopathies. TSEs are caused by infectious, mis-folded prion proteins, which cause normal prion proteins throughout a healthy animal's body to misfold, resulting in organ damage and eventual death.
CWD is a slow-moving disease. However, if left unmanaged, it could result in long-term population declines within affected herds. All the states and provinces that border Montana, other than Idaho and British Columbia, have found CWD in their wild cervids.
"Now that CWD has been detected across the northern areas of Region 6, more emphasis will be put on reducing higher concentrations and densities of deer as well as proper disposal of deer carcasses to reduce the threat of spread to other areas of the state," Williamson said.
CWD was first found in wild deer in Montana in October 2017. To date, CWD has been detected in Carbon, Liberty, Hill, Blaine, Phillips, Valley, Daniels, Sheridan, and now counties. To prevent the spread of CWD within Montana, FWP establishes CWD Management Zones in areas where CWD has been found. Whole carcass, whole head, or spinal column from any deer, elk, or moose harvested cannot be removed from these zones unless the animal has tested negative for CWD.
"Higher deer densities tend to influence the spread of the disease, so we take that into consideration when developing hunting season regulations," said Williamson.
Hunters are encouraged to submit their deer harvested in the Region 6 CWD Management Zone for testing as well as keep informed on the current regulations for transportation of those carcasses in and out of the CWD Management Zone.
Be the first to know
Get local news delivered to your inbox!