A Bozeman-based company's application for an exploration license to remove 1,000 tons of rock from an inactive gold mine near Zortman has been approved by the Montana Department of Environmental Quality.
Blue Arc LLC, owned by Luke Ployhar, will have to post a bond before work can begin. Even then the excavation won't be done all at once, said Owen Voigt, who is working with Ployhar. Voigt, of Helena, is vice president of RCL Mining Inc. and CEO of Legacy Mining.
Hauling the rock 900 to 1,000 miles to be crushed and assayed in Nevada is one reason for taking it slow, Voigt said. The company will also wait for mild weather before beginning, he added. A half-mile of new haul road will have to be built to access the site. The total area of disturbance is estimated at 1.39 acres.
As proposed, Blue Arc would use an excavator to remove rock from about one-third of an acre of private land along a cliff face that has already been exposed by previous mining, known as the Ruby Pit Highwall. If the assays are favorable, Ployhar told The Billings Gazette in November that he may consider developing an underground mine at the site.
Blue Arc owns almost 60 mining patents in the southeast corner of the Little Rocky Mountains in Phillips County.
To proceed to a full-scale mine Blue Arc would face additional DEQ scrutiny.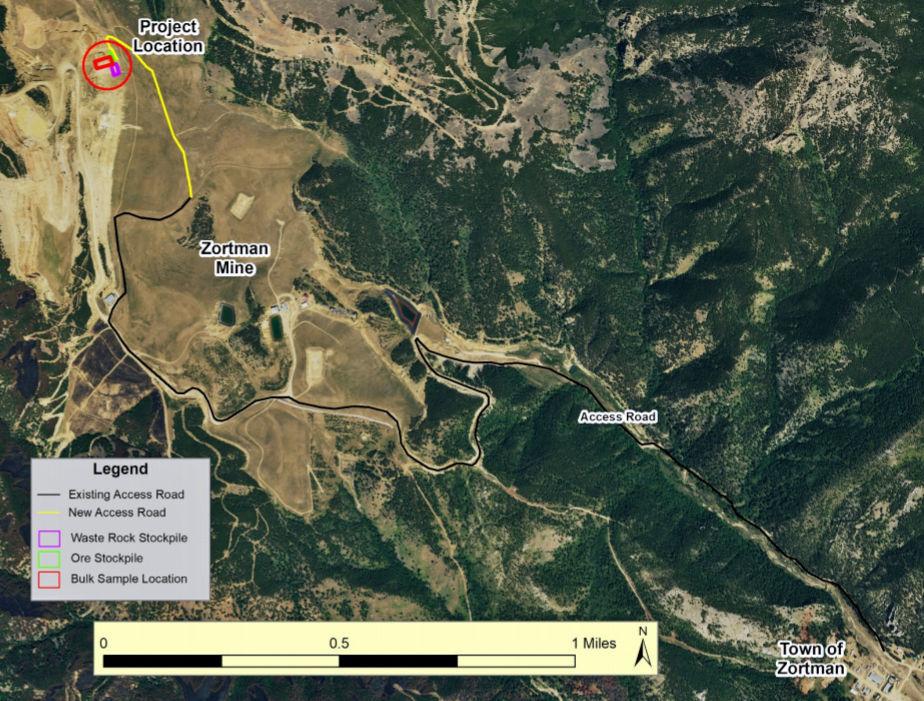 Comments
DEQ received 30 comments after publicizing its draft environmental assessment late last year. Four groups calling the document "deficient" were Montana Trout Unlimited, the Montana Environmental Information Center, the Fort Belknap Indian Community and Earthworks.
The groups contended DEQ failed to consult with the tribe during the scoping process. DEQ responded that it didn't conduct any scoping due to the 90-day time limit to prepare the draft EA. DEQ did seek comment from the tribes after the draft EA was written, the agency noted.
Because of damage from previous mining, the groups said Blue Arc's proposal "raises significant concerns — particularly for the leadership and membership" of the tribe. DEQ responded that Blue Arc's proposal is limited in scope and won't expose known sources of acidic rock that have posed a problem in past mining ventures.
"Exposed highwall above the backfill level is largely oxide material and similar conditions are expected beneath the proposed shallow excavation," DEQ wrote in its final EA. "Oxide material is rock that has already weathered, meaning that sulfide (i.e. acid producing) minerals have already decomposed and will not produce additional acidic or metal-laden run-off."
The work will occur near a large liner that covers a previous mine pit. The groups expressed concern that haul trucks might damage the liner allowing water to seep underneath and spread contamination from the acidic waste in the pit. DEQ contended that only a small part of the liner may be impacted and Blue Arc has agreed to check and fix any damage to the liner.
Contamination
The Little Rocky Mountains is a poster child for what goes wrong when a mining company declares bankruptcy, leaving the state to deal with an environmental mess that its bond was inadequate to address.
Pegasus Gold Corp. mined near Zortman from 1979 to 1996 using cyanide heap leaching to extract small amounts of gold from large amounts of rock. After the company declared bankruptcy in 1998, the state was left with a $100 million cleanup bill and water pollution requiring three dams to capture runoff. The water is cleaned in onsite treatment plants.
Heavy metals, nitrates, selenium and cyanide leach from the old mine site. Water pollution in the area, which includes the town of Zortman and the nearby Fort Belknap Reservation, may require treatment for 20 years or more.
In part because of the past mining problems, the Bureau of Land Management has proposed a 20-year withdrawal of mining on its federal lands in the area.
The allure of gold remains strong, however, as the price stays high. In August, gold hit an all-time high of $2,067.15 an ounce. That has now fallen to around $1,849.
Local
Zortman resident and business owner Rosalie Wallace said the small community wouldn't mind if Blue Arc resumed mining in the area.
"We thought it would be great if something brought in a few more people into town," she said.
"We might get our bar sold," Wallace added. "We're both 80 years old so it would be nice to do something different while we can."
Despite the damage to groundwater past mining has caused, Wallace said she had no fear that Blue Arc's project would add to the problem.
"We're waiting to see what's going on," she said.