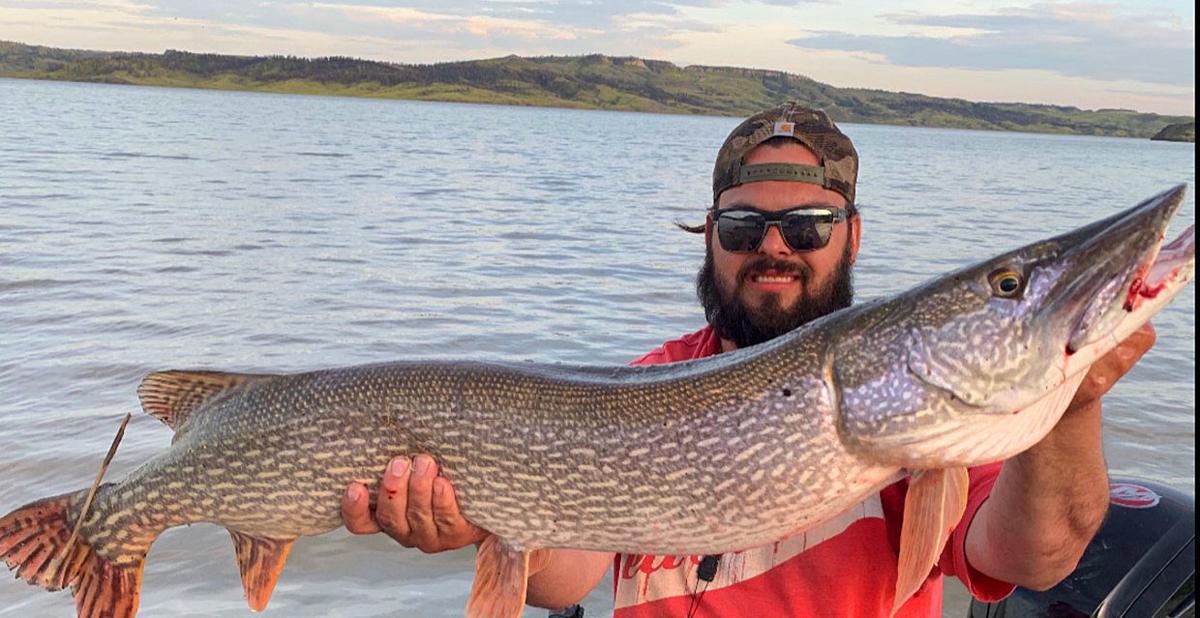 For anglers the good news is that fish are still looking up for big Hopper patterns. The Yellowstone, Bighorn and Beaverhead are good places to work the banks with a fat dry fly.
Wet weather prior to and over the weekend has helped raise streamflows on rivers like the Big Hole. Coupled with cooler nights, water temperatures have fallen a few digits on streams like the Lower Madison River. That's all good news for fish.
If you want to avoid crowds the Missouri River is not the place to go. This has been the most crowded summer on the river in 30 years of fishing, according to Garry Stocker, of Montana Fly Goods. 
Here's this week's fishing report:
Top picks
Beaverhead River — Flows are 660 cfs out of Clark Canyon Reservoir, and the fishing has been stellar. Finding the lane in the moss has been crucial in certain areas for the nymphers, and folks throwing Hoppers with accuracy and persistence have been getting into big trout. Streamers can also produce well with the elevated flows and lots of food moving around the river. Subsurface, try small Mayfly Nymphs and smaller Sally Nymphs. This is a good time of the year to run a small Black Midge Pupa, Barrs Emerger, or rs2 to imitate the tiny tricos that are hatching. Fish are ambushing grasshoppers. Fish them tight to the structure and drifting properly, but expect results with great presentations. An Ant can pick off the selective ones. — Sunrise Fly Shop, Melrose.
Bighorn River — It's all about the black caddis right now. Mostly black, sometimes tan caddis as tans are making their first mentionable appearance in several years and the fish are eating them along with their fake, manmade counterparts. Switch to Caddis around 2 p.m. for those single or small pods of risers and fish them until dark, evenings are real good. If they are super picky try a Trico Spinner or something that resembles a pseudo emerger/spinner (small Beatis patterns work just fine, usually). Experiment with that beatis or rusty spinner in the evenings. For flies try: Dills Caddis, X-Caddis 16-18, Bubbleback CDC, Elk Hair CDC 16-18 and CDC Emergers. For the afternoon nymph game Poodle Sniffers and olive Pheasant Tails. — Bighorn Angler, Fort Smith. 
Yellowstone River, Columbus — Hopper fishing is on! Nymphing is usually a good way to start out the day early as fish have been gorging on nocturnal stones. Try fishing a big rubber leg nymph like a Girdle Bug, Pat's Rubber Leg or Bitch Creek. Make sure to use a long enough leader and weight to get it down in the heavy water. For streamer fishing use the Grinch, Kreelex, Bow River Bugger, Sparkle Minnow patterns, Sculpin patterns and basic black Buggers. For dry fly anglers fish a Jack Cabe, Stimulator, PMX or Chubby. Fish are hitting the hopper patterns by mid to late morning. Try the Yellowstoner Chubby, Yeti Hopper, Fat Frank and Pink Pookie in pink, peach, olive or grape body colors in size 10-14. If they're not hitting the big dry, drop a beadhead nymph on a long dropper off of it. Also, keep a Purple Haze, Parachute Adams and Caddis handy for any rising fish. With the warmer water temperature it's best to fish earlier in the day so as not to stress the fish. — Stillwater Anglers, Columbus.
Ackley Lake — Trout fishing is slow. A few muskies are being caught on a Mepps Musky Killer spinner or by soaking smelt. — Sport Center, Lewistown.
Big Hole River — River flows have increased by 40 percent. Large trout are patrolling the edges looking for tricos, ants, your odd spruce moth, and hoppers. There has been a hoot owl restriction enacted on the lower Big Hole below Notch Bottom. Many of the trout have moved up into cooler water. Folks looking to hit the spruce moths will want to focus on the river from Jerry Creek to Melrose, and that could happen any day. Stripping or dragging a Sculpin or Minnow has been paying dividends through the faster stretches of river. The quality of the brown trout lately has been remarkable, and they have not been easy to catch. Your fly box should include: Mini Loop Sculpin size 6 in tan and olive; a size 10 Girdle Bug olive and brown; a Jewel Thief Silver, and a size 20 C-U-M Trico or Pearl Butt Trico. — Sunrise Fly Shop, Melrose.
Bighorn Lake, Ok-A-Beh — Try a white Mister Twister for smallmouth bass baited with a minnow, or soak a minnow. — Scheels, Billings.
Boulder River — Flows have come down making the wading easier. Fish attractor patterns like Hoppers and other terrestrials for good results. Grey and green drakes are hatching as are caddisflies and small stoneflies like the yellow sally stone. Reports of spruce flies are also coming into the shop from the upper Boulder. Small droppers have also been productive. — Sweetcast Angler, Big Timber.
Canyon Ferry Reservoir — Shore fishing is slow. Recent storms have brought walleye closer to shore. Trolling bottom bouncers with blue or pink spinners and tipped with a worm or leech in 10-15 feet of water seems to be producing the best action for walleye with an occasional perch being caught, as well. Chartreuse crankbaits are also producing a few walleye. The most action is occurring from Goose Bay south to the ponds. Rainbow trout boat fishing is slow. A few perch are being caught while jigging with worms in bays around White Earth. — FWP, Helena.
Fort Peck Reservoir, Big Dry Arm — The Circle Chapter of Walleyes Unlimited kids fishing tournament for children 14 and younger resulted in some bass being taken on crankbaits in tiger stripe, green and yellow, black white and gray, and orange. Walleye are hitting bottom bouncers, including one fish that tipped the scales at 11.8 pounds. — Rock Creek Marina.
Fort Peck Reservoir, Crooked Creek — The crappie bite is on using a jig and a night crawler. Anglers trolling bottom bouncers are taking walleye using a worm harness. Pike are biting crankbaits like the Flicker Shad in a red/crawdad color. — Sport Center, Lewistown.
Fort Peck Reservoir, dam area — The walleye bite is fair fishing at a depth of 15 to 25 feet pulling night crawlers on a Slow Death Hook, behind a Smile Blade or using crankbaits. In the early morning bait with leeches and switch to crawlers around 10:30 or 11 a.m. The chinook salmon are being found at depths of 50 to 90 feet over water 120 to 180 feet deep. Brad's Bait Cups, blue and green flies or squids behind flashers are working. A few lake trout are biting in 90 to 125 feet of water on the bottom. Walleye anglers are catching pike and bass. To target bass fish off the main lake rocky points with a slip bobber or jig baited with a leech or minnow. Crankbaits will also work. The biggest pike are in about 20 to 40 feet of water. Try a deep-diving Salmo or Rapala Tail Dancer 11. — Lakeridge Lodging & Bait Shop.
Fort Peck Reservoir, Hell Creek — Plenty of bass were caught during the two day Eastern Montana Bass Association tournament. Twenty-eight pounds of fish was tops for the first day. Try crankbaits. Walleye and pike are in 10 to 20 feet of water using bottom bouncers baited with a worm or leech. Or tie on black and bronze cranks and fish in 20 feet of water over 40 feet using deep-diving Rapalas. — Hell Creek Marina.
Gallatin River — A Rubberlegs or San Juan Worm with a smaller Lightning Bug, Mayfly or Caddis dropper is a great rig. The name of the game is big and heavy to plunge those deep soft pools. If you're not picking up fish nymphing play with your split shot until you find the sweet spot. In the evenings you'll see dry fly action with Chubbies, Caddis, Tricos and PMDs. We are also seeing spruce moths in the canyon. — Montana Troutfitters, Bozeman.
Hauser Reservoir — Shore fishing for rainbows and perch has been slow. A few trout are being picked up below Canyon Ferry Dam. Walleyes are being caught in the Causeway Arm using jigs tipped with a leech or crawlers. Walleye are also being caught from shore at the Causeway Bridge. — FWP, Helena.
Hebgen Lake — The fish have been moving around and changing their feeding patterns making them harder to catch. There are still fish biting on spoons that are 25-35 feet deep, usually trolling with leaded line going out four or five colors. There are also trout near the surface gulping flies. The water temp is about 68 degrees, but it is starting to cool off a bit in the evenings so the temp will start to go down. The lake level is holding steady at about 95% of full pool, down about 1.5-2 feet.  — Kirkwood Resort & Marina.
Holter Reservoir — A few rainbow trout are starting to show up night fishing along the cliffs from Black Beach to Split Rock. Walleye are being caught near Mann Gulch and Cottonwood Creek using bottom bouncers or jigs and leeches. Fishing leeches on slip bobbers 6-10 feet down is also working well. Perch fishing is getting good with some being caught around the docks and weed beds in 10 to 15 feet of water on jigs and worms. — FWP, Helena.
Madison River, Lower — The water temp has dropped from 71 to 68 degrees. Fish early and late to avoid stressing the trout, or avoid this area completely. For dry flies try: a Purple Haze: 14-18, Adams Para Wulff: 14-18, Extended Body PMD. — Montana Troutfitters, Bozeman.
Madison River, Upper — A Hopper-dropper or Chubby-dropper is a hard rig to beat right now. Nymphing has still been consistent with Worms, Stoneflies, and smaller Mayfly nymphs. With terrestrial season underway, Ants are another pattern you shouldn't leave home without. Also keep an eye out for Nocturnal Stones as we are starting to see them in most areas. Your typical lighter-colored Pat's Rubberlegs and darker bodied Chubbies are great options for this hatch in the early mornings and evenings. — Montana Troutfitters, Bozeman.
Missouri River, below Holter — Flows were 5,570 cfs with temps at 63 degrees. Try a Cornfed or Double Duck Caddis, Tricos, Chubbies and Hoppers, along with Bloom's Flying Ant and Beetles. A Frenchie Nymph, Two Bit Hooker and Zirdle Bugs are good nymphs and wet flies. — Montana Fly Goods, Helena.
Missouri River, Fred Robinson Bridge — Catfish aren't too fussy, taking night crawlers, dough bait and shrimp. Walleye and sauger fishing is slow. — Sport Center, Lewistown.
Rock Creek — You can fish Rock Creek anyway you want right now. Recommended dry flies include Caddis in 14, PMDs in a 16, as well as yellow Stimulators, gold or purple Chubbies, or a Parachute Madam X in sizes 10-12. Classics like a Purple Haze, Parachute Adams, Royal Wulff, Royal Humpy in yellow or red in sizes 12-14 can always be effective on Rock Creek. Hopper patterns like the Parachute Hopper, Dave's Hopper, or Pink Pookie is all you need in what has become an above average hopper season. Hoppers can be fished in sizes 10-12 on Rock Creek. Nymph patterns include Caddis Sparkle Pupa or Emergers in size 14. Zebra Midges in black or olive in a 16, as well as your standard beadhead patterns like a Hares's Ear, Pheasant Tail or Prince Nymph in sizes 12-16. Stonefly nymphs like Rubber Legs, Bitch Creeks, or North Fork Specials in black or tan in sizes 8-12 are all excellent big bugs. Of course the trout on Rock Creek like the "bling" which includes Copper Johns, Batman, Montana Princes in blue or the widely fished Psycho Prince pattern. These can all be fished in 12-16. Some of the best reports over the last week have been the streamer fishing. For best results fish Sparkle Minnows, The Grinch, Krystal Flash Minnows, or Galloup's Sex Dungeons. — East Rosebud Fly Shop, Billings.
Spring Creek — Fly anglers tossing Elk Hair Caddis and Dave's Hoppers are doing well while a Panther Martin is a spinning rod angler's best friend. — Sport Center, Lewistown.
Stillwater River — Flows have continued to drop on the upper river and hold steady on the lower river below the Rosebud confluence. The upper river above Absarokee is bony and should only be tackled by experienced oarsmen. Fishing has been good in the mornings. Nymphing is a good way to go, or use a long dropper with a beadhead nymph like a Pheasant Tail, Copper John, Batman, or Prince Nymph off of a searching dry fly pattern like a Jack Cabe, PMX, Stimulator, or Purple Haze. Typically by late morning fish are looking to eat the small dry fly on top. Smaller dries like a PMD, Caddis or Purple Haze are working well in the afternoon. Look to fish smaller hopper patterns too like a Fat Frank, Yeti, or Yellowstoner in peach, pink, grape or olive body colors. For streamer anglers, never leave home without the Grinch in the box. Try the Electric Goldfish or a basic black Woolly Bugger, too. — Stillwater Anglers, Columbus.
Yellowstone River, Huntley — Catfish are biting any baits with one 11-pounder landed recently. Smallmouth bass are chasing small chartreuse crankbaits and minnows on a jig. — Huntley Bait and Tackle.
Yellowstone River, Livingston — There is still mud coming through Gardiner, but it's clearing. This will put down the Hopper bite for a bit, but nymphing bigger dark Stoneflies in the softer water will still pick up fish. When the river clears back up be ready with your favorite hopper patterns. Some shop favorites are Morrish Hoppers, Triple Deckers, Fat Alberts and Thunder Thighs. A hopper-dropper rig is pretty tough to beat and will pick up fish throughout the day. One aspect of droppers that is easily overlooked is the sink rate. For example, if you are running a Rubberlegs under a Hopper or Chubby be sure to pinch a small split shot onto your tippet. Play around with your nymph or dropper rig depth until you find the sweet spot. Tungsten beadhead nymphs also help get your fly to the proper depth. Look for nocturnal stones in the morning, a good rig for this hatch is a size 8 or 10 black and tan Chubby with a Rubberlegs as a dropper. When the heat comes out midday focus on the faster water and inside buckets and ignore the slower deep slack water. In the evenings keep an eye out for caddis hatches. Tricos have also made an appearance. — Montana Troutfitters, Bozeman.
Wyoming
Bighorn River, Thermopolis — The flows remain at 2,400 cfs and the river is clear and fishing well. Try Beadhead Prince Nymphs in sizes 12 to 18 or size 4 Muddler Minnows. Blue-winged olive imitations are also a good dry fly bet, as well as olive Elk Hair Caddis. — White Horse Country Store & Canyon Sporting Goods, Thermopolis.
Boysen Reservoir — Crappies are biting well on worms. For walleye try bottom bouncing worms or pull a number seven Tiger Shad or similar crankbait in silver with a red belly. — Boysen Marina.
Buffalo Bill Reservoir — Fish for walleye and perch on the windswept shores using jigs and crawler harnesses. — Rocky Mountain Discount Sports, Cody.
Clarks Fork — Lots of caddis on the lower river right now. Smaller stoneflies and some pale morning duns and green drakes also hatching. Try fishing rubber-legged Stonefly nymphs trailed by a smaller beadhead along the banks in the softer water. Trail the rubberlegs with a black or red-headed North Fork Special, purple soft hackle jig flies, Prince Nymph jig flies and Blooms Soft Hackle Jig. Hopper, ant and beetle patterns are working well. Try Caddis dries in the evenings. — North Fork Anglers, Cody.
Cody-area lakes — Luce and Hogan have been fishing well. Lake temps are getting in the danger zone for safe catch and release. Flies to try include: Buggers and Leeches of various colors, Chironimids, Ice Cream Cones, Pheasant Tails, Hare's Ear, Bow-tie Midges, Griffiths Gnat, Damsel Nymphs, Back Swimmers, FRM Midges, Parachute Adams, Ants, Adult Damsels, Beetles and small Hoppers. At East Newton Lake, Damsels, smaller Callibaetis, Ants, Beetles and smaller Hoppers are working on top. Midge Pupae, Damsel Nymphs, Scuds and Leeches work below the surface. Make sure you revive any fish caught before releasing. In fact, fish other lakes where water temps are not critical. — North Fork Anglers, Cody.
Lake DeSmet — Fat walleye are biting leeches and night crawlers on Slow Death and worm hooks. — The Lake Stop, Buffalo.  
Lower Shoshone — Flows are staying steady and the river is fishing well from boats or if wading the edges. Clarity is good below Buffalo Bill Dam through Cody downriver to Sage Creek and the fly fishing has been very good. Caddis, BWOs, midges and golden stones are active below the dam and through town. The evening hatch activity has been spectacular. Wet flies could include: Firebead Sowbug, Purple and Peacock Prince, San Juan Worms, Midge Pupa, Pheasant Tails, Bloody Mary's, Jigged Soft Hackles, Anellids, Zebra Midge, Size 10-14 tan, black or red head North Fork Specials, Rubberlegs, streamers and leech patterns. — North Fork Anglers, Cody.
North Fork of the Shoshone — The river is transitioning after a batch of thunderstorms over the weekend. Visibility is 18-24 inches in Wapiti Valley. Go smaller with nymphs. Tan or black North Fork Specials are rocking it now. Larger dries are best during the day. Caddis, pale morning duns, green drakes and gray drakes and yellow sally are all over the water. — North Fork Anglers, Cody.
Yellowstone National Park — Slough Creek, Lamar and Soda Butte have been fishing well. As always check to make sure that the water levels on the Lamar have not bumped up due to any recent thundershowers. We have been seeing PMDs, caddis and even a few gray drakes on these streams along with ants, beetles and hoppers which are always a good choice in this section of the park. A couple of buddies fished their way up the Lamar toward Cache Creek a couple of days ago and had wonderful fishing with hardly anyone around. If you're willing to hike a bit you may want to give this a try. Have with you PMD Sparkle Duns (16), Gray Drake Sparkle Duns (12), tan X Caddis (16), Royal Wulff Cripples (12-14), Longhorn Beetles (10), pink Thunder Thigh Hoppers (10), and cinnamon Arrick's Para-Ant (16). The Yellowstone above the falls is not measured in the numbers of fish you catch, so if you catch one you've had a great day. PMDs, green drakes and caddis are the main hatches here right now and a good-sized Hopper will typically fool a fish or two. The water level continues to drop and is currently flowing out of the lake at 2,560 cfs. For flies, have (12) gold and royal Chubby Chernobyls, PMD Sparkle Duns (16), Green Drake Sparkle Duns (12), Micro Mayflies (14-16) and Golden Stones (10-12). If you're looking to try something different this week, take about a two-mile walk into Riddle Lake. The cutthroat there average around 14 inches and are usually very willing to eat. The Riddle Lake trailhead is about two miles south of Grant Village. If you go, be sure to bring your bug and bear spray. — Blue Ribbon Flies, West Yellowstone.
Be the first to know
Get local news delivered to your inbox!