When Tim Aldrich prepared for a 400-yard shot on a 6x6 bull elk this fall, he didn't notice its most distinguishing feature.
Aldrich, a Missoula resident, was hunting with his son, Kevin, in Hunting District 210 near Drummond. There's a patchwork of public land accessible in the area for hunters willing to walk in, because the access roads are closed. Aldrich knows the logged-out landscape well, having hunted there since 1990.
On Nov. 12 the two hunters trudged through 6 inches of snow to reach the public land before sunrise. Shortly after first light Kevin said his father told him he saw a small bull uphill. The animal was too far off for a shot, so they crept closer.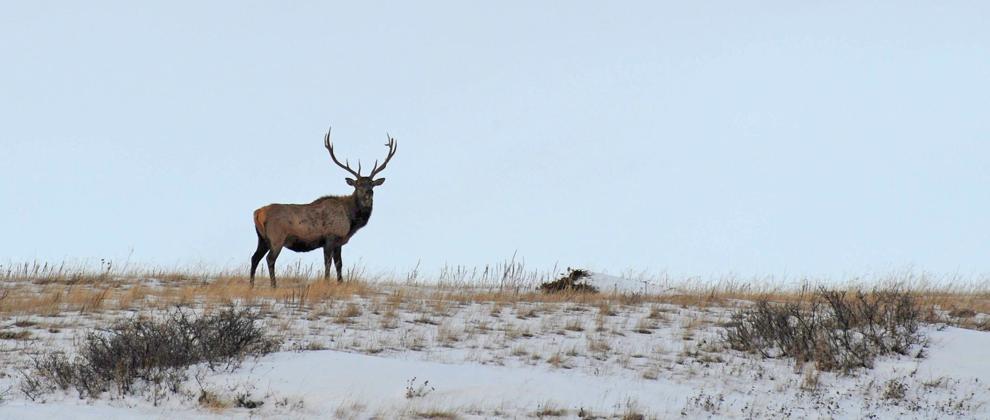 Surprise
Aldrich was carrying a .280 Kimber Ackely Improved rifle he won in a raffle. Lying prone he fired two of his hand-loaded 140 grain Nosler bullets, both landing within inches of each other just behind the elk's shoulder.
By the time Aldrich and his son reached the elk where it had conveniently expired on a road, its oddity was apparent. Sticking out of the left hindquarter, close to the spine, was an archer's arrow. The carbon shaft was buried into the elk about 14 inches.
"My first thought was, it was very much a misdirected shot," he said. "Certainly the result was far less than effective."
When Kevin first saw the bull, his first thought was this is "no damn small bull."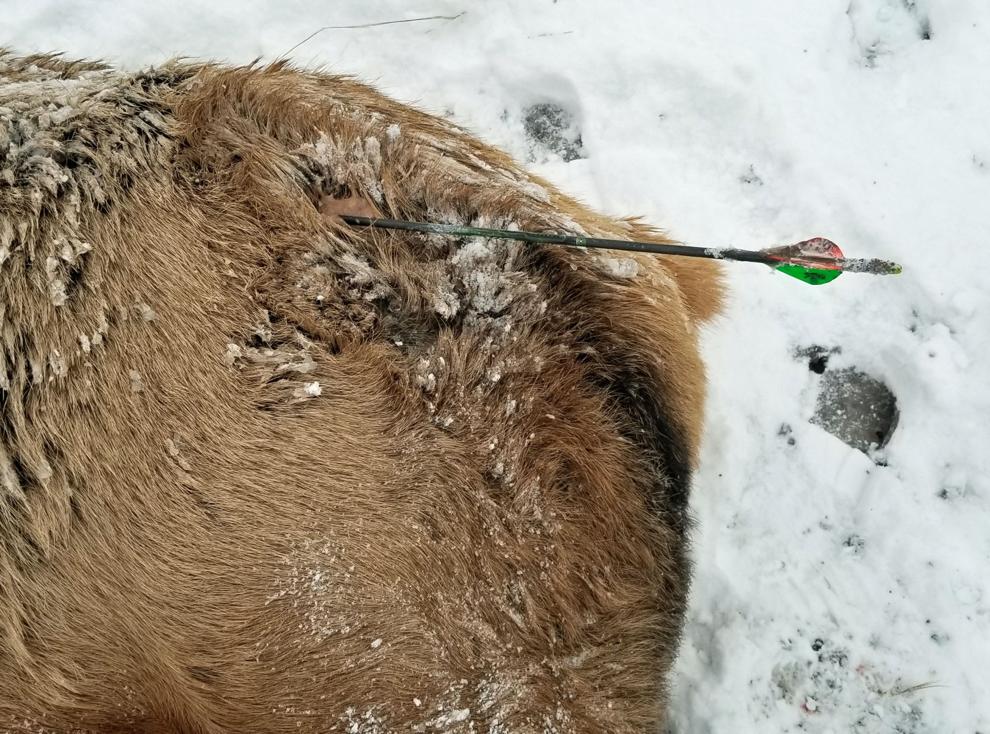 Wound
While quartering the elk to sled it three miles back to their vehicle, Aldrich could see infection surrounding the broadhead, signifying the elk's immune system had responded. Considering archery season had closed three-and-a-half weeks earlier, the elk had been suffering for some time. Yet its stomach was full, so the arrow hadn't affected the elk's appetite, Aldrich noted.
Judging by the worn down, dark ivory teeth the elk had, Aldrich assumed it may be an older bull. After butchering the meat, however, he said the steaks were tasty.
Ethics
A former Fish and Wildlife Commission member whose term just ended, Aldrich mentioned the awkward arrow during the group's fall discussion regarding a change to an archery regulation. The change would have allowed more technologically advanced bows to be used for hunting. The commission shot the measure down by a narrow 3-2 vote. Aldrich was one of three to vote against the proposal.
Archers already have the opportunity to hunt bull elk in the fall mating season known as rut, he said during the meeting.
"My personal ethics have real trouble dealing with people that chase bull elk when they're in their most vulnerable stages in their lifetime and shooting them at 80, 90 yards using the kind of technology that is now available," Aldrich told his fellow commissioners.
That's what he imagines happened to the bull he shot, that a bowhunter let an arrow fly from too far away, allowing the bull to move before the arrow landed.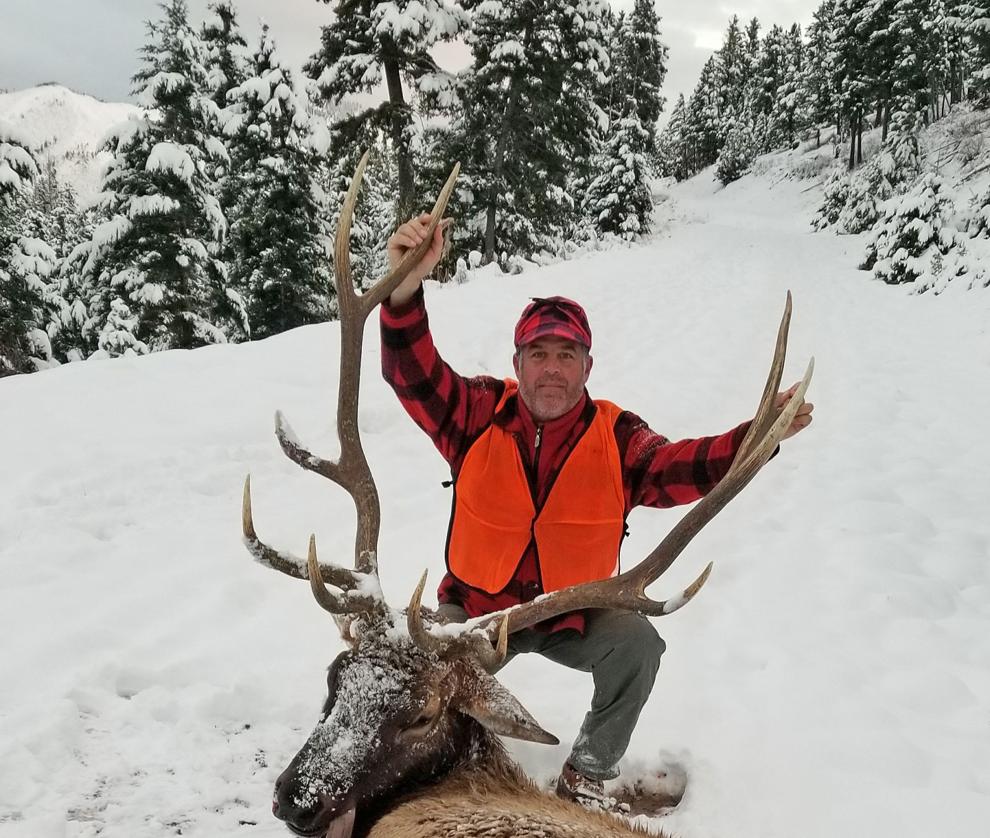 Studies
Different studies have come up with assorted numbers for the percentage of wildlife struck by archers but not recovered, called the wounding rate. An Oklahoma Fish and Wildlife Agency study put the figure at 50% for deer on a confined military base, but archers were limited to traditional bows and 73% of the animals survived. Another study by the Southeast Association of Fish and Wildlife Agencies conducted on a naval base dropped the rate to 18%.
"We have both been archery hunters at one time, so I think it was really disappointing for us to see the arrow in the bull," Aldrich said, referring to his son. "Our discussions on the matter soon focused on what the archer was shooting at when he/she launched that arrow. To this day, I would still like to know just what happened."
Hunting
Aldrich has a friend who hunts with a traditional bow. "I tell him, 'You are a real hunter,' because he has to get to within 20 yards to make a shot." Aldrich bought a compound bow in the 1970s but didn't like that he couldn't be sure it would provide effective killing power. Instead he's invested in a variety of rifles, working his way up from an old .30-06 in his early days to a .300 H&H Magnum and a 7mm Remington Magnum, to name a few.
At 78 years old, and after a lifetime of hunting, Aldrich can't think of any animal he's hunted that provided such an unusual tale — or tail — as the elk with an "arrow in its fanny."
"It's a once in a lifetime elk for me," he said. "I've taken a lot of elk over a lot of years, and I have never seen anything like that."
Revenge of the elk
If you think Tim Aldrich's elk hunting story is strange, consider these two tales from his fellow Fish and Wildlife Commission member Shane Colton, of Billings.
In 2014 and 2017, Colton had bull elk frustrate his archery hunts in unusual ways.
"As a last act of retribution they found the worst places to die," he said.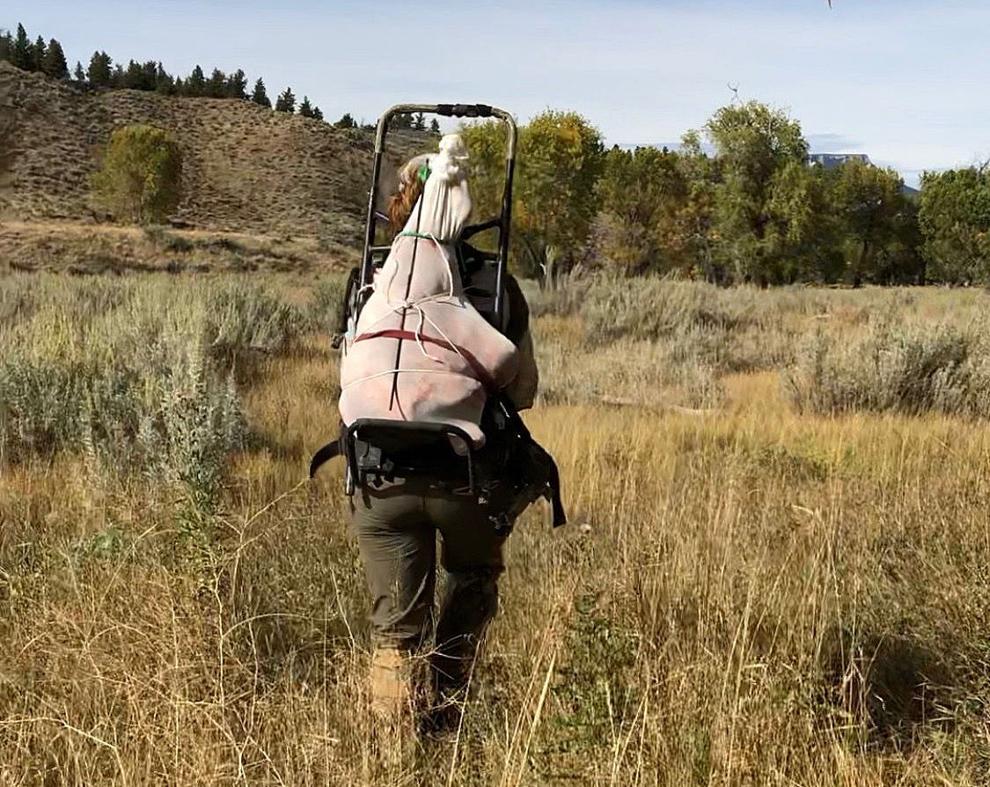 That may be why in 2018, when he was successful again but was hunting on his own, none of his friends were available to help him pack the elk out. So his wife came to the rescue and carried out one of the hefty hindquarters, which he estimated weighed around 90 pounds.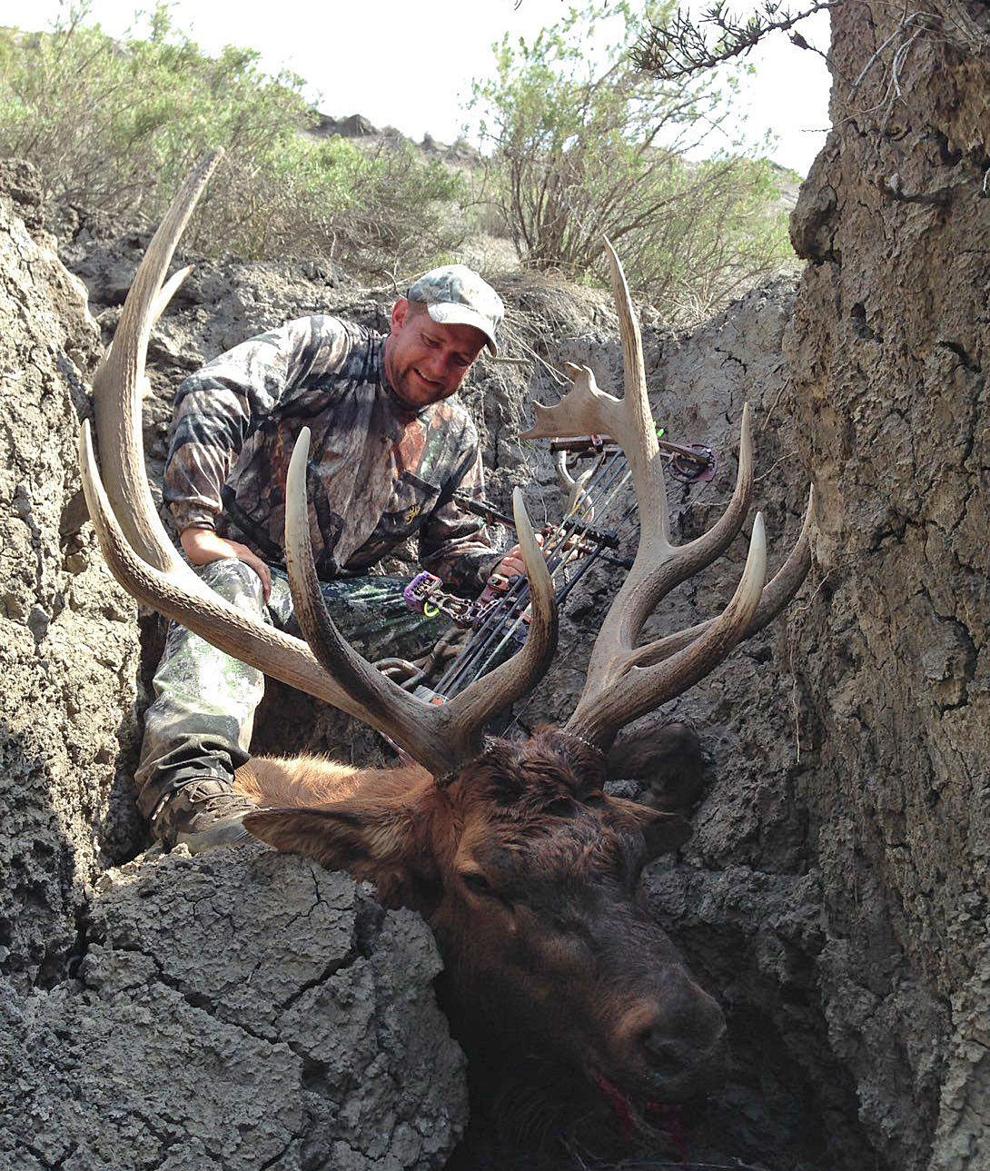 Crack shot
His first frustrating elk event took place during the 2014 season. Colton made a 60-yard shot on a 6x7 bull that wandered off to a flat spot on the back of a steep ridge and laid down.
"It wasn't a great shot," he said, because the arrow dropped a little low at the last second.
As his hunting buddy Gray Edmiston kept an eye on the bull from afar, Colton maneuvered to a small ridge above the elk, hoping to get a second shot. The bull sensed trouble, stood up and wandered about 35 yards where Colton was able to release another arrow. Then the elk walked out of sight across a treeless, sagebrush valley and seemed to vanish.
"He was just gone," Colton said.
Looking over to Edmiston for a cue about where to look for the elk, Edmiston signaled he couldn't see the bull either.
Colton hiked down to where the elk was standing when he shot the second time in search of a clue. Looking around he saw a flash of light reflected off an antler about 150 yards away. Hiking over he found the bull had tried to jump a large crevice, hit the other side and sank into the gap before dying. Although still upright, the bull was wedged tight in the fissure that bottomed out at 8-feet deep. 
"You couldn't slide a piece of paper between the hindquarters and the edge of the crevice," Colton said.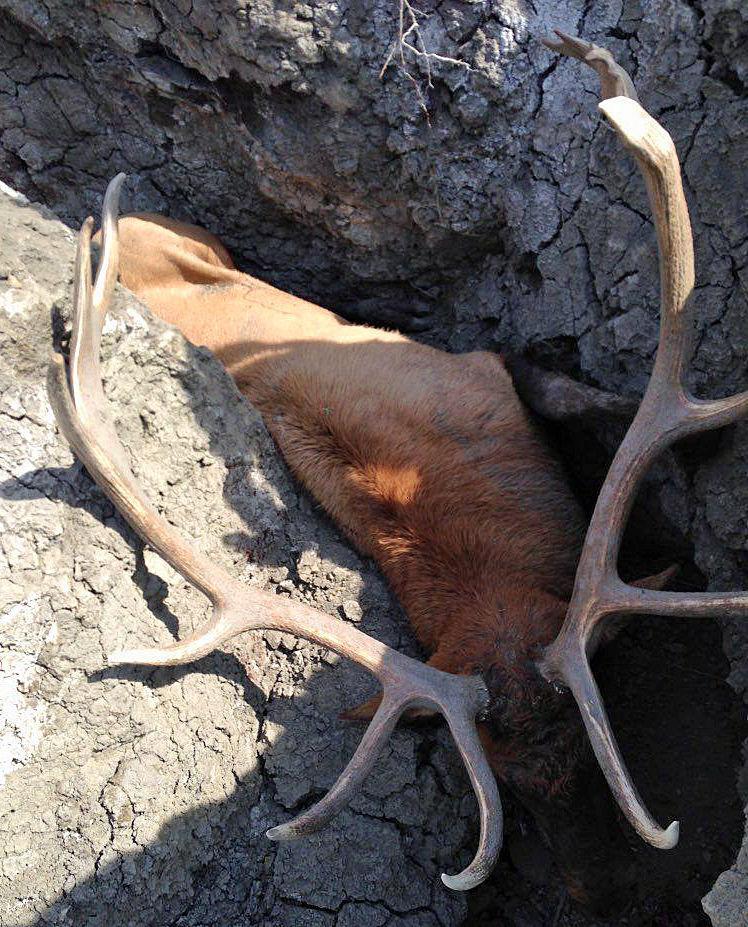 Extraction
Complicating the situation, the hunters had left one of the packs behind thinking they would only take a short hike that morning. So between the two of them they had only two knives, one pack and little water as the temperature peaked at about 87 degrees that afternoon.
By peeling back the hide along the spine, the hunters were able to bone out the backstraps, rib and neck meat and eventually remove one of the hindquarters. Once that was out, it was somewhat easier to cut off the second hind and then the front shoulders. To peel the hide off, Edmiston crawled into the hole and cut around the front of the shoulder. Luckily there was shade nearby to help keep the meat somewhat cool as the temperature spiked.
"We just picked at him like magpies," Colton said.
It was 3 p.m. before they got to a ridge and could call a friend to bring more meat packs and water. It was 10 p.m. before Colton returned to camp after shuttling the elk meat to a butcher shop at a nearby town to ensure it stayed cool.
The taxidermist estimated the bull's age at 9 or 10.
"He was a big bruiser," Colton said, with a stag-like web at the back of its left antler.
The rest of the elk's skeleton remains trapped in the cracked earth, a fractured prairie grave.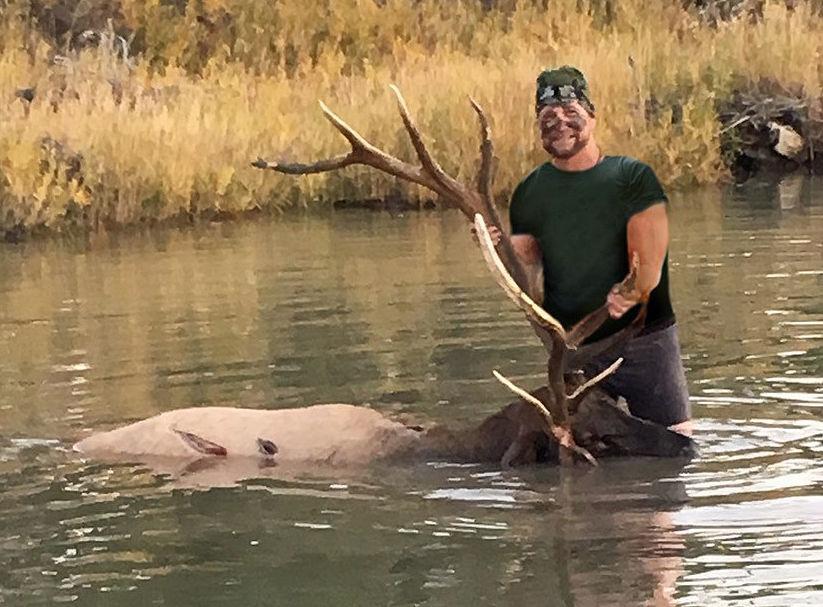 Dam elk
Three years later in 2017, Colton heard a bull bugle so he bugled back. The bull must have been looking for a fight because he closed the distance with the hunters quickly. Colton nocked an arrow and took a knee on the edge of a ridge as the elk approached.
"I saw his antlers before I saw him," he said.
At 45 yards Colton shot and hit the bull. The wounded elk traveled 150 yards and laid down for an hour before standing and walking away. Colton was stunned. He ran to get ahead of the elk and found it laying down at the edge of some willows, guided by his hunting buddy Mike Crowston. Startled by the hunter's approach, the elk stood again, this time running into the middle of a large beaver pond, the only significant body of water for miles around.
Colton fired two more arrows before the bull finally collapsed, completely disappearing under the water.
"Then he came roaring back up like a villain in a horror movie," he said, before finally expiring.
Only a small portion of the elk's midsection showed above the water. It was getting close to dark when Colton stripped down to his underwear, put his boots on to protect his feet, and waded out into the chest-deep water to float the bull back to shore.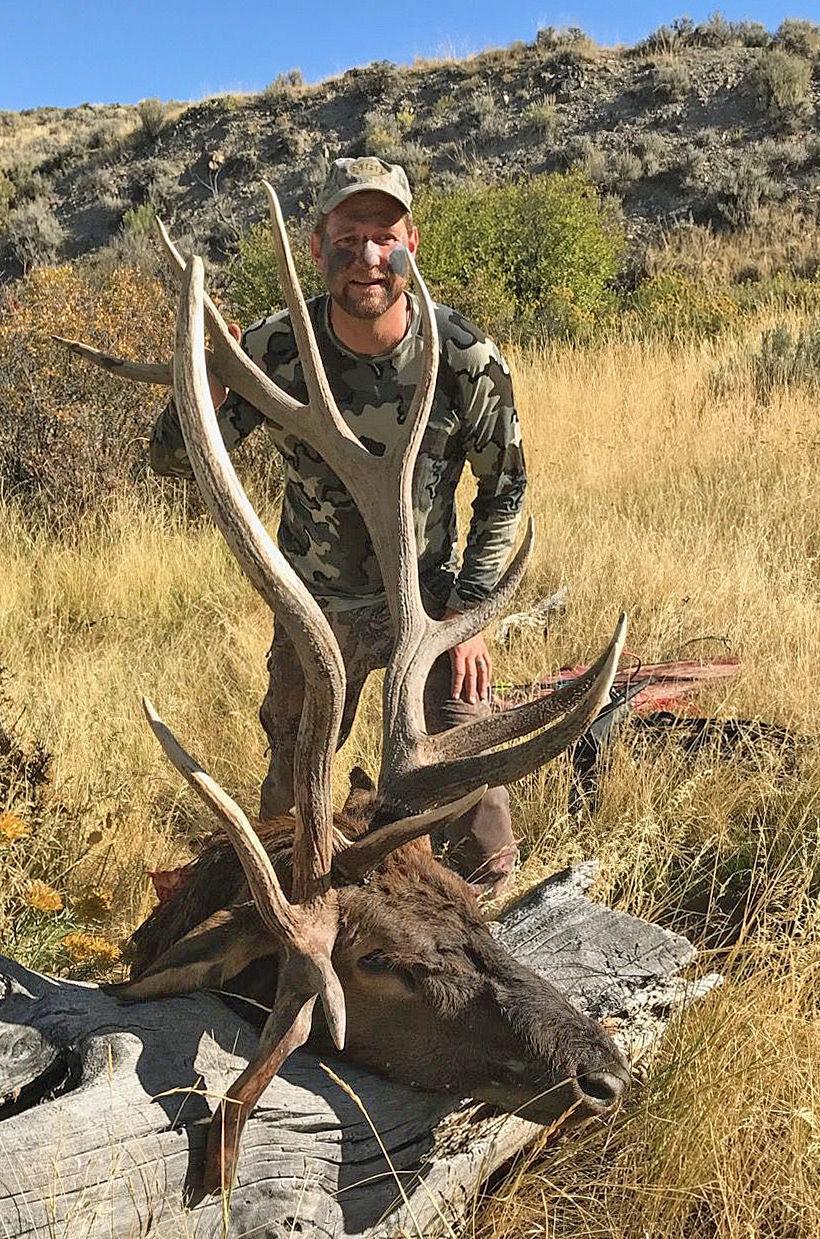 Using a four-wheeler they packed out the hindquarters in the dark and left the front quarters and trimmed meat hanging in a tree for retrieval the next day.
The 5x7 bull's unusual antlers featured a big club-like drop tine. 
"I have never had a bull close that fast to a bugle before or since, especially at 3 in the afternoon," Colton said.