The annual walleye spawn on Fort Peck Reservoir was fast and furious this year, lasting only 16 days.
More than 2,000 walleye were captured in trap nets, with 611 females spawned yielding approximately 68 million eggs.
Starting on April 11 and ending on April 26, Montana Fish, Wildlife & Parks fisheries and hatchery staff, along with the assistance of volunteers, found favorable weather and cooperative fish throughout the spawning period.
Crews collected a wide range of walleye sizes, indicating good growth and survival over the last several years in multiple year classes. In addition, there was a large number of fish that measured from 23 to 26 inches in length, showing an especially strong year class present.
Overall, the weather was favorable to walleye spawning efforts this spring.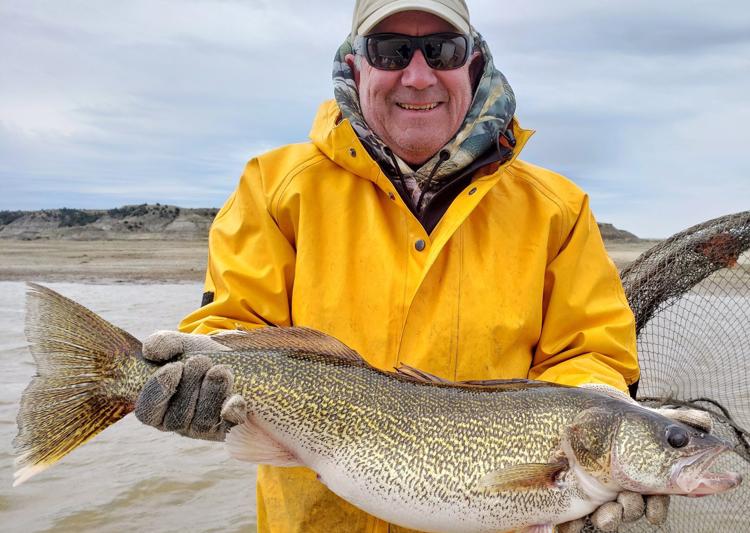 "Although there were a couple small cold fronts that passed through and some windy conditions at times, water surface temperatures started off in the mid-40s, which is near the ideal spawning temperature for walleye," said Fort Peck Reservoir biologist Heath Headley. "Water temperatures then continued to gradually increase over the next 10 days, which further prompted walleye spawning activity."
Unlike trap netting and egg collection efforts last year, which were quite poor, 2019 was considered more of an average year in terms of start time and number of eggs collected.
You have free articles remaining.
Keep reading for FREE!
Enjoy more articles by signing up or logging in. No credit card required.
"In 2018 we weren't able to start until April 23 due to late ice cover on most of the reservoir," Headley said. "This year was much more normal in terms of spawning time and conditions, which allowed us to reach our egg collection goals."
Once collected, eggs were sent to the Miles City and Fort Peck fish hatcheries.
"Egg quality and hatch success looks good so far," said Wade Geraets, Fort Peck Multispecies Fish Hatchery manager, "but there are a lot of variables that can affect the final number of walleyes that eventually get stocked."
As of press time, more than 20 million fry have been stocked into Fort Peck Reservoir and 1 million into Tongue River Reservoir. More than 11 million fry are at the Fort Peck and Miles City hatchery ponds, some of which will be raised to fingerlings to be stocked later.
"Now that both the Miles City and Fort Peck hatcheries have their ponds stocked, we will have to wait another four to six weeks to see how many fingerlings we will be able to stock into reservoirs around the state of Montana," Geraets said.
Volunteers are the key to a successful spawning operation. A dedicated 67 individual volunteers, from all over the state of Montana, assisted with this season's egg collection.
"We wouldn't be able to set all the trap nets, collect fish, and spawn them on a daily basis unless we had help," Headley said.
"Volunteers are the main reason this has been so successful over the years," added Geraets. "It's always great to see new and familiar faces help us out with this effort."