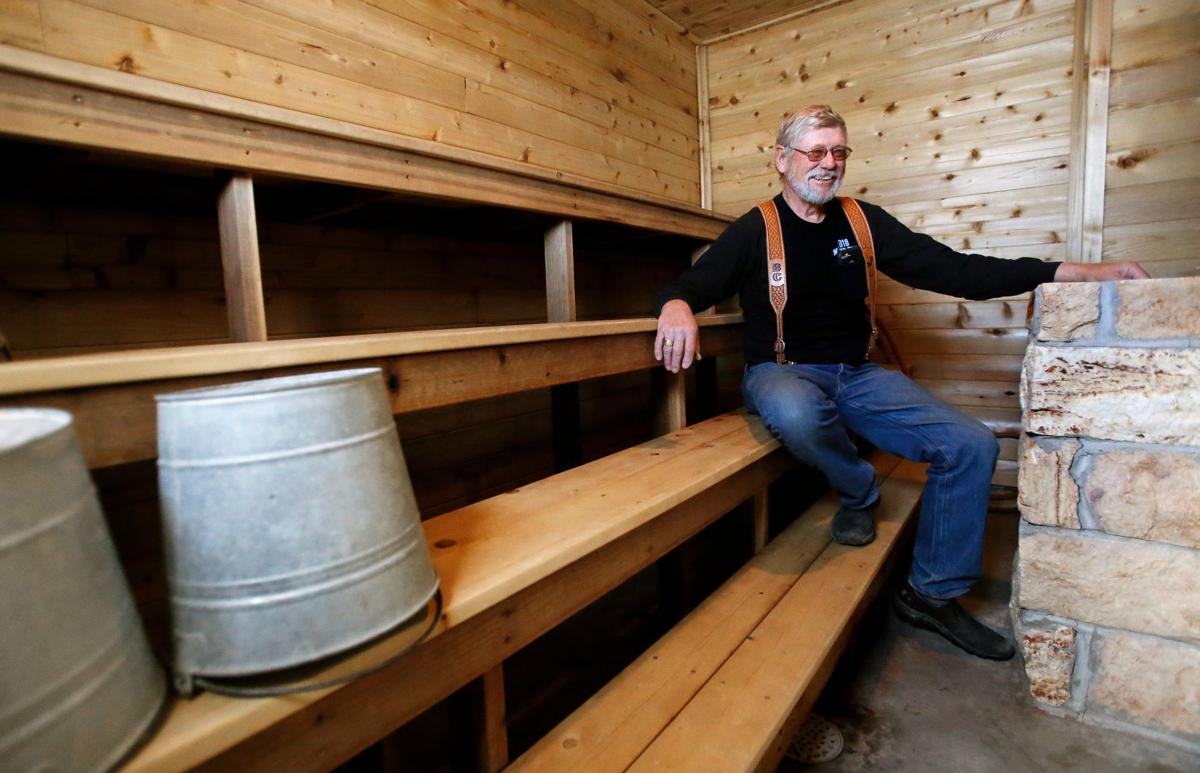 When you talk to Bill Calovis about sauna, make sure you say it correctly. The word for Finnish bath houses filled with steam sounds like sow-na, not saw-na.
"There are no silent letters in Finnish," he explained. "A 'u' is like a double 'o.' I hear it mispronounced a lot."
Eryn Braida, 29, of Billings grew up pronouncing sauna the correct way because three of her four grandparents are Finns. She began taking saunas at her grandparents' in Anaconda when she was a child.
"Something I wasn't even conscious of was how I said sauna," she said.
Her boyfriend corrected her with the anglicized version of the word, so she looked it up in a dictionary and told him, "Actually, you are wrong, and I'm right."
In fact, sauna is the most popular and well-known Finnish word in the English language.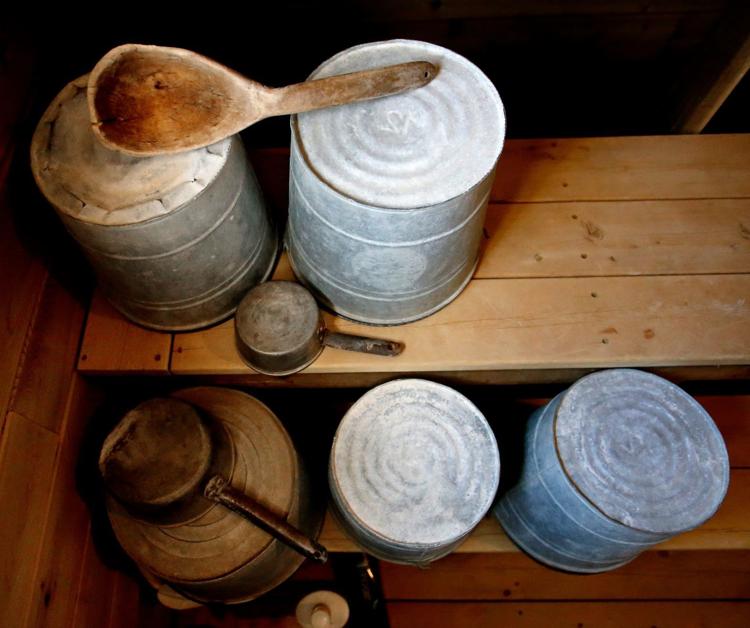 Lifestyle
Calovis, a 73-year-old Columbus-area resident, is passionate about the steam baths, something he grew up with thanks to a Finnish father.
"I've had a sauna pretty much all of my life," he said.
The reported benefits of sauna are lengthy, he said, from lowering blood pressure to relieving the ache of sunburn, improving circulation to sweating out toxins.
"It's just been a lifetime thing for me," Calovis said. "It's almost a religion."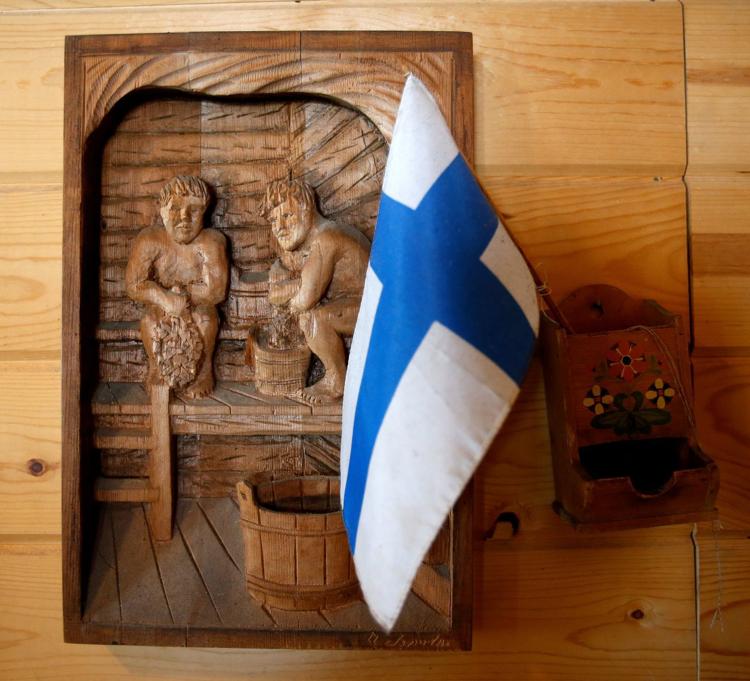 History
Given the cold winter Montana has just endured, it's easy to see why the Finns developed a special way to get extremely warm while also bathing — although they also sauna in summer. Tucked between Sweden to the west and Russia to the east, Finland is located as far north as Kenai, Alaska, and the Northwest Territories of Canada. Cold weather is a way of life.
When Finns immigrated to America they brought the custom of sauna with them to places like Red Lodge. In the early 1890s, according to research by Erika Kuhlman, about a quarter of Red Lodge's residents were of Finnish descent. In 1903 the first community sauna was built in the mining town.
"Finns, like many immigrant groups, tended to form communities in which they could share their language, culture and resources," according to an online history of the Kaleva Lodge. "The most visible sign of a Finnish presence was and is the sauna. Farms, lake homes and cabins would have a traditional sauna with a wood burning stove heating rocks in a small building near the farm house or on the lakeshore."
The very first Finnish sauna ever was reportedly a hole in the ground, Calovis said, with the first written account of one recorded in 1112. The original saunas were built with a wood fire's smoke filling the small building to help warm the structure while adding moisture to the air. Once the building was hot enough, the smoke would be vented out and the bathers would rush in.
In keeping with Finnish tradition, while visiting her grandparents' sauna this winter Braida said she got out and rolled in the snow to cool off. Jumping in a creek is also common.
"It was terribly good," she said. "It's refreshing but terrible at the same time."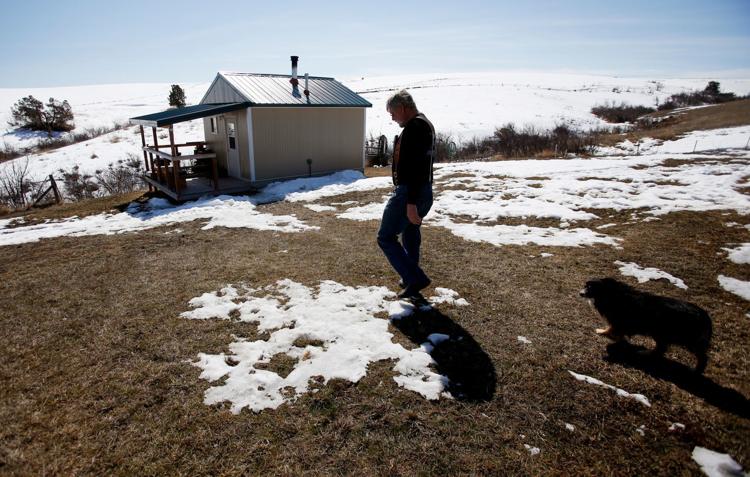 Red Lodge
Harriet Mikkola, 80, grew up in Red Lodge and recalls family picnics at what she called the Kaleva, a community sauna.
"After their first experience people are amazed by it and how good you feel after it," she said.
"The sauna was one place where all Finns, regardless of political persuasion, came together," Kuhlman wrote.
Mikkola said the first Red Lodge Kaleva was burnt down by communists in the early 1920s. When a new one was built, concrete was used.
"The Finns, that was their thing," she said. "Saturday night was sauna night. Folks would have friends over, and then we'd play pinochle."
"It's a nice time to have alone time or quiet time," Braida said.
For Calovis saunas are often a social gathering, sometimes involving a good dose of bourbon.
Most Finnish families had their own saunas, Mikkola said, especially in farming communities surrounding Red Lodge.
Bath house
Calovis helped his father build a sauna at the family home outside Columbus in the late 1950s. A wood-fired stove heated the small building and an open-topped water tank had a pipe that ran through the stove to heat the water.
"It was pretty western," he said. "But it was functional."
When he joined the Navy, moved to Connecticut and later worked for the phone company, Calovis built a sauna next to his family's outdoor swimming pool. His children would jump off the roof of the sauna into the pool to cool off.
After retiring and moving back to Montana, in 2016 Calovis built his latest sauna with propane radiant floor heat, an indoor shower and lined with Alaskan yellow cedar. In front is a small dressing room and outside a covered porch with benches.
"It's really uptown, not traditional," he said.
"The earliest ones were constructed of logs, a one-story building about twelve by fifteen feet," wrote Arlene Harris in "Red Lodge, Saga of a Western Area." "About one-third of the space was allotted to a dressing room …" while in the sauna itself there were three levels of benches. "A large barrel contained cold water if a pump to a well was not available."
For beginner to intermediate cross-country skiers, Hyalite Canyon's Lower Wildhorse Trail is a fun route with a great view.
Heat it up
Calovis likes to heat his sauna up for about two hours with a wood fire, raising the temperature inside to at least 160 degrees, although he prefers 180 to 190.
One night this frigid winter Calovis said it was 30 degrees below zero outside and 210 in his sauna.
The fire heats up rocks on the stove as well as the wooden benches, which Calovis hoses down to cool off so they are comfortable to sit on. By pouring water on the rocks steam fills the small room and drops the temperature while raising the humidity.
Children and women use the sauna first, then the men. Like a bath, no clothing is worn.
A steam lasts about 10 to 15 minutes, then Calovis sits on the porch to enjoy the cooler outdoor air. That process is repeated about three or four times, followed by a shower with Finn sauna soap.
"That is like absolute heaven," Calovis said of the shower.
After cooling off one last time, it's back to the sauna for one final steam to clear the pores of any soap.
"It's a real cleansing operation," he said.
---
Photos: A traditional Finnish sauna in Montana
Be the first to know
Get local news delivered to your inbox!