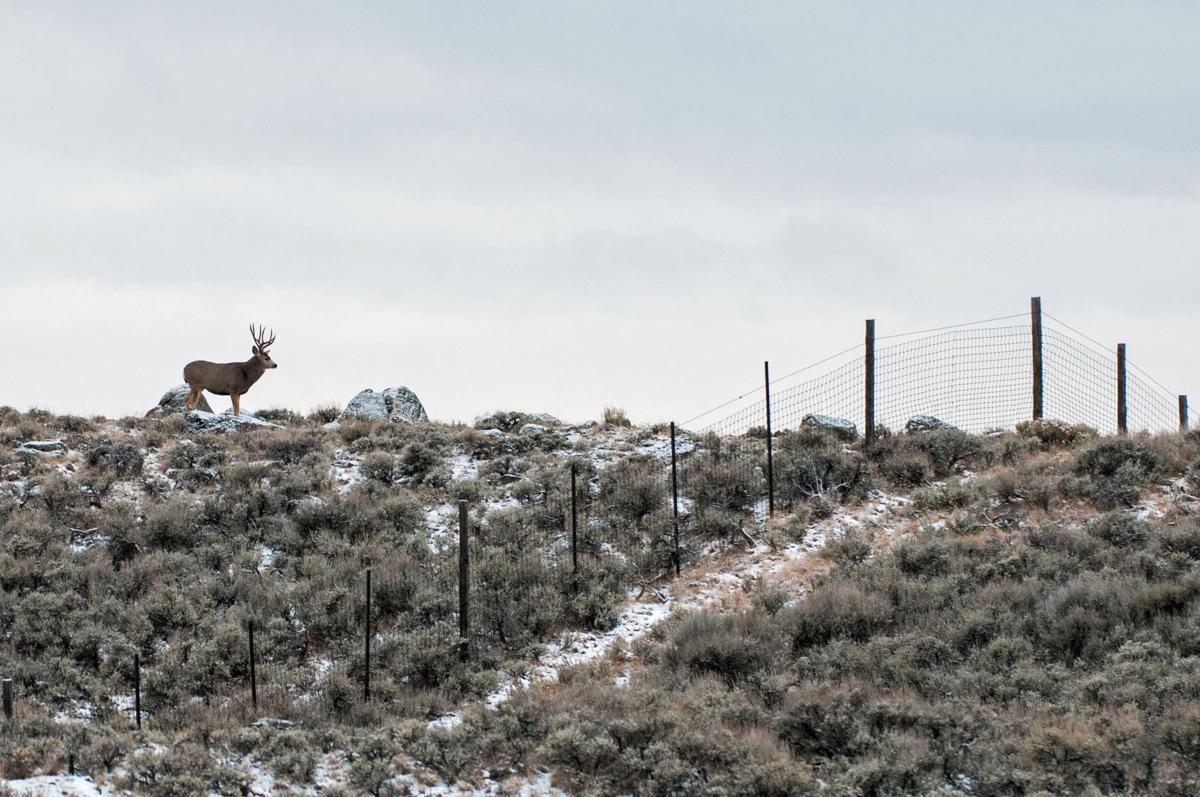 The toughest deer in the West are found wintering outside of Cody, Wyoming.
That's the assertion of Tony Mong, a Wyoming Game and Fish Department wildlife biologist who has monitored mule deer, elk, pronghorn and bighorn sheep migrations in the region.
As evidence, he points to one collared mule deer doe that traveled from west of Cody near Sheep Mountain about 164 miles into Yellowstone National Park in three weeks one spring. Along the way, the deer gained and lost thousands of feet in elevation in the steep terrain of the Absaroka Mountains, all while avoiding an array of predators and carrying that year's unborn fawn.
"I'm blown away how tough these animals are," Mong said.
In the fall, the mule deer doe crossed the same terrain to return to the Cody area in only a week. About 5,000 deer and 2,000 to 3,000 elk are using historical migration routes every year, twice a year, in the region.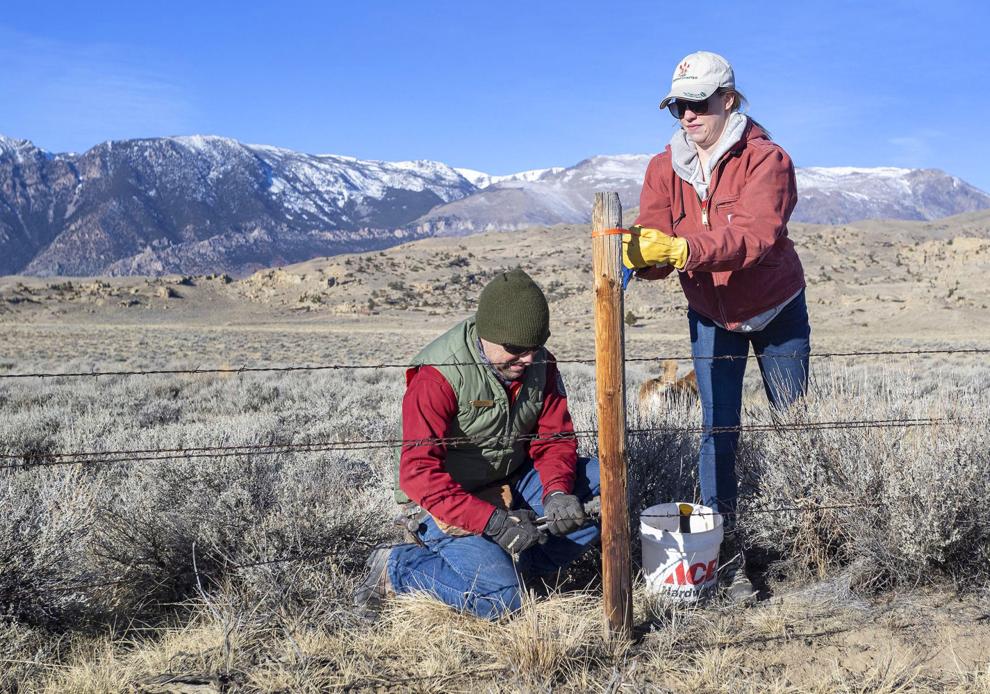 Help
To ease these wildlife migrations, Mong has helped form a new coalition — the Absaroka Fence Initiative. The AFI is a combination of local, state and federal groups, as well as ranchers and landowners. The group's goal is to remove fence obstructions along migration routes that WGFD, the Wyoming Migration Initiative and Montana State University have identified.
"It's a true collaborative effort," Mong said. "There's not just one group driving this."
Similar groups in Jackson Hole and the Platte Valley improved wildlife migration corridors, but weren't formed specifically to address fencing issues, Mong said. The Absaroka Fence Initiative took form in 2019 as Mong met with several of local agencies and nongovernmental organizations.
"Everyone had fencing work and conversion on their radar, but they weren't working all together," he said.
By unifying the various groups, concentrating their funding and volunteer power, and by using data provided on migration routes, they could identify common projects to get work done more efficiently. In January 2020 the group was formed and by December they had finished their first project — making about a mile of fence on public and private land wildlife friendly near the community of Clark, just south of the Montana border.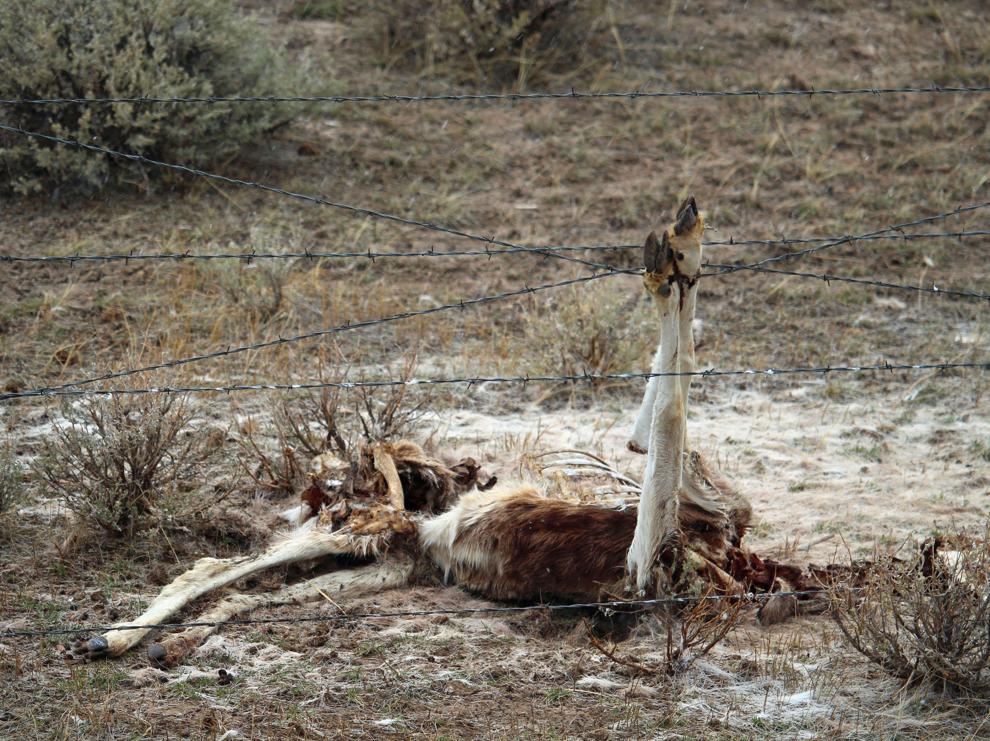 Project 1
Fifteen volunteers showed up in December to alter the fence on land owned by Kathy Lichtendahl and her husband.
Lichtendahl said she has long been aware of fencing-caused wildlife problems, prompting her family to modify most of their fences. Pronghorn go through her property on a daily basis to reach a spring, and elk winter in the area, as well. Mule deer numbers on her ranch have declined, she noted.
"To me, it's an invaluable resource to work on some of these projects around the Bighorn Basin to allow much easier movement of wildlife across the landscape," she said.
Landowners frequently don't have the time or money to alter their fences, Lichtendahl added, so having a group to help with the cost and work is a "real godsend."
Making a fence wildlife friendly often means raising the bottom wire 18 inches above ground to allow pronghorns ease of access underneath, while dropping the top wire so deer and elk don't get snagged when leaping over the fence.
The coalition has another project scheduled for May in partnership with the Bureau of Land Management. The group will focus its efforts from the Montana border south to near Meeteetse, Wyoming.
Data
The Absaroka Fence Initiative's work was finished not long before researchers at the University of California Berkley provided hard evidence of the difficulty fences cause for wildlife. In a recently published study, they used collared mule deer and pronghorn in western Wyoming's Green River Basin to identify specific sections of fence that cause the animals problems. These species navigate through an estimated 3,728 miles of fencing — enough to almost span the U.S.-Mexico border — while walking to summer range near Grand Teton National Park.
The data is so specific it showed how the collared animal reacted when it reached a fence. Did it jump the obstacle, as mule deer do? The data can even show the animal pacing back and forth, looking for a way to cross, or walking away. Wenjing Xu, a Ph.D. student at UC Berkeley, was the lead author of the study published in the "Journal of Applied Ecology."
Xu compared maps to GPS tracking data from 24 tagged mule deer does and 24 pronghorn. She found that each year mule deer encountered fences an average of 119 times. In comparison, pronghorn encountered fences about 248 times a year. About 40% of these fence encounters resulted in a change in the animals' behavior, according to the study.
"Anybody who's spent time in the West knows you'll find a lot of fences," said Arthur Middleton, an assistant professor of wildlife management and policy at UC Berkeley and senior author of the paper. "But seeing such frequent encounters, 40% of which result in a failure to cross, is kind of mind-blowing — especially when you multiply those numbers across whole populations and landscapes."
Along with the study, the team is also publishing a software package that will help wildlife managers around the world analyze GPS tracking data to identify fences and other barriers to wildlife movement.
With so much fence on the landscape, identifying those key crossing points can save time, money and effort for groups like the Absaroka Fence Initiative.
"We hope to use some of that data to drive decisions," Mong said. "That's all great information."
The other technology that has helped Mong monitor wildlife in his region are trail cameras. A network of 30 cameras have shown specific routes the animals take, what day and time of day they use the trails and in what weather conditions. Photos can also show the body condition of the deer, elk, pronghorn and bighorn sheep. Fifteen years ago, this technology wasn't available.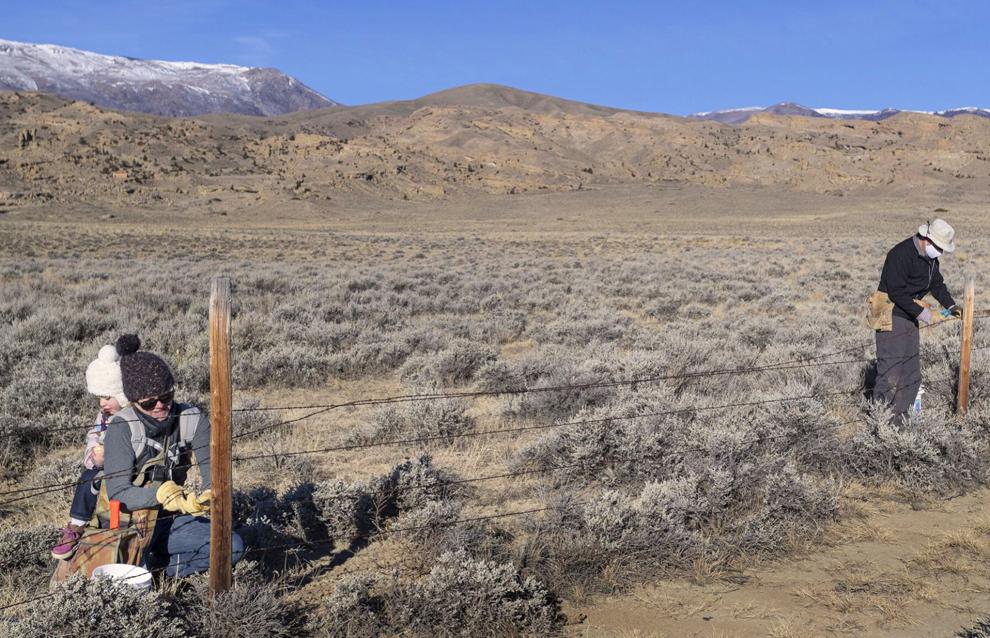 Why?
Wildlife migrate in the spring to find the most nutritious food. As they trek through the mountains, the animals are targeting new growth, which contains the most nutrients. This movement has been called "surfing the green wave" as they travel to continually find the newest vegetation to dine on.
Along the way, GPS collars have shown key spots where animals will linger, known as stopover sites. These sites account for 90% of the deer's migration time in the Hoback region.
The animals return along much the same routes, often more quickly as they rush to avoid being trapped or hampered by heavy autumn snowfall.
In the Cody area, wildlife is lucky because much of their migration takes place in wilderness areas, Grand Teton or Yellowstone national parks. So it's along the eastern edge of those wild places that the Absaroka Fence Initiative will concentrate its efforts.
"I foresee us being able to make a real difference on the landscape in a quick manner," Mong said.
"The real power in this group is its collaborative nature. We're all in this together and that drives change and good conservation."