BIG SKY RESORT — Like a controlled freefall into a dim cave, it was unnervingly dark as Ben Brosseau skied down aptly named Ambush run. A cone of bright white light shone in front of him. Just before he pushed off, a smile seemed frozen to his frosted face.
He was night skiing using a headlamp, a new opportunity for bold snowboarders and skiers looking for a unique experience, one that opens up portions of this mountain to no more than 25 people.
"It makes it more of a cool adventure, rather than doing it with the masses" under fixed lights, said Stacie Mesuda, public relations manager at the resort.
"It's cool to know that it's only you and maybe 24 other people on the hill," an expanse of 5,800 acres crisscrossed by a spiderweb of 250 runs. At night the only other creatures lighting the hills are snowcats slowly grooming runs for the next day of skiing.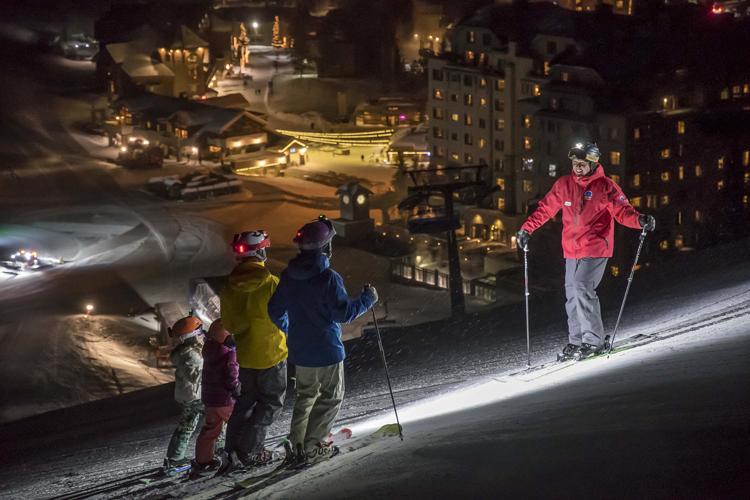 New prospect
Big Sky Resort's night skiing just opened to the public a few weeks ago. The cost is $390 for seven people, which includes a guide and the use of the 2,100-lumen Lupine Blika headlamps, which have a remote control that attaches to your ski pole.
Routes are limited to Andesite Mountain, accessed by the new eight-passenger heated Ramcharger 8 chairlift, which includes a drop-down bubble shield to block any windchill. The night skiing is offered between 6:30 and 8:30 p.m. Wednesday through Saturday.
"They have several paths they groom — Ambush, Tippy's Tumble and Hangmans — steeper blue runs off the front side of Ramcharger," Brosseau said.
He recommended skiers have goggles with clear or yellow lenses to maximize their night vision.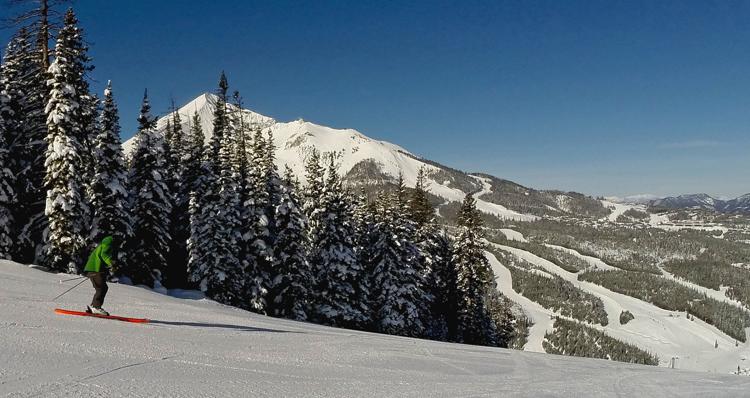 Night light
Gliding downhill with limited visibility — even when it's snowing — doesn't bother Brosseau, a Big Sky ski instructor.
"It gives you a different perspective, that's for sure," he said. "I grew up night skiing on my home hill in North Dakota with fixed lighting. Doing it with a headlamp is a little different. You've got your light ahead of you. This thing is so bright you can turn it anywhere. It lights up the trees.
"If you have it faced down the hill from you, you're just skiing the fall line below you. It's really cool because it illuminates all of the texture of the snow, too, so it's even more clear than it would be on a flat-light day. You can see every little nook and cranny in the snowpack, all the corduroy in the groomers."
Humming her skis across the ripples of corduroy was thrilling for Mesuda, but the drop-offs were a little breath-taking.
"Going over a roller I feel a little bit of hesitation," she said. "I hope this (snowcat) kept grooming over the hill," she thought to herself. "There was a brief moment of praying."
"I'm definitely not thinking about emails or what I have to do tomorrow," Mesuda added, noting that night skiing seemed to require greater concentration. "I'm just focused on this groomer."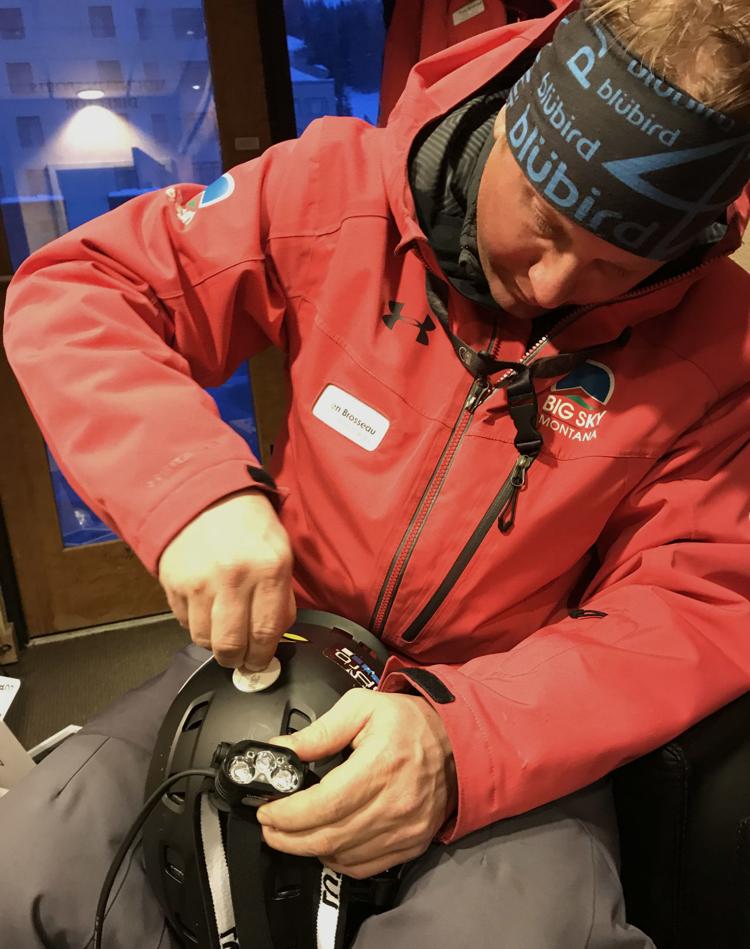 Turnaround
You have free articles remaining.
The next morning, before the lifts opened to the public at 9, Mesuda was back on the slopes for another of Big Sky Resort's exclusive offerings — First Tracks and Everett's Breakfast. For 90 minutes starting at 7:45, skiers and snowboarders get the first shot at new snow or groomed terrain. The cost is $119 per adult or $99 for children ages 2-17 and is followed by breakfast at Everett's 8800, a custom log restaurant atop Andesite Mountain. The combo is offered Wednesdays through Fridays.
First Tracks is also offered as a guided experience for $690 without breakfast for a half day of skiing. Reservations are required and the price covers two individuals. More folks can be added for an additional $25 each, up to five people. Each skier or snowboarder must also have a lift ticket.
Brosseau has done many of the half-day First Tracks trips, often starting off with a couple of laps on the Ramcharger lift to warm up. More often, though, the main attraction is being the first riders to the top of 11,166-foot Lone Mountain to pioneer the fresh powder.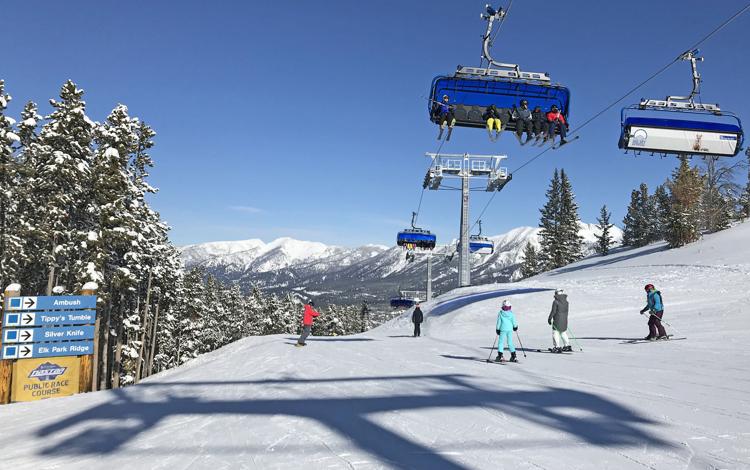 "I would say the majority of our First Tracks people want to go up the peak," he said. "Some want to do groomers or trees, but a lot of them want to get to the peak, especially on a day with new snow overnight. That's a pretty cool experience."
When the ski patrol is conducting avalanche control work in the morning, Brosseau has to be strategic about how to get his clients to the top. But once there, he can usually get in two to three laps before the lifts open and more skiers and snowboarders arrive.
In addition to the untracked powder, the view can be hard to beat, he said.
"Especially if you can get up there early in the morning when the sun is coming up. I've had some mornings when it's foggy in the valley and bluebird on top and you're overlooking the valley" creating an otherworldly view.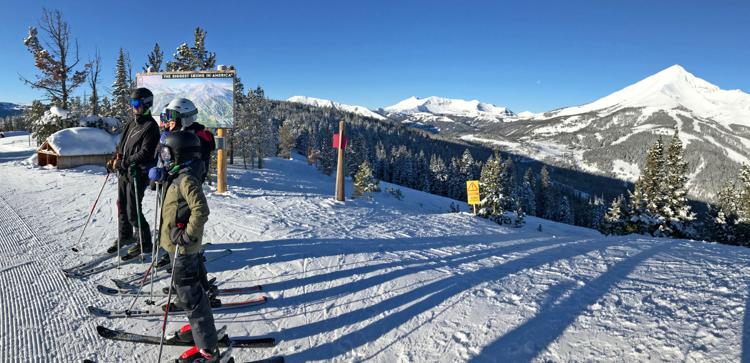 1st, first tracks
Georgia and Augie Emmanuel made a few First Tracks runs on Andesite before having breakfast at Everett's 8800. The brother and sister from Brooklyn, New York, were vacationing with their parents and enjoyed skiing when only a handful of others were on the slopes.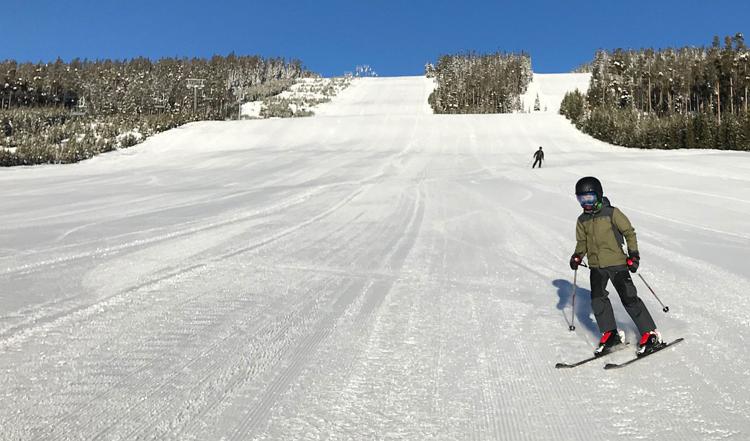 "I liked that no one had skied on the runs and they were smooth, and no one was coming at you," said 13-year-old Georgia.
She's been skiing eight years, often at resorts closer to home where the runs are icy and the lift lines long.
"Here the snow is so soft and powdery," she said.
Augie, 10, echoed his sisters' praise between bites of bacon and French toast swimming in sweet syrup.
"It felt like you had the whole mountain to yourself, which was true," he said.