While some folks have enjoyed the mild winter thus far, above-average temperatures and high winds have put a damper on ice fishing for many areas of Montana.
It is winters like these that make Georgetown Lake in the Pintler Mountains such an asset for those anglers hoping to hit the hard water early. The perfect combination of shallow depths and high elevation means Georgetown often provides some of the first safe ice in western Montana.
The lake offers both accessibility and scenery with pullouts along the Anaconda-Pintler Scenic Highway, as well as a couple of day-use areas. Because of nearby Discovery Basin Ski Area and houses occupied year-round, snowplows keep the roads clear from Anaconda to Philipsburg.
Although some anglers push the limits, when the ice hits about 6 inches thick the ice shelters begin popping up. Several species of fish occupy the depths of Georgetown, but most venturing onto the lake come in search of kokanee salmon or trout, including some of the finest fishing for large brook trout in the state.
Kokanee may be some of the lightest biters in the fish world, but when they're hitting, it can mean big numbers for the wood smoker. Each angler may keep up to 20 salmon a day with 40 in possession. 
Ice flies, Glo Hooks or Swedish Pimples tipped with maggots are the most popular combination for targeting salmon, and their soft bite means anglers must be ready to set the hook.
Rainbow and brook trout are much less subtle when it comes to taking a jig or ice fly. A 1/16-ounce marabou or bucktail jig, Swedish Pimple or jigging Rapala are often enough to bring out their aggressive side, although they will take a stationary bait when the bite is on.
Regulations allow keeping up to five trout daily and in possession, with only one of those being a brook trout. Only brook trout over 16 inches may be kept.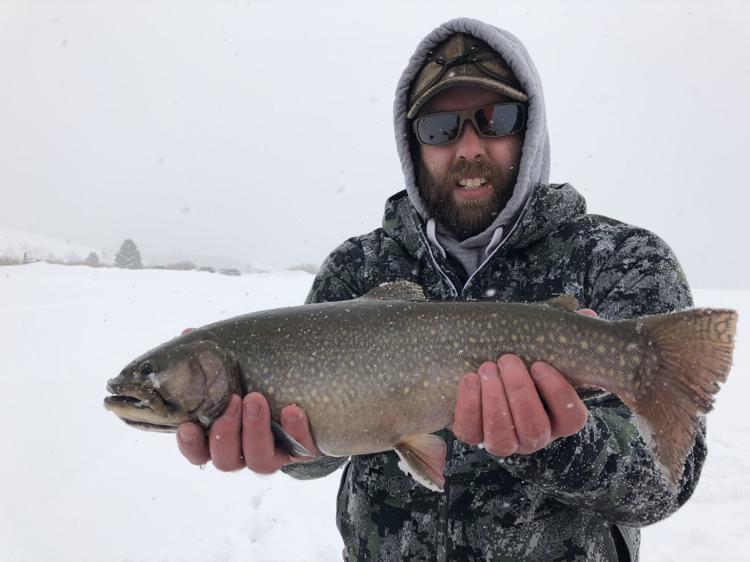 Fishing remains fairly consistent throughout the winter, but December and January typically provide the best early fishing with the bite picking up again in March, according to georgetownlakemt.com. Depending on the year, Georgetown may have safe ice from late November until March 31 when the lake closes, but as with any ice adventure conditions vary so checking the ice beforehand is always a must.