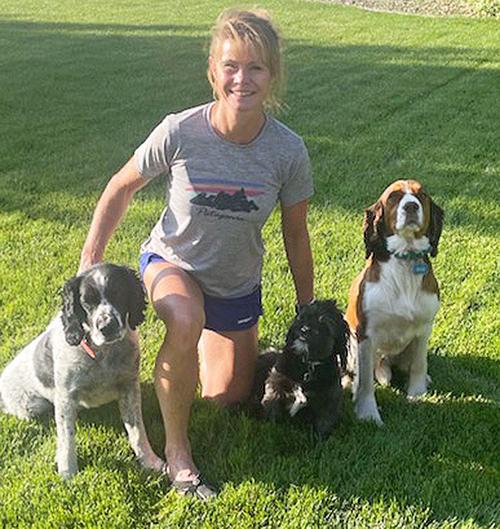 Depending on the traffic, you can be at the trailhead in about 35 minutes from Idaho Falls.
Stephanie Liddle was taking her three dogs on their weekly outdoor hike up the popular Sidewinder Trail from the Stinking Springs trailhead, just east of Heise Hot Springs resort. She had gone about two miles or so, listening to some Van Halen on her phone and paying close attention to where she stepped. Then she heard some odd barking.
She looked up to see a wolf charging toward her dogs, in particular her adventurous springer named Jax farther up the trail. She looked around and saw two more wolves behind her. Her dogs had the wolves' complete attention.
"It was just very terrifying," Liddle said. "I never want that experience again."
Liddle, who stands 5 feet 2 inches and weighs about 109 pounds, estimated the most aggressive wolf to be about 130 to 140 pounds.
"These were wolves, and they were huge," she said. "They were tall and their legs were long and their heads were big."
Liddle scooped up her smallest dog in one hand, a terrier-springer mix named Lexie, about 13 pounds, and pulled a can of bear spray out of its holster with the other hand.
"I was like, 'Oh my God, what is that?' I looked up the mountain, and I saw that wolf," she said describing the encounter. "I saw the first one, and it was coming toward me, running toward my dogs. One of my springers was up ahead of me. I yelled at him, I said 'Jax, get down here!' and that wolf started running faster. I looked behind me, and I scooped up my little one and there were two more wolves behind me. I was like oh God I'm dead!"
Liddle said her two springers could sense the danger and "were suctioned-cupped to my legs" and they retreated back down the hillside.
"I started acting like a big bear," she said. "Yelling super loud. I started spraying my spray. I just circulated myself in spray. Then I started running down the mountain off the trail because I had to get down fast. I unfortunately can't run."
Liddle, an accomplished triathlete, has been nursing a torn hamstring and recently had surgery to repair it. Hard running was not going to happen.
"The one wolf was on my heels, but I got far enough away with the spray," she said. "I just kept trying to spray a little bit. I don't know what happened to the other two (wolves). I never saw them after I kept working with the one. It just kept barking and barking."
By the time Liddle reached the bottom of the hill, the wolf was gone and her can of bear spray was empty.
Liddle reported the incident to Idaho Fish and Game.
"Anytime there's dogs and wolves, any other canids in wolf territory, the wolf response tends to be that," said Curtis Hendricks, Fish and Game wildlife manager in the Upper Snake Region. "They are fairly aggressive to canids that aren't part of their pack. That was concerning on our end when we got that report."
Hendricks said there is an established wolf pack residing in the Big Hole Mountains called the White Owl Pack, after White Owl Butte east of Rexburg. He said most Idaho packs average between five and 10 members.
"It's on our radar," he said. "We don't know if the wolves are moving through, and it happened to be a chance encounter or what's going on. We are monitoring that. All of our staff has been made aware of that. It's something that we'll pay attention to."
Wolf-dog encounters in the Big Hole Mountains have happened before. Six hunting hounds were killed by wolves in the Big Holes in May 2016. Hounds can be easy wolf targets because they are let loose to track and tree a bear, mountain lion, bobcat or raccoon, and can instead bump into the top dog of the forest.
"As hound hunters, we have to be very careful of that because they will attack our dogs," said Domenique Borg, with the Eastern Idaho Houndsmen Association. "One time we did run into wolves, but my husband was able to see them, and he got to the dogs fast enough to scare them off. That was kind of a close thing. He had to sprint over there to protect them."
Borg said the hounds have GPS collars to help them know what's going on.
"Having GPS collars helps because you can find your dogs faster," she said. "It's kind of just a game of chance. You try to stay up on where you hear the wolves are at, but you don't know. They move."
After her encounter, Liddle preaches going into the outdoors with bear spray.
"I was super lucky that I was carrying something that day," Liddle said. "I wouldn't have any dogs, and I'm not sure about myself. I don't know what would have happened."
Hendricks is also a proponent of bear spray.
"It's the reality of recreating in Idaho's landscapes particularly with dogs," he said. "It is the rarity, as opposed to the rule, but having those things on hand is always a good call."