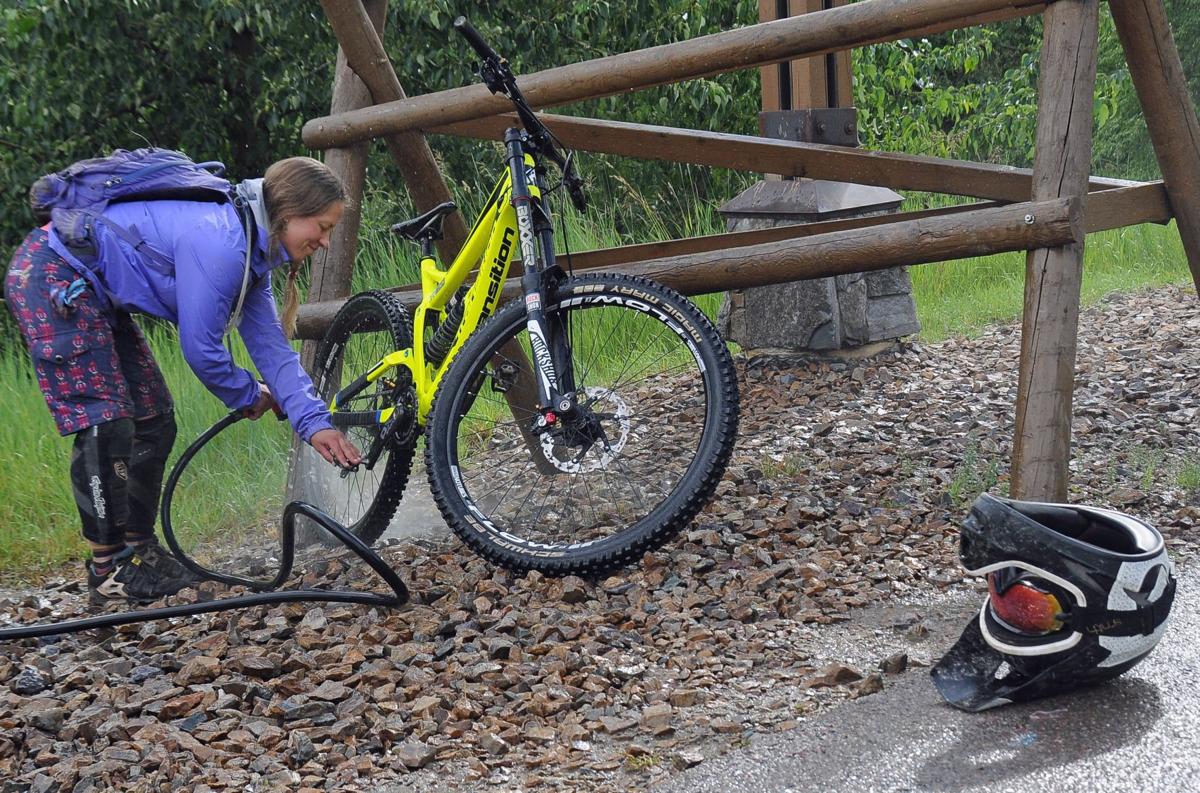 When it comes to recreation economies, Montana has raced ahead of its neighbor to the south, Wyoming, according to recently released figures from the U.S. Bureau of Economic Analysis.
Using data from 2017, the analysis puts Montana's total outdoor recreation value at $2.3 billion compared to $1.6 billion in Wyoming.
This is the first national report to drill into state-by-state recreation economies. Nationally the outdoor recreation economy accounted for 2.2 percent of Gross Domestic Product, or $427.2 billion in 2017, and continued to grow faster than the national economy.
Rachel VandeVoort, director of the Montana office of Outdoors Recreation, said the state-by-state analysis is helpful to people like her in articulating recreation's place in the broader economy.
"These are all the factors we've known intrinsically," she said, "But it's great information to help people be informed so they can make good decisions."
Those decisions might include investing in habitat, protecting public or private lands or contributing funding to new opportunities, VandeVoort said.
Dave Glenn, deputy director of the Wyoming Outdoor Recreation Office and State Parks, said the numbers are "just the tip of the iceberg. I think we'll see these numbers grow exponentially" as the recreation economy expands.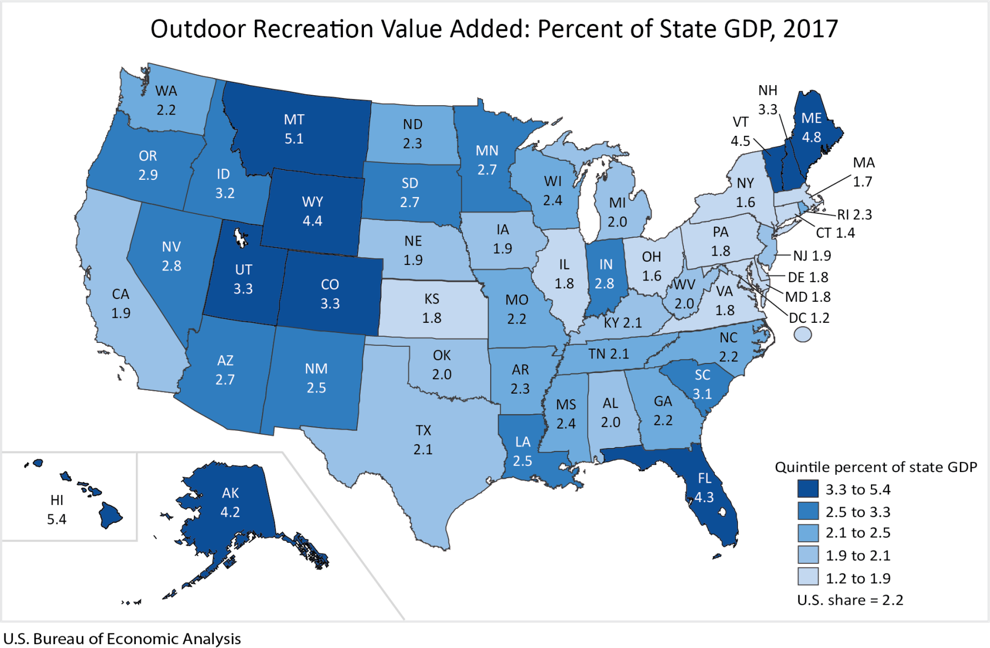 Numbers game
Why the difference between neighboring states?
"It depends on how you do the numbers," said Rob Godby, a University of Wyoming economics professor.
Most obvious to him is that Montana has a larger population — more than 1 million compared to Wyoming's 577,000. A larger population plus more urban areas adds up to a greater outdoor recreation economy because there are more businesses catering to hunters, anglers, skiers and bikers, Godby said.
"There's a difference in respect to the scales of their economies," he added.
Wyoming officials are well aware of the state's shortcomings. To build its recreation economy, in 2017 then-Gov. Matt Mead supported the creation of a task force to foster ideas. One of the top recommendations of the group was to "secure new access and connectivity to and on public lands."
Glenn said his office has been directing part of its energy collaborating with communities on projects because unfortunately the state doesn't have money to invest in recreation infrastructure right now. He is excited, however, about a new cell phone app due to be finished in the spring that will put more information about recreating in the state all in one place. Glenn sees the app as one more way of doing a better job of telling the public what Wyoming has to offer.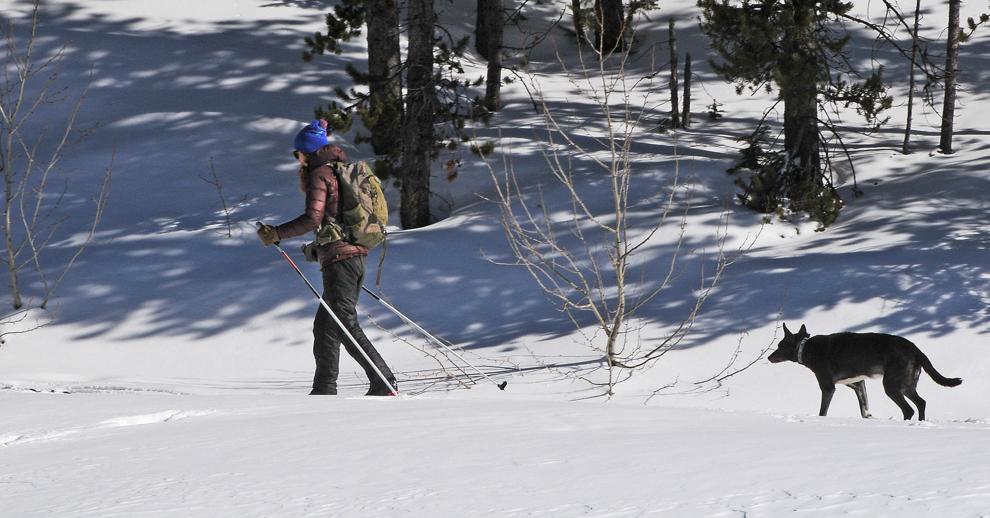 A different take
"Montana has done a really good job at investing in recreation infrastructure," he said.
He pointed to Montana's fishing access sites as one example. The state has about 332 sites that allow anglers and boaters a place to launch, fish or just play in the water. Each one, on average, costs the state about $150,000. Totaled up, that's a huge investment, almost $50 million. Yet revenues derived just from anglers in the state — not counting all of the boaters who use the access sites — is $900 million a year, he said.
"That's a good return on investment."
Water
Access to streams is one place where Montana differs greatly from Wyoming in a recreation sense. Montana's Stream Access Law allows the public full use of most rivers and streams between the high-water marks. In Wyoming, an angler could be charged with trespassing for stepping out of a boat and into the water to wade fish if the river is flowing through private property. Even anchoring a boat in a stream where it crosses private land is considered trespassing.
Godby, who spends summers in Red Lodge, doesn't see a "massive difference" when he fishes in Wyoming versus Montana.
"There's lots of fly fishing here on small streams, and a lot of people are floating," Godby said.
Rasker noted that Montana has also been a national leader when it comes to paying landowners for access to private lands for hunters through its Block Management Program. This year about 1,200 landowners have enrolled 7.1 million acres in the program, and there's typically a waiting list to add more lands.
"Montana has focused on access and that's really paid off," Rasker said.
Wyoming has a similar program that provides public access to private lands called "Access Yes," which is divided into three other programs. In addition, half the state is public land.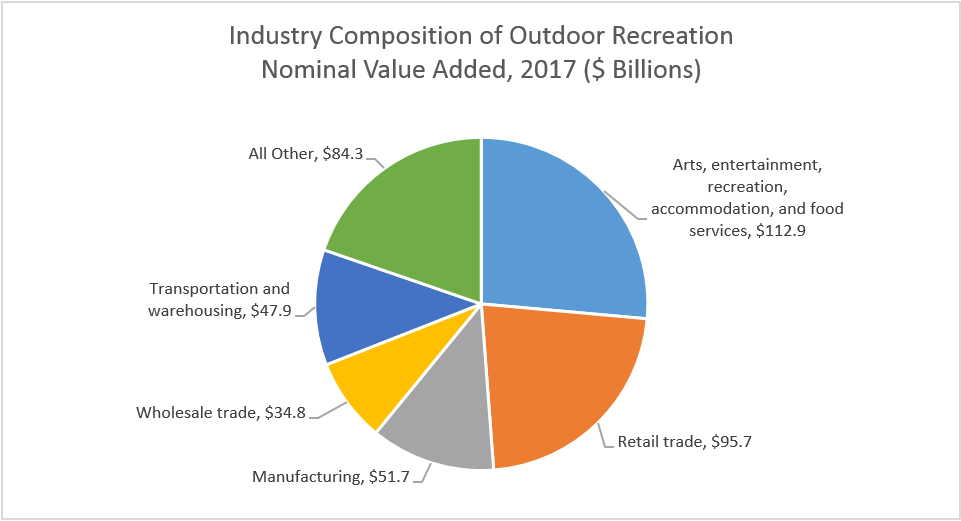 No. 2
What surprised Rasker from the most recent data is that Montana ranks No. 2 in the nation — second only to Hawaii — for the percentage of its economy derived from outdoor recreation. In Montana it is 5.1% of GDP compared to Hawaii's 5.4%
"People are in Montana to play, and they spend a lot of money on gear," he said. "If you go to the East Coast the first thing they ask you is where you went to school, then where do you work?" In Montana the first thing someone asks you is if you've filled your hunting tag, he added.
"We're definitely an outdoors state, that's for sure."