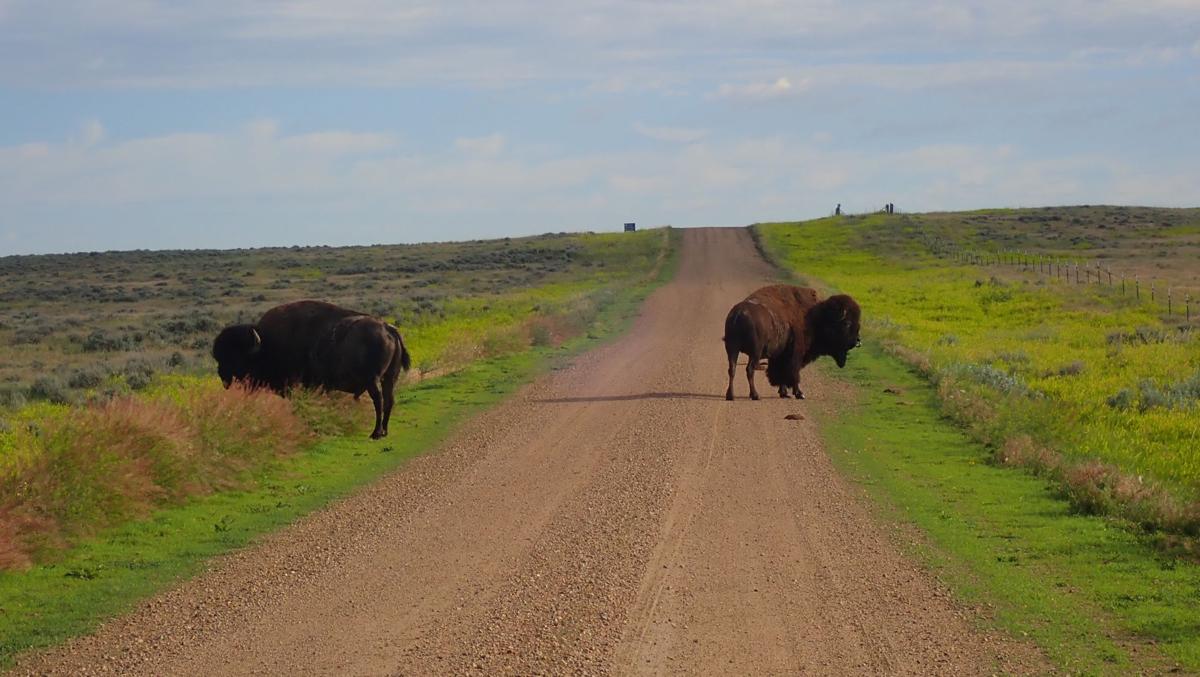 "The country which borders the river is high broken and rocky, generally imbeded with a Soft Sand Stone. higher up the hill the Stone is of a brownish yellow hard and gritty... this Countrey may with propriety I think be termed the Deserts of America, as I do not Conceive any part can ever be Settled, as it is deficient in water, Timber & too Steep too be tilled."
—William Clark, May 26, 1805
The Homestead Act of 1862 and various amendments allowed settlers to claim tracts of land and prove ownership by building a house and working the land. Settlers cherry-picked the most promising arable lands available. My grandfather August Elpel claimed land for the family homestead near Glendive, Montana in 1907. Theodore Roosevelt previously set aside forested parcels as Forest Reserves, leading to creation of the U.S. Forest Service. Unclaimed lands were overseen by the General Land Office, which became the Bureau of Land Management in 1946.
The net result of the homestead movement was a Swiss cheese mix of private and public lands, typically shown on maps as white for private land, pock-marked with blocks of yellow for public land, often without any physical public access.
The opposite is true along 300 miles of river and lake, paddling from Fort Benton to Fort Peck, what William Clark described as the "Deserts of America." Here the maps are almost entirely yellow for BLM land, pock-marked with private inholdings where homesteaders claimed muddy creek bottoms between barren badlands.
It is here that the nonprofit American Prairie Reserve has been buying private parcels with leases on adjacent public lands towards the goal of stitching together a 3 million-acre shortgrass prairie for a free-roaming bison herd. APR lands are open to public camping and hiking. We previously camped on APR land back at Cow Creek along the wild and scenic river.
Seeing that APR's Buffalo Camp was within a few miles of Fort Peck Lake, I thought it might be the best opportunity during our 2,000-mile adventure to see actual bison as part of the Lewis and Clark National Historic Trail.
I was also aware of rancher resentment about APR and the many roadside signs in prairie country stating, "Save a Cowboy, Stop American Prairie Reserve." I was curious to see APR for myself and get the inside scoop.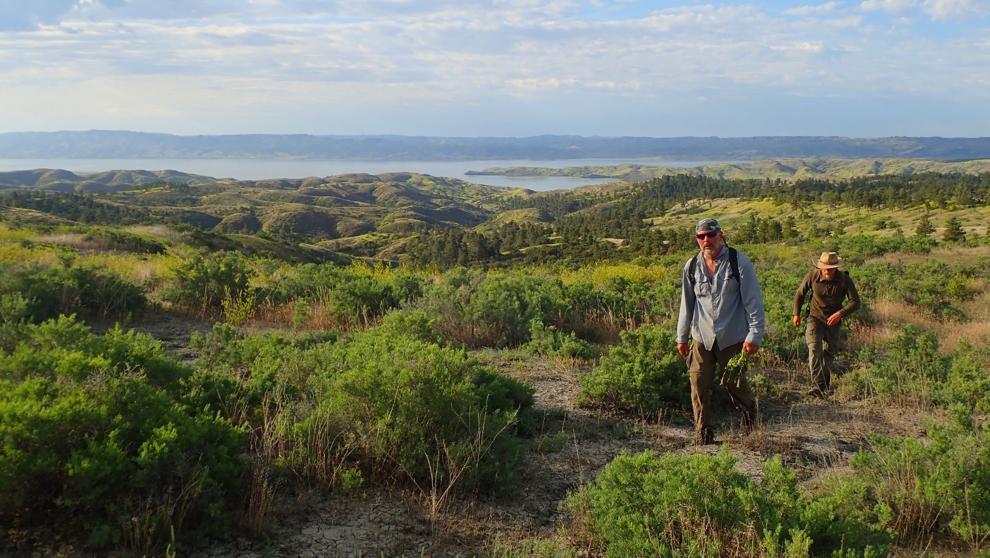 We took a layover day back at Fourchette Creek Recreation Area to hike in, if necessary, to lo bison. Fortunately, we connected with Hila Shamoon of the Smithsonian Conservation Biology Institute, who is investigating how pasture size affects bison movement and behavior at APR. Hila graciously gave us a ride to the Enrico Education & Science Center. On the ride we saw a dozen big bison bulls grazing on BLM land. Hila explained that bulls separate from the herd in summer and often hang out together.
To fifth generation ranchers, bringing bison back is an identity-level threat to an honorable way of life pioneered by their great-great grandparents. Rural towns have been shrinking for decades as young people move away in search of better opportunities. I've seen it in my own community where the K-12 school shrank from 125 students to 75 over twenty years. Revitalizing and repopulating our rural communities is one of the most neglected policy issues in Montana and beyond.
APR is perceived as exacerbating the problem by buying out family farms to raise bison. I peppered APR field staff with dozens of questions, including the "Save a Cowboy" signs. They largely shrugged it off as "part of the job," noting the need for improved communication and outreach.
The organization has already formed partnerships with some local ranchers, leasing APR land for cattle grazing and marketing "Wild Sky" grass-fed beef (www.wildskybeef.org) with profits benefiting local ranchers and the prairie project.
Our arrival coincided with the end of an independently organized youth conservation camp at the education center. We received royal and unexpected treatment, including showers (our second since this journey began) and a hearty breakfast of biscuits and gravy and scrambled eggs. We watched an herbal medicine slideshow with the youth program, then checked email while they made soothing salves for insect bites.
As a botanist, I had fun geeking out about plants with Kimberly and Catherine from the Smithsonian Environmental Research Center who were doing baseline studies about prairie pasture species. I introduced my botany card game, and played Memory, Slap Flower, Crazy Flowers, and Shanleya's Harvest, based on the story in my children's book, Shanleya's Quest.
The crew graciously gave us a ride back to camp, sending us with leftover goodies from the youth camp, plus ice for the cooler and enough water to continue our journey across the lake.
While APR is the obvious target of the "Save a Cowboy" signs, I wondered if the impact was felt more by fellow ranchers who might be stigmatized for working with APR. For these families, there isn't a sixth generation that wants to stay and work the land, and selling out is not a question of "if" but "when." Selling to APR is their best bet to obtain the retirement they've earned.
As for the bison, they were an integral part of the Lewis and Clark journey, repeatedly referred to in the journals. With world wildlife populations crashing, such that people and livestock make up 96% of all mammalian life, it doesn't seem unreasonable to give bison a narrow strip of land that Clark deemed unfit for settlement.
Thomas J. Elpel is president of the Jefferson River Chapter of the Lewis and Clark Trail Heritage Foundation and the author of Green Prosperity: Quit Your Job, Live Your Dreams. Go to www.Elpel.info to learn more about the Missouri River trip, Tom's books, and the expedition fundraiser for the Jefferson River Canoe Trail.