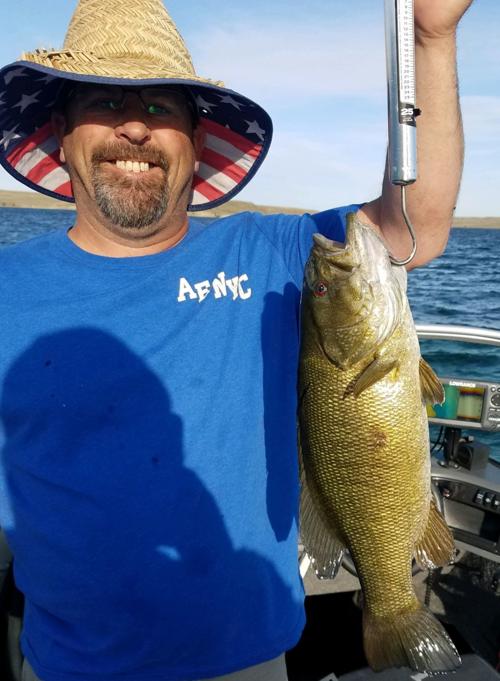 Pink lemonade is a refreshing drink in the summertime. As it turns out, pink lemonade is also a good pattern for walleye anglers.
This past week at Fort Peck Reservoir in the Big Dry Arm area, anglers fishing for walleye did well pulling pink lemonade and firetiger crankbaits.
Anglers also had success on chinook salmon and lake trout in the dam area at Fort Peck.
If you'd rather fly fish for trout, grasshoppers continue to be the ticket on many of the region's rivers.
Here's the weekly fishing report:
Top picks
Fort Peck Reservoir, Big Dry Arm — Anglers are doing well for big walleye. Pull crankbaits in 18 to 20 feet of water. The biggest walleye was 32 inches, and 30-, 29-, and 28-inch walleyes were mixed in. Quite a few 18- to 23-inch walleye have also been boated. Most of the pike biting are small. Some fat smallmouth, including a 4-pounder, have been boated. Berkley Flicker Minnows in size 9 and 11 are a good choice for walleye. Pink lemonade and firetiger are good patterns. — Rock Creek Marina.
Fort Peck Reservoir, dam area — Anglers are catching chinook salmon, lake trout and a few walleye. For salmon, pull Beavis trolling flies in purple and orange behind a flasher at the face of the dam. Brad's Bait Cups and squids are producing a few salmon. For lake trout, troll Dardevle Red Eye spoons in 90 to 120 feet of water. For walleye, try crawlers in 20 to 30 feet of water. — Lakeridge Lodging & Bait Shop.
Madison River, Upper — Hoppers are here and the fish have seriously taken notice. The dry fly fishing has been awesome this year. A hopper-dropper or Chubby-dropper is a great option and pretty tough to beat right now. Nymphing has still been consistent with Worms, Stones, and smaller flashy Mayfly nymphs being the best options. With terrestrial season underway, Ants are another pattern you shouldn't leave home without. — Montana Troutfitters, Bozeman.
Stillwater River — The river continues to fish well, with suitable flows for floating below the Rosebud confluence. The upper river above Absarokee is bony and will be a tough float and is recommended to be tackled only by experienced oarsmen. For wade anglers, travel above Absarokee where it's much easier access. With cooler mornings fishing usually picks up by mid to late morning and on into the afternoon. Nymphing is a good way to go early, or use a long dropper with a beadhead nymph like a Pheasant Tail, Copper John, Batman, or Prince Nymph off of a searching dry fly pattern like a Jack Cabe, PMX, Stimulator, or Purple Haze. By late morning fish are looking to eat the small dry fly on top. Smaller dries like a PMD or Caddis are working well in the afternoon. Look to fish smaller hoppers, too, like a Fat Frank, Yeti, Yellowstoner or Schroeder's in peach, pink, grape, tan or olive body colors. — Stillwater Anglers, Columbus.
Yellowstone River, Columbus — While it's cooled off some the last week or so, Hopper fishing is still going strong. From mid to late morning on fish are on the Hopper. It's not good enough any longer to merely pound the banks with a Chubby. Fish have seen a zillion artificial flies as well as the real ones by now, so don't hesitate to vary it up. Search out different water, too. All types of Hoppers are taking fish in all types of water. Try the Yellowstoner Chubby, Yeti Hopper, Fat Frank and Pink Pookie in pink, peach, olive or grape body colors (10-14). Nymphing is usually a good way to start out the day early as fish have been gorging on nocturnal stones. Try fishing a big rubber leg nymph like a Girdle Bug, Pat's Rubber Leg or Bitch Creek. Make sure to use a long enough leader and weight to get it down in the heavy water. For streamers use the Grinch, Kreelex, Bow River Bugger, Sparkle Minnows, Sculpins and basic black Buggers. Fish are taking the dry fly early, too, so fish a Jack Cabe, Stimulator, PMX or Purple Haze. If they're not hitting the big dry or Hopper consistently, drop a beadhead nymph on a long dropper off of it. Also keep a Purple Haze, Parachute Adams and Caddis handy for any rising fish. Tricos have also started making their appearance in the early mornings. Look for rising fish in the slick water tailouts and foam lines. If fish are on them and rising, a smaller Purple Haze or Parachute Adams will usually get the job done. — Stillwater Anglers, Columbus.
Montana
Ackley Lake — A few trout were caught on Sunday while trolling with little spoons and leaded line. — Sport Center, Lewistown.
Beaverhead River — The best fish are being caught on Craneflies early and Hoppers from midday on. If you have to nymph, stay small. PMD nymphs (18) seem to be working well near the dam. — Frontier Anglers, Dillon.
Big Hole River — There is great Hopper fishing in the afternoon. Nymph fishing has been effective as well. Pat's Rubber Legs in black, brown or tan, Pheasant Tails, and Psycho May will all work. The trico hatch has been inconsistent. — Sunrise Fly Shop, Melrose.
Bighorn Lake, Ok-A-Beh — Anglers are still catching bass and the occasional trout. For bass use tube baits. For rainbows and browns troll crankbaits or try pitching them into the rocks. — Scheels, Billings.
Bighorn River — Fishing remains good on the Bighorn, although it's getting a bit more technical. Some mornings have fish up on tricos, but not in big numbers. Hopper fishing and late evening caddis are still hanging in there providing for some good surface activity. Nymphing has been good during the late morning to later in the afternoon, but there is a fair amount of grass once you get below 3 Mile. Concentrate on the faster shelves and tailouts. The best part is the fish are looking as good as we've seen in the past decade. — Bighorn Angler, Fort Smith. 
Boulder River — Grasshoppers are the ticket. A stonefly hatch is coming off later in the afternoon. Black stonefly attractor patterns are working well. — Sweetcast Angler, Big Timber.
Canyon Ferry Reservoir — Shore fishing for all species continues to be slow. The best action for walleye, perch and rainbows has been mid-reservoir around Duck Creek and Confederate while using bottom bouncers with a worm or perch crankbait in 10-15 feet of water. The area south of the Silos is producing walleye. In addition to being caught with walleye tackle, some rainbows are being caught while trolling cowbells. A few perch are being caught while jigging with worms in bays around White Earth. — FWP, Helena.
Cooney Reservoir — Trout are starting to bite. The walleye bite is strong. Anglers are using worm harnesses with success. — Cooney State Park.
Deadman's Basin — Most people venturing out are pleasure boating. On the lower Musselshell River anglers are catching some smallmouth bass. — Cozy Corner Bar, Lavina.
Fort Peck Reservoir, Crooked Creek — The marina is once again open seven days a week from 7 a.m. to 7 p.m. Bank fishing at the marina is pretty slow. Anglers are catching some drum and crappie from shore. From boats anglers are catching walleye at depths of 20 to 25 feet using a jig and a worm. Color doesn't seem to matter. Some are pulling bottom bouncers and crawlers at depths of 20 to 25 feet and catching walleye. The pike bite is slow. The key is locating the pike. For smallmouth, target the narrows. The water temperatures are 73 to 74 degrees. — Crooked Creek Marina.
Fort Peck Reservoir, Fourchette Bay — Due to all the rain last week fishing pressure has been light. — Westside Sports, Malta.
Fort Peck Reservoir, Hell Creek — Fishing is fair for walleye. Anglers are catching lake trout and chinook salmon at the dam. — Hell Creek Marina.
Fresno Reservoir — Fishing has been a little on the slow side but should pick up when temperatures cool. — Stromberg Sinclair, Havre.
Gallatin River — The Gallatin is clearing up and we'll be seeing some great dry fly fishing. In the evenings you'll see dry fly action with Hoppers, Chubbies, Ants, Beetles, Caddis, Tricos and PMDs. We are also seeing spruce moths in the canyon. If dries aren't your style, a Rubber Legs or San Juan Worm with a smaller Lightning Bug, Mayfly or Caddis dropper is a great rig. — Montana Troutfitters, Bozeman.
Hauser Reservoir — Walleye are being caught in the causeway, around the El Dorado dredge piles, and York Bridge on jigs tipped with a leech or crankbaits. A few perch were also caught in the causeway on jigs and leeches. Rainbow fishing is slow. — FWP, Helena.
Hebgen Lake — The catch rate has been slow the past week. There aren't as many anglers out, but also the fish don't seem to be biting much. The lake level has come down to about 91% of full pool and is going down about 6 inches a week now. Temperatures in the daytime are getting into the 70s and, finally, not so much rain. Lows at night are in the 30s. If it goes as it usually does, fishing should pick up again in the next week or so. — Kirkwood Resort & Marina.
Helena Valley Regulating Reservoir — The snagging season for kokanee salmon opens on Sept. 1 and will run through Oct. 31. Limits are 35 salmon daily with 70 in possession. — FWP, Helena.
Holter Reservoir — Perch fishing is good from Cottonwood Creek to the dam with the best action being around the docks and weed beds in 10 to 15 feet of water on jigs and worms. An occasional walleye is being caught by anglers targeting perch. Rainbow fishing is slow with a few being caught while night fishing along the cliffs from Black Beach to Split Rock. — FWP, Helena.
Madison River, Lower — Water temps have started to  drop slightly overnight but are still high and spiking during the high sun later in the day. Along with afternoon temps, the tube hatch is still in full force. If you do head out to the lower, fish early in the morning and land fish quickly. Double dries such as a Hopper to a small Chubby will get fish looking up in the morning. — Montana Troutfitters, Bozeman.
Martinsdale Reservoir — Action has been a little slow. — Cozy Corner Bar, Lavina.
Missouri River, below Holter — The flows are 5,600 cfs and the water temps are 63 degrees. There are caddis, tricos and hoppers out. Ants are starting to work better all the time. For nymph anglers a Zirdle (8) on top with a Two Bit Hooker or Frenchie below it will work. Twitch the presentation. There is some moss in the water. — Montana Fly Goods, Helena.
Missouri River, Fred Robinson Bridge — One could try casting crankbaits from shore for sauger. — Sport Center, Lewistown.
Nelson Reservoir — Pull worm harnesses for walleye. A few northerns are being reeled in. — Westside Sports, Malta.
Rock Creek — Rock Creek is in summertime bliss mode. Wade fishing Rock Creek is easier than it's been in four months. The best way to fish is with streamers. Recommended patterns include Sparkle Minnows, Sparkle Minnows and more Sparkle Minnows. The sculpin, pearl and brown trout colors work the best. It's a flashy fly that is extremely effective. If you haven't fished streamers get a standard Woolly Bugger, cast it into a 4-foot hole, count to three and then slowly retrieve by stripping some line. If you do that enough, something cool is going to happen. Just remember to use a heavy and shorter leader when streamer fishing. Additional streamer patterns include Grinches, varied Buggers as well as all the Galloup patterns which include Mini Sex Dungeons or Barely Legals. If you want to fish on top, Hoppers will fish till early October. Consistent Hopper patterns include Parachute Hoppers, Dave or Joe's Hoppers, Purple or Gold Chubby's, as well as the highly regarded Pink Pookie. Hoppers can be fished in sizes 8-12. Tan or olive Caddis in sizes 14, PMDs in a 16, Yellow Sallies in a 16 as well as yellow Stimulators in a 12-14 are all potential hitters right now. Of course a Parachute Adams, Purple Haze, Humpy or Royal Wulff in 12-16 are all excellent choices. The nymph fishing can be achieved by fishing Zebra Midges in a 16, Caddis Pupa in a 14 or your standard Hare's Ear, or Pheasant Tail in a 12-16. Nymphs with bling like Copper Johns, Psycho Princes, or Lightning Bugs in sizes 12-16 can all sink your bobber. Stoneflies like Pat's Rubber Legs, Girdle Bugs or Bitch Creek in sizes 8-12 are all cheeseburgers on a leader as trout bulk up for the Fall. — East Rosebud Fly Shop, Billings.
Spring Creek — Hoppers and nymphs are producing. A beadhead Pheasant Tail or a Prince Nymph would work. — Sport Center, Lewistown.
Tongue River Reservoir — The water has cooled down a little bit and temps are 73 degrees. The water is fairly clear and water levels are average for this time of year. Most action is on bass with a few walleye and northerns biting. Some small bluegills were reeled in. Worms with jigs is an option. Target shallower waters, like the bays and off the shorelines. — Tongue River Reservoir State Park.
Yellowstone River, Huntley — The river is still fishing very well for cats and smallmouth bass in the Huntley area. In the Hysham area it is fishing well for walleye using minnows and crankbaits. — Huntley Bait and Tackle.
Yellowstone River, Livingston — Be ready for full terrestrial season. Ants, Beetles and big foam Hoppers will work. Some shop favorites are Morrish Hoppers, Triple Deckers, Fat Alberts and Thunder Thighs. A Hopper-dropper rig is pretty tough to beat and will pick up fish throughout the day. One aspect of droppers that is easily overlooked is the sink rate. For example, if you are running a Rubber Legs under a Hopper or Chubby be sure to pinch a small split shot onto your tippet. Play around with your nymph or dropper rig depth until you find the sweet spot. Tungsten beadhead nymphs also help get your fly into the proper depth.  When the high sun comes out midday focus on the faster water and inside buckets and ignore the slower, deep slack water. In the evenings keep an eye out for caddis hatches. Tricos have also made an appearance. Fishing has been pretty slow in the morning, but has certainly started picking up around 10 a.m. — Montana Troutfitters, Bozeman.
Yellowstone River, Miles City — The river was dirty on Monday due to the recent rains. Before the rainstorms anglers were catching a few sauger, walleye and smallmouth. Plastics, crankbaits or a jig and a minnow were working. — Red Rock Sporting Goods, Miles City.
Wyoming
Bighorn Lake, Horseshoe Bend — The bass and catfish bite is really turning on right now at Horseshoe Bend. Action at Crooked Creek Bay has been slower, only producing a few sauger on a bottom bouncer with minnows. South of the state line, bass and a few crappie have been caught, along with a few walleye. There is a catfish tournament Sept. 7 at Horseshoe Bend. Call 307-548-7230 to sign up. — Horseshoe Bend Marina.
Bighorn River, Thermopolis — The flows are 1,400 cfs and the water is warm. Big bugs like Grasshoppers, are working. Early and late are the best times to fish. — White Horse Country Store & Canyon Sporting Goods, Thermopolis.
Boysen Reservoir — The walleye bite has slowed considerably and the lake is getting ready to turn over. Most anglers are using worm harnesses. A few crappie have been found toward the causeway suspended 8 feet down. Trout fishing is quiet. — Boysen Marina.
Buffalo Bill Reservoir — The walleye are biting well along the north shore and the east shore where there is rocky structure. Use crayfish or small perch patterns. — North Fork Anglers, Cody.
Clarks Fork — Most action is on Hoppers, Ants and Beetles. Water temps on the lower river are up. It is better to go up high and fish it in the Beartooth Mountains. Smaller fish are taking attractors. Fish Parachute Hoppers and Royal Trudes. — North Fork Anglers, Cody.
Cody-area lakes — East Newton Lake is too warm to fish. At West Newton Lake anglers can fish. Try Leeches and adult Damselflies from a pontoon. Hoppers around the edges, or Ants, will work. There are some Callibaetis flying around out there. In the evening, caddis are out. Beck Lake is fishing well for spin anglers or those who use a fly and a bubble. Lots of perch are being caught, along with smaller trout, catfish and a few small bass. — North Fork Anglers, Cody.
Lake DeSmet — Anglers can catch trout from shore or boat, but the best walleye fishing is from a boat. From shore present bright orange PowerBait or marshmallows. For walleye try leeches. — The Lake Stop, Buffalo.  
Lower Shoshone — The river is fishing well on beadhead nymphs and streamers. There is some dry fly action in the evening. Try BWOs and small Caddis. — North Fork Anglers, Cody.
North Fork of the Shoshone — Rains have not impacted the rivers. The hatches are good. PMDs and caddis are still out. Hoppers, Ants and Beetles will work. Flows are going down and floating is limited on freestones. — North Fork Anglers, Cody.
Yellowstone National Park — Slough, Lamar and Soda Butte have fished OK over the last week and we've had a few mixed reports from the northeast corner of the park. While many folks have been doing just fine over in this area we have had some reports that the fishing was a little off. The folks that have been doing well have been using Longhorn Beetles and pink Thunder Thighs Hoppers and have been dropping Spanish Bullets and black Zebra Midges underneath. — Blue Ribbon Flies, West Yellowstone.
Be the first to know
Get local news delivered to your inbox!