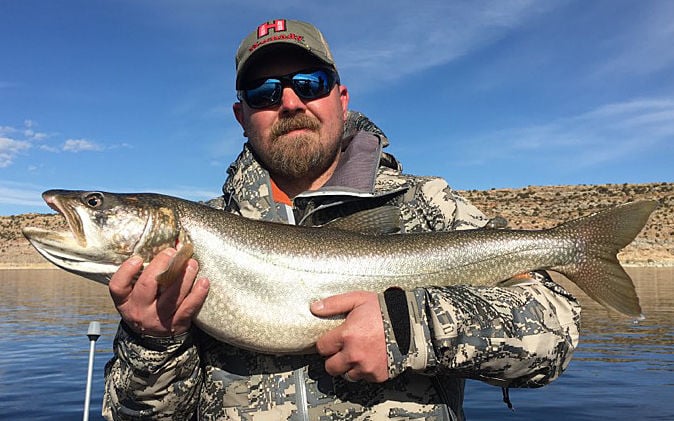 The big news this week is the ice is gone at Fort Peck Reservoir.
In the dam area anglers reeled in some lake trout, walleye, northern pike and smallmouth bass. Some were also catching northern pike and catfish from the shore at Crooked Creek.
While the ice is also out at Nelson Reservoir, other reservoirs and lakes in the region were still partially frozen as of Monday, such as Cooney Reservoir and Deadman's Basin.
If you are itching to fish and enjoy action on rivers now is the time to go; otherwise runoff will be kicking into high gear soon.
Here's The Gazette's weekly fishing report:
Top picks
Beaverhead River — Between Pipe Organ Bridge and Grasshopper Creek continues to fish well. Sowbugs, BWO nymphs and Zebra Midges are the ticket. The water below Grasshopper Creek has cleared somewhat and is fishing decent. Remember the river remains closed from the dam downstream to Pipe Organ Bridge until May 18. — Frontier Anglers, Dillon.
Bighorn River — More Baetis adults are showing up, especially on cloudy days, but not in huge numbers yet. The fish are keyed on Baetis nymphs in the afternoons. Water temps are still cooler than normal and it looks like we're about a week behind normal schedule. Water clarity is good throughout the whole system now. Top patterns last week were: Cotton Candy (14-16), Pete's Carpet Bug (tan 14-16), Soft Hackle Rays (Tan, Lt. Pink 16-18), Jellybean Sowbugs (14-16), Wondernymphs, JuJu Baetis, LBF, Zebra Midges, Foam Wing RS2. — Bighorn Angler, Fort Smith. 
Boulder River — The river has been fishing well. Flows are slowly creeping up making wading a bit more challenging. So far there has been little to no dry fly fishing as the hatches have been absent, but that could change any day. We expect BWOs and March Brown mayflies soon. Nymph fishing has been good, fishing golden stone, small mayfly, and midge imitations. We like double bead Stones, small Pheasant Tail and Zebra Midge flies and aquatic annelid (worm) imitations. Streamer fishing across current lines has also provided good action. We suggest small Woolly Buggers and Sculpins. — Sweetcast Angler, Big Timber.
Fort Peck Reservoir, dam area — The whole reservoir is open and anglers are catching lake trout, walleye, northern pike and smallmouth bass. As of Monday there is a boat dock in at the ramp at Fort Peck Marina, but there are not docks at Duck Creek or Flat Lake (otherwise known as Milk Coulee Bay). For lake trout pull deep-diving crankbaits along the face of the dam, Haxby Point and Bear Creek in 10 to 30 feet of water. For walleye pitch jigs with a minnow or plastic in 10 to 25 feet of water. Walleye anglers are catching pike and smallmouth. — Lakeridge Lodging & Bait Shop.
Rock Creek — It's in great shape for the second half of April. Shop staff fished the creek on Sunday and not only did it fish well, but flows are manageable and around the town of Roberts water clarity is excellent. The best method to fish continues to be with nymphs and streamers. We did see some midges and black stoneflies in the air, but not one trout eating on the surface. Recommended nymphs include San Juan Worms in red, brown or wine (8), Caddis Pupa in tan or green (14), Hare's Ears, Pheasant Tails and traditional Beadhead Prince Nymph (10-18). Try attractor nymphs like Copper John, especially in red or chartreuse (12-16), Montana Prince in blue and the Batman Nymph in similar sizing. Stonefly Nymphs will also fish well. Try Rubber Legs, Halcomb's Stone, North Fork Specials in black and a Red Fox Squirrel Nymph. If you really want to move some brown trout rig and fish streamers. Streamer fishing this past weekend was nothing short of amazing. Recommended streamers continue to be Sparkle Minnows, Grinch, black or olive Buggers, Galloup's Mini Sex Dungeons and Slump Busters in black or olive (4-6). — East Rosebud Fly Shop, Billings.
Montana
Ackley Lake — A few tiger muskies and some big trout have been caught by bank anglers. Cast big Mepps or spinners with marabou tails or big crankbaits for tiger muskies. Or try sinking smelt. — Sport Center, Lewistown.
Big Hole River — The river has dropped substantially after the breakup of the river in the upper valley. Visibility was not good at Melrose on Monday.  Expect flows to be volatile with warming temperatures. Call ahead, some fantastic spring fishing is just around the corner.— Frontier Anglers, Dillon.
Bighorn Lake, Ok-A-Beh — Fishing has been slow. Installation  of docks, mooring buoys and comfort stations will start next week. The concession dock will be installed on May 14. — Pryor Creek Bait Co., Laurel.
Canyon Ferry Reservoir — Shore fishing was good for perch in the bay. In addition some 10- to 12-inch walleye were caught and a fair amount of trout running up to 2 pounds. The docks are in. There is some floating ice when the wind blows so exercise caution if boating. Call for updates. — The Silos KOA Store.
Clark Canyon Reservoir — The lake is opening up around the edges. Warm temperatures later this week should should signify the beginning of some great ice-out fishing. — Frontier Anglers, Dillon.
Cooney Reservoir — The lake still is still 60 percent iced over. It has cleared at Fisherman's Point and Red Lodge Arm where the creeks dump in. Some fishing has been done in these areas and a few trout have been caught from shore casting out into deeper water. No walleye have been reported to any park staff. — Cooney State Park.
Deadman's Basin — The shorelines are free of ice and some people are bank fishing, but there is still too much ice to launch boats. Shore fishing is slow. — Cozy Corner Bar, Lavina.
Fort Peck Reservoir, Big Dry Arm — The ice is off. Water levels are rising. Fishing pressure is light. For lake trout try chartreuse or orange Rapalas. For walleye fish jigs and a minnow and pitch toward shore. For northerns try a minnow. The water temps are pretty cold. The bite will improve with warmer days. The marina will open for the season on May 1. On April 28 there will be a soft opening. — Rock Creek Marina.
Fort Peck Reservoir, Crooked Creek — Off the bank the northern pike and catfish bite is OK. The northerns ranged from 12 to 22 pounds. The biggest northern was 44 inches long and weighed 24.5 pounds. We expect pike fishing to improve this week. Try smelt and cut bait for both species. Worms might work for catfish. Boat fishing was slow. The water is still a chocolate brown from Crooked Creek to Ghost Coulee. The Crooked Creek walleye tourney is May 4-5. The field is capped at 75 teams and 60 were entered as of Monday. For information, visit montanawalleyesunlimited.net or call 366-2745. — Crooked Creek Marina.
Fort Peck Reservoir, Fourchette Bay — It is open. Try pulling a minnow or jigging. — Westside Sports, Malta.
Fresno Reservoir — The reservoir is open but there are no reports on fishing. Below the dam on the Milk River anglers are doing well on trout, northerns and whitefish. — Stromberg Sinclair, Havre.
Gallatin River — The recent rain has caused a couple of the feeder streams to dump some muddy water into the main stem. The clarity should begin to improve as we get into the weekend and this weather system has moved out of the area. The flow has doubled in the last few days. The flow is big enough now that some places won't be easy to ford. — Montana Troutfitters, Bozeman.
Hauser Reservoir — It is pretty much open. — Sportsman's Warehouse, Helena.
Hebgen Lake — The lake is still iced over. — Kirkwood Marina.
Holter Reservoir — People are fishing from the Gates of the Mountains all the way up to Split Rock. Just past Split Rock there is still ice. Fishing is slow for walleye. If an angler locates trout, they can catch some nice fish. The key to catching perch is locating them. Bank anglers are doing well on trout either fly-fishing, using jigs or spoons. Worms and marshmallows will work as the trout are getting ready to spawn. — Sportsman's Warehouse, Helena.
Madison River, Lower — The flow out of the dam jumped last week from all the rain. The clarity will be darker until the flow is held steady for a day. One plus from the bump is the food sources will be getting stirred in the river. All the ramps are usable except for Greycliff unless you have good four-wheel drive. The mornings are starting off slow as the water temps are cold, but after lunch the temps and fishing are picking up. — Montana Troutfitters, Bozeman.
Madison River, Upper — The river conditions have been holding steady through the weather. The only change has been a small drop in the water temp. You don't need to rush to the river first thing in the morning. Mayflies and midges are the two nymphs to be fishing. The top end of the river still has snowy banks. — Montana Troutfitters, Bozeman.
Missouri River, below Holter — The flow was at 8,610 cfs on Monday and the water temps were 40 degrees. It is fishing alright. Wire worms, Rainbow Scuds, Tailwater Scuds and Zebra Midges are working. There is a little bit of dry fly activity on midges. Streamers are working OK in slow water. — Montana Fly Goods, Helena.
Missouri River, Fred Robinson Bridge — A bunch of ice remains along the banks, which makes accessing the river tough. The river is wide open but it is muddy. Anglers are launching boats at the PN Bridge, north of Winifred. Note: The James Kipp Recreation Area is still closed as of Monday due to flooding in late March. The boat ramp may be open by the weekend according to the BLM. — Sport Center, Lewistown.
Nelson Reservoir — It is wide open, but it was so windy nobody fished over the weekend. The reservoir is full. The headgates ramp had a dock as of Monday. — Westside Sports, Malta.
Spring Creek — It is clear and fishing well using streamers. Panther Martin lures will always work. — Sport Center, Lewistown.
Stillwater River —  Flows are running well above normal. With warmer temperatures the end of this week look for a bump in flows and some more turbid water. If the lower river is a little off-color consider wade fishing the upper river above Absarokee, which usually stays clearer. The water temperature is still cold, but as the day warms up and sun gets on the water fishing should pick up. Look for midges to be coming off as well as BWOs. March Browns are the next thing to start appearing as the water temperature begins to warm. When they do, the No. 1 dry fly pattern for the March Brown hatch is the Trina's Carnage Drake March Brown (14). In the meantime fish standard mayfly nymph patterns like a Hare's Ear, Pheasant Tail or Copper John. The Prince Nymph is always a good choice. In off-color water use a color contrast off darker patterns (like black Buggers or the Grinch either dead drifted or stripped). Nymphing is always a good bet with black, brown and coffee rubber leg patterns like Girdle Bugs and Pat's Rubber Legs, as well as similar colored stonefly patterns along with a beadhead trailer fly like a Prince Nymph, Hare's Ear, Batman or Pheasant Tail. As flows climb and get off-color a San Juan Worm on the edge is a good pattern. For dry fly action to rising fish try a smaller Purple Haze or Parachute Adams. A larger size Purple Haze or Parachute Adams with a Zebra Midge or Pheasant Tail on a short dropper is a good tactic. It looks like we will have a very narrow window before runoff commences to stay. — Stillwater Anglers, Columbus.
Tongue River Reservoir — With the lake recently open, water temps are sitting between 40 to 46 degrees. So the fish are there, but the bite is slow. As the temperature increases the fish bite should get better. There have been crappie, a few walleye and a sauger caught, but the fishing is still slow. The best presentation so far is minnows. — Tongue River Marina.
Yellowstone River, Columbus — Water clarity has been inconsistent. It's been running off-color. We may not get the prime blue-green tinted water this spring, but if there's at least a foot or two of visibility it's fishable. Look for Midges and BWOs to be coming off once the day starts to warm up and the sun gets on the water. March Browns should be starting to appear. Watch foam lines for feeding fish. Nymphing with black, brown and coffee colored rubber leg patterns like Girdle Bugs and Pat's Rubber Legs, as well as similar colored stonefly patterns should produce. Black and darker color streamer patterns like the Grinch or a black Bugger are a good option in off-color water. For dry fly action to rising fish try a smaller size Purple Haze or Parachute Adams. With warmer weather the river will get off-color and soon runoff will be here to stay. There could be a short window to fish. — Stillwater Anglers, Columbus.
Yellowstone River, Huntley — The water cleared up and things slowed down. However, the water is starting to get dirty again and rise a little bit so catfish action might pick up. — Pryor Creek Bait Co., Laurel.
Yellowstone River, Livingston — Water conditions are better with the cooler temps. The river south of Livingston is clear and fishable. Most have been using nymphs and some streamers. A few midges are coming off. There are lots of floaters in the upper valley. Billman Creek is putting in some dirty water just south of Livingston but the river is fishable down to the Shields River. From there, it is dirty and mostly unfishable downstream. The low snowpack has increased this last week, so when the weather warms up the river will get dirty again. — Dan Bailey's Fly Shop, Livingston.
Yellowstone River, Miles City — The water is still pretty dirty. An angler could probably catch a few catfish. — Red Rock Sporting Goods, Miles City.
Wyoming
Bighorn River, Thermopolis — The flow was at 1,000 cfs on Monday. The water is clear. Use beads with droppers. San Juan Worms with a nymph dropper will work. There is a little bit of action on streamers. — White Horse Country Store & Canyon Sporting Goods, Thermopolis.
Boysen Reservoir — It is wide open. — White Horse Country Store & Canyon Sporting Goods, Thermopolis.
Buffalo Bill Reservoir — Ice free. Anglers can fish from shore or boats. Walleye, lake trout, rainbows, cutthroat and brown trout are in the reservoir. Lures, bait and streamer flies have been working well since ice-out. NOTE: The annual closure April 1-July 15 is in effect on Buffalo Bill Reservoir's west arm. No fishing is allowed within the closure until July 16. Anglers are responsible for knowing the Wyoming Game and Fish regulations. — North Fork Anglers, Cody.
Clarks Fork — The flow dropped with last week's colder weather. The river is clear near the canyon area but off-color below Paint Creek downstream into Montana. Fishing pressure has been light. Fishing is fair. Large nymphs or streamers recommended. Hatches are blue-winged olives, midges and small stoneflies. — North Fork Anglers, Cody.
Cody-area lakes — East Newton Lake is completely open. Small midge pupae, scuds and leech fly patterns are recommended. East Newton is managed as catch and release. West Newton, Luce and Hogan are now ice-free and fishing well using the same recommended fly patterns. — North Fork Anglers, Cody.
Lake DeSmet — The ice is still on. — The Lake Stop, Buffalo.  
Lower Shoshone — The flows were 1,388 cfs on Monday and water quality is excellent in the town section of the river. Hatches are blue-winged olives and midges. Mother's Day caddis are expected any time. Wade anglers can expect action on small dries, emergers and nymphs, while float anglers should do better fishing nymphs or streamers. — North Fork Anglers, Cody.
North Fork of the Shoshone — The river is closed from Buffalo Bill upstream to Newton Creek in the Shoshone National Forest April 1-June 30. The fishing above the closure is good. Fish large stonefly nymphs with smaller beadheads, like Wade's North Fork Special. Water quality is good as of this report. Flows are 450 cfs in the Shoshone forest. — North Fork Anglers, Cody.
South Fork of the Shoshone — It is fishing fair to good using beadhead nymphs (10-20). — North Fork Anglers, Cody.