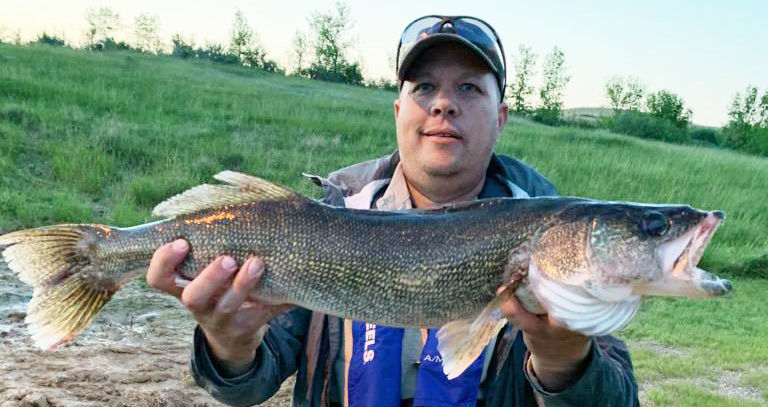 Sunday is Father's Day and would be a good time to spend out on the water fishing.
Free fishing is offered in Montana June 15-16 for any person, resident or nonresident. So, if you haven't bought your license yet and have not been out, this weekend is the time to go. To fish for paddlefish or bull trout the purchase of a conservation and fishing license (fishing for paddlefish also requires a tag) is required. More information can be found on page 4 of the fishing regulations.
Here's this week's fishing report: 
Top picks
Canyon Ferry Reservoir — Rainbow trout are being caught from shore near Duck Creek and the Outhouse on jigs tipped with worms or while trolling for walleye. Walleye and a few yellow perch are being caught throughout the reservoir trolling worm harnesses, crankbaits, and Slow Death rigs in 15 to 35 feet of water. Walleye and perch are being caught from shore throughout the reservoir using jigs tipped with worms. — FWP, Helena.
Fort Peck Reservoir, Hell Creek — For walleye, fish between Snow Creek and Bone Trail. On some days, the walleye are shallow but mainly they are at depths of 12 to 16 feet. Try jigging or bottom bouncing. If jigging, use minnows. For bottom bouncing, use worms or leeches. The smallmouth are up fairly shallow. Pitch jigs from 2 to 6 feet. The northerns have moved out just a little deeper. Try pulling plugs at 10 to 14 feet. — Hell Creek Marina.
Hebgen Lake — Spring fishing continues with anglers catching 16- to 22-inch rainbows and browns on worms and spoons. Snowmelt creeks started running heavily last week, so lots of fish are hanging near those inlets. The lake level is rising; Hebgen is 2.8 feet to full pool as of Monday morning. The weather is forecast to get steadily warmer this week, with the end of the week highs in upper 60s and low 70s. — Kirkwood Resort & Marina.
Holter Reservoir — A few rainbow are being caught from shore around Gates of the Mountains while using worms. Boat anglers are finding rainbows while trolling dark crankbaits or cowbells in the lower reservoir around Split Rock and the clay banks. Walleye are being caught on jigs and worms in the canyon in upper Holter and also in lower Holter around Indian Trail and the Boat Loft. A few perch are being caught around the docks at the boat ramps. — FWP, Helena.
Yellowstone National Park — The Firehole River has fished very well since the opener and we expect it to continue through the month. Dry fly fishing has slowed down with the higher water and warmer temperatures, but swinging soft hackles has consistently produced fish. Fly box: Partridge and Orange (14), Micro Beeley (16), Baetis Sparkle Dun (18-20), Firehole PMD Sparkle Dun (16), White Miller Soft Hackle (16), White Miller Razor Caddis (16), Black Woolly Bugger (8), and Split-Case PMD (16). The salmonflies have been hatching in the Firehole Canyon and the Madison River. The fishing has been superb in the upper stretches. Fly box: PMD Sparkle Dun (16), Baetis Sparkle Dun (18-20), Micro Beeley (16), Partridge and Orange (14), Rubberlegs (6-8), and Split-Case PMD (16). If you are into streamer fishing, try Prospectors, Super Buggers, and Sculpzillas in black or olive. — Blue Ribbon Flies, West Yellowstone.
Montana
Ackley Lake — Try drifting herring on a quick-strike rig for tiger muskie. A few brown trout were caught using this method. Overall, trout fishing is slow. The tiger muskie derby is June 22. Registration is onsite from 8 a.m. to 10 a.m. To enter the derby it is a $20 donation per adult and $10 per youth. The donation will go to the Ackley Lake Club. The Ackley Lake Club performs maintenance at the park. — Sport Center, Lewistown.
Beaverhead River — The water right below the dam is consistently producing fish from 18-22 inches. We've seen a few bigger than that, but very few smaller. Small Sowbug patterns (16-18), Zebra Midges, and Split Backs (18-20) are the ticket. Look for fish to return to the worm bite with increasing flows. — Frontier Anglers, Dillon.
Big Hole River —The salmonfly watch is on. The big bugs should be moving toward the banks soon, with adults hopefully showing up by this weekend. Pat's Rubber Legs in brown, black, and orange will be the ticket for the next week — Frontier Anglers, Dillon.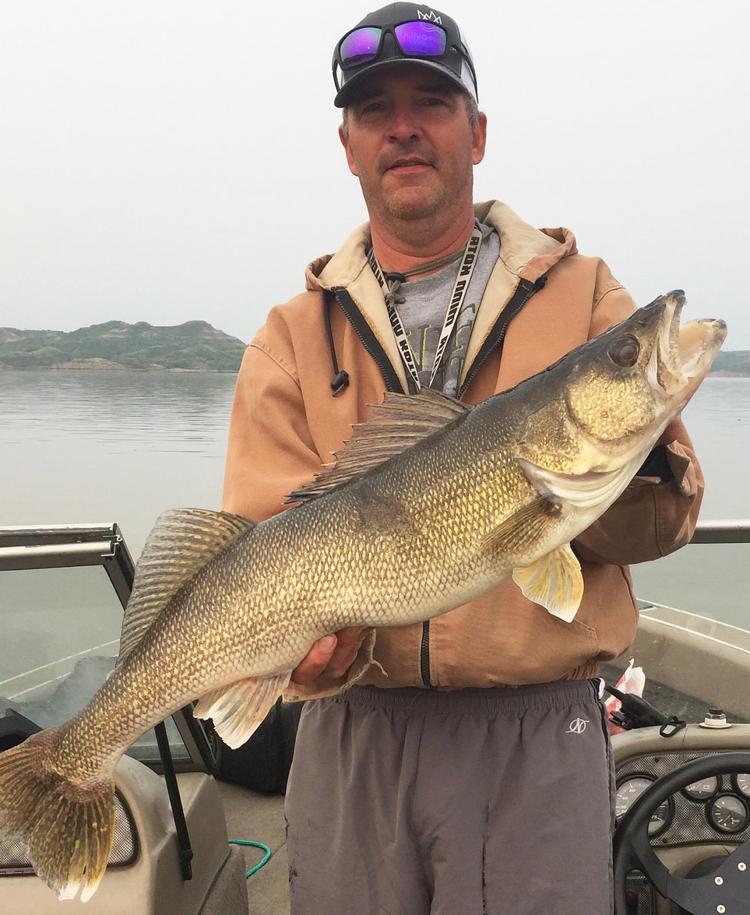 Bighorn Lake, Ok-A-Beh — Quite a few 1-2 pound smallmouth are biting. A Wacky Worm rig is working for bass. Some brown trout were being caught while trolling crankbaits. Fly anglers are having fun catching crappie in the shallows. — Scheels, Billings.
Bighorn River — Flows were 5,500 cfs on Monday. Water temps are gradually starting to rise and were 44 degrees on Monday. Nymphing is a solid choice. Little Sowbugs, Big Sowbugs, Midges and Baetis nymphs are all good offerings. Worm season should be right around the corner. Run a bit more weight and a little deeper. Dry fly activity has been doing fairly well. Your favorite Baetis or Midge dry would be a good choice. — Bighorn Angler, Fort Smith. 
Boulder River — The river is running relatively high, but the recent cool weather has brought the flow from the 6,000 cfs-range down to around 2,000 cfs. This drop in flow has allowed for partial clearing and a window to fish. Wade fishing is still difficult due to the high flows, yet a window may exist for a few days for good float fishing, at least until the warm weather muds things up again. Nymph fish Golden Stone Nymphs and Aquatic Annelid imitations or strip a streamer away from the bank. — Sweetcast Angler, Big Timber.
Cooney Reservoir — Cooney State Park is partially open. People can access the lake via the North Shore Boat Ramp. The North Shore Day Use areas and the Overlook are also open and people can fish from shore again. The Red Lodge Arm campground is open. All other parts of the park remain closed. The fishing is excellent and the amount of boats on the water is low. — Cooney State Park.
Deadman's Basin — Boat and bank anglers are doing well here and at Lake Sutherlin and Bair Reservoir. — Cozy Corner Bar, Lavina.
Fort Peck Reservoir, Big Dry Arm — The pike bite has been good in 12 feet of water. Fishing near the bays is producing pike. Fish dark crankbaits on a dark day and light crankbaits on a light day. The walleye are in 12 feet of water. Try Shad Raps. Some anglers are using leeches. For smallmouth, Flicker Shads are a good option. — Rock Creek Marina.
Fort Peck Reservoir, Crooked Creek — It's been pretty windy so a lot of people haven't been out on the boat. The ones who did venture out didn't find much success. The water is pretty muddy. We expect fishing to pick up when the weather stabilizes. One's best bet for walleye is to target 5 to 10 feet and jig worms or minnows. Pike are still biting smelt or herring from shore. Quite a few crappie have been caught from shore. Some catfish have also been caught by bank anglers. — Crooked Creek Marina.
Fort Peck Reservoir, dam area — Lake trout action is good in 80 to 100 feet of water. Use downriggers and spoons, or try jigging. For walleye and pike, fishing is hit-and-miss due to the weather patterns. A few smallmouth have been caught. For walleye, try a jig and a minnow, plastic or rubber bait. For pike, pull crankbaits. Pitch a slip bobber setup with a minnow, or pitch jigs with a minnow or plastic, or cast crankbaits to the rock piles for bass. — Lakeridge Lodging & Bait Shop.
You have free articles remaining.
Gallatin River — The river looks like chocolate milk. We are probably still a few weeks out from prime time. If you do feel as if you need to be on the river, try big Woolly Buggers, big stones, or streamers worked tight along the banks in the soft water. — Montana Troutfitters, Bozeman.
Hauser Reservoir — Rainbows are being caught from shore at Riverside below Canyon Ferry Dam while drifting jigs with a worm. Rainbows are also being caught around Devil's Elbow while trolling cowbells. Walleye are being caught in Lake Helena and the Causeway on crankbaits or bottom bouncers. A few walleye are being caught from shore at the Causeway Bridge on jigs with a leech. — FWP, Helena.
Madison River, Lower — The river has dropped nearly 1,500 cfs through Monday. This will most likely make fishing a little tough until it stabilizes. However, this will make wade fishing much easier and provide more opportunities from the bank. A resurgence of summer weather should bring the caddis back. The fish will be feeding on dries moreso in the mornings and evenings, but along the banks there is action with a small Chubby or a March brown throughout the day. With the current drop in flows, nymphing will be your best bet. The crayfish bite has picked up with fish holding over the weed beds. Look for fish in the shallow water where transitions between the buckets are. If you're not picking fish up in the shallows add a bit of weight and begin to dredge the buckets throughout the beds. Fish are also hanging on the banks looking for March brown nymphs, caddis pupas and crayfish. — Montana Troutfitters, Bozeman.
Madison River, Upper — The upper river has been fishing great this last week with consistent flows. Down lower fish big stones, big Caddis Pupa, and streamers. Keep an eye out for caddis popping throughout the day and into the evening. An olive Elk-Hair Caddis will get the job done for rising fish. The river is pretty muddy. The West Fork dropped over the few cold nights we had, but it is on the rise again. There will be mud coming out of it for a few more weeks. Cabin and Beaver are still pumping mud. There is a lot of color throughout the system. Nymphing has been the most consistent producer with worms, stones, and smaller mayflies being the best producers. There are also some caddis up this way, so keep an eye on the soft water and you may be rewarded with some great dry fly fishing. — Montana Troutfitters, Bozeman.
Martinsdale Reservoir — Anglers are doing well from bank and boat. Use cowbells from the boat. From shore try crawlers and PowerBait. — Ray's Sport and Western Wear, Harlowton.
Missouri River, below Holter — The flow was 6,360 cfs and water temps were 57.4 degrees on Monday. Little Green Machines and Tailwater Sowbugs are working. We hope to see PMDs soon. Thin Mints and Nick's Perch are good streamers. For dry flies a purple Para Wulff (16) is a good choice. — Montana Fly Goods, Helena.
Missouri River, Fred Robinson Bridge — The river had dropped. Catfishing has been good on minnows or stink bait. Anglers are still catching a few paddlefish but the season closes Saturday. — Sport Center, Lewistown.
Rock Creek — Rock Creek continues to fluctuate wildly during its runoff. Hot temperatures last week followed by rain over the weekend blew up to extremely heavy stream flows. As of this week the main stream is too high and dangerous to wade fish. It's possible that the Main Fork, Lake Fork or West Fork of Rock Creek has some approachable holding water although odds are good these tributaries are also running clear but high and fast. During the runoff go fish either the Luce or Hogan sister lakes located South of Clark, Wyoming. East and West Newton Lakes just North of Cody also offer really good stillwater angling. Fish leech patterns, as well as damsel or Callibaetis nymph or dry flies for top water action. — East Rosebud Fly Shop, Billings.
Spring Creek — It is clearing and starting to fish better for fly anglers. Prince Nymphs, Hare's Ears and a Yellow Sally should work. Hanson Dam is fishing well presenting PowerBait and crawlers for trout. — Sport Center, Lewistown.
Stillwater River — Flows shot up dramatically with warmer weather last week, but with cooler temperatures over the weekend the river dropped back down. When the river is on the drop, the lower river is still considerably off-color. Even though it can still be on the high side and swift, when dropping the upper river has generally been clear enough to fish. Fish the very edge seams. Nymphing is likely the best option, with black, brown and coffee rubber leg patterns like Girdle Bugs and Pat's Rubber Legs, or a San Juan Worm as well as similar colored stonefly patterns. In off-color water use a color contrast of darker patterns like black Buggers or the Grinch either dead drifted or stripped. It's also time to start fishing big dry flies like a Chubby or PMX with a beadhead nymph dropper in the softer inside water. The river will likely continue to fluctuate in response to temperatures and rain. Runoff is nowhere near over. Look for smaller tributaries, tailwaters and lakes to fish in the meantime. — Stillwater Anglers, Columbus.
Tongue River Reservoir — Water levels are still high and the water is dirty. The surface water temps were 72 to 74 degrees; however the cold weather over the weekend likely dropped water temps. Around structure bass are biting. Try using spoons. Some crappie and northerns have been caught, but not in great numbers. — Tongue River Marina.
Yellowstone River, Columbus — Still running extremely high and off-color. It's dangerous and best to stay away from. Search out lakes, smaller tributaries and tailwaters until runoff subsides. — Stillwater Anglers, Columbus.
Yellowstone River, Huntley — With the river so high there hasn't been very many anglers out and the reports from them is that fishing is real slow. — Huntley Bait and Tackle.
Yellowstone River, Livingston — The cold weather dropped flows for a few days, but there still wasn't a window. We should see the water begin to rise again in the next day or so and continue on up for a few more weeks. Best to pick another place for a few more weeks. — Montana Troutfitters, Bozeman.
Yellowstone River, Miles City — It is running high and dirty. Some catfish have been reeled in using shrimp, crawlers, cut bait or stink bait. — Red Rock Sporting Goods, Miles City.
Wyoming
Bighorn Lake, Horseshoe Bend —  Fishing is picking up at Horseshoe Bend Marina with the fishing dock now installed. Last week a run on rainbow trout happened and several we're caught. Crooked Creek Bay and the south narrows continue to produce channel cats. Black crappie are also coming in strong just south of the Montana line. — Horseshoe Bend Marina.
Bighorn River, Thermopolis — It is fishing well and the water is clear. The flows were 3,000 cfs on Monday. Nymphs are producing. Or drift half a crawler. In the Wind River Canyon anglers are catching trout. Midges will work. — White Horse Country Store & Canyon Sporting Goods, Thermopolis.
Boysen Reservoir — At the spillway anglers are picking up a few fish. Try jigs and Mister Twister tails. — White Horse Country Store & Canyon Sporting Goods, Thermopolis.
Buffalo Bill Reservoir — Try a Buoyant Minnow for lake trout. The trout seem to like shiny, flashy colors. Copper is a good color. The lake is still low. Beck Lake is a nice place to take children fishing. Try soaking worms. — Rocky Mountain Discount Sports, Cody.
Cody-area lakes — The area rivers are blown out. However, there are not a lot of anglers targeting the lakes. Damsel nymphs are out and the fish are keying on them. At East Newton and West Newton lakes use an olive Zebra Midge with a copper bead. Woolly Buggers and olive or gray Scuds will work. There are little black midges hatching; try a size 22 or 24 black dry Midge to match. — North Fork Anglers, Cody.
Lake DeSmet — Off the dam and by the boat ramps shore anglers are catching rainbow and cutthroat trout using PowerBait. A couple of walleye were caught by boat anglers. Try trolling in 10 feet of water. Some bigger lake trout are being caught by the islands. Some brown trout are being caught in front of Barkey Draw. — The Lake Stop, Buffalo.  
Upper and Lower Sunshine Reservoirs — The upper lake fished better this week with the lower lake substantially slower. Most action is on crawlers from the shore. — Wea Market, Meeteetse.