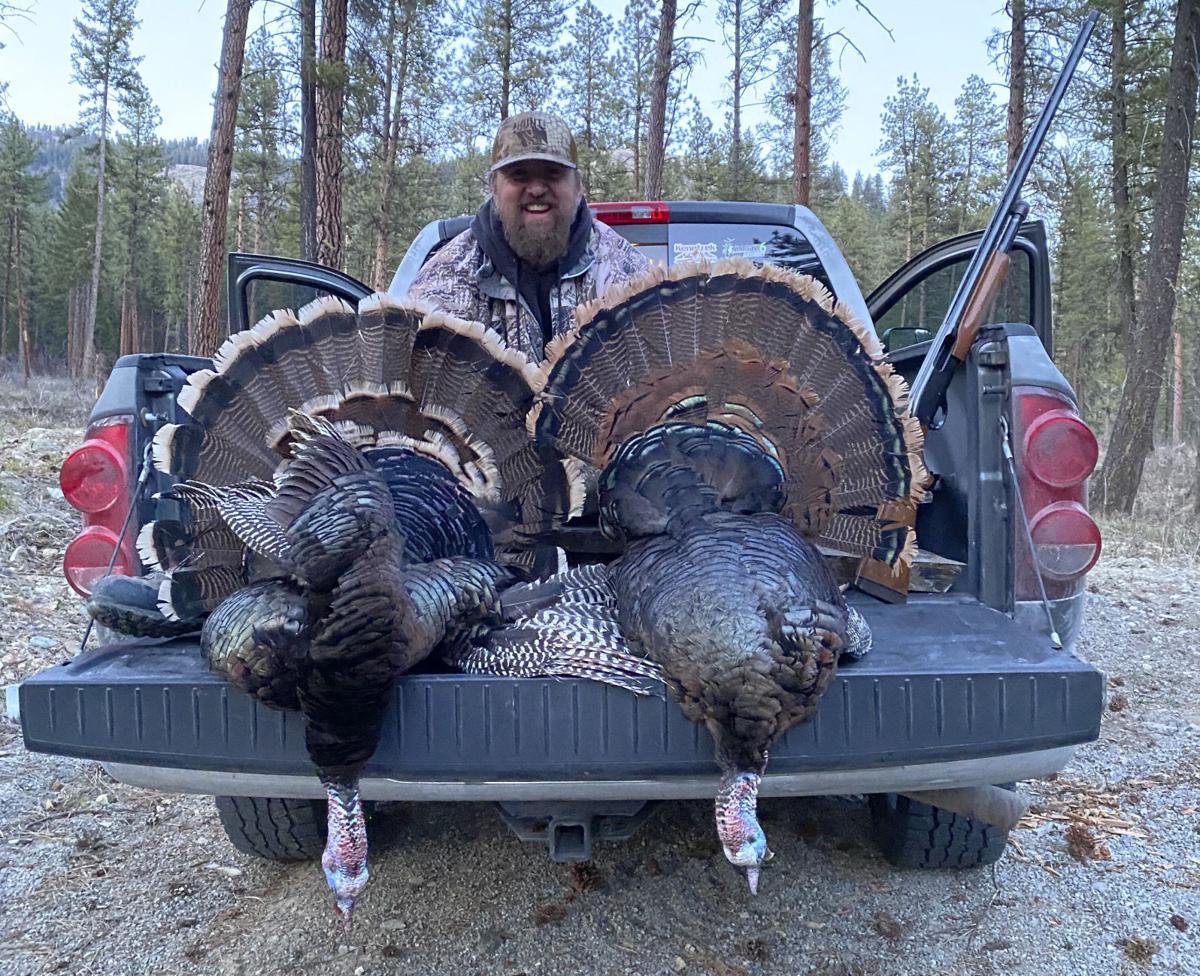 Kalispell hunter Josh Clark set out this spring to take a Merriam's turkey. Little did he know he would not only meet his goal, but pull off a truly unique double harvest on the same day.
Montana's two sub-species of turkeys are largely separated by geography, with the Eastern variety concentrated in the northwest and Merriam's plentiful in much of the rest of the state. While each subspecies has a few distinct differences, most hunters identify the birds based on coloration, with Easterns sporting chestnut-brown tips on their tail feathers and Merriam's having light to nearly white-tipped tail feathers.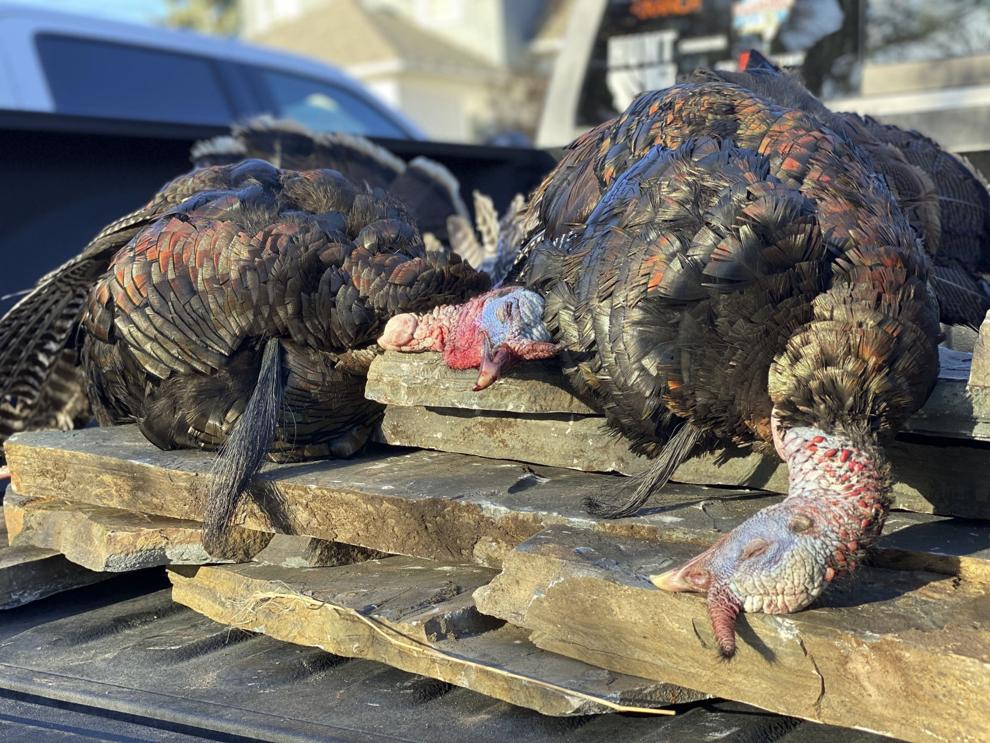 Clark is an avid outdoorsman, owning and operating the Hunt Montana apparel and filmmaking company with his wife Lindsey. Along with the online retail shop, he posts videos of outdoor adventures on the Hunt Montana YouTube Page. Clark loves to get out for spring turkey season every year to call in the Eastern toms gobbling across the Flathead Valley.
This year, Clark wanted to try his luck on his first Merriam's. His friend, Nate Peltier, invited him to hunt his spot, which supported a healthy population of birds as well as some good fishing for northern pike. Clark asked that the location only be identified as northwest Montana.
Accompanied by Peltier's son, Kory, the trio ventured out the first week of Montana's season. It did not take them long to spot a couple of birds on an island, and the sneak was on.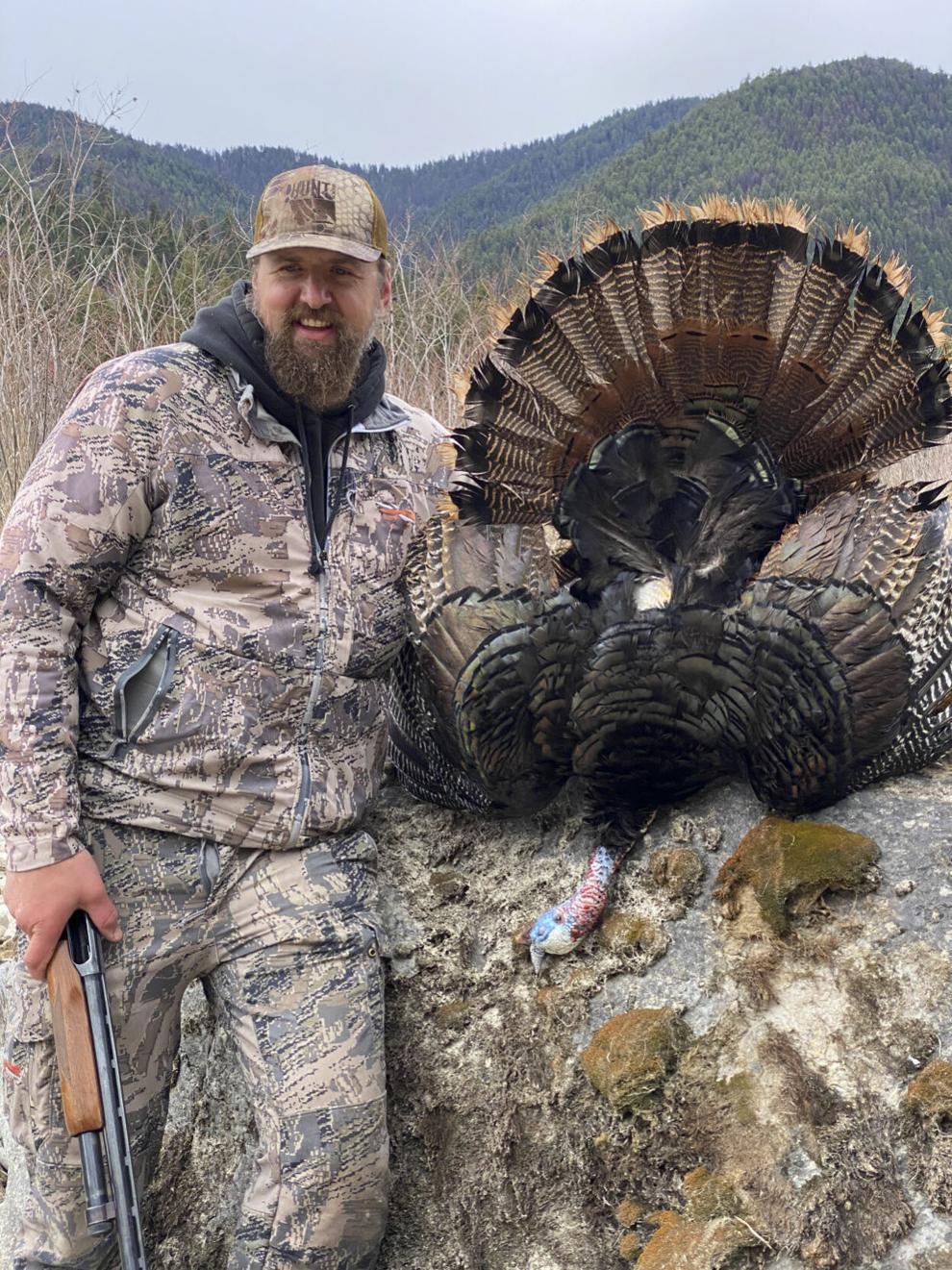 "We had to figure out how to get out to them, but got to the island and bumped a couple of jakes," Clark said. "We circled around and they began to fly and I managed to make a good shot on the tom and dropped him in the water."
Jakes are young male turkeys.
Believing he had just taken his first Merriam's, Clark plucked the bird from the water only to discover the trademark chestnut feathers of an Eastern gobbler.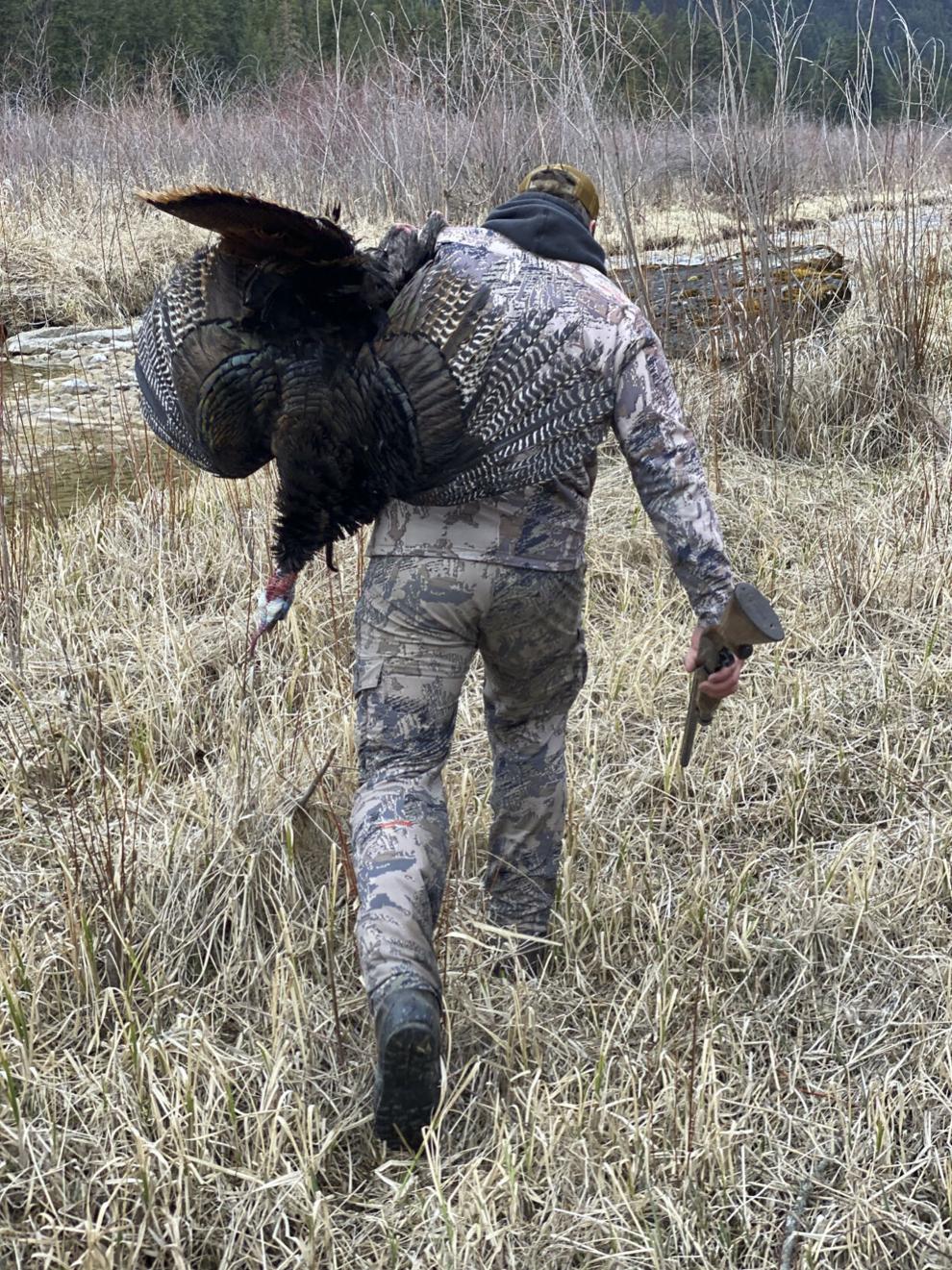 "I was like, dang it, it's an Eastern," he said. "But it was a beautiful mature bird and a good hunt."
With one turkey tag punched it was time for some pike fishing. Kory caught one nice fish, then Nate suggested they check out a mountain where he'd seen turkeys in the past. They glassed the mountainside from the truck and, sure enough, saw a string of black dots a couple of miles away. Other hunters were in the area so they decided to keep looking.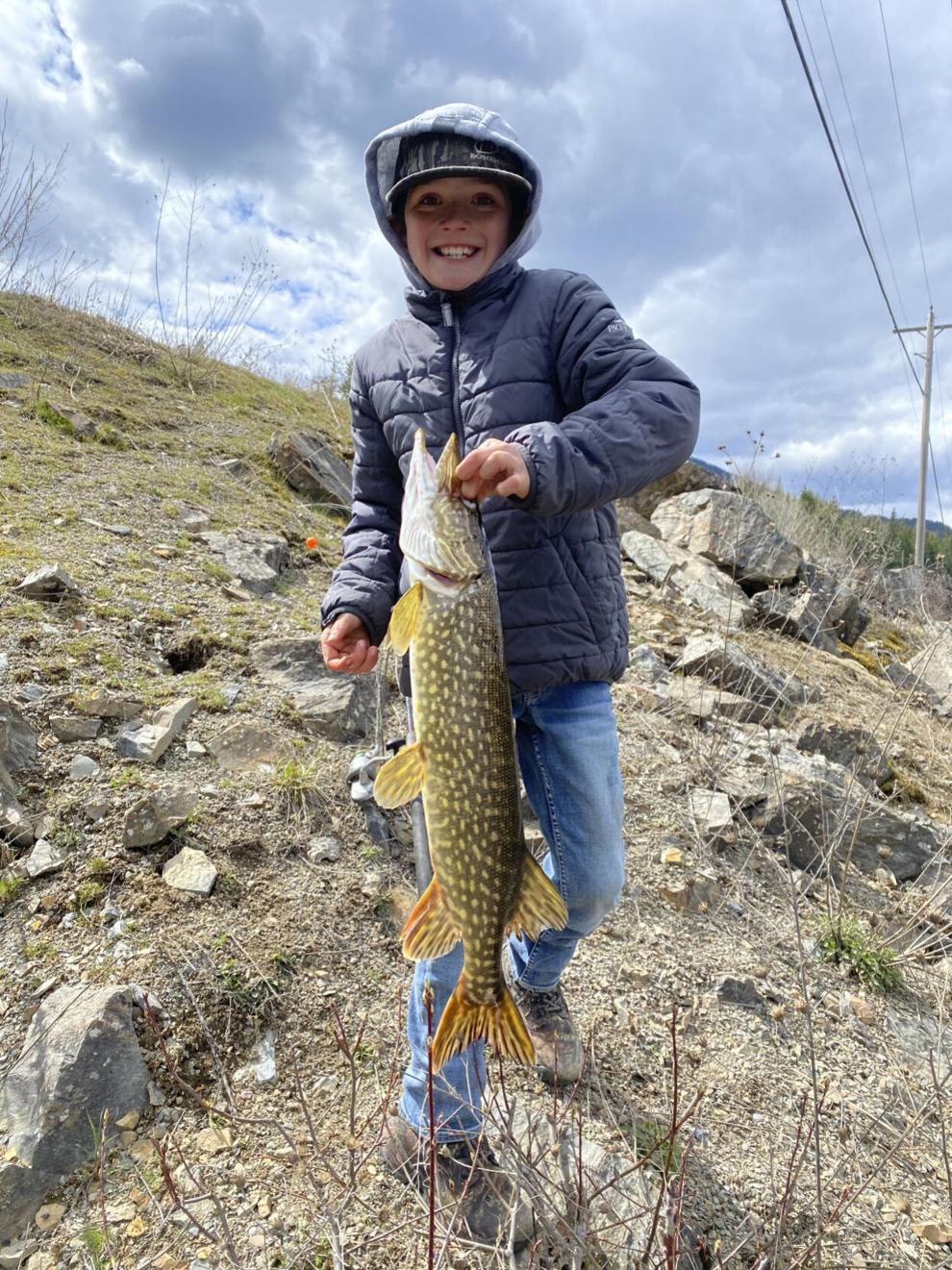 The rest of the afternoon proved less fruitful, but as they came back by the mountain they could see the turkeys were still there. It was time for another sneak.
"I couldn't believe how high this brush was," said Clark, who stands well over 6 feet tall. "It was getting late so we kept pushing up toward them."
Through a small clearing Clark could see two jakes staring back at him. The young birds, and then a handful of hens, started to file across the hillside at only 20 yards. Then the tom popped into view. The wary birds knew something was amiss, and as they started to jet away Clark raised his old Remington 870 shotgun and took his second bird of the day. This time as he approached, it was a mature Merriam's.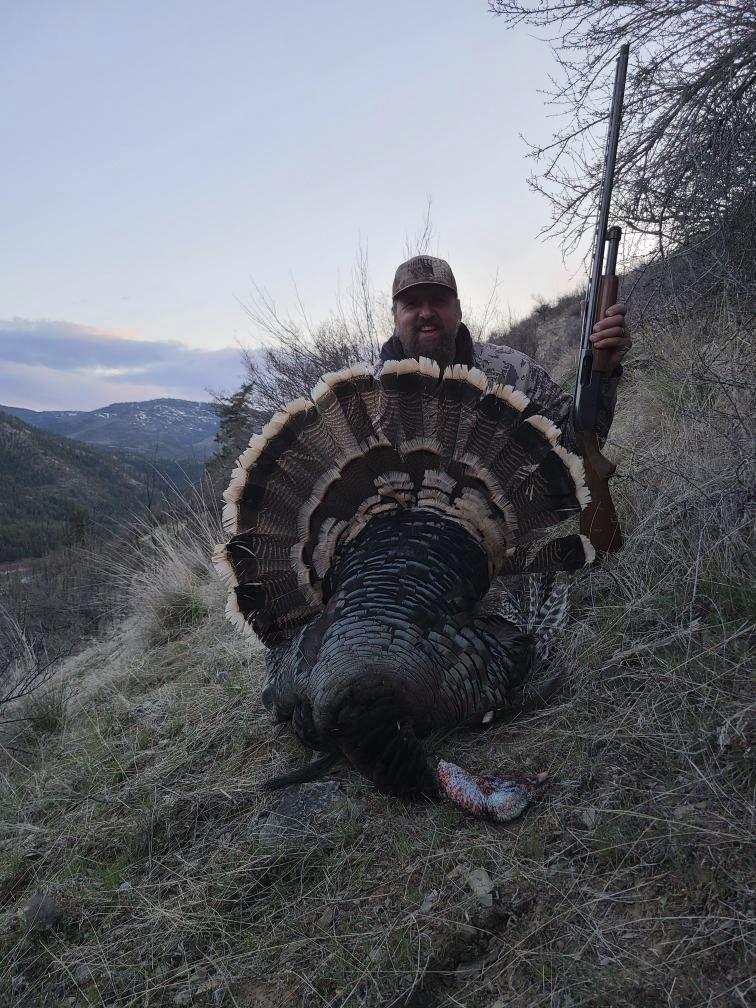 It was only after the hunt that Clark realized its uniqueness.
"To be able to get both species, a Merriam's and an Eastern, in the same day, that's really something I'll never forget," he said. "These were some tough hunts, public land birds, that really weren't calling all that hard. So to get two with basically spot-and-stalk was pretty cool, too. And to do it with great friends, it doesn't get much cooler than that."
2 subspecies
Turkeys are not native to Montana, but the product of authorized and unauthorized releases and natural expansion that have made them a mainstay gamebird. Their populations have grown so significantly that hunters may now take multiple birds a year — 12 total if every license were obtained, including those that are region-specific.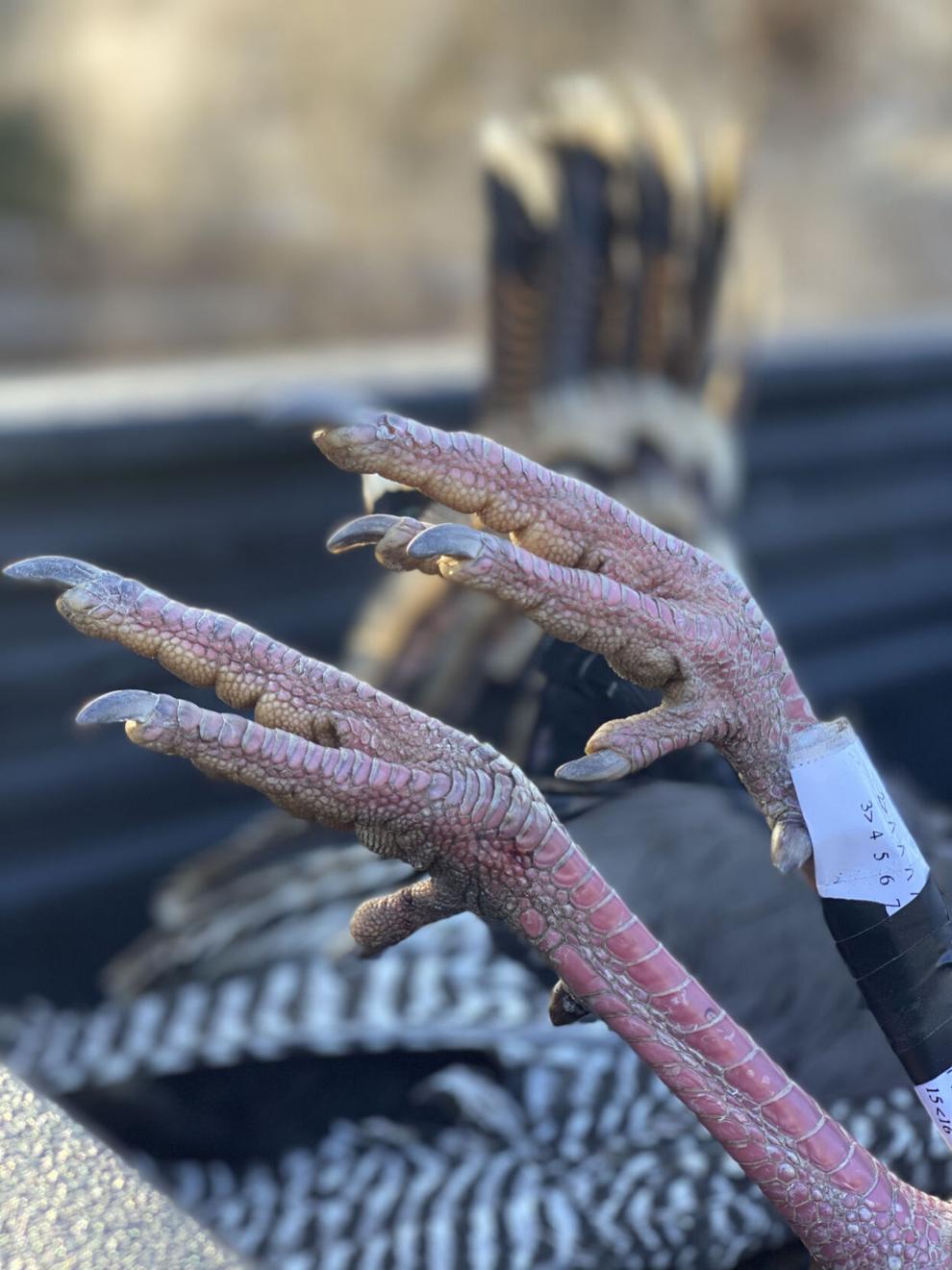 North America is home to five subspecies of turkeys. Eastern turkeys are native to the hardwood forests of the Eastern United States; Merriam's are native to the southern Rockies in states such as Colorado; Rio Grande turkeys are native to Texas and Oklahoma; Osceola turkeys are native to Florida; Gould's turkeys are native to parts of New Mexico, Arizona and Mexico. Significant effort by states to transplant turkeys has led to strong populations across much of the United States.
In 1954 the then-Montana Department of Fish and Game released 13 Merriam's turkeys from Colorado into the Judith Mountains of central Montana. The transplant was followed by 1955 releases of 18 Merriam's from Wyoming into the Long Pines and 26 birds in 1956 and 1957 near Ashland.
About the same time an illegal release of Eastern turkeys is believed to have taken place in the Flathead Valley. The birds have thrived, and what was once a special permit hunt is now available on a general license.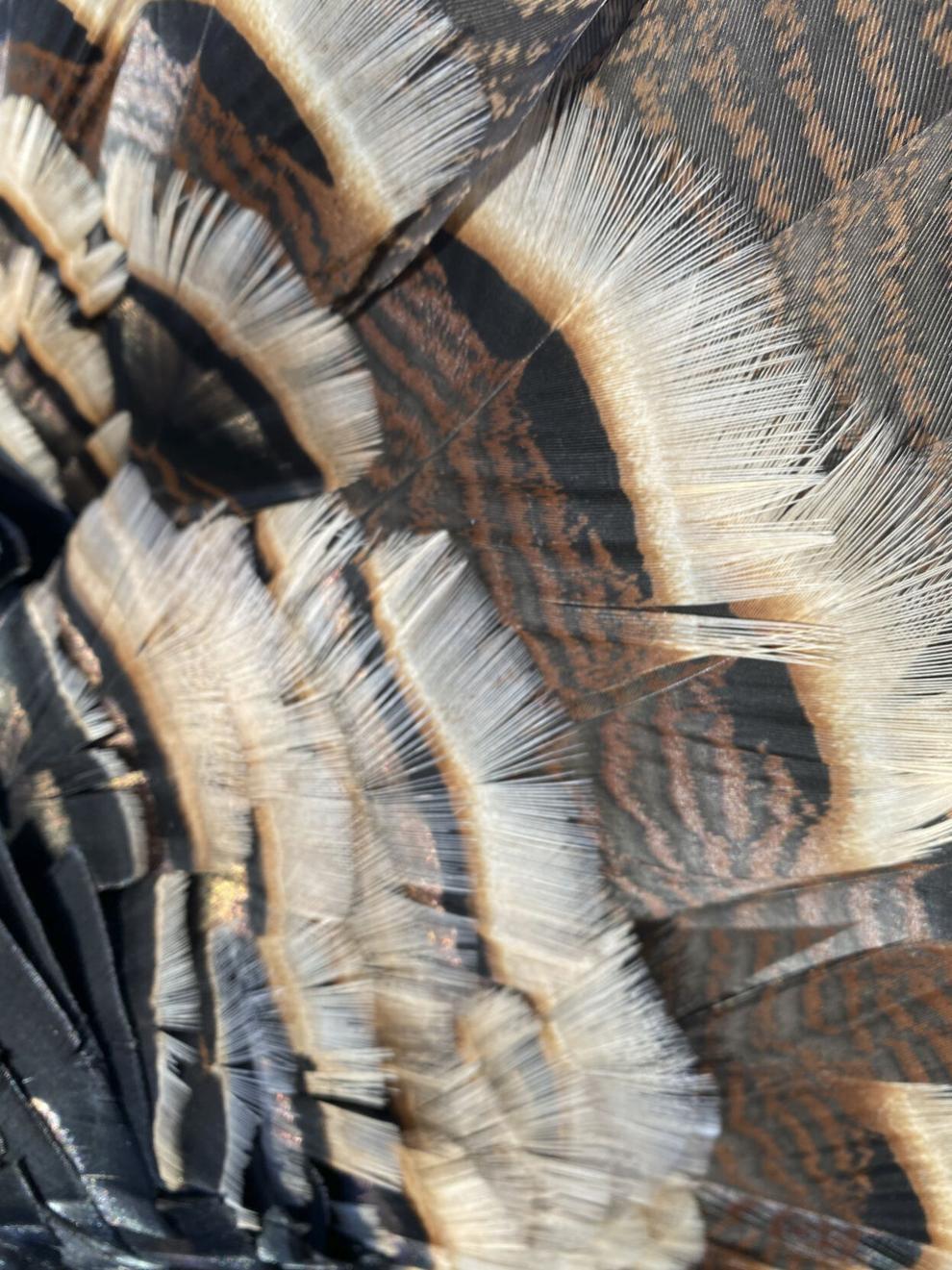 But when it comes to parsing out turkeys and subspecies, Montana Fish, Wildlife & Parks Game Management Bureau chief Brian Wakeling noted that crossbreeding can often muddy the waters. Due to what's known about the variety of turkeys available in the 1950s, he suspects Montana's Easterns could very well include some Rio Grande genes.
"It would surprise me if there weren't some Rio Grande genes, because that's what was really the most available," he said. "Now do we have a population of Rios? I doubt that, but it's very likely that if you got down to the genetics you'd find some of those genes rather than a pure Eastern."
Turkeys may also vary in coloration, including birds that appear nearly black, or odd colorations if domestic turkey genes end up in a wild population, Wakeling said. When it comes to the two toms Clark harvested, Wakeling agreed they displayed differences typical of the two subspecies.
"I think that's the thing you can say, that one bird does appear to be phenotypically classic Merriam's and the other bird is phenotypically classic Eastern," he said. "Those are both some mature, really beautiful birds too."
Tom Kuglin is the deputy editor for the Lee Newspapers State Bureau. His coverage focuses on outdoors, recreation and natural resources.