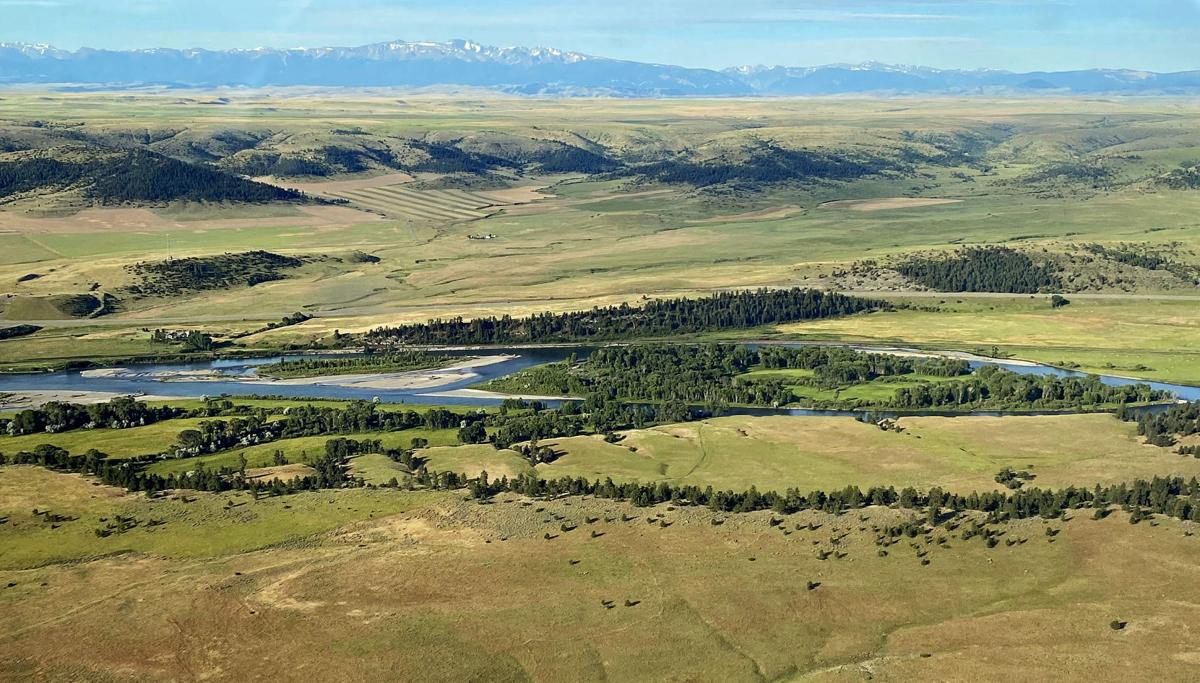 When repair of an 89-year-old bridge across the Yellowstone River proved too costly, the Montana Department of Transportation came up with a unique and less costly solution that could lead to more public access.
The bridge in Stillwater County is located about six miles east of Reed Point and parallels a railroad bridge, hence the "Twin Bridges" nickname for the area.
Last year, MDT completed the $2.8 million purchase of more than 580 acres on the north side of the river, land known as the Deeny ranch, to which the bridge provided access. Buying the land was cheaper than the $4.5 million to $6 million MDT estimated it would cost to upgrade the bridge or to provide another means of access to the property, according to Rob Stapley, Right of Way Bureau chief for MDT.
"We regularly look at alternative options to try and find the most economical value," Stapley said in an email.
Without the bridge, which will eventually be torn down, the land is inaccessible by road. Even though the property abuts Interstate 90 on the north side of the river, there is no off-ramp to provide entry.
Solutions
A recently released Fish, Wildlife & Parks environmental assessment provides one route for selling off a small portion of the land — 45 acres of island property in the Yellowstone River. It would not be the first Yellowstone River island FWP owns. The agency has title to another one upstream from Park City.
As explained in the environmental assessment, the Department of Justice's Natural Resource Damage Program would pay the $54,000 cost of the land and then transfer ownership to FWP. FWP is proposing to use the islands for public recreation — including camping, hunting, birdwatching and fishing.
"The idea is for it to be a primitive fishing access site," said Alicia Stickney, an NRDP environmental science specialist. "There's no development planned on it, because the river takes and the river gives."
What's more, the island property is located about a mile upstream from a new fishing access site FWP has proposed. It would be located where the railroad and old highway bridge cross the river and called Two Bridges fishing access site.
Cottonwoods
While buying an island in the middle of the Yellowstone River may seem like a questionable acquisition, it's actually a great fit as the Natural Resource Damage Program seeks to preserve cottonwood habitat along the stream.
Cottonwoods are important wildlife habitat and also provide shade to keep the water cooler. The number of cottonwood trees has declined along streams due to residential development and livestock grazing in riparian areas, as well as invasive species like Russian olive and salt cedar.
Money for the land would come from $9.5 million in settlement funds paid by the ExxonMobil Pipeline Co. to the state of Montana following the 2011 Yellowstone River oil spill near Laurel. The rupture dumped an estimated 63,000 gallons — about 1,500 barrels — of oil into the Yellowstone River. The NRDP is charged with overseeing disbursement of the state's ExxonMobil settlement money.
The public has until Jan. 13 to comment on the island purchase proposal. Remarks can be mailed to: Mike Ruggles, Montana Fish, Wildlife & Parks, 2300 Lake Elmo Drive, Billings, MT 59105 or emailed to fwpregion5pc@mt.gov with a subject line of "Cottonwood Island FAS."
History
Although the Yellowstone River is known for its powerful spring runoff that can flood lowlands and carve all new river channels, the islands being proposed for sale look very similar to maps drawn by William Clark in 1806. Back then he and a portion of the Corps of Discovery passed through the region on their famed return trip from seeking a water route from St. Louis to the Pacific Coast. The islands also show up on 1902 railroad maps.
The EA noted that Clark and his men encountered some bad luck while passing through that area on July 18, 1806. "Charbonneau (a French-Canadian guide) was thrown from a horse while chasing bison, bruising his hip, shoulder and face. Later that day, (George) Gibson fell on a snag when attempting to mount a horse, falling on a burned stick which went deep into his thigh."
The historical review also found, "It is possible this island, or one of the islands downstream, had a temporary Indian building on it as noted in Clark's journal."
State deal
To recap the unusual situation, a state agency would pay another state department to purchase land for a third branch of state government. Although that may sound cliquish, it achieves goals for all three agencies. MDT gets rid of land it would rather not own. FWP acquires land for recreationists. And NRDP meets its goal of dispersing settlement funds for cottonwood habitat along the Yellowstone River.
What's more, MDT has approached the Montana Department of Natural Resources and Conservation, which oversees state school trust lands, to see if the agency would be interested in buying the rest of the property. By purchasing the acreage, DNRC could provide public access to a landlocked section (640 acres) of its state school trust land.
If DNRC isn't interested, since there's no road easement to the land, MDT will put the property up for auction.
Wild history, wildlife and wild times in 2020 for outdoor editor Brett French
Billings Gazette outdoor editor Brett French shares his five most memorable stories of 2020.
In March 2020 I wrote a story about how COVID-19 might affect Chinese tourism to Yellowstone National Park. Boy, that story was a serious understatement. Despite a drop in air travel, Montana tourism still thrived outdoors in 2020, and several people had unique encounters with wildlife in Yellowstone National Park. Here's a collection of a few stories that piqued my interest in 2020. Enjoy.