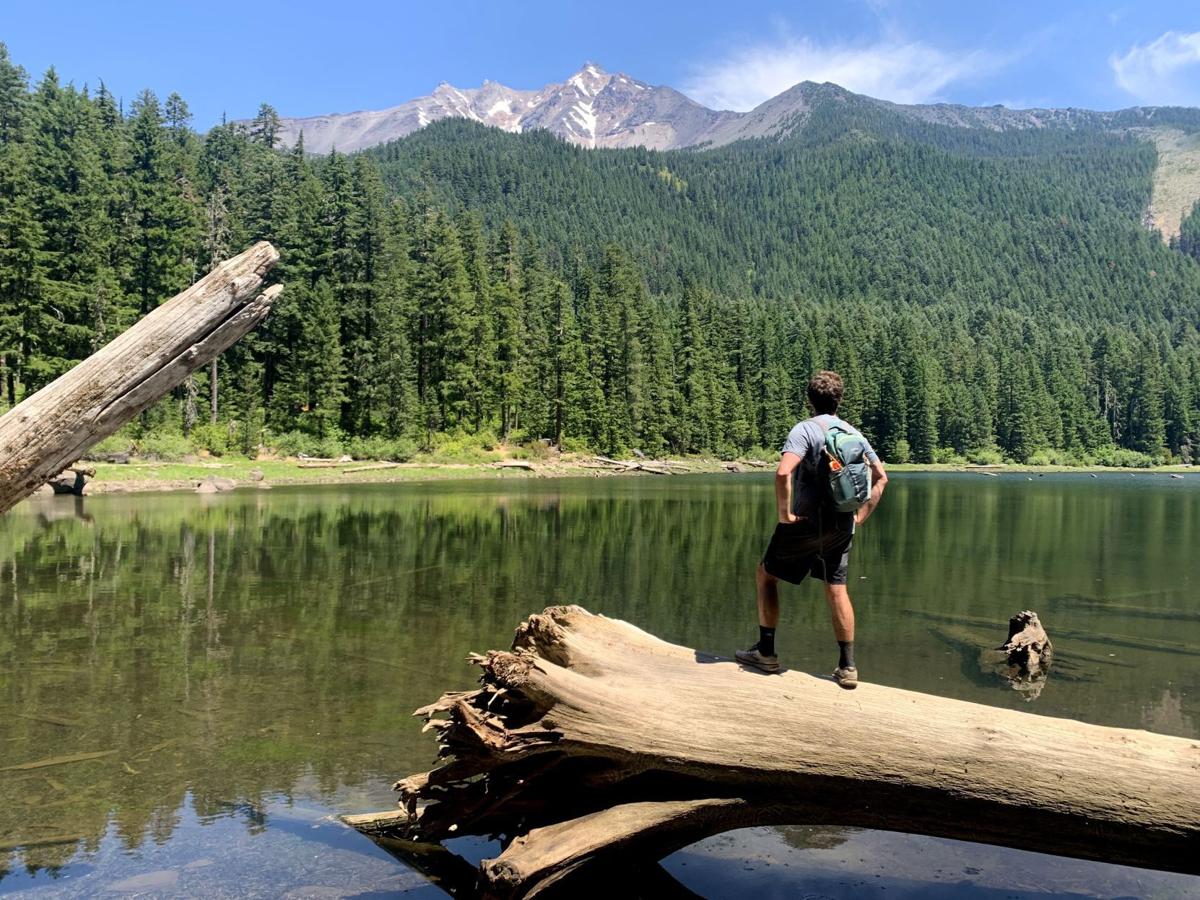 SALEM, Oregon — The most striking thing about a hike to Pamelia Lake and Grizzly Peak 40 miles east of here is that for at least a few hours, or approximately 10 miles round-trip, you can forget about the wildfires that increasingly mark the Mount Jefferson Wilderness.
The old-growth forest and crystalline creek, the green valley that cradles the lake and the 5,700-foot peak that rises above all look basically the same as they did a few decades ago.
The same can't be said for a majority of trails surrounding Oregon's second-tallest mountain.
The Jefferson Wilderness has been hit by seven wildfires since 2000, including three of the most infamous in state history — the B&B Complex (2003), Whitewater fire (2017) and Lionshead fire (2020).
The result is that much, if not most, of this backcountry has been impacted by fire. The northern half of the wilderness is currently closed due to Lionshead fire damage — and is likely to remain that way for one to three years — while the southern half is marked by numerous scars.
Wildfire and burn scars are a natural and important part of the ecosystem, and I've done a lot of fun exploring in them over the past few years, including in the Eight Lakes Basin. It's fascinating to watch the ways a forest responds to such a powerful disturbance over the short- and long-term.
But there's also something really nice about hiking and backpacking an unburned route, through the full shade of old-growth forest to an alpine lake and mountain peak with nary a blackened tree nor singed understory.
Pamelia Lake has long been one of the Jeff's most popular hikes and backpacking spots, which is why you have needed a special permit to visit since 1994.
The idea back then was to limit the number of people allowed in so that the forested lake wasn't overrun. The idea worked so well that the program was expanded this year to the entire Jeff, Three Sisters and Mount Washington wilderness areas.
Permits were released in one batch earlier this spring, and then on a rolling seven-day window during the summer.
To get one, just log onto Recreation.gov seven days before the date you want — be sure to pick either a day trip or overnight trip, since there are different permits for each. I picked a day hike, printed off the permits and was off to the forest with three members of my family who were visiting from Minnesota.
The drive up Highway 22 through the Santiam Canyon is looking greener and somewhat more normal since the Labor Day fires, but it was still striking for visitors to see the sheer size of the burn scar.
At just under 400,000 acres combined, the Lionshead and Beachie Creek fires were the fourth-largest wildfire in state history (it was recently surpassed by this year's Bootleg fire), and the fact that its scar stretches all the way from Mount Jefferson to Lyons and Silver Falls — a distance of just over 40 miles — is pretty remarkable.
After driving past Detroit, evidence of the fire faded away as we turned left onto Pamelia Creek Road and began hiking down a trail highlighted by old-growth Douglas fir, hemlock and western red cedar, while Pamelia Creek bounced clear and cool down small waterfalls.
The thing that's made this trail so popular over the years is that it's just 2.2 miles and 800 feet of climb to reach Pamelia Lake, cradled in a big green valley, with Mount Jefferson rising overhead.
From there, we turned onto Grizzly Peak Trail and climbed toward its forested summit. The full hike is 10 miles round-trip with 2,700 feet of climb.
The lack of fire damage in the Pamelia Lake Valley is a combination of luck and hard work from fire crews.
In 2017, the Whitewater fire came right to the edge of the Pamelia Creek valley, but thanks to a fire line, it never spilled down into the valley, according to fire officials that summer.
Last year's Lionshead fire also blasted past just north of the valley, but instead of moving south toward Pamelia, it burned west toward Detroit and north toward Olallie Lake.
In other words, Pamelia has gotten a little bit lucky. And after watching many of my favorite places go up in flames last year, I'm no longer taking these spots for granted.
As we climbed higher onto Grizzly Peak, it was a glorious thing to be traveling entirely in the shade and intact forest. The summit itself features a postcard-worthy view of Mount Jefferson, but trees limit views to the north and south, where you'd see the fire scars.
This is, indeed, a hike where you can completely forget the wildfires that have marked the Jeff Wilderness and enjoy the shady green forest, if only for a few hours.