The jaws of paddlefish caught by anglers on the Missouri and Yellowstone rivers are helping Montana fisheries biologists keep tabs on the reclusive and ancient fish.
"I would say the jaws give us the best representation of the age structure," said Cody Nagel, fisheries biologist for Montana Fish, Wildlife and Parks in Havre.
"For mature paddlefish, jaws are by far the most accurate way to age that species," he added, as opposed to ear bones — called otoliths — typically used to age other species of fish.
"The age of paddlefish is the cornerstone of FWP's management," said Dennis Scarnecchia, professor of fisheries at the University of Idaho, whose lab ages the fish. "We want to know are we getting new year classes into the population. That's how we can tell if we have new recruitment."
He added that it's also important to know that there are older fish in the population. Older fish may be more successful spawners, have better eggs, or their young may do better.
"If a paddlefish evolved to live 50 years … we'd like to have some in the population," Scarnecchia said.
"We want a balance in the age structure between young and old."
The jaws are donated by anglers who camp out upstream from Fort Peck and Lake Sakakawea reservoirs during spring runoff for the annual paddlefish spawning run. On the upper Missouri, that run can range from about 5,000 to 8,000 mature fish, depending on the year.
"Without their participation we'd be missing a key component of that age structure," Nagel said.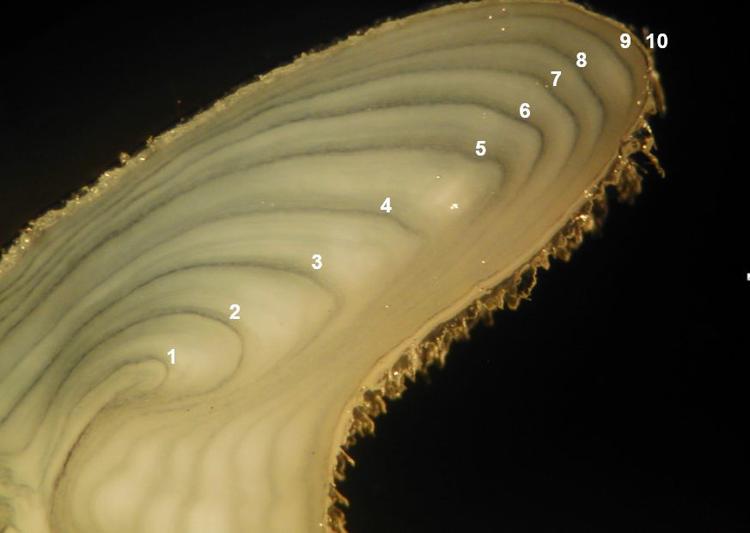 Ancient species
Paddlefish are unique for several reasons.
They get their names because of an elongated snout, shaped roughly like the wide end of a canoe paddle, called a rostrum. According to the Montana Field Guide, "The paddle is an electrosensory structure that functions much like an antenna. It detects weak electric fields. The paddle, head and gill flaps are covered with tiny sensory pores that it uses to detect food organisms" that give off those weak electrical signals.
Like sharks, paddlefish have no bones — only cartilage and connective tissue to create their skeletons. Fossils of paddlefish have been found dating back 60 million years. Those fossils look very similar to the fish alive today, so the fish haven't changed much.
American paddlefish are found only in the Mississippi River and its tributaries. In Montana, the population found below Fort Peck Dam in the Missouri and Yellowstone rivers is larger. The state ranks the fish as a native species of concern because of their limited habitat and small population.
Jaw collectors
FWP began collecting paddlefish jaws sporadically in the 1980s, Nagel said, before standardizing the process in about 2003. Now, every year the agency collects anywhere from 100 to 200 jaws each spring during the paddlefishing season just on the upper Missouri River.
The jaws are sent to Idaho State University where they are cleaned and then thinly sliced with a diamond-blade, low-speed saw. By looking at the slices under a microscope scientists can count growth rings, just like on a tree, to calculate the fish's age.
"Paddlefish from this population have been observed to live to be up to 60 years old," wrote Lance Breen, a Region 6 fisheries technician for FWP in a recent Facebook post. "Among those samples collected on the upper Missouri River in 2018, male paddlefish ranged between 10 and 39 years old. Female paddlefish ranged between 17 and 48 years old. The largest paddlefish that was aged this year, a 115-pound female, was 28 years old. This demonstrates how difficult it is to estimate the age of a paddlefish based only upon its size."
Reading the lines
The reason the paddlefish jaws are so important to FWP is that after the spring spawning run — typically between May and June — paddlefish retreat to Fort Peck and Lake Sakakawea reservoirs where little is known about their existence.
In the spring when the paddlefish emerge from the reservoirs to spawn, a 75-pound female may lay 400,000 BB-sized eggs, Nagel said. The egg mass could weigh as much as 15 pounds. Once the paddlefish larva hatch in the river, usually after only 10 to 14 days, they will disappear into the reservoir for several years.
"There's a big data gap there," Nagel said, although FWP does net and tag adult and young of the year fish as another way to keep tabs on the species.
Nagel explained paddlefish larva have about three to three-and-a-half months to grow big enough — about 8 to 9 inches — to survive winter. That growth is determined by the amount of microscopic-sized plants and animals living in the reservoir, the fishes' primary food source.
If the fish survive that first year, it will be another 10 years before a male is mature enough to spawn and run up the Missouri River. Females won't mature until they are 16 to 18 years old. Males typically only spawn every two years. Females will go as long as three years before spawning again.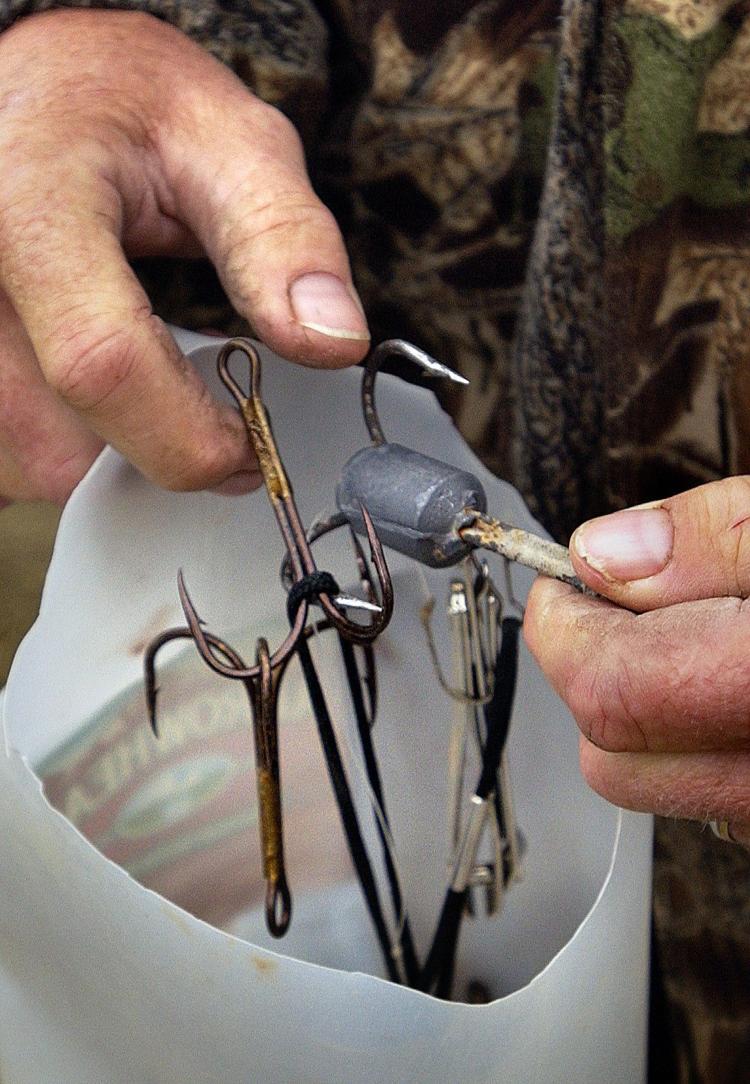 Sport fish
Anglers are drawn to the freshwater fish because of their large size. Because they feed on small organisms, paddlefish are snagged with large treble hooks held deep in the water by heavy lead sinkers.
The largest paddlefish ever caught in Montana weighed 142.5 pounds. Larry Branstetter caught the fish in 1973 on the upper Missouri River.
Since 2016 FWP has limited the number of paddlefish that can be harvested from the upper Missouri by utilizing a lottery system that divvies up catch-and-keep tags. Anglers can also purchase catch-and-release tags. Anglers drive from as far away as Kalispell and Missoula to take part in the fishing.
"We've seen an almost 1,000 angler increase since we implemented that regulation," Nagel said, mainly because anglers are able to pick and choose their time to come rather than being confined to specific dates.
"We used to see hundreds of people (at Fred Robinson Bridge) opening weekend," he said, creating a combat fishing situation.
Now the atmosphere is more family friendly, with anglers also targeting catfish and sauger while searching for a big paddlefish.
"People are going there for a lot more reasons that just to catch a paddlefish," Nagel said.