The Montana Department of Fish, Wildlife & Parks proposes to purchase two separate but overlapping perpetual conservation easements totaling almost 16 square miles (10,072 deeded acres) in Custer and Prairie counties for more than $3.69 million. The two easements are referred to as the "Coal Creek Conservation Easement."
A draft environmental assessment is available online for review and public comment. There also will be a public meeting on Oct. 3 at the FWP Region 7 Office in Miles City from 6:30-8:30 p.m.
Conservation easements are partnerships between FWP and willing private landowners to conserve important native wildlife habitats and provide public recreational access.
The reason for two separate easements is to take advantage of available funding sources that have unique requirements.
The proposed Coal Creek CE provides year-round habitat for mule deer, with more than 90 percent of the proposed easement considered mule deer winter range. The land is within sage grouse general range and contains intact Wyoming big sagebrush grasslands that provide nesting and winter cover for sage grouse and habitat for other sagebrush-associated species. It is also within designated core bighorn sheep range, although bighorn sheep are not known to frequent the property at this time. White-tailed deer and wild turkeys are abundant in the portion of the easement nearest to the Powder River. Sharp-tailed grouse are year-round residents. Pronghorn utilize the area seasonally, as does the occasional elk. The easement supports numerous nongame species and is within the range of 17 Species of Greatest Conservation Need.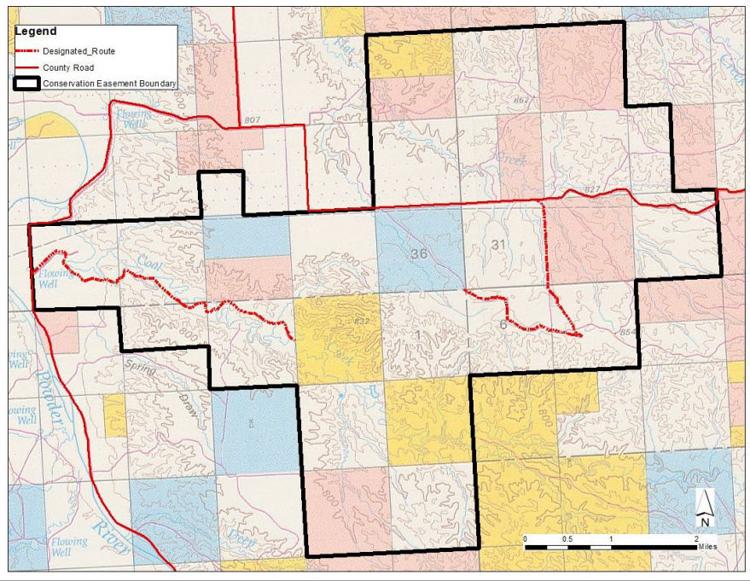 You have free articles remaining.
One of the primary habitat features is the Coal Creek riparian zone, which consists of a large, uninterrupted silver sagebrush bottom that traverses the property for roughly 5.5 linear miles. Such bottoms have been largely converted to hay or crop production in eastern Montana, so this represents a unique opportunity to conserve a habitat type that has largely disappeared. Several seeps and springs dot the landscape in the hills and draws leading into Coal Creek. These natural water features create numerous permanent wetlands and large drainages dominated by green ash, plains cottonwood and Rocky Mountain juniper, providing for an exceptional level of habitat and biological diversity.
The easement is expected to provide a minimum of 600 hunter days annually for mule deer, upland game birds, antelope, whitetail and occasionally elk. The proposed easement is located within FWP Region 7's Hunting District 704.
Purchase would result in a large footprint of conservation and public access. The property is adjacent to the 25,920-acre Fluss Ranch conservation easement and a 12,960-acre block of public land to the south. In total, 41,440 acres would be under conservation easement and 54,400 acres would be open to public hunting access, all in one large block.
The first easement would utilize primarily Natural Resource Conservation Service Agricultural Lands Easements (ALE) funding. The ALE program does not fit well for areas under tillage agriculture, so the ALE easement would not include land with a tillage history. The second easement would utilize Habitat Montana dollars (derived from the sale of hunting licenses) to fund the remaining acres but would encumber the entire property to ensure that the land remains in a single unit in the future. Both easements would be administered by FWP.
The draft environmental assessment can be viewed on the MFWP website at: http://fwp.mt.gov/news/publicNotices/conservationEasements/ or is available upon request from the FWP Region 7 office, 406-234-0900. Public comment is welcome and will be accepted until 5 p.m. on Oct. 17. Written comments can be submitted online, mailed or emailed to: Coal Creek Conservation Easement EA, Montana Fish, Wildlife & Parks, PO Box 1630, Miles City, MT 59301 or emailed to: mfoster@mt.gov
For more information regarding this project or the draft EA, contact Melissa Foster, FWP wildlife biologist, at 406-852-2032 or mfoster@mt.gov.