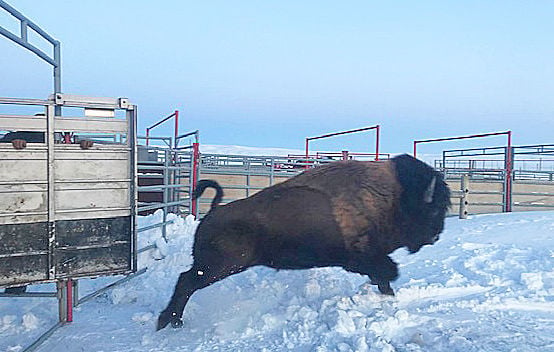 Five bull bison were moved from corrals a few miles north of Yellowstone to the Fort Peck Indian Reservation for the final stage of brucellosis quarantine, a major step forward in the push to establish a long-term quarantine program for the park's bison.
A truck picked up the five bulls from an Animal and Plant Health Inspection Service facility near Corwin Springs early Friday morning, according to Robbie Magnan, the Fish and Game manager for the Fort Peck Tribes.
The bison, once part of an APHIS research project, traveled more than 400 miles to reach the reservation. There they were unloaded and moved into the corrals they'll occupy for the next year, during another round of testing to ensure they're free of brucellosis.
It's a significant advance for the idea of quarantining bison on the reservation, and the bulls' arrival will make use of a $500,000 quarantine facility the tribes built years ago. Magnan said they want to be involved earlier in the process, but they're excited to get started.
"It's a good way of showing that we can do this," Magnan said.
The shipment comes three years after Yellowstone National Park first proposed quarantining bison on the reservation, an option meant to produce live bison that can establish new herds or enhance existing ones. It's also meant to reduce the number of bison sent to slaughter each year as part of population control efforts.
Quarantine certifies bison as free of brucellosis, which can cause cattle to abort and was once a significant human health concern. About half of Yellowstone bison are believed to have been exposed to the disease, and state and federal officials restrict where the animals are allowed because they don't want the disease to spread to new places.
The movement of disease-free bison isn't restricted, which is why some see a quarantine program as a way to restore bison to other places.
Legal and political roadblocks prevented the original proposal, but National Park Service officials signed off on a modified plan last year. It calls for performing part of the quarantine process in Yellowstone and at the APHIS corrals near Corwin Springs. A third part could happen at Fort Peck.
"The National Park Service applauds APHIS, the tribes at Fort Peck, and the state of Montana for finalizing the agreement and for moving bison from Corwin Springs, MT to Fort Peck, MT," Yellowstone Superintendent Cam Sholly said in an email. "Friday's action helps pave the way for future transfers of brucellosis-free bison from Yellowstone to our tribal partners. This is a very positive step for bison conservation."
Last year, APHIS told the tribes it had five bulls that were ready for the final round of testing. The animals were previously used for research, but had gone through enough testing to qualify for quarantine.
Negotiations over getting the animals to the reservation seemed stalled until December, when officials said the two sides had reached a deal to move them. The five-week government shutdown interrupted that, but once the government reopened the two sides worked out the details.
Final word on the transfer came through last week. Magnan and his employees started clearing corrals and nearby roads of snow once they heard.
Marty Zaluski, Montana's state veterinarian, told the Bozeman Daily Chronicle last week that a Department of Livestock official would seal the trailer once the bulls were loaded. He also said the trailer would be locked during the drive and reopened by a government official on the other end.
"Every time these animals complete this arduous process we're happy to see them transferred to folks that want them," Zaluski said.
The animals will be tested for brucellosis six months after arrival. A final test comes after another six months. If those tests come back negative, state and federal officials will consider the animals brucellosis-free.
Many more of the animals are at some stage of the quarantine process. Zaluski said APHIS is holding another group, but he didn't know how soon any of them would be ready.
Almost 80 animals are in Yellowstone's corrals, and the majority of them are bulls. Bulls have a shorter incubation time than female bison, and park officials hope they can move bison to the reservation later this year.
Chamois Anderson, of Defenders of Wildlife, said the transfer of the five bulls is an encouraging sign for the future of Yellowstone's bison.
"We hope this is the beginning of what promises to be a larger, long-term program to divert bison from going to slaughter," Anderson said.