MAMMOTH HOT SPRINGS, Wyo. — It was just days before the kickoff to Yellowstone National Park's crush of tourists — Memorial Day weekend — but Mother Nature was holding any hope of summer at arm's length.
Snow dusted the mountains and the wind's icy bite made the 40-degree temperature feel like a fib.
Yet visitors who ignored the wildness of the spring weather — and there were surprisingly quite a few of them — were in for a visual delight. Newborn bison and elk were staggering unsteadily alongside their mothers. Soon, deer and pronghorn fawns will also be scampering across the countryside.
It's spring in Yellowstone — a time of birth, beauty and a bit of the beast.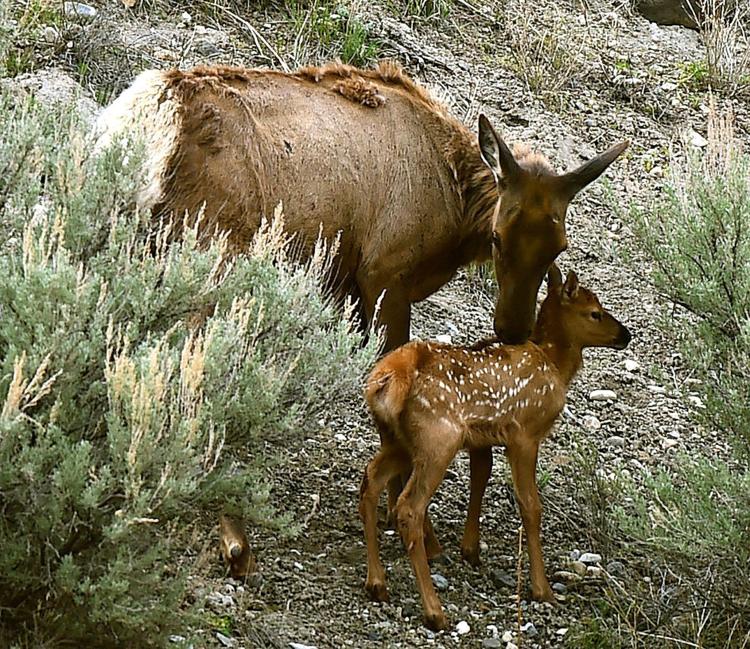 Babes
For tourists hoping to snap photos of cute, furry young animals frolicking in the fields, now's the time to visit. The peak of the elk calving season is the end of May, according to Kerry Gunther, Yellowstone's bear management biologist, although a few calves are born in mid-May and the birthing can extend until late June.
Bison are also giving birth, including one cow that dropped her leggy calf right next to the Mammoth church. The young bison, still wet from birth, shivered as the cold wind blew. Its mother seemed unconcerned about what had just happened, continuing to graze as afterbirth still hung behind her.
"What we see in Mammoth, because there are no predators, cow elk come in and calve in Mammoth," Gunther said. "They will put their calves right next to a building or vehicle. An unsuspecting visitor might get close, and the mother elk will come out and kick and stomp people."
In early June last year, two women were pummeled by protective cow elk that reared up and used their hooves like a boxer's fists to inflict serious injuries. One victim was air-lifted to an Idaho trauma center.
"It does create a safety risk," Gunther said.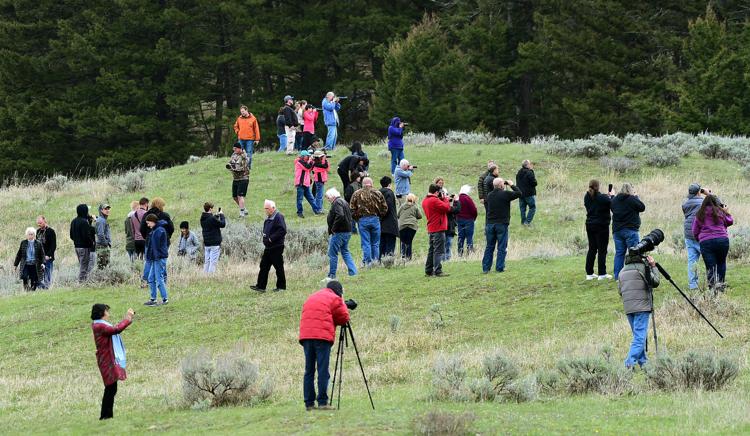 Greening
The elk and bison are attracted to the developed area that includes Park Service offices, the Mammoth Hotel and visitor center because of the green lawns that provide nutritious grazing after a lean winter. Plus, there are fewer predators willing to risk a run-in with humans at the community.
Hungry and bold black bears have been known to enter the Mammoth area in search of an occasional elk calf meal, even during the day, Gunther said, killing and devouring the small mammals in front of startled tourists.
"Some bears get pretty used to humans, and it's pretty good food for bears," he said.
An elk calf may weigh 30 to 35 pounds. Studies have shown black bears as the elk calves' main predator in the wild, but grizzly bears, mountain lions and wolves will also eat the youngsters. Cow elk will sometimes hide their scent-free newborns in the sagebrush so they can graze, leaving the young unprotected.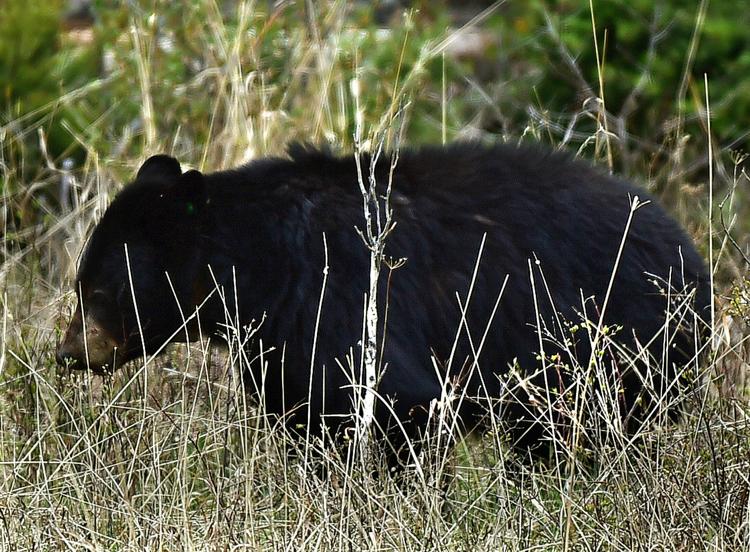 Training
You have free articles remaining.
Keep reading for FREE!
Enjoy more articles by signing up or logging in. No credit card required.
Protection isn't only on the mind of mother elk; the park is also gearing up with seasonal staff. For longtime employees like Gunther and his coworkers that means annual training on bear safety measures, including the proper use of bear spray.
Spring is one of the best times for visitors to see black bears and grizzlies foraging in meadows.
"Thousands of people want to see and photograph the bears," Gunther said, creating the potential for problems, although bear attacks are rare. Only one in 59 million visitors suffers a bear attack. Yellowstone hosts about 4 million visitors each year, most arriving in July and August.
"So it takes a lot of work, mostly to manage the people," he said.
Park staff will put up warning signs in developed areas and monitor bear jams to keep people separated from wildlife, but as new people drive up the warnings and cautions have to be repeated and repeated again. It's a frustrating cycle for the staff.
The park is home to about 150 to 200 grizzly bears. Mothers with cubs have already been seen, although they leave hibernation after males, which may be seen as early as the first week of March. That's when hardcore photographers with lenses as long as your arm are staking out winter bison and elk carcasses to take pictures.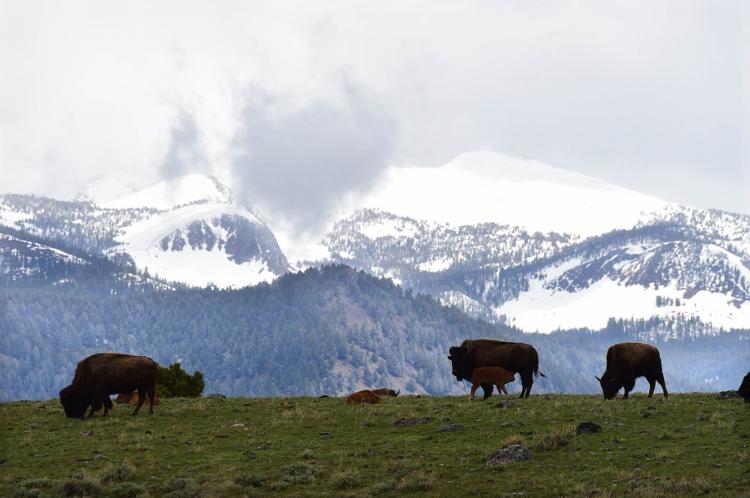 Touring
The dedicated photographers are a strong contrast to average tourists, most of whom spend a lot of time driving from developed area to developed area: Mammoth to Norris, Norris to Canyon, Canyon to Lake or Old Faithful.
After spending two weeks getting acclimated to the altitude in Salt Lake City, tourists Betty and Dennis Lindner were driving around Yellowstone National Park to see wildlife and enjoy the greening spring views.
"We're definitely seeing more animals this time," Betty said, compared to when they last visited in June. "He's already taken 1,000 pictures."
The Long Island, New York, retired teachers joined a queue of people in front of the Albright Visitor Center hailing from as far away as Texas, Tennessee and Florida.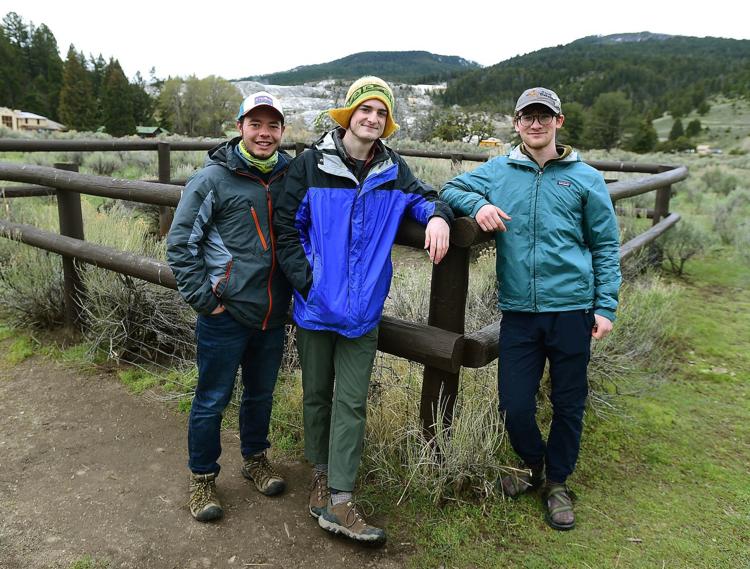 Hunters
Chicago teenagers Otto Brown, Sam DuBose and Reuben Slade differed from the average — and generally older — tourists. They were visiting the park in search of the million-dollar treasure reportedly hidden somewhere in the Rocky Mountains in 2010 by Forrest Fenn. Many believe that place to be Yellowstone National Park. Finding the treasure is their high school senior project.
"We weren't expecting so much snow," Brown said.
On the drive to Yellowstone they endured a blizzard at Mount Rushmore in South Dakota that was so bad they couldn't even see the presidents' faces chiseled in the mountainside's rock.
For four days the trio planned to scour the park in search of the treasure. If they were to find it, Brown joked that they would leave DuBose behind with a chunk of gold in order to make room in their small car for the 42-pound treasure chest.
"It will hurt our gas mileage, though," Brown added.