Fort Peck and Sakakawea reservoirs are expected to rise into the exclusive flood control zones this month as the U.S. Army Corps of Engineers works to lessen downstream flooding in the Midwest and mountain snowpack begins melting.
High runoff in May increased the 2019 upper Missouri River Basin runoff forecast to 50 million acre-feet, according to the Corps. If realized, the runoff total would be the second-highest runoff in 121 years of record-keeping, only surpassed by 2011 (61 MAF) and exceeding the 49 MAF observed in 1997. Runoff in 2018 was 42.1 MAF, which is currently third highest.
On Wednesday Fort Peck's water was sitting at an elevation of 2,244 feet. The exclusive flood control zone starts at 2,246 feet. By the end of June the Corps is predicting the reservoir will rise to 2,247 feet.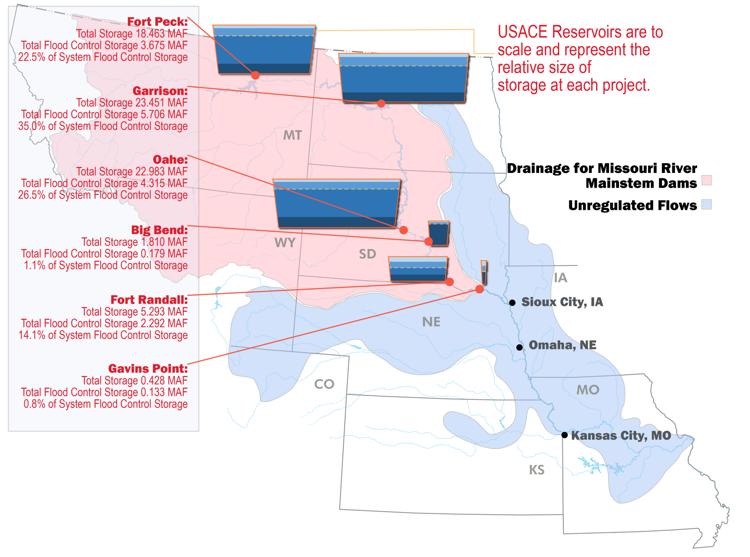 In the record-setting runoff year of 2011, Fort Peck Reservoir's elevation crested at 2,252 feet. 
Although the Corps is not predicting another record-setting runoff like 2011 into Fort Peck, the agency does expect that releases from all of its Missouri River dams will be above average for the next several months, and possibly as late as November.
In Montana and Wyoming, streamflows have actually dropped from the last week of May. That stream rise was prompted by heavy rains. Still to come, however, is mountain runoff. Snowpack above Fort Peck peaked at 105% of average in mid-April. Snowpack in the Fort Peck to Garrison reach peaked at 104%.
Cooler temperatures and additional snow in the mountains has slowed the melt, especially in the Fort Peck to Garrison reach, the Corps said. As of June 4, 34% of this year's peak remains in the Fort Peck reach and 56% of this year's peak remains in the Fort Peck to Garrison reach.
You have free articles remaining.
Keep reading for FREE!
Enjoy more articles by signing up or logging in. No credit card required.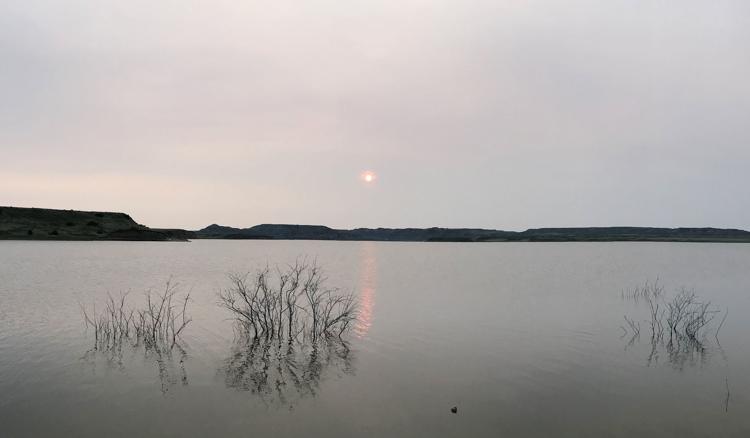 "Fort Peck and Garrison reservoir levels are positioned to ensure that there is adequate flood control space to capture and manage the mountain snowmelt runoff," said John Remus, chief of the U.S. Army Corps of Engineers Missouri River Basin Water Management Division. 
To do that, the Corps is also coordinating with upstream dam managers to hold back water and cut outflows.
Although Montana and Wyoming reservoirs are rising, it's nothing compared to the Corps' dams on the lower Missouri River. Widespread and heavy rainfall in South Dakota and Nebraska coupled with rains in Kansas has increased large tributary and Missouri River flows downstream of the six Missouri reservoirs managed by the Corps.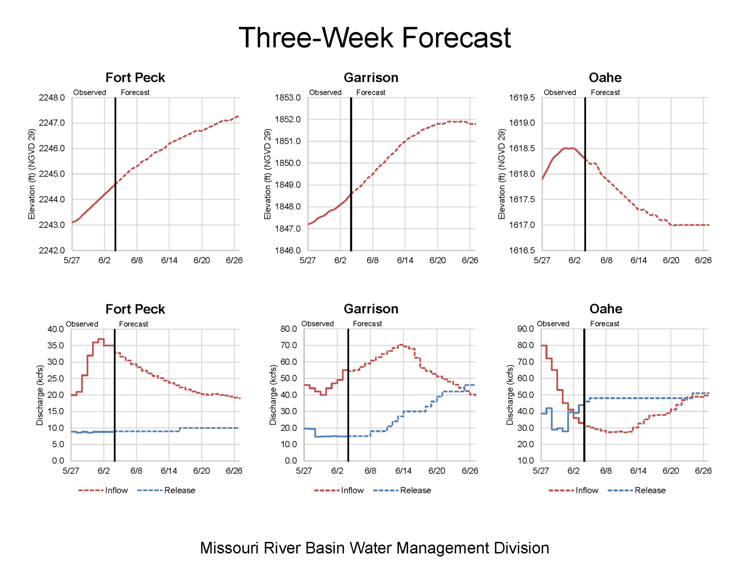 May runoff in the upper basin was 8.9 MAF, which is 267 percent of average. The average May runoff is 5.6 MAF. May runoff was the second highest on record, only surpassed by 2011's 9.2 MAF. Runoff in the Fort Randall Dam to Gavins Point Dam reach was 1.4 MAF, which is more than the average annual runoff for that reach.
"System releases from Gavins Point Dam are currently 75,000 cfs, which is more than twice the average release for this time of the year," Remus said. "We will maintain Gavins Point releases at this rate to continue evacuating water from Oahe and Fort Randall, which have used much of their respective flood storage."
Oahe and Fort Randall are currently in their respective exclusive flood control zones.