Zoo Montana
Montana's only Zoological and Botanical Park!
| | |
| --- | --- |
| Sunday | |
| Monday | |
| Tuesday | |
| Wednesday | |
| Thursday | |
| Friday | |
| Saturday | |
Special hours: **Grounds are open until 3:00pm

Summer Hours: May-September
10:00am - 4:00pm - Monday-Sunday
Grounds are open until 5:00pm
ZooMontana is located on a 70+ acre site on Shiloh Road at the west end of Billings, Montana. We house over 50 species of animals and hundreds of plant species on grounds.
With 80,000+ annual visitors who come to enjoy the attractive landscaped grounds and natural habitat exhibits, we also want to invite you to an exciting day at our zoo.

Our mission at ZooMT is to create for our visitors an enjoyable, recreational and educational experience while providing quality care for the animal and plant collections and appropriate propagation programs for species that are needed.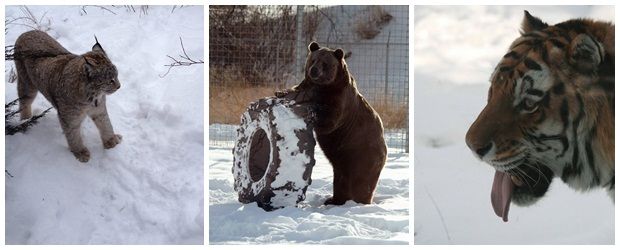 ZooMontana's vision is to become one of the nation's outstanding small zoological and botanical institutions, specializing in northern latitude or temperature zone species, as well as to provide our community and region with environmentally focused, cultural, educational, and recreational experiences.

We strive to attain innovation and excellence. The primary goals of ZooMontana include the construction of a small but high-quality zoological/botanical garden with respect to the quality of the habitats and animal managememnt programs, the development of a comprehensive educational program, and the development of a sound conservation biology program.




ZooMontana is a nonprofit 501(c)(3) educational organization committed to the very best in animal care, conservation and education. The Zoo and Botanical Park is dedicated to the preservation, conservation and education of wildlife and their habitats.

If you would like to donate to ZooMontana, visit www.zoomontana.org and click on the Donate button.
Jeff the Nature Guy shows how to make a natural ice suncatcher that will brighten the late winter days.
Jeff the Nature Guy takes some Madagascar Hissing Cockroaches out in the snow to talk about how bugs stay warm in the winter.
Jeff the Nature Guy talks about how bald eagles pair up and become mates for life, and build some impressive nests together.
Jeff the Nature Guy introduces the gray wolves at ZooMontana, and talks about why the animals are so controversial.
Jeff the Nature Guy introduces Pocket, a Peking duck at ZooMontana.