Comet Air Duct Cleaning
The Only Duct Cleaning System With The WOW Factor! Because Seeing Is Believing!
| | |
| --- | --- |
| Sunday | |
| Monday | |
| Tuesday | |
| Wednesday | |
| Thursday | |
| Friday | |
| Saturday | |
Special hours: To schedule your free consultation, call owner and operator Gary Harstad at 406-321-1504
2137 Santiago Blvd. Billings, MT 59102
About Comet Air Duct Cleaning
Welcome to Comet Air Duct Cleaning!
---

If you're looking for high quality and personal service, you've come to the right place. At Comet Air Duct Cleaning, we'll give you the attention and personal service you'll come to expect and enjoy.

"Hi, my name is Gary Harstad and I am President of GD Construction Inc. We have been doing kitchen and bath cabinet installations in new and existing homes for over 15 years. In the process of installing cabinets, we almost always come upon heat vents that come up under cabinets. It's what we see in those heat ducts that prompted us into the duct cleaning service. The dust, dirt, sheetrock dust, insulation and yes, the unthinkable that we see in those ducts is not very pretty. It really is a dirty little secret in there, and if people knew, I am certain they would want to do something about it. We did a lot of research and found RamAir to be the safest and most effective duct cleaning system. With newer homes now using flex duct systems, I couldn't imagine any other way."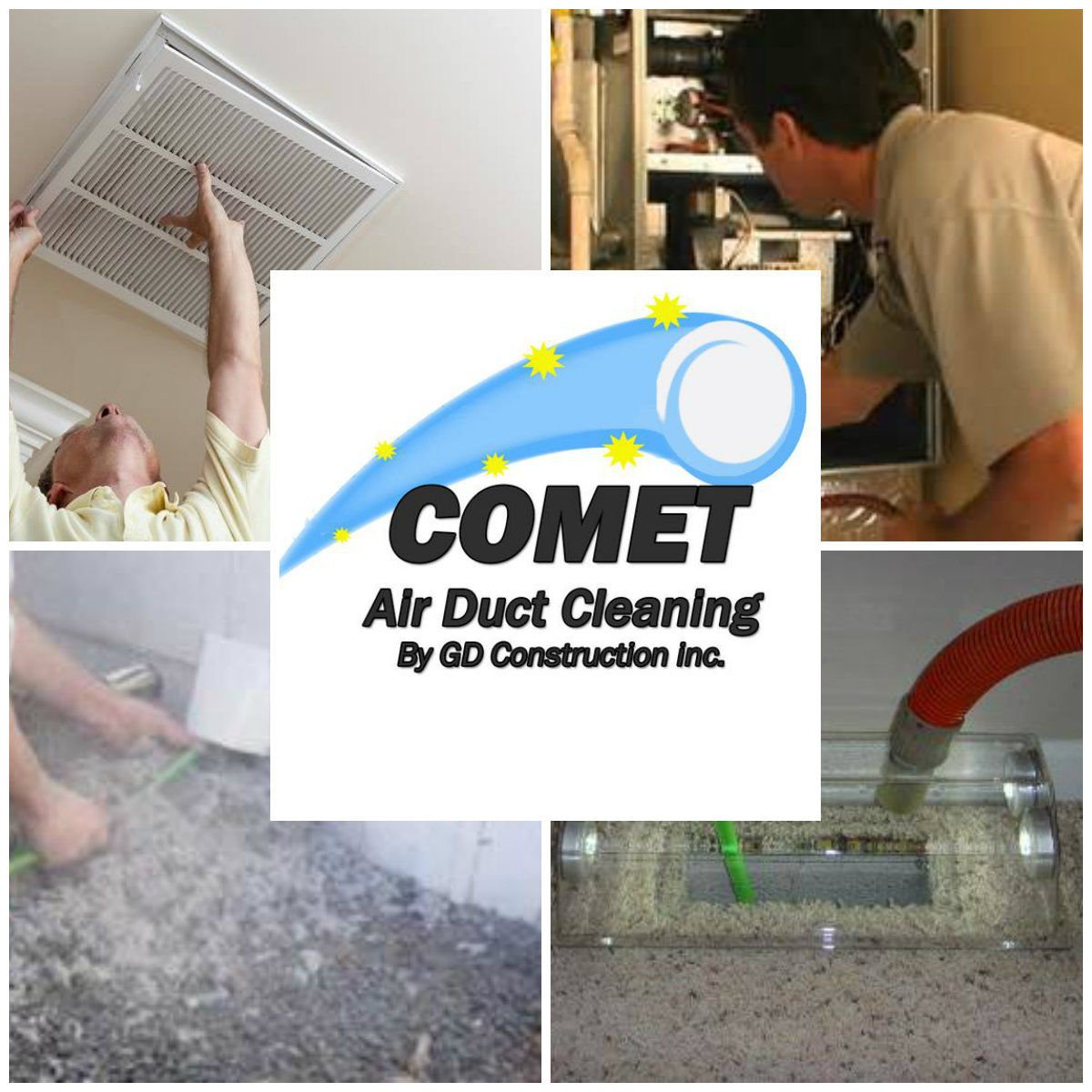 Our Services
---
Our air duct cleaning services include:
•Air Duct Disinfecting
•Construction Debris Removal
•Allergen Removal
•Dryer Duct Cleaning
•HVAC Cleaning Services
•Exclusive RamAir ClearView Duct Cleaning - A Breakthrough in Duct Cleaning Technology! - RamAir ClearView Duct Cleaning – a breakthrough in duct cleaning technology - RamAir's revolutionary duct cleaning system is state-of-the-art forced air cleaning technology that restores heating and air conditioning systems to superior cleanliness, including all mechanical equipment and ductwork. You can see the dust and debris being removed right before your eyes! THE ONLY DUCT CLEANING SYSTEM WITH THE WOW FACTOR!



Absolutely nothing on the market can compare to our patent pending Sanilet Disinfecting System!! Using the very best Disinfecting product (Benefect) a 100% all natural and certified product.
Made from plant extracts with a mild pleasant aromatherapeutic vapors. No synthetic fragrances, dyes, or bleach.
Proven to kill over 99.99% of the EPA's designated test microorganisms for broad-spectrum claims of hospital disinfectant effectiveness.



Accepts:

American Express

Cash

Check

Discover

MasterCard

Visa