Apex Personal Training & Fitness Center
| | |
| --- | --- |
| Sunday | |
| Monday | |
| Tuesday | |
| Wednesday | |
| Thursday | |
| Friday | |
| Saturday | |
About Apex Personal Training & Fitness Center
Apex Personal Training & Fitness Center is a highly effective fitness facility, offering fitness center memberships, personal training sessions, fitness assessments, body composition testing, and much, much more! We strive to empower each client to improve their quality of life and health through effective fitness training an an atmosphere that is welcoming, friendly, clean and safe. Family owned and operated by Dulcey and Steve Eubank. We look forward to providing excellent customer service while helping clients meet their goals.




Apex Personal Training & Fitness Center offers a variety of fitness center memberships:

☼ FLEX Membership - The easiest membership in Billings! NO Initiation Fees. NO Long Term Contract. $ 25 per month.

☼ Mid-Day & Weekend Membership - Between 8:30 a.m. & 3:30 p.m. Monday - Friday. All hours Saturday & Sunday. $ 15 per month.

☼ SUCCESS TRACK Membership - ONLY $10 - per month! For those who need a little help with motivation!
Restrictions apply. Contact APEX for details.

JUST IN - GYM PASS PUNCH CARDS
10 visit punch card - $40
20 visit punch card - $60

Contact us today at 406-839-9139 for more information.
Accepts:

American Express

Discover

MasterCard

Silver & Fit

Visa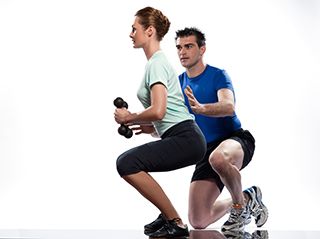 Why do I need a Personal Trainer?
Any person can benefit from working with a trainer. Personal training is truly an investment in one's health and well being.

• Our trainers are experts at holding you accountable.
• Our trainers will help you develop your own obtainable personalized goals and develop a realistic plan to meet them.
• Your trainer cares about your success and will help you maximize your time in the gym without overwhelming you.
• Your trainer will teach you proper technique and form and help you prevent injuries in everyday life by helping you improve balance, flexibility, and strength.
• Invest in yourself! Your time with your trainer is devoted to you, your goals, and your successes.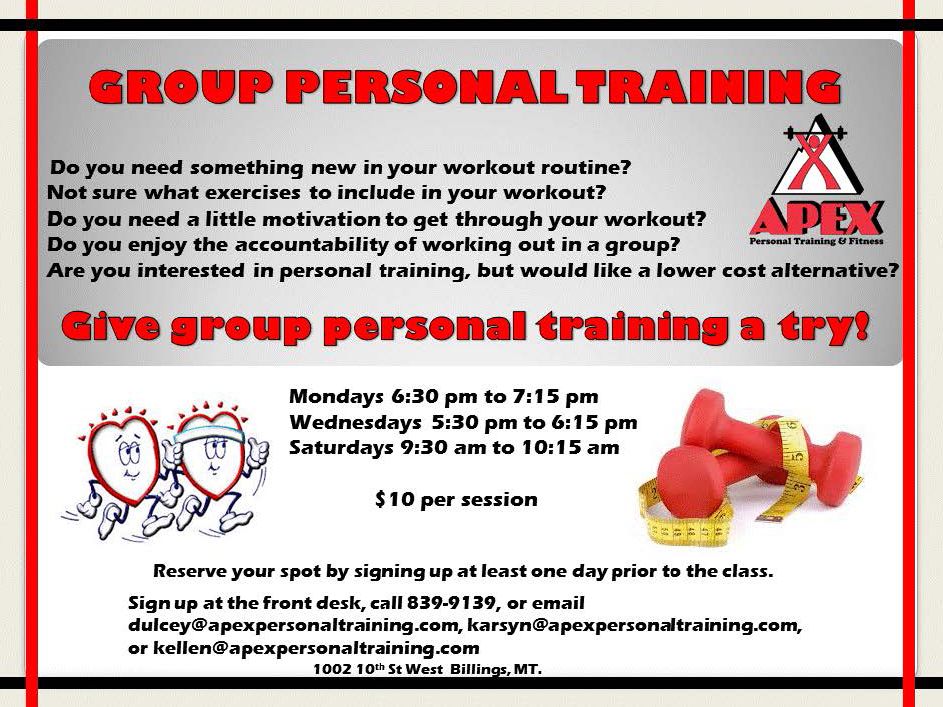 at APEX Personal Training and Fitness
Mondays 6:00 p.m. to 7:00 p.m.
Instructor: Gillette Vaira – licensed Zumba® instructor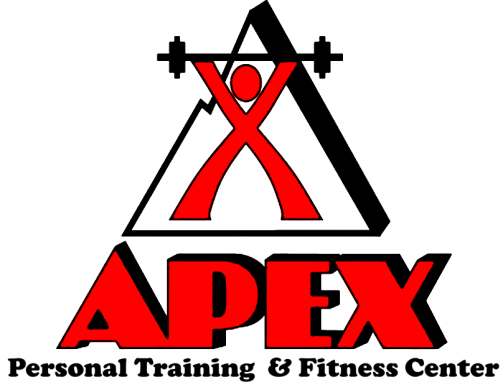 1002 10th Street West
406-839-9139
www.apexpersonaltraining.com
$7.00 per class for non-members
$5.00 per class for members
10 class card for $40.00
MEET OUR TRAINERS
Karsyn Hornby
Karsyn is originally from Wyoming. She graduated from MSU-B with an undergraduate degree in Health and Human Performance and is pursuing a Masters Degree in Athletic Training. Karsyn is a certified personal trainer through the National Academy of Sports Medicine. She is an expert at keeping her clients motivated and accountable. Her positive outlook keeps her clients inspired to keep reaching toward their goals.


Kellen Kessler
Kellen graduated from MSU-B in 2014 with a Bachelor of Science degree in Health and Human Performance. He is currently working on a Masters Degree in Education and Curriculum. Kellen coaches football at Billings Senior High and is a certified personal trainer through the American College of Sports Medicine. Due to his background as an athlete, he is a highly knowledgeable and encouraging trainer who pushes clients both mentally and physically. Kellen will be taking training sessions beginning May 6th.
Dulcey Eubank
Dulcey is a certified personal trainer through the American College of Sports Medicine. She is focused on helping clients improve their quality of life and meet their individual goals at any fitness level. Dulcey started her personal training journey as a client so she understands the client's perspective. She will help you make positive lifestyle changes and make healthy choices a way of life!
PERSONAL TRAINING BY SESSION
Individualized fitness instruction including any combination of resistance training, cardiovascular training, and stretching for flexibility.
Basic Pricing
15 min Session- $25.00
1/2 Hour Session - $45.00
1 Hour Session - $60.00
Groups of 2 or more 30% off regular prices
Buy More Get More
buy 10-19 sessions get 10% off
buy 20-29 sessions get 15% off
buy 30-39 sessions get 20%off
buy 40-49 sessions get 30% off
buy more than 50 sessions get 35% off
---
MONTHLY PERSONAL TRAINING PACKAGES
Now you can save even more by making an ongoing monthly commitment to personal training.
Monthly Package Prices:
60 minute sessios 1X per week - $230
60 minute sessios 2X per week - $430
60 minute sessios 3X per week - $575

30 minute sessios 1X per week - $145
30 minute sessios 2X per week - $270
30 minute sessios 3X per week - $390

15 minute sessios 1X per week - $80
15 minute sessios 2X per week - $150
15 minute sessios 3X per week - $210

---
WHAT'S INCLUDED IN PERSONAL TRAINING?
Basically Everything!
☼ Your gym membership is included as long as you work out once a week ($25 value)

☼ Monthly body composition testing with our highly accurate BIA ($20 value)

☼ Your personal training sessions (of course)

☼ Fitness assessments every 3 months
The fitness assessment is the initial evaluation of your fitness level. In order to design a safe and appropriate exercise program, we need to know where to start. We measure your blood pressure, heart rate, body composition, flexibility, strength, aerobic capacity, and movement patterns. The Fitness Assessment is also crucial in determining your goals and making sure that those goals are specific and measurable. The results of the fitness assessment will be compared to a re-assessment at a later date to determine the degree of success of your training program. The fitness assessment is required in order to begin one-on-one personal training with APEX. The only way to know if you've reached your goals is to know where you started.
☼ Initial Assessment - $100

☼ Re-Assessment - $60

☼ Body Composition Testing - $20
How many pounds of body fat have you lost? Your scale can't tell you, but our BIA 410 can! We can measure water, muscle, and fat to determine exactly where your weight loss is coming from. This is especially important when you start a resistance training program and begin to gain muscle...this is a good thing - especially for women! We've had clients gain as much as eight pounds when starting a resistance training program, simply from putting on muscle. Since muscle weighs more than fat, your weight will often go up a bit before going down when starting a resistance training program. Measuring body composition helps to avoid frustration and can encourage you to continue.
---
Within our 8,000 square-foot facility at 1002 10th Street West, Suite 3, Apex Personal Training & Fitness Center also is a proud supplier of Metagenics brand nutritional supplements. With the numerous brands of supplements available, it is important to choose a nutritional supplement that is of the highest quality and is subject to the strictest manufacturing processes.
"I remember a time when I would go out for a bike ride with my husband... we would get to a steep hill, and I'd have to get off my bike and walk it up the hill. Well, after only a few months working with APEX, I rode up Airport Road with my husband and had to slow down for him!! What a great feeling! I'm running a 1/2 Marathon at the Montana Marathon September 19th, and I've lost 12 pounds of body fat!"
- Sally Bishop
"My doctor was amazed...after one month, my blood work was normal for the first time ever. I've lost 40 pounds, and I've never felt better!"
- Teresa Harrington
"I've gone from a roly-poly 160 pounds to a lean-mean 132 pounds, and I'm 58 years old. Follow the program…it works!"
- Sandy Becker
"I am 62 years old and my story began when I was taking a bath and didn't have enough strength to lift myself out of the tub and proceeded to hurt my back in attempting to do so. I decided then and there that I needed to do something to lose weight and gain more strength. I began my program with APEX in November of 2006, which consisted of resistance training, cardiovascular workouts, and diet change. Since I began with APEX, I have lost over 20 lbs and 3 sizes. I was also able to bring my cholesterol down from 235 to 175, that's 60 points...without medication!! The other benefit I have gained is better balance. I can now squat down without falling over, and getting up and down is much easier.
Never having been involved in sports as a youngster, I had never done any kind of strength training before. Now, I know how to lift weights properly and safely and I'm on a regular exercise schedule. I'm now working out on my own to maintain my results, and thanks to APEX, I know I can do it."
- Helen Blee, Huntley, MT
Is this your business?
Promote your business through our innovative Marketplace system! It's free to sign up!
Apex Personal Training & Fitness Center is a highly effective fitness facility, offering fitness center memberships, personal training ses…