Just one's cup of tea at Phoenix Pearl Tea Tavern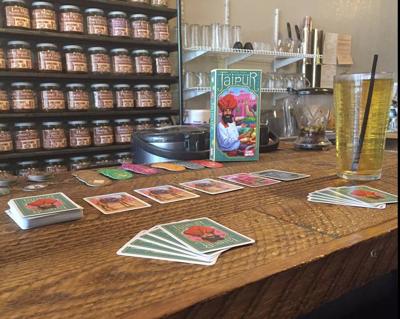 Gary Robson's family tea business is back in Red Lodge.
Phoenix Pearl Tea Tavern opened in late April with a reignited passion for all things tea — hot teas, cold teas, tea lattes, bobas, blends and infusions.
At 13 N. Broadway Ave., the tavern is a must-stop, especially for teens on their lunch break or those looking for that "third place," a business concept general manager Gwendolyn Gunn explains as the place where you go to escape. (The first and second places are school or work, and home.)
In addition to more than 100 teas and blends and 30 different herbs or spices, the tavern is a local game source, hosting game nights every Thursday from 5 to 8 p.m.
It's a way to try it before you buy it, said Gunn.
The tavern sells new board games like Escape Room and Splendor, inviting anyone interested in playing to stop by, make friends and learn the rules.
"There is a renaissance of tabletop gaming right now and we are riding the wave as best we can," Gunn said. "It's a good time to be a gamer."
Gamers enjoy not only the games but the tea club, where points are earned with each different tea tried. At 10 points, participants receive a tea journal. At 25 points, a customized Phoenix Pearl Tea Tavern mug is awarded. At 50, a tea shirt, and at 100, a special goat horn tea travel mug and a customized "emperor" tea blend that Gunn helps the customer create.
So far, there are eight emperor tea blends displayed on the wall.
To cater to the Beartooth Rally, the tavern stocks up on cigars, too. The selection is limited until the tavern restocks next summer.
Tea accessories like infusers, pots and mugs are also for sale, as are guidebooks, cookbooks and other media written by local authors.
Gunn and her father, Robson, are authors themselves. To help support other writers, the tavern plays host to author talks.
More than a place to drink and be merry, the tavern provides locally-sourced meat and cheese from 4th Avenue Meats in Red Lodge for its various boards.
The house board is a rotating selection of one serving each of meat and cheese, plus baked bread.
It's traditional medieval charcuterie, nothing hipster or less than filling, Gunn said.
The cheese board has three different cheeses with bread, and the smorgasbord is "a full meal for two people, easy, or a hearty lunch for three people." It features a full serving of meat and one serving of each of the three cheeses, plus two loaves of bread. The Bavarian board has a fresh-baked pretzel served with brown mustard and locally-made sausage.
For those who want to have their tea and eat it too, matcha muffins are made with matcha green tea and come in a variety of flavors.
Phoenix Pearl Tea Tavern is open daily from 9:30 a.m. to 6:30 p.m.; the tavern stays open until 8 p.m. for Thursday game night.
Treats and new teas will be available for the Red Lodge Christmas Stroll.