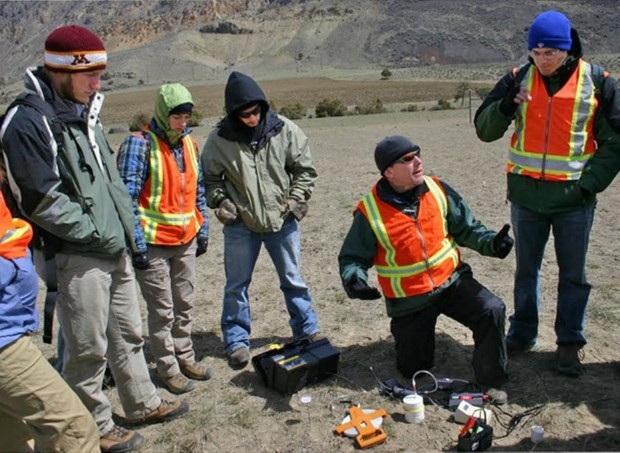 A northern corner of Yellowstone National Park degraded by decades of inappropriate use and overrun with nonnative vegetation is showing signs of recovery after the first four years of a 10-year study.
The results of a study published in the 2012 issue of the journal Yellowstone Science showed that elimination of nonnative plants with herbicide inside three fenced plots, which were then replanted with barley and winter wheat to rebuild the soil, are responding well. Soil organic matter in the fenced study areas increased 40 percent in two years compared with soil outside the fence, according to a study written by researchers Bill Hamilton, of Washington & Lee University, and Eric Hellquist, of State University New York-Oswego.
The research also showed that soil microbes were more diverse near native species than nonnatives.
Used by American Indians for centuries, the Gardiner Basin was settled by Euro-Americans in the late 1800s. The town of Cinnabar was established there in 1883, growing up around the rail terminus for those traveling to newly established Yellowstone National Park. Ten years later, the town was moved, buildings and all, to Gardiner as the rail line extended farther south.
The basin was then used for agriculture, with some of the old irrigation canals still visible on the landscape. Then in 1929 and 1932, the Park Service purchased the property to extend its boundary to encompass wintering areas used by park wildlife — mainly pronghorn, elk and bison.
The Park Service continued to farm the land for a while, before seeding it to crested wheatgrass in the 1940s and '50s. Crested wheatgrass was well adapted to the area's arid climate, where only about 10 inches of moisture falls a year, but it was a poor forage base for wildlife.
Since the 1990s, the basin has been overrun by desert alyssum, an exotic mustard plant. The alyssum has blocked out native grasses and reproduces quickly.
In 2008, after consulting other agencies and experts, the Park Service launched the current project, fencing off three plots totaling about 30 acres at Cinnabar, Stephens Creek and Reese Creek to keep wildlife out while the soil is regenerated and native plants are re-established.
The 10-year period for the study was chosen because it takes years for the soil to be restored and the natives to establish a strong foothold.
The soil was initially planted with barley and winter wheat to rebuild the organic matter. In the third year, native grasses were seeded.