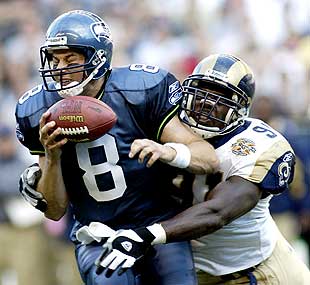 Three weeks ago, the Seattle Seahawks were considered in a class with New England and Philadelphia at the top of the NFL. Then 11 disastrous minutes against the Rams sent them into a free fall that hit bottom with a loss to the Cardinals.
The Seahawks are hardly the only team struggling after starting with great expectations. That group includes St. Louis, which managed to allow 31 points to previously winless Miami on Sunday.
Add Tennessee, Kansas City, Carolina, Dallas and Green Bay, although the Packers have two straight good wins, while the Chiefs ran up 56 points with an NFL-record eight touchdowns on the ground against Atlanta, which entered the game 5-1.
Seattle's fall is the most shocking.
The Seahawks were 3-0, including two road wins, had allowed just 23 points in almost four games, and were leading the Rams 27-10 at home two weeks ago with eight minutes left. Then they allowed 23 more points in 11 minutes and lost that game in overtime; lost in Foxboro a week ago (everyone does that); and melted down Sunday in the desert.
Two bits of history that may have something to do with it:
n The loss to the Rams came after the Seahawks' bye week. Seattle is tied with the Giants at 3-13 for the worst post-bye record; New York had a four-game winning streak broken Sunday in its first game back from its off week.
n When Seattle's Mike Holmgren coached in Green Bay and Arizona's Dennis Green was in Minnesota, Holmgren was 5-9 against Green. The Packers were usually the better team in those years. They had one great quarterback, Brett Favre, while Green was going through a young Rich Gannon, Sean Salisbury, Jim McMahon and Warren Moon (late in their careers), Brad Johnson, and Randall Cunningham.
Quarterback has been one of Holmgren's problems.
Matt Hasselbeck, who last season emerged as one of the league's better QBs, was 14-of-41 for 195 yards Sunday. That gave him a passer rating of 69.8 for the season, 24th in the league, compared to 88.8 for all of 2003, tied for seventh.
"I really have no answers," Hasselbeck said. "I don't know what the deal was, but it was my fault."
There are other problems, too, including a defense that has allowed 88 points in the last three games.
In New England, the Seahawks trailed 20-3 early, closed to within three, then gave up a 48-yard pass on third down that led to the clinching touchdown. But that's why the Patriots now have 21 straight wins - they make big plays against everybody.
Nonetheless, Seattle is only a half-game behind the Rams in the NFC West because St. Louis lost in Miami. So while Holmgren growls, "The mood stinks right now," there's plenty of time for a comeback.
The other disappointments:
St. Louis (4-3). The Rams aren't close to being the team that dominated the NFC in 1999, 2001 and for part of last season. But there was no excuse for the dismal showing in Miami. "Every dog has its day, and today was their day," St. Louis defensive tackle Damione Lewis said. "That's the NFL."
Carolina (1-5). The Panthers made it to the Super Bowl last season because they had almost no major injuries and won eight games by a touchdown or less, including three in overtime. This season, they've lost wide receiver Steve Smith, running backs Stephen Davis and DeShaun Foster and All-Pro defensive tackle Kris Jenkins, as well as other players to injuries.
Tennessee (2-5). A victim of injuries and salary cap attrition. Steve McNair is hurt again, and it's clear the Titans miss Justin McCareins (traded) and Jevon Kearse and Robaire Smith (free agents). Because of cap problems, they're carrying 11 rookies and two are starting because of injuries: guard Jacob Bell and tight end Ben Troupe.
Kansas City (2-4). The offense is still strong and the defense remains suspect. With San Diego's improvement and Denver's fast start, there's still a tough road to the playoffs for a team that went 13-3 a year ago.
Dallas (2-4). Last season's playoff berth was probably a mirage, and Bill Parcells and Jerry Jones did little to upgrade the team in the offseason. Unless you consider Vinny Testaverde, Keyshawn Johnson and Eddie George an upgrade. Postseason hopes look dim.
Green Bay (3-4). The Packers routed Detroit and Dallas the last two weeks after an almost-unheard-of three straight losses at Lambeau Field. They were hurt by injuries to center Mike Flanagan and defensive tackle Grady Jackson.
One other major uncertainty off Sunday's games is Atlanta.
The Falcons (5-2) still hold a two-game lead over New Orleans in the very mediocre NFC South. But Michael Vick continues to struggle (7-of-21 for 119 yards and two interceptions in Kansas City), and the defense that was carrying the team allowed 540 yards and those eight TDs.
But Falcons coach Jim Mora got some levelheaded advice from his father, who in his coaching days with the Saints and Colts was known to go ballistic after a bad loss.
"It wasn't the best of days, obviously," Mora said Monday. "But like my dad reminded me when I picked up my cell phone last night, he said: 'Hey Jimbo, it doesn't matter if it's by 50 or by one, it's still a loss and it's only one loss. You've just got to carry on."'