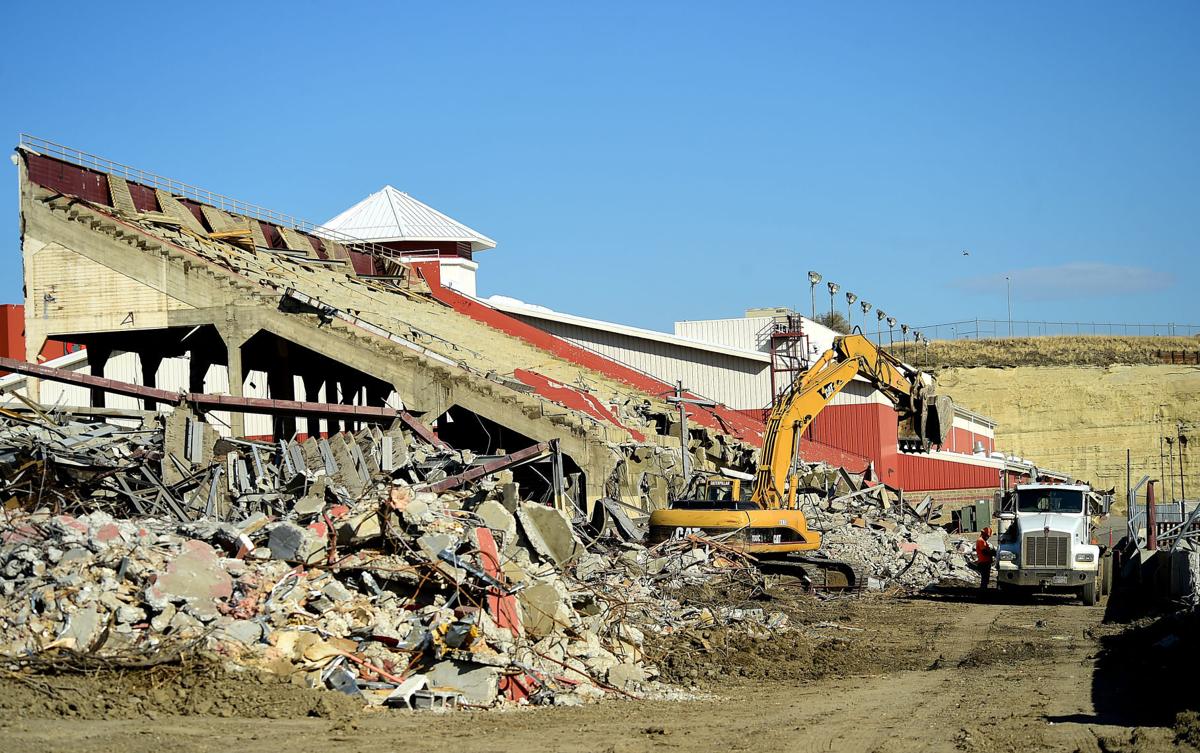 Whatever emerges from the rubble of the MetraPark grandstands won't include a joint sports stadium with Billings Public Schools, said School District 2 superintendent Greg Upham on Tuesday. 
County commissioners sent a letter to Upham that effectively kiboshes conversations that would have included a multi-sport facility that could have allowed SD2 to move on from Daylis Stadium. The MetraPark Advisory Board discussed the decision during a Nov. 22 meeting, Upham said.  
"Basically, they just didn't feel that the sports venue was the direction that we wanted to go," Upham told a handful of district trustees during a committee meeting. Commissioners instead preferred an agriculture and entertainment focus. 
Billings Public Schools officials had hoped to create a partnership with the Metra, pitching the potential for saving costs by rolling two high-dollar projects into one. Conversations with county officials have been going on for more than a year. 
School officials have long bemoaned the state of Daylis Stadium. Architects' reports show that extensive renovations could cost about $5 million, and that replacing the grandstand and improving the facility could cost $10 million. 
They've also expressed a desire to have the option of expanding Senior High's footprint, which demolishing or downsizing Daylis could allow. 
"It's archaic, and it's outlived its life," Upham previously said of Daylis.
Trustees attending the virtual committee meeting appeared disappointed by the commissioners' decision. 
Board chairwoman Greta Besch Moen asked Upham to set up a meeting with commissioners to discuss how they reached their decision. 
"School District 2 is an immediate revenue stream for building up the MetraPark," she said. 
Metra officials have eyed three general plans for what will replace the grandstand area, but haven't decided on any. One would have included a sports stadium with a new grandstand and a partnership with Billings Public Schools. 
A very different option included a new, smaller indoor arena that could accommodate everything from small concerts to ice hockey; a new amphitheater for live shows and performances; and new development across Main Street that would include a new hotel and restaurant with a pedestrian bridge to connect it to the fairgrounds.
The final option is something of a hybrid, with an indoor arena and plans for a sports stadium that could also be converted into a type of amphitheater. 
It's unclear where the commissioners' decision leaves the school district. Many long-term items like Daylis have been put on a back burner as schools try to cope with the COVID-19 pandemic, and the K-8 district is still navigating a precarious budget situation.
Upham had previously talked about planning for a high school bond, floating a spring 2021 date about a year ago, with a focus on career and technical education facilities. But bond talk evaporated as the pandemic emerged. 
Former MSUB Chancellor Dan Edelman pitched the idea of a joint MSUB-SD2 stadium about a year ago, but there hasn't been movement on the idea. Edelman stepped down in August, and new Chancellor Stefani Hicswa is set to start the job in January.